Deonna Craig, an artist in the Indianapolis Art Center's Eighteen: Black Lives Matter exhibition, was on hand at the Nov. 6 opening reception to talk about her work. 
Since Craig was one of the 18 artists who painted a street mural that spells out  "#Black Lives Matter" on Indiana Avenue in August —  a project organized by Indy10 BLM and other community groups — she was invited by the Indianapolis Art Center to showcase her individual work in this exhibition.
Craig will also participate in a forthcoming show at the Art Center, in the summer of 2021, commemorating the one-year anniversary of the mural.
"All my pieces are connected to the mural that we did on Indiana Avenue", said Craig —  who painted the V in the mural —  when talking about her work in the exhibit. Her painting "Freeze!", she said, captures a "cartwheel in motion" and "all of the emotions that a child feels when they're doing a cartwheel and that's what this encompasses."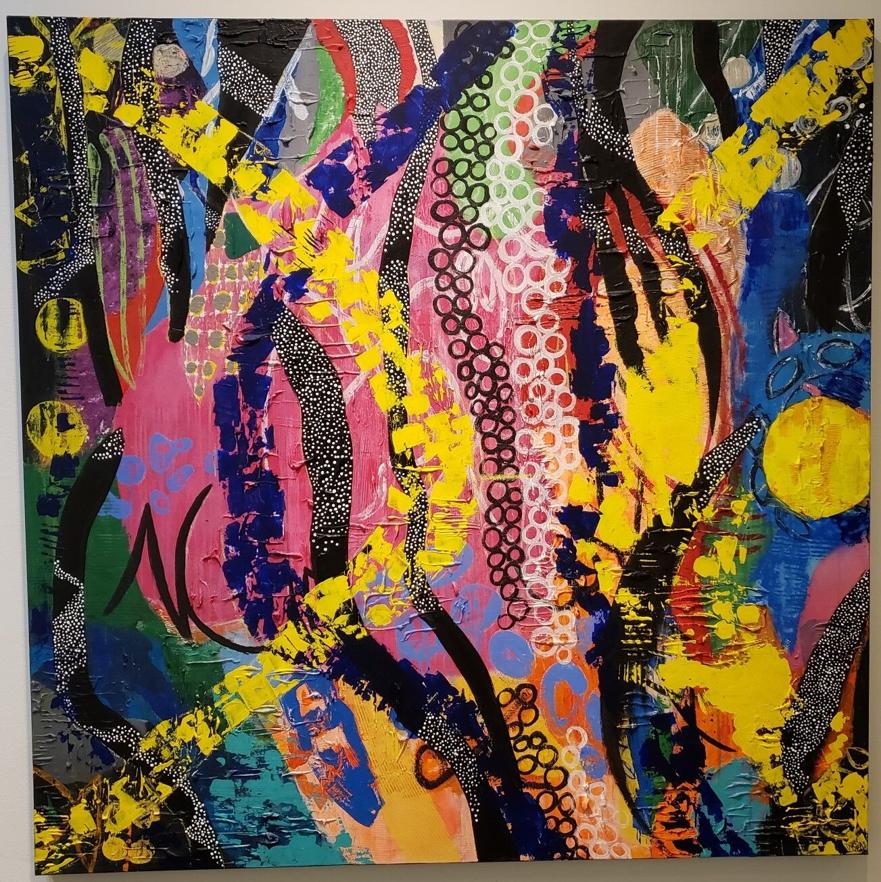 This painting is the first in a series of her paintings in the exhibition.
"My series follows the life of a man of color, as he attempts to wade his way through racism white supremacy," said Craig, who teaches art and social justice in the Lawrence school district.
Her work on display is mostly colorful and exuberant. There is, however, one exception. After unknown vandals defaced the Indiana Avenue mural with white paint, shortly after its completion, she painted over the brightly colored canvas she had been working on at the time with layers of white paint. She titled it "White out."
"It looks like it's a blank slate but it's not," she said of the painting. "There was so much promise underneath this painting; there was so much more to be explored, more conversations to be had." 
A closer look at the painting —  an abstract representation of white supremacy if there ever was one —  reveals streaks of color underneath.
Another artist with colorful paintings, in all possible meanings of the term, is an artist named Fitz, who has exhibited his work previously with the independent arts organization Raw Artists. 
One of his paintings depicts pop artist Andy Warhol punching Haitian artist Basquiat in the face.
"We see they're fighting against each other, but we have the same kind of problems," Fitz says about this painting, which might be read as a visual commentary on race relations.  
A Cerberus-like man is another one of his subjects, in an untitled painting. The subject's head incorporates Snoop Dogg's features, but also Snoopy's.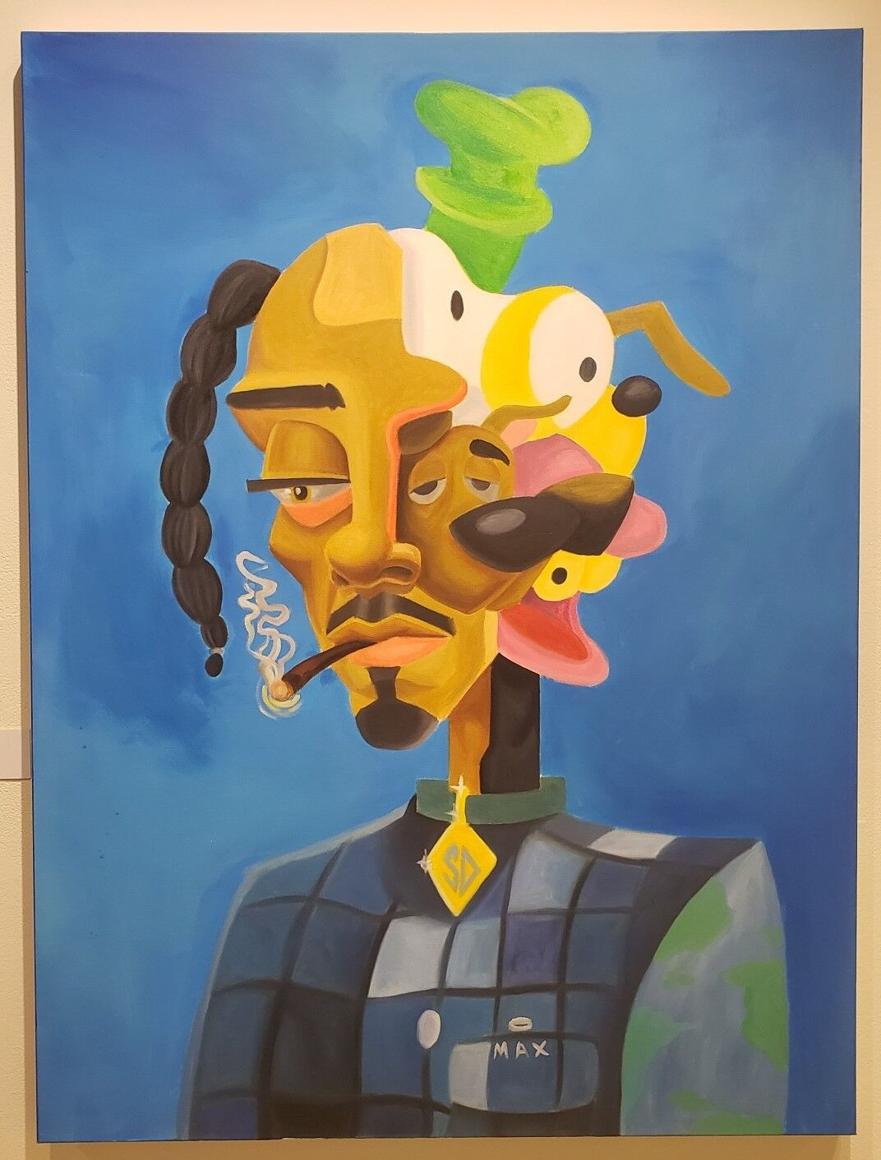 Another of his paintings delves into a subject with three differently colored heads —  representing three different moods —  titled "Anxiety." And then another painting depicts characters from The Simpsons and The Boondocks on a couch, but not the main  Boondocks character Huey Freeman. He's consigned to a framed picture hanging on the wall behind them.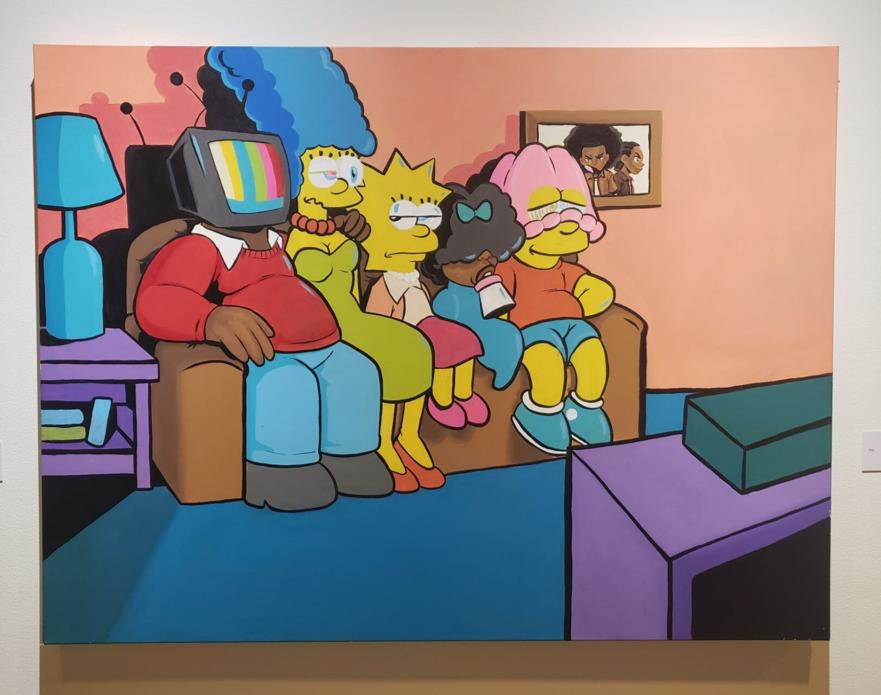 "I tried to show the contradiction and hypocrisy between The Simpsons and all the other black TV shows that don't last as long," Fitz said. "The Simpsons has 30 seasons and I would consider The Boondocks to be almost roughly the same kind of concepts."  
The paintings of Eighteen: Black Lives Matter incorporate many different styles and subject matter. But some, such as Rebecca Robinson's portrait "A Tribute to John Lewis," —  a nearly grayscale composition in concrete, tar, and white latex on wood —  seem particularly timely considering the late U.S. representative's role in inspiring Georgia voters.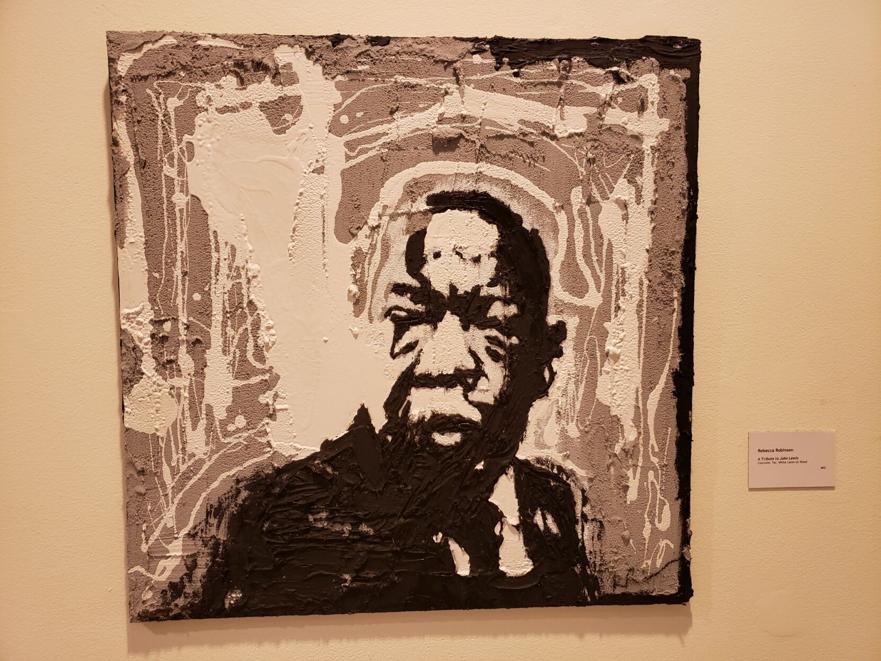 It is also worth noting the other big group exhibition at the Art Center: Homebound: Indy Creates, on display through Nov. 18.
Hannah Westbrook's video titled "Masking Out", shows a young woman wearing a mask that transforms before our eyes. It speaks to COVID-related anxiety while Danielle Dietrich's "In Between" —  portraying a dislocated residential dreamscape —  might just speak to a larger, overarching anxiety.
The Homebound Show features work that has been made during periods of home confinement, during the COVID-19 pandemic, which has been an anxious time for artists.
Mark Williams, who has been the Art Center's executive director since June, explained that he was concerned about the needs of artists trying to make a living in a COVID-afflicted economy. To that end, he built a virtual exhibition space artcentermarket.com where all the work in the Art Center could be viewed in detail —  and bought —  virtually, including the work in Eighteen: Black Lives Matter.  
In August, Williams had visited the mural as the artists were painting on Indiana Avenue.  
"This show is really the show to introduce these diverse and talented artists to the broader community," Williams said. "In doing so, we found a wide range of experience, from emerging to very established."
Williams described Eighteen: Black Lives Matter as more than just a single exhibition, but as a partnership between the Art Center and the artists.
"As a part of this partnership we'll be working with them on a professional side, the business side of being an artist, and helping them with exhibition preparations and proper practices and things, and also working to form partnerships and workshops [...]" he said.  
Williams believes the creation of the mural, and what it represents, is a significant moment for Indianapolis that should be commemorated in the future. To that end, the Art Center is planning a facility-wide exhibition to mark the year anniversary of the mural's creation. 
"It will explore how the process has changed them, affected them, and informed their work," he said. "And also, how has that experience changed us as a community so we're going to foster the community conversation about where we are one year later." 
Eighteen: Black Lives Matter will be on display through Jan. 6, 2021.