I sat down with Nick May prior to their First Friday opening at Big Car Collective's Tube Factory Artspace (1125 Cruft St.). The exhibit, "Fag Family," which comprises a collection of six portraits of Nick's close friends, along with three self-portraits, forms a complicated study of what it means to be queer in Indiana. 
"Fag Family" is open till November 17th. 
What does it mean to be an artist from Indiana? How does it inform your practice?
I feel like being an artist has been for me a coping mechanism. Growing up as a queer child, I remember drawing a lot. I wanted to be a fashion designer at first, so I drew fashion women and really fantasized about them. When I think back that's where it really started. Also, similar to that was reading books like Alice in Wonderland or watching movies. It was a way for me to escape feeling ashamed for being different. It's hard being queer in Indiana. Art has always been a source of therapy and joy to be able to develop skills, create beautiful images and fantasies, and find joy. 
How does this past fantasy building relate to your new exhibit, "Fag Family"? 
It's very much about capturing my friend group and how we are today. It was inspired by the way we come together when we party and hang out. Like we had this great New Year's Party. We hadn't seen each other in a long time because of COVID. We all dressed up and played crazy music. It was just this great moment where we lived this fantasy of queer joy. Well, [laughter] queer joy is not a fantasy, but getting into the fantasy of the party, the make-up, the outfits. It was really inspiring. So that was right before I started my work. Yeah, the idea of creating a fantasy, or world-building was basically what inspired it, so I wanted to capture that through portraits. And I did it through portraits because I've never been into abstraction or landscape or drawing anything that's not human. I've always been that person even as a kid doodling people. Portraits were the way to go.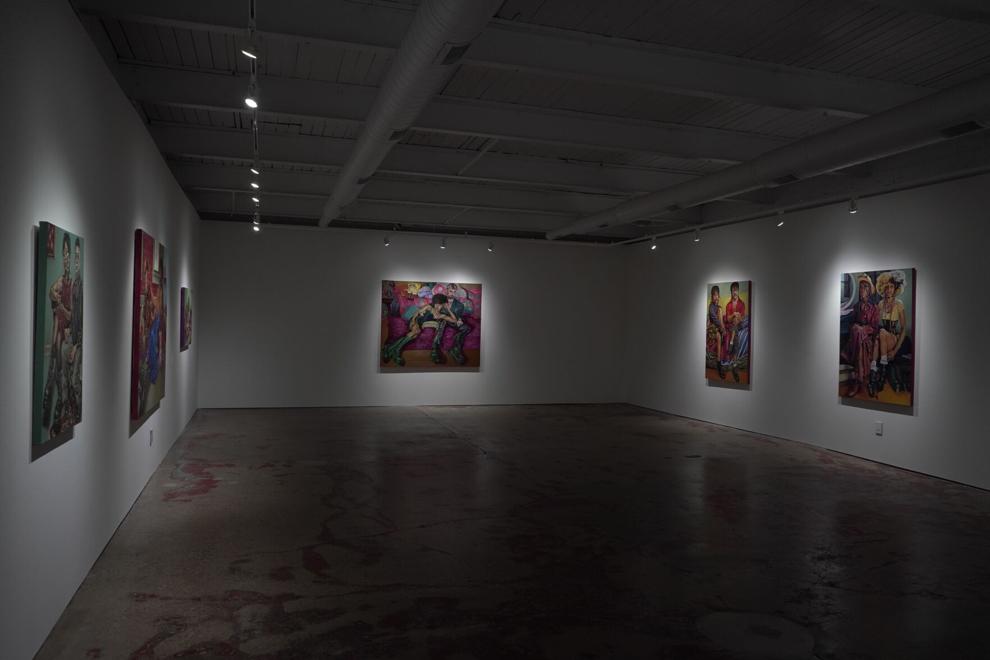 Looking back at your older paintings, what is the difference between the new work in "Fag Family" and work you've done in the past? It seems like there's a slight shift.
Early in college, I was always doing self-portraits from a photograph or mirror, and I think that's natural for an artist to do, because it's the most accessible way to do a figure study—doing it in the mirror, posing for yourself. I was always concerned with my issues as a person, so it makes sense to make art about my current struggles, or what I was going through at the time. My early work was really drawings, paintings about me. Also, at the time when I was painting and drawing a lot, I also developed this stylized way of painting, where everything was perfected, really smooth, and blended out. It was very time-consuming. Big, perfected paintings of myself. It was too self-concerned. I had this great professor, who was like a mentor. 
Juan José Castaño-Márquez. A professor for one year at Ball State University. He was this older gay guy who was my computer art teacher. We were really close. He really changed how I looked at art. He told me, "No one person is interesting enough to make all of their art about themselves." That really stuck with me. I'm literally making art about myself and my struggles. Hearing that, definitely influenced me to expand my work, talk about things bigger than me, bigger than my struggle, and that's where I started becoming more interested in portraits of other people, saying things about my community, and greater issues.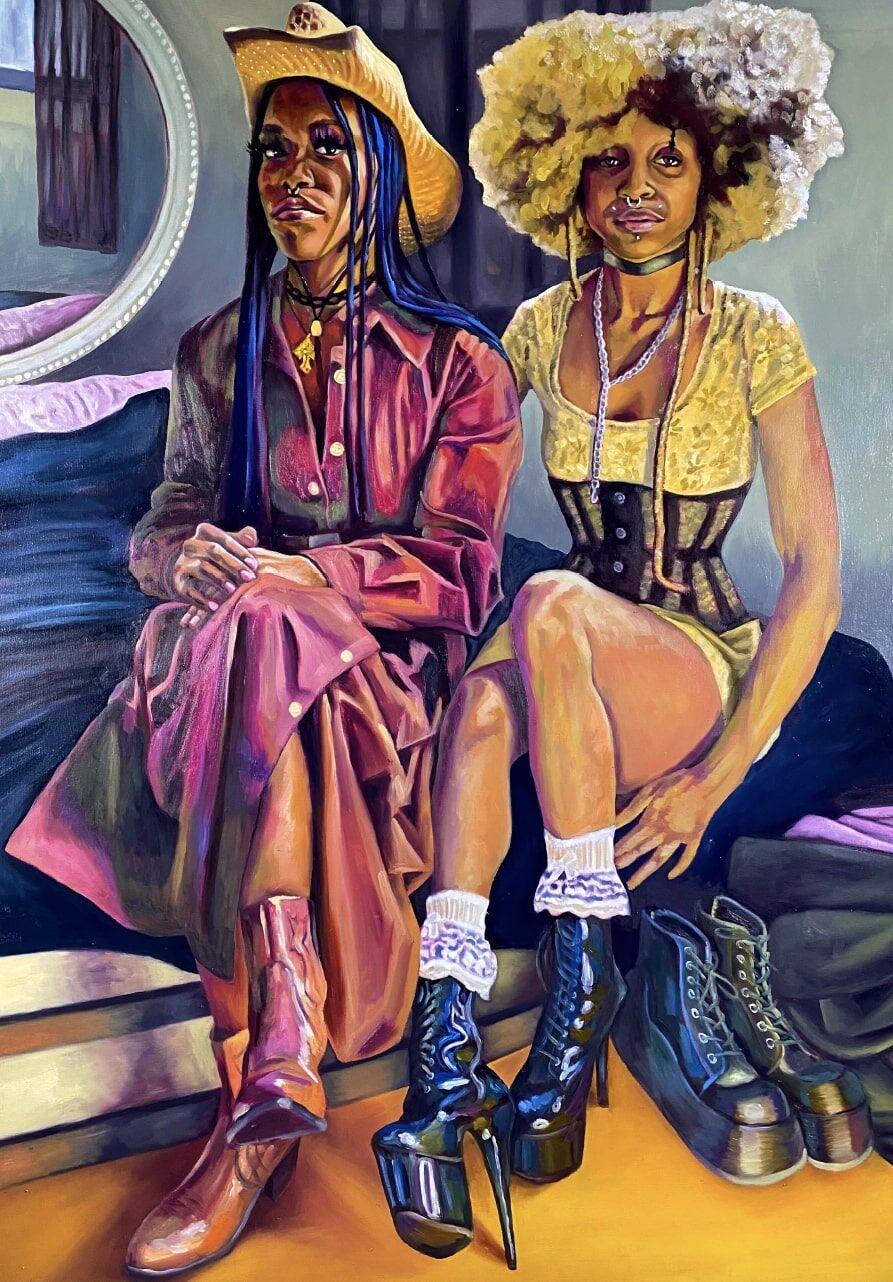 So, through the influence of this professor, it helped refocus your artistic vision?
Yeah, definitely. When it came down to aesthetics, it happened at the same time. I was more concerned with something that's true, and of course, I'm concerned with the fantasy of making a painting, like heightening it a little bit, but it really shifted my style. Because I was doing portraits of other people, I didn't want to twist reality, or perfect reality, like my self-portraits. I wanted to paint them in an honest way, which was inspired by Alice Neel, which were stylized too, but in a way emphasizing the ugly features about people and not concerned with being pretty. 
Before graduating from Ball State University, you organized a group exhibit called, "Break-Room," can you tell me a little bit about this show?
That big final stretch of having my thesis show then going straight into "Break-Room," which was our own show with other queer artists (Astrid Carter, Emmanuel Guerra, Avery Pollard, and Marie Dickison) was such a gratifying end to my time at university, and the lessons I learned. When I had my final presentation in front of my peers and professors, and anyone could come and everyone in my paintings came, which was surprising, they watched me talk about the work and answer the professors' questions. That moment was really important for me to have all my friends there and all the Ball State people there too. It was really lovely. 
What was the finer process of creating these paintings? I know the general compulsion that created these large portraits, but what were some of the challenges and decisions while actually painting them? 
I've always had this internal struggle about making work. Well, I have OCD, which informs a lot of aspects of my life, and in the past, with my highly stylized self-portraits, I wanted them to be perfect. I really wanted to paint realistically and achieve a sort of photo-realism—the highest level of painterly mastery. So, that's always the two sides of this coin I'm navigating when painting, but the great thing about painting is that it's not real life and you can make the fantasy when you're in the act of painting. I think it's productive to navigate the difference between realism and a sort of fantasy world on the canvas. 
So, when I started I originally wanted them to be realistic, life-like. I was going to do drawings from life, rather than from a photo, and that ended up being unrealistic because so many things would change. I ended up working off photos and that actually helped the process. It allowed me to create the fantasy. Not just the people, but the spaces they inhabited. I could really enhance the environment and edit the photo colors to bring out what I wanted to paint. In the end, when you're working from any kind of photo, because it's so freezeframe, it can lend to the picture becoming rigid, but in this case, to me, it created this weird little optical illusion. Like the perspective from where I took the photo, it created more of an otherworldly perspective. 
I did draw all of them, which was good practice, but I used the photos as supplemental material. Going forward I don't have a problem with using photos and I think it says something about the state of now and technology and how we perceive digital images, or how our culture is so online, through Instagram, etc. Although that's not immediately obvious with the photos, I think it's interesting to play around with the distortion between the two mediums. 
Well, I want to continue doing portraits. I know I'll always do portraits. There's really an endless supply of what I can do, because, you know, there's an endless supply of people. I don't know if I'll stick to oil paintings. My hyper-focus on painting was driven by being in the university. I'd like to get back into drawing and maybe video, intermedia work. I'll probably do another series of portraits soon. 
Cover image courtesy of Shauta Marsh