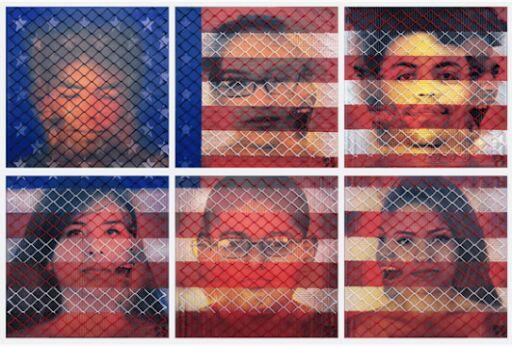 Since Fernando Lozano's early artistic inspiration stemmed from experiencing art in public places, it fits that his exhibit "On Fire," part of the Mayo Mas Mexicano Celebration presented by Arte Mexicano en Indiana, is on view at Central Library through May 26. 
"The exhibit gives you the opportunity to open a window into the events that have made an impact on my art," Lozano says. "Like global warming, the injustices faced by the 'Dreamers' and the LGBTQ+ community. My art addresses the police brutality that the Black community is enduring along with the Black Lives Matter movement that has mobilized the nation and the world. It touches on war and the loss of lives, as well as the atrocities that this brings when there is no compassion. At the same time, 'On Fire' reminds the viewer that there is hope and laughter with the paintings 'The Faces of Peace' and the series on Charlie Chaplin."
Born and raised in Mexico City, Lozano began exploring the world of art in his early teens. More importantly, he began to understand how artistic expression thrived and belonged to the community. 
"Discovering the incredible public art in Mexico is such a gift for an artist," he says. "The great murals of Diego Rivera, Orozco, and Siqueiros that cover public buildings had a great influence on me."
Three years ago, Lozano moved to Vincennes, Indiana and began looking for ways to contribute to the art community. His installation, "The Pencil of Discovery," stands outside of the Knox County Public Library. Here, in Indianapolis, "On Fire," presents the scope of Lozano's passions and obsessions. 
When Lozano moved to Los Angeles as a young man to join his family, he enrolled in the ESL program at Belmont High School, selecting art as an elective course. His love for painting and creation found support from his teachers, some giving him passes out of Phys Ed. so he could paint. He remains grateful for the nurturing environment and the teachers that helped him submit work that received first place in a statewide art contest. The enthusiasm he received early on still influences his work today. 
"I was very fortunate to arrive in the country and at a school with an appreciation for the arts and where students were given the opportunity to explore," says Lozano. 
The passion that drove him then is rooted in his service to his art, and the desire to share and create still drives him. His professional accomplishments have been, to no surprise, creative. 
"I couldn't make a living as an artist," says Lozano, "but I found that I could use my artistic talent to support my family through graphic design. I designed campaigns for the movie industry, and later opened my own advertising boutique, doing work in the English market as well as in Spanish. But the idea of painting full-time was always in my mind." 
His paintings, in turn, share the obsessions, conflicts, and celebrations that reflect larger community concerns, and he hopes the community not only views, but participates in his work. The piece, "Discrimination Under God 2015," asks viewers to consider laws passed by the Indiana House that he feels, "turned back the clock, undermining and removing all progress of equality established over recent decades." 
While legislation was intended to prevent religious discrimination, Lozano and others see the law designed to allow business owners to discriminate against the LGBTQ+  community. The painting is covered by a chain link fence and Lozano encourages viewers to write a comment and pin it to the artwork. 
"My work represents what affects me personally mentally, intellectually and spiritually," says Lozano. "I paint in a way that reflects my soul, and the suffering and injustices that I believe need to be brought to confront the public. At the same time, I do not expect the viewer to agree with me. The only thing I ask is for you to see the painting, make your own conclusions, and have an open and honest dialogue." 
To that end, Lozano is working on a new project called "The Power of Remembering," and is currently welcoming submissions from the public. Lozano asks that if you have lost loved ones due to COVID-19 and wish to honor their memory, you can submit a video through the Fort Wayne of Art website. 
This latest project continues Lozano's commitment to his responsibility as an artist. Having grown up in the light of Mexico City's murals, like those before him he seeks an artistic expression of injustice, loss, and resilience. Lozano's focus seems to apply to his role as a citizen as much as an artist. 
"We can go back to childhood," he says, "during that time when as a young man you are making decisions of what you will do with your life, and more than anything how you will contribute to your community." 
"On Fire" is on exhibit at the Indianapolis Public Library until May 26.