Artist Mechi Shakur was hard at work painting over the large plywood slabs now adorning the front windows of the Indiana Repertory Theatre at 140 W. Washington Street when I met with him in the late afternoon of June 9th.
The mural, part of a project organized by St'ArtUp 317, the Arts Council of Indianapolis, and PATTERN magazine, was in its beginning stages of development, depicting a police vehicle as it drives up a tightly formed hill of words and names. Visually striking even in its early phase, Shakur's artwork prompted several onlookers to stop and ponder the piece as he continued to work.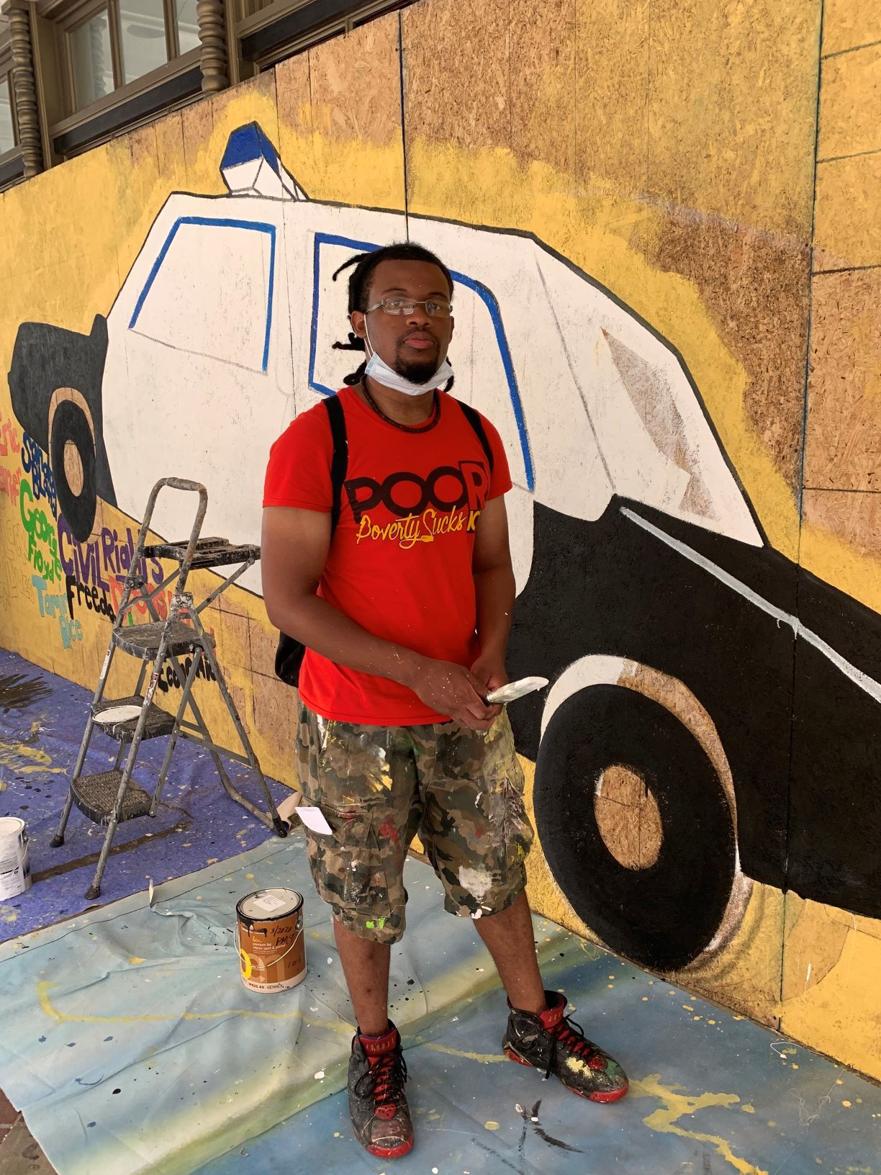 A self-taught painter who has been working for four years, Shakur jumped at the chance to participate in the mural project. "This project is relevant and needed to express what's going on. It's just needed," he said. 
With an interest in both political art and surrealism, Shakur often aims to elicit an emotional response from the viewer, and the immediate impact of Shakur's mural is undeniable. A stylized police car is the focal point of the piece, serving as a symbol of corruption and inequality during a time of widespread civil unrest throughout the country. The names of Sandra Bland, Eric Garner, Dreasjon Reed, and others pay respect and remembrance to the many victims of police shootings and brutality in the Black community. Also amongst the text are words such as "freedom," "justice," and "civil rights," calling to attention the vast inequities and struggles faced by African Americans in the United States.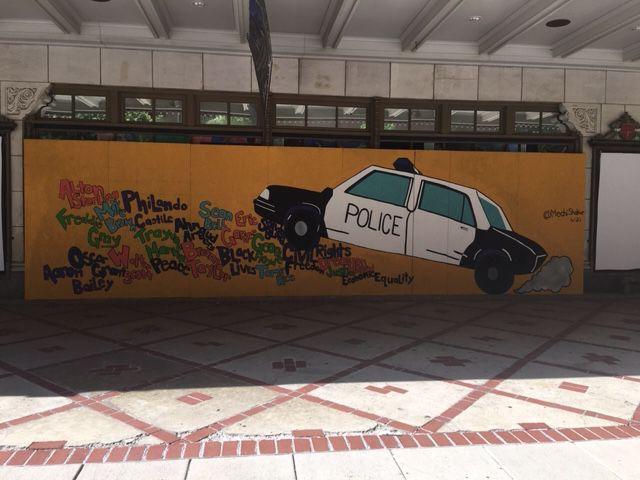 Shakur acknowledges that the loaded imagery may be polarizing for viewers.  "I hope it makes people uncomfortable. I hope dialogue comes from it, conversations that need to be had," he said. "Nothing really changes, nothing can really change unless the people that have power are uncomfortable. If they're comfortable and have no worries in the world, they don't really take the time to look down on other people's problems that don't affect them."
Rather than seeing art as a vehicle for discomfort though, Shakur considers art to be an agent of change and introspection for everyone. "I feel like art is an outlet for people. Even people who aren't artistic can be inspired or still feel what the artist is trying to say through their art."
Shakur hopes his work will spark questions, conversation, and action across communities both now and in the future. To accomplish this, Shakur says opportunities and advocacy for artists of color must persist. "I hope it continues and it's not just a trend that everybody's just hopping for the moment. I hope it stays this way. These conversations are needed."