How do we form a space for art? This question was at the forefront after I visited two exhibits on Final Friday (August 27th). The first was Companion (3715 Washington Boulevard), a new art gallery run by Braydee Euliss. The inaugural exhibit, "LIVE/WORK," consists of colorful, rounded sculptures and large oil paintings of figured bodies slumped in airy emptiness. There were also checkered black and white textiles and Matisse-like asterisk pictures. It had a playful, roomy atmosphere. Rebekah Nolan, the artist, talked about how her exhibit was born out of the compulsion and encouragement of Companion's curator, Braydee Euliss, who challenged her to expand ideas cultivated in quarantine surrounding the dual nature of working from home, which was not new to her, but significant because this idea became such a "universal experience during the pandemic." She also commented on the hopeful effect of her exhibit to exude a sense of comfort, like an idealized picture of home, rather than a formal presentation that challenges the viewer.
The actual interior artifacts of the room, from built-in bookshelves to a defunct fireplace, accented Nolan's vision of an artistic practice mixed with her domestic and work-intensive concerns. Nolan co-operates the creative studio, Flatland Kitchen, which believes "sincere design practice transcends trends and connects intuitively with clients and customers." You would recognize their design touch on trendy restaurants and coffee shops in Indianapolis, like Beholder, Milktooth, and Provider, which unifies them as a particularly clean look that suggests a certain appeal for some. Nolan's artwork and the exhibit itself are informed by her practice and the fact she's a mother of two, which is evident in the children's books scattered throughout the bookshelves and the almost playground-like design and color of the two sculptures.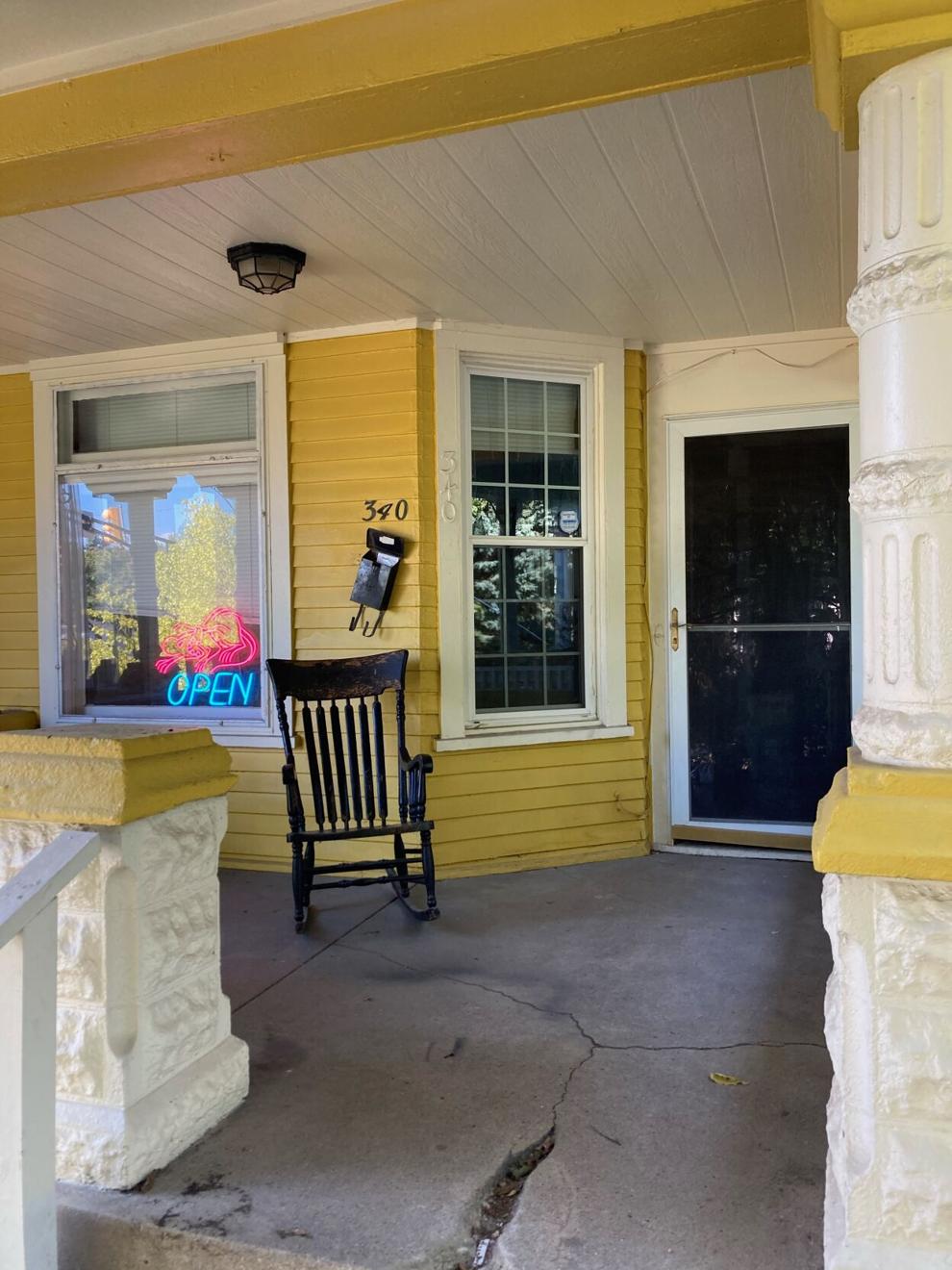 Another similar space, i.e. a home refurbished into an art gallery, was Abattoir Midwest (340 N. Arsenal), curated by Gnat Bowden, showing "Off-Beat," a small exhibit of Machaila Gray's illustrations and sculptures. Each of Gray's pictures draws the viewer by their highly detailed, heightened world, which is predicated on characters she has developed through her personal experiences. Most of her subjects are in costumes or incorporate other fantastic garments to play with the idea of identity, symbolism, and a surreal-like quality that usually connects the subject to the natural world. Like in Aura, where she depicts a woman with wings, a halo over her head, which at first seems like a store-bought Halloween costume, but a mirror in the background reflects her profile bordered by an emphatic, spiritual presence. Also, in MoonMagic, another one of Gray's "characters," the subject is wearing a bunny hat and holds up a plant to an exhausted moon peering from above. I was struck by Gray mentioning that each of these pictures were done on cardboard squares her mother found at work. Sitting on a sofa below the work, her mother corroborated, explaining how she collected each piece for her daughter as they were a perfect size for a canvas, which somehow adds to Gray's preoccupation with a return or reuse of the natural world.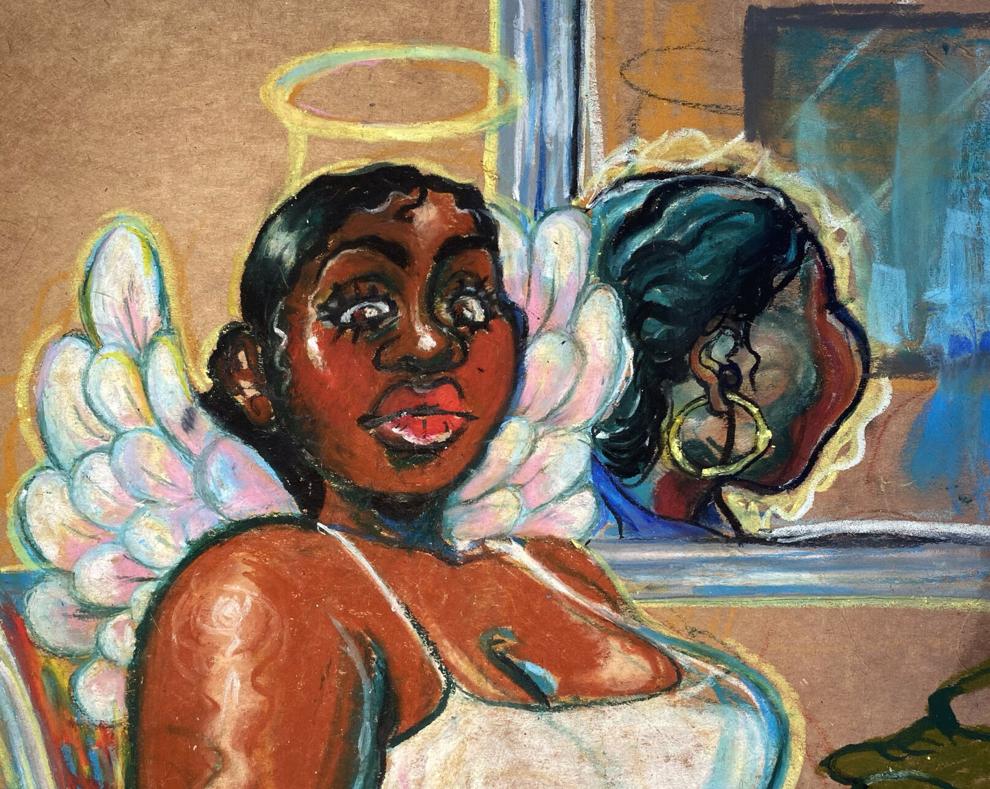 One of her sculptures, Medicine Box, expands these themes by a work of assemblage. Symbolic objects are placed on shelves signifying the ownership of black women in botched menstruation experiments with a tampon, Gray's own hair in a glass bottle, dried sage from her garden, a jar of goldenrod and boneset, river shells, and other objects. They showcase how "black women's own natural remedies have always come in handy against a system that disproportionately kills us. This piece is about medical racism, and a lil bit of hoodoo history and learning to make do with what you have to improve your quality of life." Betye Saar's assemblages and sculptures influenced this particular piece. Much like Saar's autobiographical piece, Black Girl's Window (1969), which incorporates several vignettes into the personal, mystical, and political life of Saar at the time it was created, referring to the occult, the Watts Riots, black revolution, and her own divorce, Machaila Gray weaves her own personal and political life through her own assemblage in Medicine Box. 
While both of these spaces are refurbished homes turned art galleries, they create a new outlet for artists looking for alternative venues to display their art and create new associations. It also enables the curators to organize other events to elaborate on their artist's exhibit. For instance, Braydee Euliss will have a closing reception for Nolan's "LIVE/WORK'' with a performance led by Lauren Curry in collaboration with Bethany Bak and André Williams on September 26th at 2:00 PM. At Abattoir Midwest, Gnat Bowden invited Lifted Thrift to sell vintage wear at Machaila Gray's show. They both are finding ways to bring together groups of people who otherwise would not gather. I am enthused to chart and attend the beginning and improvement of these two new galleries in Indianapolis. Each of these curators is concerned with expanding how we engage with art by reshaping how we view space to highlight the people in our community wrestling with their reality.