Matthew Cooper's paintings look out over every artist and musician at this year's Art & Soul in the Artsgarden which, in turn, overlooks the intersection of Washington and Illinois Streets in downtown Indianapolis. The gaze of the three portraits, like the artists performing, presents pride, elegance, and strength.    
As part of Cooper's contribution as a 2021 Art & Soul Featured Visual Artist, his murals, painted this past summer for the Murals for Racial Justice project, located on the Old City Hall Building, were recreated as panels for the Artsgarden stage. 
Cooper is clear when explaining that vision and what he hopes his art portrays. His inspiration comes from ideals that connect individuals and communities. "Black identity, family, diversity — that speaks to me," he says. "That speaks to all of us. You don't have to say Black."
He produces work out of moments of joy and celebration. And he isn't shy about sharing that excitement. "My work is getting in front of the people I've been painting for from the beginning," he says. "I paint for Black people. I've been painting to make them happy. That's what it's all about. Positive representation."
The walls in Cooper's studio at the Circle City Industrial Complex (CCIC) are lined with canvas' leaning against concrete walls. For a room with no windows the place is bright in golds, greens, a palette of oil glistening in the corner. One of his projects is painting portraits from photographs. The subjects are regular, strong people.  
He is currently working on a portrait of a father and son. The son is posing for a photo with the father by his side, a park and a tree line stretching out behind them. His explanation of the work is simple yet layered with cultural significance.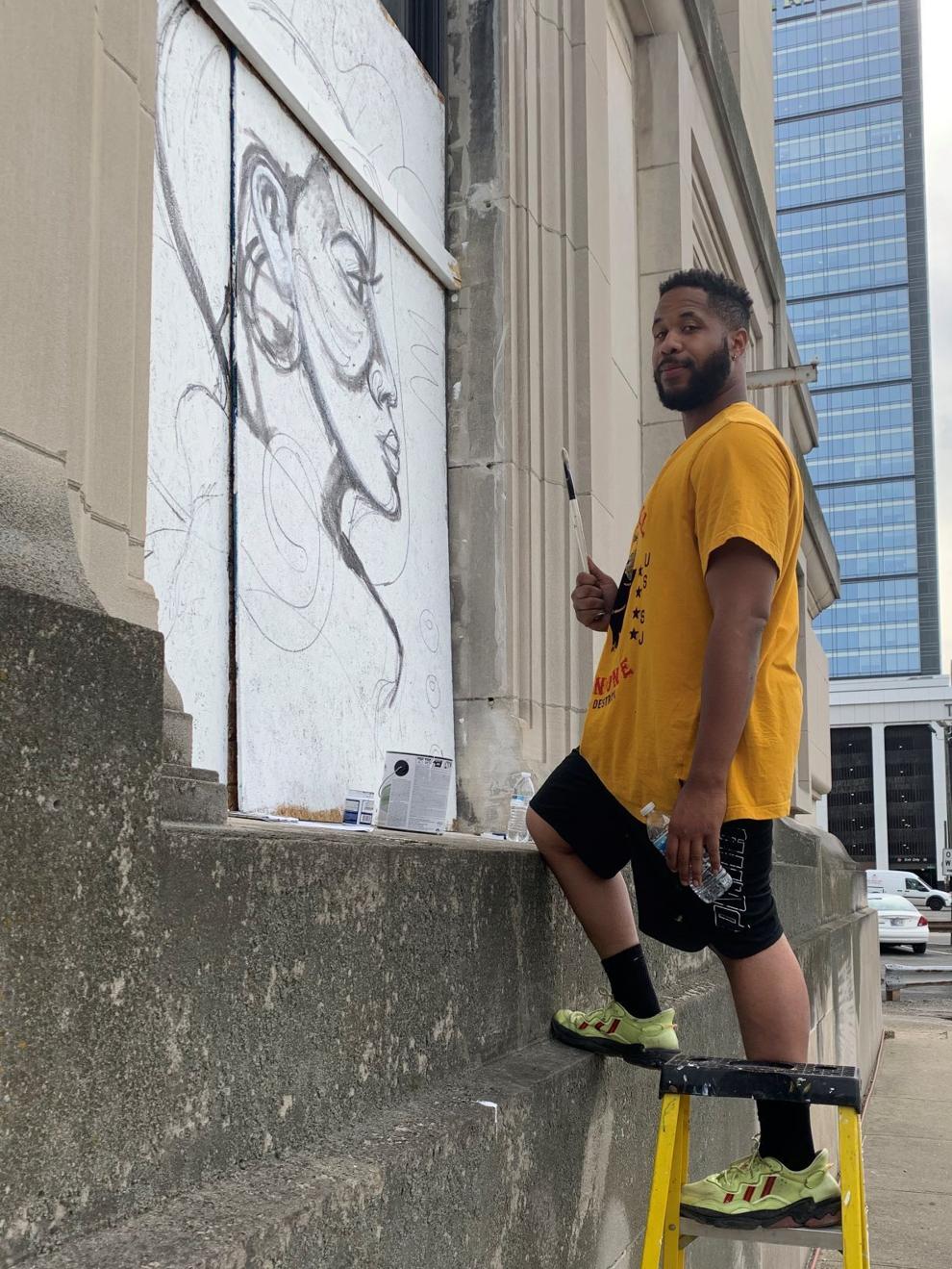 "Black fathers don't get the light that they need," Cooper says. "And to see more Black fathers in the household and involved truly deserves proper recognition. I mean it deserves a whole show —  just fathers with their kids. I think it deserves a whole museum so women and men can see it. Just a positive reinforcement."
Sharing these images and his art as murals and using public space is one important way Cooper has reached an audience. The Jiffy Lube mural and his portraits at the Old City Hall offer an opportunity that Cooper appreciates.   
"It's one thing to have your mom, family or friends say, 'Oh Coop, we saw the mural, it's amazing and all that," he says. "It's another when it's people who don't know you. Or the little kid that might actually pull over just to say, 'I love this. We've never seen something like this that represented us.' That's the winner, right there."
Cooper returns to a theme of affirmation in talking about his work. The confidence and energy are evidenced in his style — comfortable, textured, and strong. Cooper says, "The way I paint is all about a positive representation of our culture. Now, I used to do more slavery work. But let's be real, that's the first thing I connect with sad trauma. But I need to find something other than trauma to motivate me."
Cooper acknowledges the importance of speaking to trauma, as he did with is Mural for Racial Justice. It's appropriate and important to call on artists to comment and reflect on issues of social justice, he says, as they were called after the killing of George Floyd and others. However, he's concerned the conversation stops there.  
"The other side of the coin is this shit happens every day," he says. "And it's going to continue to happen. So, what happens then? Are we still in the front? Not talking February, we're in the front because it's February. What about March? April? May? June?" 
Cooper's larger goal for his art, and the community, is to continue conversations facilitated by the work of Black artists. His ambition strikes Lindsey Lord,  director of artist services at the Arts Council of Indianapolis —   which organizes Art & Soul — as well.  
"He's not only thinking about opportunities for himself as an artist and how he wants to grow," she says, "but how the Indianapolis arts community can continue to develop and become a place where even more artists have the chance to get funding, commissions, gallery shows, and so much more."
Listen to Matthew Cooper's conversation on the Arts Council website. 
Lord got to know Cooper through his apprenticeship on the Jiffy Lube mural "Three Kings," the Murals for Racial Justice project, and Art & Seek. To her, Cooper represents an authentic artist, more and more developing a striking vision.  
"For many artists," says Lord, "it is a winding journey to find their authentic voice and style. In Matthew's work, he is confidently coming into his own with his use of materials and conceptual subject matter." 
His work is also exhibited at the Arts Council's Gallery 924.
Cooper is grateful for the chance to create, from the Arts Council to his studio at the Circle City Industrial Complex, to the feedback he receives from everyday people. It's not surprising that he hopes the energy of Art & Soul will lead to a sustained effort in support of Black artists. 
"I'm so appreciative to have the opportunity to be a featured artist," he says. "To be on this platform with the Arts Council and all the marketing and publicity they're doing for all of the artists is great. And we could be doing this all year long." 
It's easy to agree with Cooper's point. His enthusiasm is supported by the success of the Mural for Racial Justice project and the work created by the 24 artists involved. 
"We turned downtown into a gallery overnight," he says. "People are in love with it and it shows what we can do. So, let's do it again."