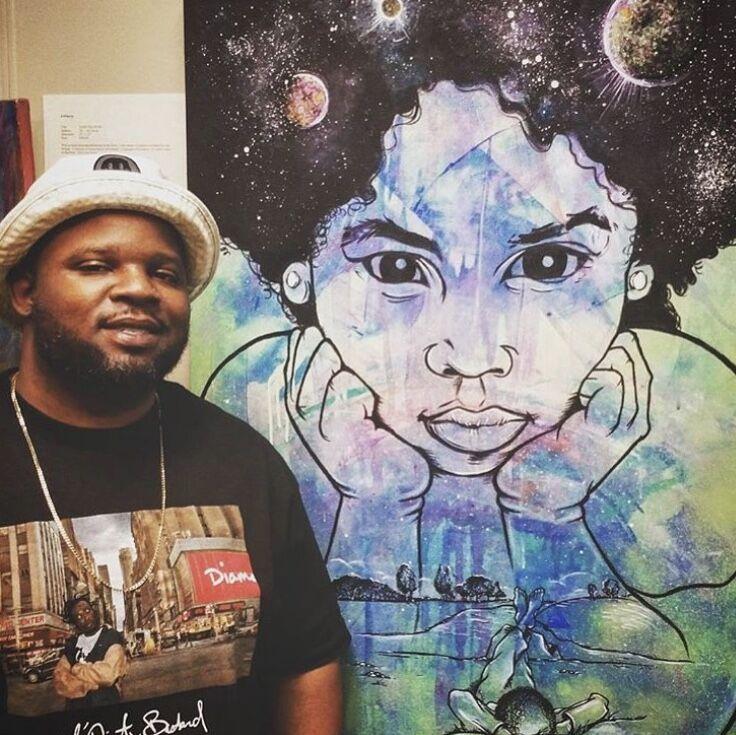 Editor's note: Until further notice all Indianapolis Public Library locations are open only for curbside checkout or computer use. 
Earlier this year, protests erupted globally to end police brutality and persistent racial injustice against Black people. The cruel death of 46-year old George Floyd, inflicted by Minneapolis police on May 25, was witnessed by many on news and social media platforms, causing angst and heartache. The protests continued with the public demanding justice for the Black lives taken by the hands of police. In response to the protests, the Arts Council of Indianapolis commissioned several Indianapolis-based artists of color to create 22 murals on boarded-up storefronts in Downtown Indy. The Murals for Racial Justice Project began in June, 2020.
The murals have since been transposed into 3 ft. x 5 ft. banners that are currently on exhibit at Central Library.  This is a result of Danicia Monet, who leads the Murals for Racial Justice Project, reaching out to Nichelle Hayes, founding leader and director at The Center for Black Literature and Culture at Central Library. Monet wanted to see if the Center would be interested in hosting the banners and in creating a program where Indianapolis Public Library cardholders can borrow them. At the same time, she was leading a series of workshops and citywide conversations that developed from the mural project.
Monet connected me to artists Israel Solomon, Andre Parnell, and Omar Rashan, whose murals I found gravitating. By speaking with the artists, I learned more about their artistic practice, their murals, and what they are doing today.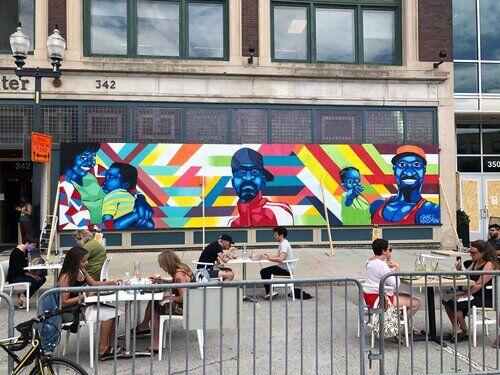 One of the first features of Israel Solomon's mural noticed is his use of blue for skin tone. Israel Solomon's mural, For George, is installed at F.C. Tucker Co., at 342 Mass Ave. Solomon mainly paints with acrylics, in a style that is geometric in nature and displays strong inorganic figures to represent people and bright vibrant colors. He uses such colors in his mural along with the color blue as skin tone. Solomon shared that he stumbled upon the color blue while attempting to use natural skin tone colors. When natural skin tone colors were not working, he arbitrarily painted over them with blue and found it worked very well in depicting the human skin and form.
"It is a spiritual and soothing color. In Hinduism, the color blue is used for deities too. Reds can cause tension," he shared. "Yellows can cause anxiety. I'm studying colors and blue is a dependable color. Sometimes I'll use complementary colors to create a vibration and a shift in movement even though the painting is stagnant." Solomon still uses natural colors to show flesh tones but primarily uses blue in his work. 
Solomon, who still uses natural colors to show flesh tones, focused his mural on George Floyd because his death hit home for him. But he did not focus it on Floyd's death. 
"I put myself in Floyd's position, in his shoes," Solomon said. "What if that was a family member? What if that was a cousin? What if that was my dad? What if that was my brother? How would I feel?" 
Because some media outlets were talking about Floyd's character in a negative manner, Solomon humanized George Floyd by sharing different roles that Floyd played. At first, he was hesitant that people might be upset with the piece because they may disagree with Solomon's idea of who Floyd was but that did not stop him. George Floyd was a father, a son, and a man — displayed beginning on the left side of the mural. He is shown as a son with his mother, in the middle as a man, and on the right as a father with his child. 
Solomon thought of the mural idea almost immediately, taking a couple of hours to draw his sketch. Usually, Solomon will take plenty of time to design and create a concept. He will take images before or creates a rudimentary collage to represent his guidelines before he begins a painting. For George was completed within two weeks with four to five hours of painting devoted each day and the assistance of Koda Witsken. Using his vibrant colors in the mural, Solomon hopes he will invite viewers to think more in-depth about who Floyd was. 
In addition to "For George", Solomon and Witsken painted a mural in Downtown Noblesville of Wes Montgomery, a jazz guitarist from Indianapolis. Israel Solomon also painted and designed the font for the second T for The Black Lives Matter mural on Indiana Avenue. He teaches in Indianapolis and is working on multiple art-related projects. 
Certain murals breathed messages that were in alignment, portraying the pain and injustice Black people have gone through. It was Andre Parnell's Resurrection Cradle, located at Repro Graphix on 437 N. Illinois St. that portrayed a diverse message in comparison to the others. Andre Parnell entered the mural project at a later time when he was heavily affected by the current atmosphere of the country. For Parnell, social media was his happy place but the viral spew of social messaging and the violent images that surfaced quickly changed that. He felt damage, a fear of the unknown, and distraction that affected his ability to create art. When he was offered the opportunity to paint a mural, Parnell accepted. It sounded like an incomparable opportunity to express and heal himself when he was hurting. 
Andre Parnell is a multimedia artist who grew up in an artistically-inclined family. His mother was a writer, his father was a creative director, and his older brother was a fine artist. Parnell graduated from Columbus College of Art School, focusing on advertising and illustration. After graduation, he worked at a design company for over fifteen years. His interest outside of commercial art is graffiti. The art he creates is people-centric, using bright colors and bold lines. Parnell loves interactive storytelling and displaying expression, especially emotion in the eyes. In addition to this, he enjoys bigger concepts where he can take a social statement and boil it down into an image and invite the viewer to interpret what they see.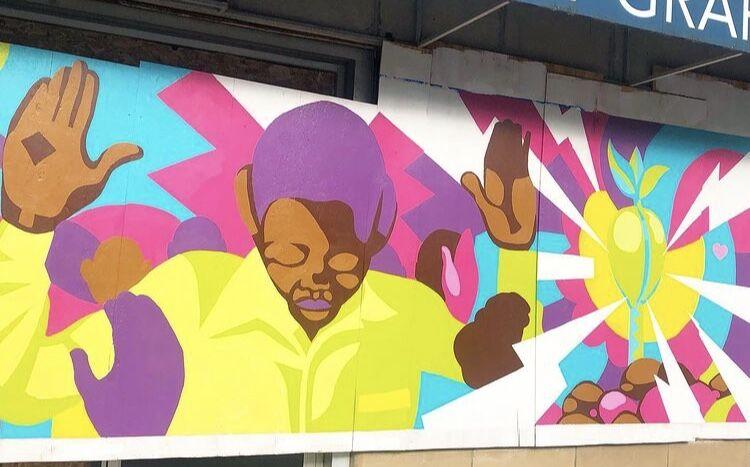 The people in his mural represent vignettes. 
"You have family and community," said Parnell describing his mural "Resurrection Cradle". You have heartache and joy. There is change and disruption everyday. A shock to the community. From that damaging point, you also have resistance and coming together. You have the community's response. The talks, the conversations that were going on. As you progress from the healing, there is a push towards the future. It's an elevation of sorts."
The colors used in the mural are a direct reflection of Parnell, who tries to wear bright feel-good colors in an attempt to affect others in a supportive way. In his spirit, he is a peacemaker and leans towards togetherness. 
While working on the mural, Parnell met several people that walked by and offered comments and help with no pretense. A crystal clear memory Parnell recalls is of a homeless man who spent one-hour painting with Parnell and contributed his own money on a 12-pack of water for Parnell and his painting group.  He gained more from the experience than what he invested in it, especially finding the healing he needed. Today, his recent work entails signage for the former Coca Cola Factory, now the Bottleworks hotel. Parnell was recently presented with an incredible opportunity to paint a mural in Puerto Rico that he hopes will be possible after COVID.
When I spoke to Omar Rashan, he shared that he was a big fan of Spike Lee. His favorite film, when he was younger, was Lee's Do the Right Thing. This is reflected in his mural that takes its name from the movie title. Released in 1989, Do the Right Thing focuses some of its attention on  Italian American man's racism towards Black people. With one of the film locations being a pizza joint, Rashan felt the opportunity to merge this Brooklyn, N.Y. setting with the BLM protests of 2020 in his mural.  
In his mural, viewers can see a police officer rectifying for mistakes of the police by offering a pizza symbolizing Black Lives Matter, justice, and equality. 
 "Kaepernick was scrutinized previously but many already understood why he did what he did," Rashan shared with me. "He was on the right side of history. I wanted the police officer to represent the right side of history by offering full equality to Black people." 
Omar Rashan is an artist originally from Evansville, Indiana. Rashan moved to Indianapolis in 2005 during a time when there wasn't a significant art scene in place. Seeing this, he became a liaison in the community and has since seen serious growth. Art has always been a part of Omar Rashan's life. He never stopped his involvement in fine arts even after receiving his commercial design degree. When he was younger, he harbored an interest in museums but felt that there were too many landscapes on display at the time when he visited them. He took an interest in realism and abstract and later he began studying African artists that were using the abstract technique. His current style is between contemporary, realism, and abstraction. 
"It's a yin-yang approach," he said. "I like texture but clean fine lines and signet too. It's because I grew up in an industrial complex type of area in the midwest so it has a way of finding its way into my work." 
Since his mural went on display at Pearl Street Pizzeria, at 65 E. Pearl Street, Rashan reinvested the money he received from the mural and other art projects in 2020 into a studio space called Elevated Culture. The space, which will host its grand opening Jan. 1, 2021, will feature a small gallery, retail shop, and podcast area for anyone to take advantage of if they are looking for a space to connect and create. 
The inspiration behind Elevated Culture was a lack of identity, ownership, and creative spaces for Black creatives. 
"As a culture, we need to identify as being more self-sufficient," he told me. "I wanted to put my money where my mouth is. I wanted to be an example of taking ownership, not complaining, and showing adversity," 
After hearing Omar Rashan's mural connection to Do the Right Thing, I took a few hours out of my Friday night to watch the film for the first time.  Let's just say that it still resonates today. Just like the work of Rashan and his fellow muralists, the film shines a light on problems that remain unresolved.
Truly, this sparks numerous thoughts and reflections. Have we really made as much progress as we think? Where is the growth? The murals that connect us to films of the past —   that exhibit a message still unresolved in the present —  speak to us loudly on a human level. 
The racial justice murals initiative is supported by Glick Philanthropies and is a partnership between the IMCPL's Center for Black Literature and Culture and the Arts Council of Indianapolis. IMCPL cardholders are able to reserve eight murals maximum. You can also follow the artists at @israelsoloart, @cheqwon88, and @omar.rashan on Instagram and continue to support their work there.