First off I should say that I've known Jim Poyser for quite some time, as he was the managing editor of NUVO from 2000-2013. (Since then, he has worked as the executive director of Earth Charter Indiana.) While Poyser has always had creative flair in his journalistic prose and poetry — he wrote a weekly Haiku News column in NUVO for a while —  I was unaware of his interest in writing fiction. He renounced this interest at the age of 50 for reasons explained in his afterward. 
His newly-published collection The Last Actor and Other Stories, published by Wordpool Press, mostly spans his literary output in the 1980s and 1990s. It contains a variety of work: vignettes and short plays in addition to short stories of various length. Poyser will read from his collection on Facebook Live on Saturday, Oct. 10 from 3 p.m. - 4 p.m.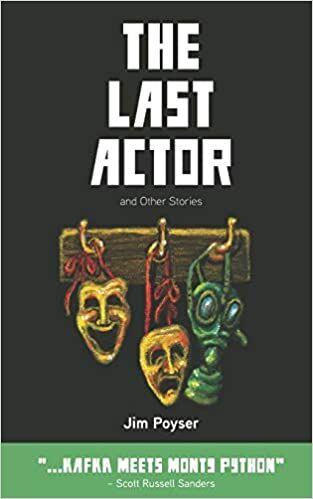 The protagonist in the titular story is one Mark Moses, a famed soap opera actor. You see the world through his vain self-regard as his fellow actors, who are dropping like flies due to illness, are replaced by those with no acting experience whatsoever. The only asset that these replacement actors have, in fact, is their not yet having come down with The Cold, a worldwide pandemic that presents similarly to COVID-19, at least initially. The Cold is, however, much more lethal, with a range of symptoms that range from rashes to wholesale bodily disintegration. If  you were around in the 1980s and 1990s, you might also think of the devastation wrought by HIV/AIDS on the artistic community. I'm probably making this story sound a lot more dour than it really is, as a sort of contemporary Journal of the Plague Year. 
There are, however, some very funny moments in this story. You get to see some very over-the-top soap opera script reading, and you get to see Jack Nicholson on TV doing a commercial for dandruff shampoo "with his signature Shining snarl". Balancing humor and horror, the story might make you aware of how small-minded most of our ambitions are in the larger scheme of things, at least compared to our relationships with our family members, and our friends. 
In "Limbeciles", the issue of organ donation is given a similarly dark comic treatment. In this story, teenagers willingly sacrifice one of their ears for a Yamaha 125 and parents are willing to give up an eye or two to put their kids through college. Considering the brisk worldwide organ trade, the world portrayed here doesn't seem too far off from current reality. Other stories, like Black Mirror episodes, similarly cut close to the bone. After reading "New AGE Daycare", for example, you might never leave your children in an afterschool program again —  especially those newfangled ones that seem to be modeled on theme parks.
Other stories present like dreams. In "Sea of Cars", gravity abandons the protagonist, a high-powered real estate developer, during his commute. His reaction might be instructive for all of us: rather than shout obscenities or cry in despair, he reaches out to his fellow humans hovering in their cars around him.  
If gravity is weighing you down, or if you just need a respite from your Facebook feed, you might consider spending some time with Poyser's new collection.