On Feb.14, 2021, urban planner Danicia Monet posted a link to an open letter on her Facebook page, with its primary demand that Newfields CEO and president Charles Venable step down from the position he had occupied at the museum since 2012. That he ultimately did step down was certainly a dramatic development, but it may also be part of a broader shift occurring in arts institutions across the country and around the world.
Monet's letter quickly gained 2219 signatures. 
Those who signed the letter insisted Venable step down because of a Newfields job posting that sought a museum director who would be responsible for attracting a "broader and more diverse audience" while maintaining the museum's "traditional, core, white audience." The job posting was widely perceived as insensitive and racist and generated national attention inside and outside the museum community.
"The process of coming up with the letter to Newfields happened organically," Monét said. "Many of us were sharing stories about how typical that was but also how outrageous that was in terms of the job posting."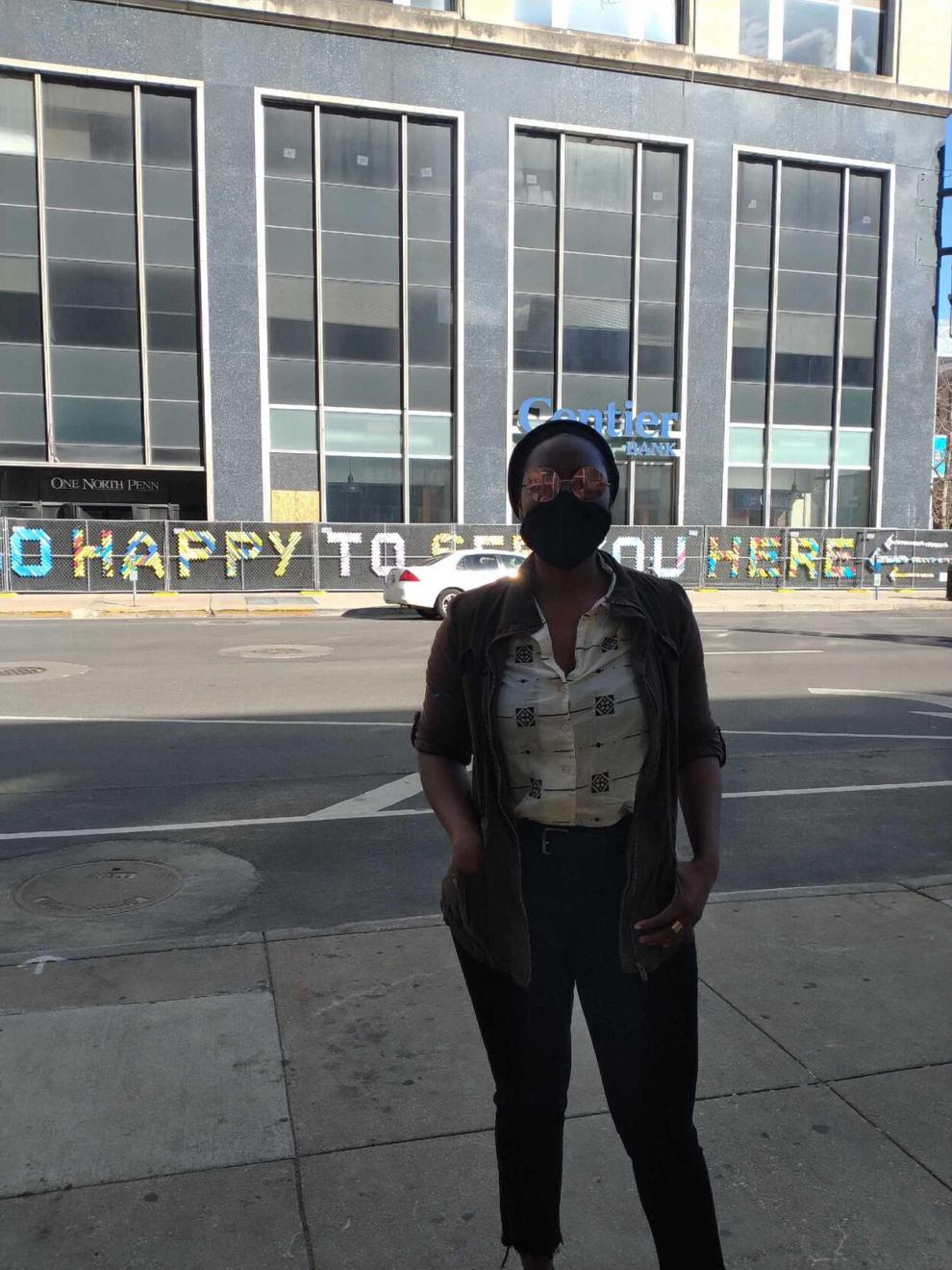 Some of the discussions online brought up incidents that had happened at Newfields and other arts organizations previously. 
"As I was talking with my colleagues and cohort of community members, just asking them how they felt, it just seemed like something that we could do together and potentially there would be an opportunity to make something shift in that moment," said Monet, who has served as the project manager for the Arts Council of Indianapolis' Murals for Racial Justice project. "So that's how it came about; quite organically and through the support of many many community members."
On February 16, eighty-five Newfields staff members and stakeholders released another letter, this one unsigned, also demanding Venable's resignation.
On February 17, the museum released a statement of apology for the posting along with the news that Venable had resigned. The museum also promised to release an action plan in 30 days to address questions of diversity, equity, inclusion, and access at the museum. 
On March 19, Newfields announced its promised action plan. This plan includes the establishment of a $20 million endowment to enhance representation in exhibitions and programming, organization-wide DEIA training, increasing leadership diversity, hiring a leadership-level diversity executive, outside review of leadership, culture, and policies, and launching a community advisory committee.
Monet sees the action plan as a starting point. "I was hoping to see more definitive timelines, more structured timeline so that you know the community can honestly see progress, and accountability," she said. "Right now, in my opinion, it seems very vague and abstract [...] but there's not really a definition to it about when things will be started or happening or done or updates. That is a bit disappointing to me."
The museum has not responded to two requests from NUVO for comment.
Monet sees outstanding issues that were not addressed in the document. "I think there are issues still at play around their internal work, infrastructure and how they relate with their employees, which is only going to affect how they relate to the outside community. And I also think, in tandem with that, there's a really pertinent conversation about how they address community. I mean, it's still a gated facility."
Monet also thinks the aesthetics of a fenced-in museum have to be addressed if a conversation is to be had about situations of diversity, equity, inclusion, and accessibility. 
"It's great that they are reviewing ways to expand the fee structure so that more people can experience the space and membership structures and these types of things, but there's also those real visual key markers that have not been addressed," she said. "That has just kind of been completely left out of the conversation. Spatial justice is as much a part of the conversation as their lack of cultural competency and racist behaviors."
And she is disappointed in Newfields' reliance on outside consultants.
"One thing I'm a bit disappointed in is the idea of an outside organization, PINK Consulting, doing this work in our city, with an institution that is meant to be a part of our community," she said. "I am hopeful that Newfields will reach out as they continue this work and find local practitioners to help heal the wounds that we all bear together."
One of those Monet consulted with on the Newfields letter is Mindy Taylor Ross of Art Strategies LLC, who believes the changes outlined in the plan, while good and necessary, are also overdue.
"A lot of these actions are things that companies and organizations across the country have been acting upon for a while," Ross said. "But, of course, it's nice to know that the museum is aware of that and is catching up."
After noting that her perspective is that of a "middle-aged white woman who is in the art world," Ross also criticized Newfields' operational strategy. "One of several things that has bothered me about the way that our museum operates is that our museum tends to want people to come to [...] versus really going out into the community and looking outward and kind of meeting people where they are in the city and in their communities."
Ross is also concerned with a sentence on the last page of the document that reads: "Newfields will increase its attendance at off-site meetings and events, to hear from people who haven't visited Newfields, and to share information about new programs and offerings". 
Ross wonders why that sentence occurred on page 10 instead of, say, page one.
"For just years and years this has been something that I have wanted the museum and the museum staff to do," she said. "Now that doesn't really have necessarily to do with serving our community of color directly, but it speaks to just serving the community better period, across the board."
But the placement of the sentence on the last page of the action plan has Ross concerned because she wants this commitment to be more front and center. 
Something shifting in the moment?
Newfields is far from the only museum in the country that has faced criticism from art activists and calls for greater inclusivity.
While a recent exhibition at the Herron School of Art & Design titled SHIFT: What can Museums Change?  didn't reference Newfields, it did reference issues that Newfields is currently facing like the increasing pressure to return stolen artifacts to their nations of origin.
SHIFT also reflects the reality that, under increased pressure from the communities they serve, museums are revamping their institutions to revamp practices that have, in the words of the exhibition's promotional copy, "historically privileged whiteness and wealth." 
The exhibition, developed by students in the IUPUI Museum Studies Program, looks at four case studies of museums around the world — the Tenement Museum (New York City), the National Museum of African American History and Culture (Washington, DC), Te Papa Tongarewa (Pōneke Wellington, Aotearoa New Zealand), and the Pitt Rivers Museum (Oxford, England) —  where architectural interventions are being implemented, old curatorial practices are being discarded, and new ones being implemented to reflect the desire to right historical wrongs, and better represent people who have traditionally been marginalized.
In addition to hosting SHIFT, in conjunction with another exhibition on display at Herron titled Creativity vs. COVID which IUPUI associate professor Laura Holzman curated in collaboration with other members of the Free the Vaccine collective, which hopes to make vaccines accessible worldwide.
Holzman, who directs the Museum Studies program at IUPUI, acknowledges that many museums have their roots in colonial practices, such as inheriting collections of artworks that have been taken by force from countries under colonial occupation. 
"But I think we can also look to examples of institutions that are operating differently that are working to right historical wrongs," she said. 
Holzman's students in exhibit planning and design, who developed SHIFT, are also interested in righting historical wrongs. The questions they answer in their exhibition are the same questions that concern their professor.    
"How have museums taken big steps and small steps to be better?" she asks. "And to shift the focus of power?"
Editor's note: I changed the title to reflect that the tentative nature of changes made so far at Newfields.  (Former title: A shift at Newfields and in Museums around the world.)