Thirty years ago, Indiana's first craft brewery, with an adjoining pub, opened Nov. 14 just west of the then new Monon Trail. The Broad Ripple Brew Pub (BRBP) was where we came to learn what fresh, local, craft beer was all about right here. 
We weren't unaware of the American craft beer revolution that Jack McAuliffe sparked in 1976 with New Albion Ale, known as the first American craft beer, brewed in Sonoma California. That is, at least in part, because BRBP founders John and Nancy Hill had been showcasing American craft beer at the Wellington/ the Corner Wine Bar at the corner of 63rd and Guilford since 1982.
Three decades later, on Nov. 14, 2020, it's another low key celebratory format, with another kind of safety protocol in place. It's the culminating festivity that kicked off on Nov. 9 with the tapping of Ted Miller's Tripel De Ripple. Miller, whose brewing career began twenty-five years ago at BRBP, returned to brew his iconic Belgian alongside current BRBP brewer Jonathon Mullens.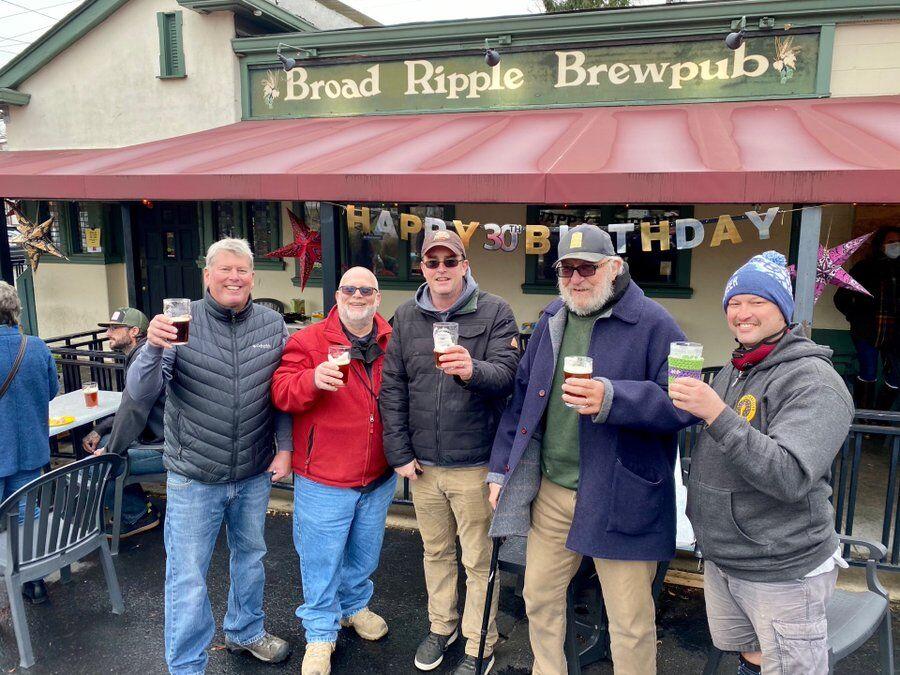 The plan for Nov. 14 is to stop by whenever, with a tad of outdoor revelry expected around 2 p.m - 4 p.m.  
Some of the old-time regulars have been sharing memories via emails.
 "The Broad Ripple Brew Pub has always been the most comfortable and welcoming place to have a pint," states  award-winning home brewer Mark Schiess, who segued into professional status at Wabash Brewing on west 86th St. "Stop in [at BRBP] for one and that would lead to two, then another and then perhaps a meal and another as friends, travelers, and other guests would sit at the bar and join in conversation.  I have met the most interesting and diverse people there." 
Schliess recalled that the local homebrew shop, Great Fermentations was located across the street from the pub for several years. "This would lead to a high volume feedback situation," he recalled. "Buying supplies at the shop would get you thinking of a beer and you would head across the street for a pint. Having a few at the pub would get you thinking about brewing and you would hop across the street for supplies. A perfect little nexus in my little universe."
Then Schiess remembered, "Only once in my life have I been denied service in a pub — and it was at the BRBP. I had a gig as Santa Claus in downtown Indy. I found out, as a brother-in-law told me, that everyone wants to buy Santa a drink. Took us hours to get out of downtown with photos and free drinks. I was dropped off at the pub where my car awaited across the street. I sat at the bar and Barry immediately informed me that he could not serve me. I nodded in acknowledgment and had a few glasses of water. Later, after the restroom, I walked across that street, called the wife, and got into the back of my van. Pulled out a pillow, pulled off the Santa beard and pulled a blanket over my Santa suit and slept till early the next morning before going home; convenient for the reason of safety."
Homebrewer and IUPUI craft beer adjunct faculty member Ron Smith chimed in with more memories: "Way back they were closed on Sundays, and there were a handful of us homebrewers in the area that would meet there once per month.  John participated in the meetings and would try everyone's beers.  If he said something/anything, he liked it, but if he didn't say anything, you knew you had work to do.  This was the very beginning of craft beer, homebrewing and brewing in Central Indiana, and John was there to support and encourage it."
Homebrewing preceded the opening of the Broad Ripple Brewing Company with its adjacent pub. In 1990,  the law required a pub to be separate from a brewery, which is why — if you take a stroll around the building —  there is a door at 840 E. 65th St. for the brewery and at 842 for the Pub. Even now there is a close relationship between homebrewers and BRBP, so renamed when the law changed. 
"For the first ever Brewers Cup, but before it was called that (1999 I think), the BRBP won Best of Show on the pro side and I won Best of Show on the homebrew side," said Smith. "At the time, I lived a few blocks away from the BRBP. A couple weeks later, John and I were sitting at the bar, and chatting about this and decided our big wins must have been due to the great Broad Ripple water!   We had a good laugh about this over a couple beers (off the handpull of course)."
Smith continued, "One time, maybe 15-20 years ago[?],a big storm rolled through Broad Ripple, and the streets flooded, and the power went out. Tracey and I were heading out to eat at a restaurant in Broad Ripple when this happened, so with everything closed, we thought we would stop in to the BRBP to see if they had power and maybe get a beer and wait for the restaurants to open back up. We walked in just as John was telling the staff to head home and call it a day, but he said we could stay for a beer.  He found some candles to light up the bar area, but he didn't know how to work the register, so he just said to heck with that, and poured whatever folks wanted.  We sat there in the dark, with just some candlelight around the bar, and drank and chatted for several hours.  A few other wayward travelers wandered in and out, and John would pour them a beer if they wanted one.  For a few hours, time was forgotten, and we seemed to be transported to a little pub in England back before there was electricity.  No whirring of electric motors, no air conditioning, no fancy cash register, no TV, no music, etc., just some candles, some great beer, only our conversation filling the silence, and a wonderful host.  A magical moment in time, created by circumstances and people, that can never be replicated."
By this time Darren Connor, award-winning Bier Brewery founder, chimed in with a memory, from when he  was an award-winning homebrewer. 
"In the fall of 2003 I met my wife, Tracie, on a random Wednesday evening at the Brewpub. My friend Dave and I walked across the street after I was done working for the day at Great Fermentations to have a couple of beers," he said. "She was there with a few of her friends, and we started chatting with each other while playing darts and drinking the Brewpub's ESB. And believe it or not, we're still happily married!"
That's how it was and has been for three decades. Stop in for a beer, and next thing you know you're hearing history as a life unfolding. It's the best of a good world.