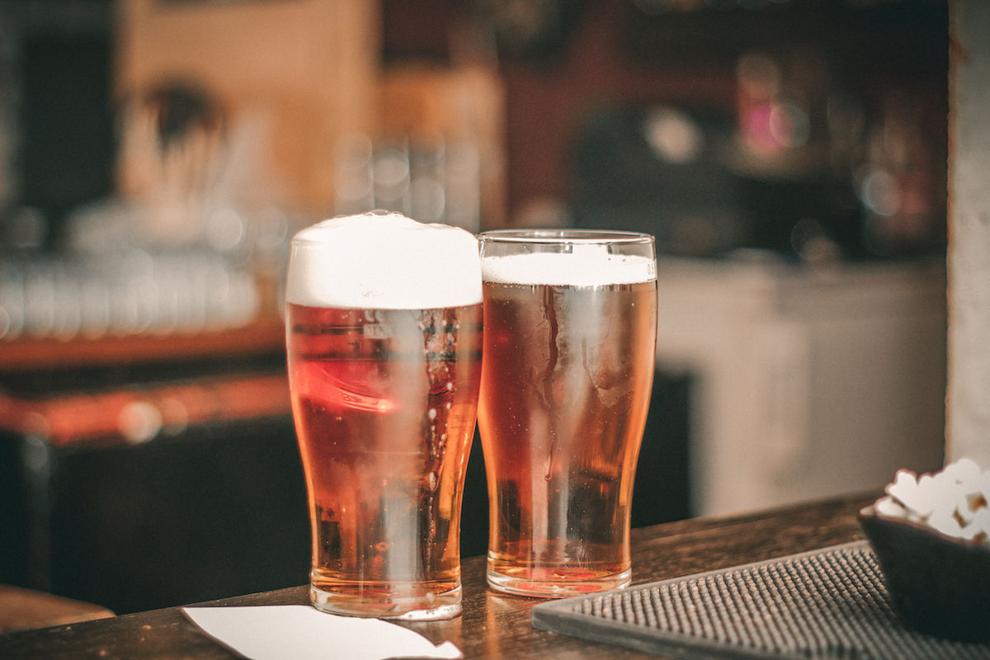 HB 1051 and SB 1 weren't on the radar for patrons attending the Bock Fest at The Liederkrantz Hall on Feb. 25. They like full-bodied German beer served on tap from the historic bar. Bring your own stein, if you like, and the baristas will fill it. Daredevil's freshly up Seasonal Doppel Bock sold out before the fifth toast. Import Bocks, sold in bottles, filled in. And when those Bocks ran out, the everyday German Lagers tasted just fine with the special menu of home cooked German fare.
Numbers of 'old-timers' made sure I was aware of ancestors who had brewed in any one of the dozen breweries that brought international attention to Indianapolis' 19th-century breweries. Prohibition, sadly, shuttered them. The walls of photographs provide one-on-one historic reference. "It's nice to visit," offered one gentleman, pointing to family members, long-ago friends of family.   
While the professional Alpine Express German Band was entertaining us on the upper floor, inviting sing alongs and polka dancing, the all-volunteer brass band was rehearsing downstairs, also inviting sing-alongs. 
During the festivities Homebrewers in attendance dittoed the downplay on the bills going into effect. They never run out of fresh beer in their fridge, and Sunday visits to brewpubs and brewery taprooms are part of a good time weekend.
Sunday sales at the juncture couldn't bother us one way or another. But, they undoubtedly will our impact local breweries.
That's what Broad Ripple Brewpub general manager Billy Hannan is expecting as an outcome to HB 1051 and SB 1 having been signed by Gov. Eric Holcomb. 
"Of all our growlers sales during an average week, half are sold on Sunday. Lack of Sunday beer availability in other non-breweries contributes to that, so clearly it'll have a major impact on our sales," said Hannan. He followed with a hopeful and truthful statement: "I would like to think that people who really like our beer will still come in on occasion to get a growler filled."
"It had to happen," said Jeff Mease, founder of Bloomington Brewing Co. and Lennie's Brewpub in Bloomington. "The [2010] Indiana brewpub's exemption from the old rule was certainly a boon to Indiana's nascent craft breweries while it lasted, but the new rules are certainly more customer-friendly, and in my opinion, that's always the direction things should go."
"SB 1 doesn't affect current brewery regulations regarding Sunday sales," emailed Greg Emig, founder/brewer of Lafayette Brewing Company. "Breweries will still have all the privileges that we had prior to the passage of the new legislation, including the ability to sell our beers for carry out on Sunday from 7 a.m. to 3 a.m. We'll also still be restricted to 576 ounces per transaction, so no keg sales. All growler filling regulations remain the same. And yes, it appears that this will be in place by next Sunday [March 4] given the emergency status assigned to the bill. 
"For LBC, this is not a big issue. Our mission and operations won't be affected.  We will continue to be open on Sundays and serve our fresh, handcrafted beers for carryout."
Emig then adds an important question: "Will we see a decrease in Sunday growler & crowler sales?" This question brings out his optimistic side though.  "Possibly," he says, "but if you're looking for fresh craft beer on a Sunday, your local brewery is still the best place to find it. I think our customer base is already aware of this."
Mad Anthony reports on the effect for craft breweries with multiple locations. "The Governor has signed the bill and we're ready for Sunday carry out at all Mad Anthony locations," emailed co-owner Blaine Stuckey. "We're now able to fill growlers, sell 6 packs and cans from Noon to 8 p.m. in Warsaw, Angola, Auburn and Shigs In Pit Maplecrest. Grab your favorite MadBrew to go any day of the week!"
Prior to passage of this bill, only sites with brewing on-site could sell on Sunday. Which explains why so many satellites had nano-systems on their premises.   
In case you missed the hoopla over Sunday sales from anyplace you want to buy carryout wine, beer and spirits, here's the situation in a half-pint:
Gov. Eric Holcomb signed a bill overwhelmingly passed by the Indiana Legislature. The House passed on Feb. 20, Senate on Feb. 22. Now residents 21 and over will be allowed to buy take-out alcohol at liquor stores, grocery stores, drug and convenience stores and brewery satellite locations on Sundays, noon to 8 p.m. 
However, in this sales category, liquor stores only will be allowed to sell cold beer on Sunday.The existing state law remains in place for Monday-to-Saturday sales to 7 a.m. to 3 a.m. for take-out sales at liquor stores, grocery stores, drug and convenience stores.
Since 1933 Prohibition Repeal, the ban on Sunday sales anyplace had been the law in Indiana. Since 1935, Indiana has incrementally loosened laws about making and selling wine, beer, spirits.