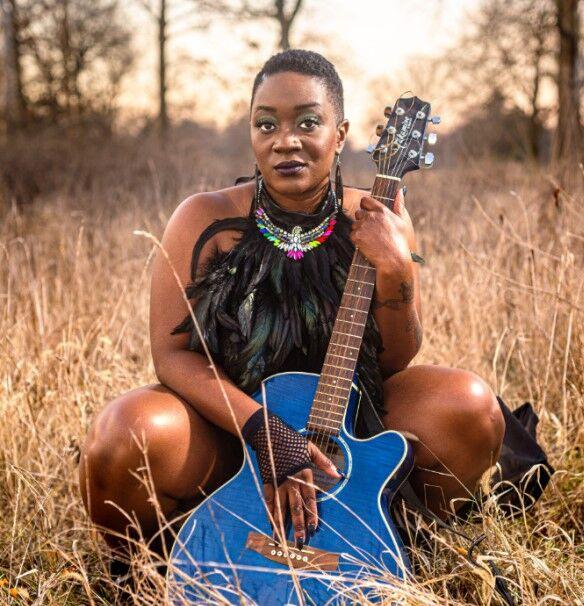 AshLee "PsyWrn Simone" Baskin opened her featured artist performance at the 2021 Art & Soul festival on Feb. 2 by acknowledging the elders in the room and asking for their permission to proceed. 
"Honor those ancestors who made it through the middle passage," she said. "Honor those who decided to jump. Honor those who made it to America. Honor those who were enslaved. Honor those who chose to run. Honor those who chose to be silent and stay. Because without all of those sacrifices we would not be here."
Watch the full Art & Soul performance here on the Arts Council of Indianapolis website. 
Baskin, performing as PsyWrn Simone, set the tone for this year's Art & Soul: Black by Popular Demand. Baskin exudes reverence, celebration, and masterfully demonstrates the ability of art and music to communicate a message. A message that she says, "should uplift, encourage, empower, offend: Hit all the marks."
Baskin has been performing as PsyWrn Simone around Indianapolis since 2011 at open mic and spoken word events and collaborating with local bands while also participating in artist tribute shows at The Jazz Kitchen. Though, it was only a few years ago that she refocused her artistic life. Her passion, she says, "always came back to art, always back to performing. It wasn't until adulthood that I truly embraced being an artist as a part of my identity and began to pour myself into it," she says.
"I have always loved music and expressing through song has always felt like the most natural representation. Only recently have I allowed myself to fully immerse myself in developing my artistry." 
The result of her work is the one-hour performance of her original show, "Black Thread," available through the Arts Council website and YouTube. Through song, dance, spoken word, and multimedia, Simone presents a narrative that begins with the history of slavery and then on through Jim Crow, the civil rights era, and into present-day America. Evan as the show includes a chilling performance of "Sinnerman," accompanied by dancer Jarrett Weather, and later Bob Dylan's "The Times They Are A-Changing," the show's strength is centered on Simone's vision and original work.
"Black Thread," says Baskin, " is an interactive, multi-medium celebration of Blackness, based on a spoken word piece that I wrote by the same name. This show is an exploration of how Black people have shown up in American history and where we are currently situated, and is a commentary on our struggles, our trauma, our triumphs, and our resilience."
The scope of her project is impressive. And given the success of its delivery, it is surprising to know the performers only had two separate rehearsals because of the pandemic. The Feb. 2 performance was the first time they came together as a whole. "Everybody was so supportive. And folks don't have to support you!" she says. "The success speaks to everybody's professionalism and dedication. Everybody bought in. Even my mom."
Kathy Baskin, who Baskin refers to as, "the creative force from whence I came," shares the stage with her daughter. "Oh, goodness," she says, "that was my favorite part of the whole experience. She got behind my vision and allowed me to explore."
That exploration includes the many facets of Black experience. "I am committed to bringing awareness to the injustices that people of color are enduring/have endured in this country," she says, "but also to highlight and emphasize the brilliance and resilience of those same people who have made tremendous contributions to the progression of society."  
The artistic journey is certainly personal for Baskin, though she is aware that her artistic role bears responsibility. "I understand that as someone with a platform, I have a sphere of influence. There will be people who will listen to what I am conveying, and it is my obligation to ensure that I am saying something worth listening to. Music in and of itself is alluring. It has the power to heal, to inspire, to ignite, to call to action. I use my music to do all of those things." 
Baskin and her fellow performers present a show that is both beautiful and devastating. And it is a show that Simone intends to speak to everybody. She sees a thread not only through Black culture, but through all cultures.
"This show is also about celebrating humanity," she says. "From our vulnerabilities as people, to our triumphs as people, to our resiliency, there's a thread to connect us all." 
Baskin is currently at work on a debut album to be released this year as a series of EPs. On Saturday, March 20, she will perform "Black Thread: The Show" live at The Jazz Kitchen.