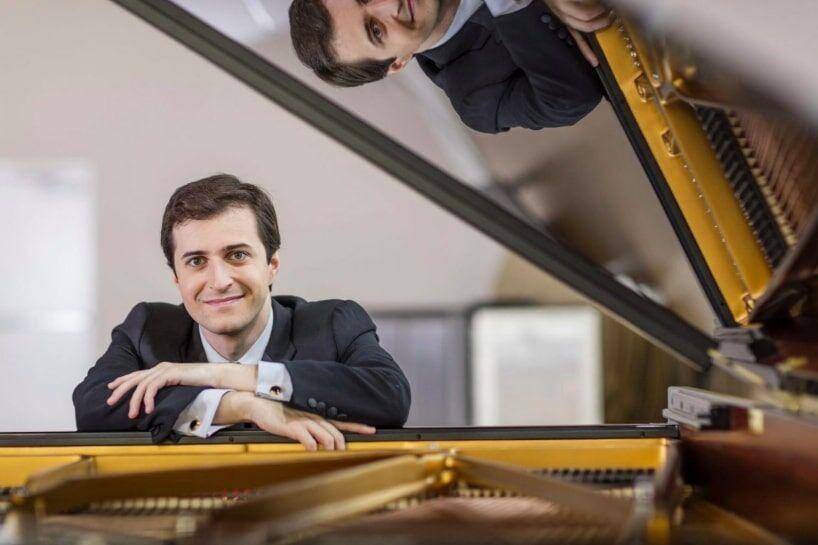 Minneapolis-native Kenny Broberg has been garnering international attention while earning a master's degree at Park University ICM in Kansas City. Prior to being named a 2021 American Pianists Awards finalist, in 2017 he was the Van Cliburn Silver Medalist, and in 2019 Moscow he was part of a three-way-tie for third place in the Tchaikovsky International Competition in Moscow. In between, he has been performing with orchestras worldwide.
"The first musician in his family, Kenny started piano lessons at age six, when he was first fascinated by his mother's upright — a wedding gift from her parents," cites his biography. He holds a Bachelor of Music from the University of Houston's Moores School of Music. 
Broberg is performing livestream on Jan. 29, at 8 p.m. as part of the APA "Piano Stories on Stage: Emerging Artists"  series. Register here.Registrants will receive an email from Demio, the hosting platform, with a link to view the concert. Replays available to registrants for 48 hours following each event. Learn more here.
RITA KOHN: Your playlist for Jan. 29 will take us on a musical tour of Europe with compositions reflecting locale as well as the temperament and tastes of the composers across 200 years [including your own new work]. What do you hope we, as listeners, will absorb and carry with us from this time with you? 
KENNY BROBERG: I hope that listeners will enjoy the variety of this program, but also notice the similarities. Most of the music in this program comes from the edges of the Romantic era; Weber was part of the bridge between Beethoven and the music of Mendelssohn, Liszt, and Wagner, while Medtner and Faure represent the transition into the 20th century. 
KOHN: Opening with Carl Maria von Weber's Piano Sonata No 4 in E minor, op 70, immediately pits you [and us] into a dramatic temperament. How does that require special care in the presentation?
Interestingly, for me, this final of Weber's four piano sonatas was conceived and then published at the same time Indianapolis was emerging as the capital city of the new State of Indiana. As I recall the work, its sense of urgency is a bit unsettling; I don't remember feeling quieted at its close. And at this moment of 'events' No 4 in E minor equally reflects a time.  Share, please, your thoughts on how to absorb this through your own sense of form and context.
BROBERG: This is one of Weber's later works, composed when he was in bad health and suffering financially. It is very dramatic; this is what originally drew me to the piece. It is rarely played (if ever), but I think that it definitely deserves a place in the piano repertoire.
KOHN: You share a triple treat of Nicolai Medtner, with Fairy Tale, op 20 no 1, Fairy Tale, op 26 no 3 and Fairy Tale, op 26 no 2. What for you is special about these early pieces that are part of a canon of 38 'tales' that Medtner wrote throughout the first half of the 20th century—through tumultuous times, and in a variety of places to which he had to flee for safety, and yet that reflect a wide variety of imagery and characters based upon the Russian love of tales, song and dance?
BROBERG: Medtner is one of my favorite composers, and I think that he is only beginning to receive the recognition that he deserves. He was the son of Germans who immigrated to Russia, and his music is often described as a fusion of German and Russian styles. However, his music also derives inspiration from sources as varied as Shakespeare, Russian folk tales, and ancient Greek musical forms. I particularly love the narrative quality in Medtner's music; he always seems to be telling a story.
KOHN: Gabriel Faure composed thirteen nocturnes, difficult to play, yet not showy. Nocturne no 3, op 33, is marked by its delightful inclusion of syncopation in its central episode. What's your connective feeling here? What's in this especially for us sharing in our homeplaces?
BROBERG: Faure's piano music is much more difficult than it sounds, which is probably why it is not programmed all that often. The third nocturne is from his early period and is very influenced by Chopin. However, Faure had his own very unique sound, with harmonies that are stretched almost the point of breaking.
KOHN: You presented the world premiere of your own composition, "Barcarolle," during a livestream program on Dec. 9, 2020, in Kansas City. What's its compelling story?   [hint, hint: the gondoliers along the downtown Indianapolis have been known to share Offenbach's rendition of this rhythmic rowing; I don't remember hearing Chopin's take; post COVID-19, could the Broberg  "Barcarolle" become an Indy gondoliers signature?]
BROBERG: Haha I hope so. I started to compose just this past year; it was something that I've always wanted to do, so after all the concerts were cancelled due to COVID I decided that it was the right time. I didn't originally do this with the plan of playing anything publicly, but after months of hard work, I wanted to share some of it. Composing has really brought me a lot of joy and helped me get through a lot of the things we have all had to deal with this year, and I hope that it can bring the audience some joy as well.
KOHN: What else do NUVO readers need to know about your Jan. 29 program as an APA fellow?
BROBERG: I am very thankful to be able to perform virtually for all of you. While nothing can replace being in front of a live audience, it is a gift that we can still share music with each other. This past year has taught us to take nothing for granted, and I am grateful to both APA and the Frances Clark Center for finding a way to keep music going.