This year has been daunting, filled with intensity and one unfortunate event after another which has left many feeling heavy hearted and easily stressed. I am no stranger to disheartening and overwhelming emotions. Wanting to decompress through outlets that did not entail the archetypal millennial activities of bottomless mimosas at brunch or online splurging through my Amazon Prime, I learned about this newly opened exhibition Into the Garden at the Indianapolis Art Center, featuring the work of 50 local artists. It sounded like the perfect getaway remedy. After all, art is also therapy right? 
So I visited the Art Center on a late warm evening and to my delight, I found quiet exhibition spaces where I could explore the artwork safely for however long I could. Walking through the gallery and exhibition hall was incontestably reminiscent of a botanical garden, which was impressive given that I had recently visited an actual botanical garden in the same week. The silence within the galleries filled with pinks and lustrous greenery was incredibly soothing. 
The botanically-themed exhibition is a curated collection of eclectic artworks in different mediums ranging from cyanotype on cyanotype paper to jelly gouache (also on paper). This is fitting. The vision of the Into the Garden collection, after all, is to demonstrate a contemporary and fresh approach towards traditional subject matters of florals, gardens, and nature. One of my favorite pieces from the exhibit was "Floral Yarn Embroidery" by Victoria Bell, which is made of yarn on burlap. The concept of adding yarn to burlap, which I've never heard of, adds another level of creativity. Bell's piece featured a nice texture along with a color combination of soft greens, red, light blues, violet, with a hint of pink. All of this blended together lovingly. 
If you are planning to visit the exhibition, I recommend beginning with the two solo exhibits, "Plant Path" by Megan Jefferson and then "The Veil of Summer" by Graham Marshall before absorbing the work in the main gallery.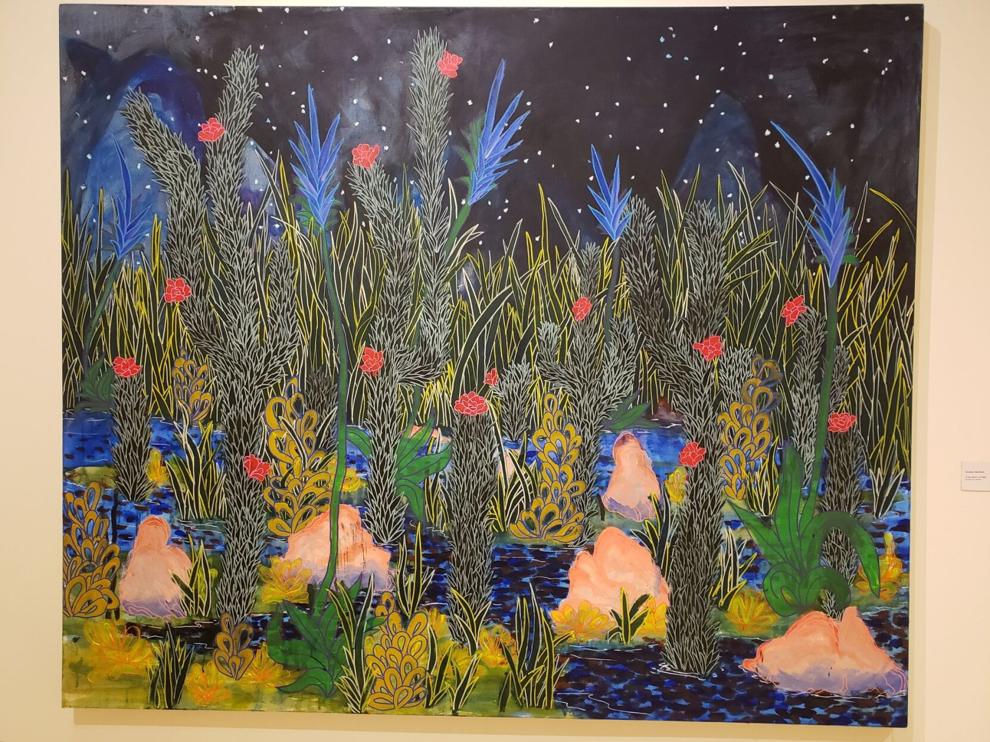 Megan Jefferson's "Plant Path" was filled with illuminating art. The style of painting, in soft colors, creates a hazy look that could leave visitors feeling lost in a breezy fog or an enchanted place just within the white cubed walls of the gallery. Walking into Graham Marshall's exhibit, "The Veil of Summer," felt similar to walking into a tropical rainforest filled with cacti and large leafed plants. I enjoyed the different shades and hues of green that filled his works and his style that displayed thin sharp strokes that outlined shapes within the paintings followed by short thin brushstrokes jutting out of the shapes, creating the look of needles popping out. It was interesting how the juxtaposition of Marshall's and Jefferson's work, with their distinct styles, transports visitors into distinct climates.
The exhibition features paintings, ceramics, photography, ink on paper, and mixed media but what I liked about it most was the experience delivered through the variation in different medium types. As Robert Motherwell once said, "art is an experience, not an object." Accordingly, the way the art is laid out in the peculiarly large gallery space adds a form of zeal and inquisitiveness. As I walked through the Basile Exhibition Hall, seeing the different sizes or mediums such as fiber on cyanotype silk and cotton by Emily Zarse followed by a porcelain piece by Sarah Anderson, kept me entirely engaged. It was not just that the exhibit features different pieces but that exhibit was an experience itself. Even with over 50 pieces of work, the exhibit was attentive without being obtrusive.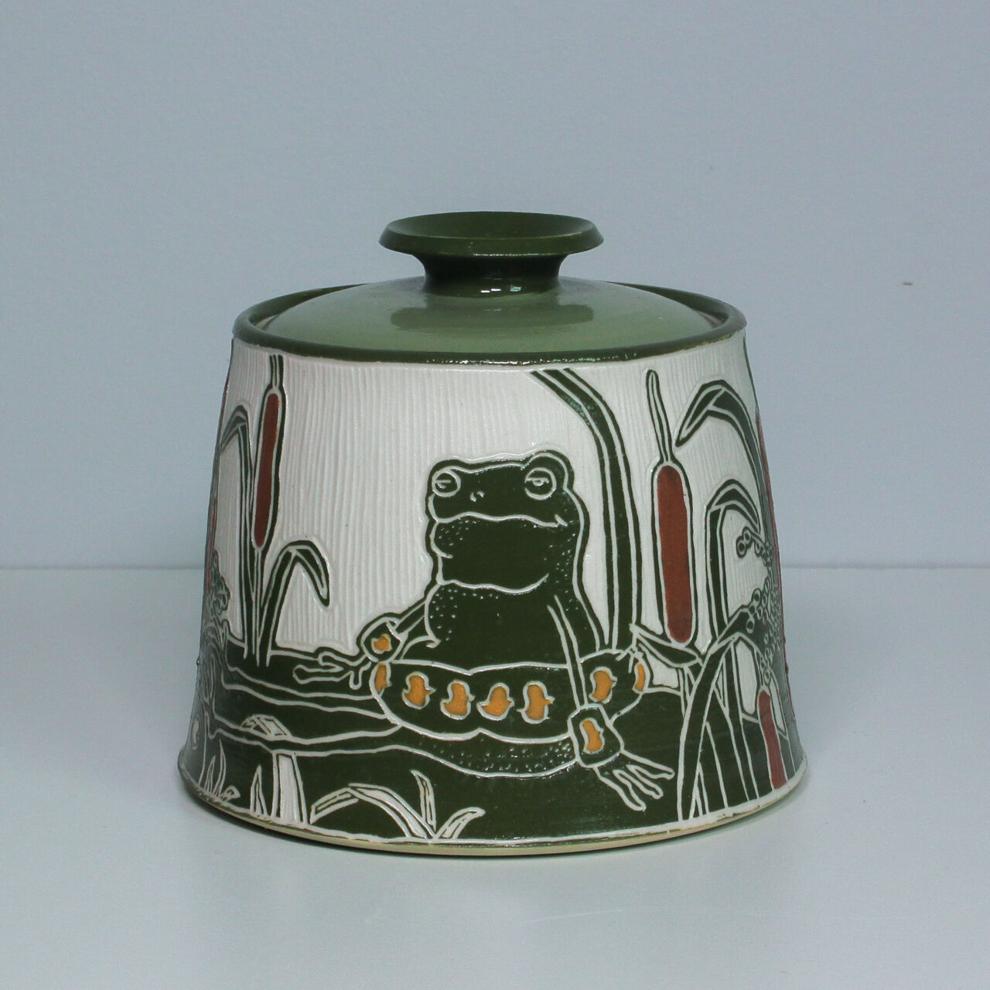 Like all Indianapolis Art Center exhibits, this one is free to the public, now until Sept. 29, 2020. Tasteful art, experiencing a serene botanical garden, and free admission all-in-one are sure enough reasons to check out this exhibit.