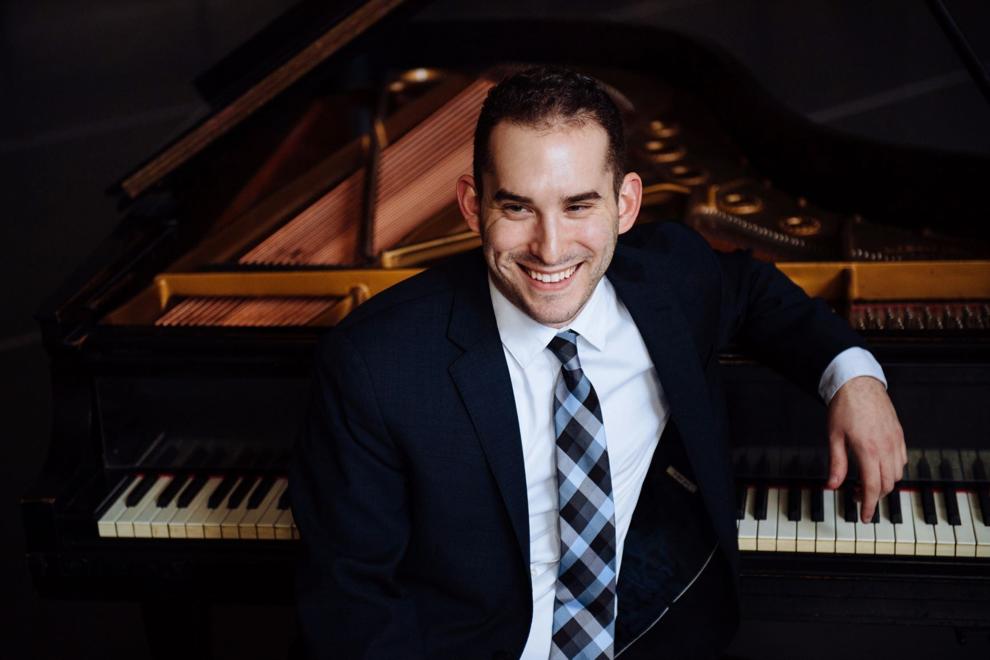 Newton, Mass. native Mackenzie Melemed has been gaining awards worldwide on his journey to the 2021 American Pianists Association finals. In 2019 he won the Juilliard School's Leo B. Ruiz Carnegie Hall Recital Prize, and in 2018 gained triple recognition winning the Arthur Rubinstein Piano Prize, the Paris Recital Prize from Poland's Prix de Tarnów Competition, and third prize in the first China International Music Competition.
On March 12, at 8 p.m. he presents the final concert in the Frances Clark-American Pianists Association collaborative 'Piano Stories On Stage.'
Tickets for the online performance are available here.
"He recently joined the roster of young artists at the Centre for Musical Excellence," noted Clifford Lee, APA director of marketing, in a news release. The Indianapolis-based organization annually designates a roster of young musicians in all fields of music to showcase them in programs worldwide.
In October 2019, Warner Classics released "Möbius," featuring Melemed's performance of Jeajoon Ryu's Piano Concerto with conductor Ralf Gothóni and Sinfonia Varsovia. In 2018, Mackenzie's recording of Avner Dorman's "Three Etudes" was released on the Steinway and Sons label. 
"Mackenzie's highlights also include his debut at Carnegie Hall's Weill Recital Hall as winner of the Ruiz Memorial Prize, solo recitals at Paris' Salle Cortôt, Finland's Arctic PianoFest, and Tuckerman Hall in Worcester, MA.
I caught up with Melemed for a Q&A about his program that includes: Valse Triste by Jean Sibelius, Partita No.1 in B Flat Major by J.S. Bach, Sonata No.22 in F Major, Op.54 II. Allegretto Piú allegro by Ludwig van Beethoven, Nocturne in F-Sharp Major, Op.15 No.2 by Fredéric Chopin and "Boogie Woogie Etude" by Morton Gould.
RITA KOHN: What are your private discoveries in each of the pieces you are bringing to the APA Classical program on March 12, 2021 at 8 p.m.?
MACKENZIE MELEMED: These pieces are all very personal to me, and I have been really advocating to my students and, more generally, to pianists, play what makes you passionate about the instrument. Only then will we really connect with our audiences on a level worthy of the music. In the Sibelius, we can get a ghostly vision of a figure dancing in the dark, but it's not only the story that's important, but the fact that the work was originally written for orchestra. How do we play the piano to mimic violin bowings, varying levels of pizzicato, crescendo on a single note? That's where it gets fun. 
I used to loathe playing Bach, maybe all young students did as well, but over the years I have grown to love the rigidity encased within almost absolute freedom, to shape our phrases on a whim, to create an atmosphere as we breathe it's air (Partita No.1). 
In the second movement of Beethoven Op.54, there are many ways to interpret the tempo marking "Allegretto" —  some scholars have assumed it to be a quite slow marking and thus completely changing the mood of the work. My own heart chose a faster tempo, an exciting journey on horseback (although I have never ridden on a horse, but we can all get a sense of it in this music), through the mountains and valleys of … let's say Bavaria? 
Chopin's nocturnes are not all famous, and I am happy to bring this beautiful work to light in my recitals. I discovered in this work that not all phrases must have a high and low point; there is room for being strung along, the calm before the storm, or maybe no storm at all. 
At the end of the day (of practicing or a recital), there's always room for some non-classical "classical" music, and a little jazz as well —  Morton Gould's "Boogie Woogie Etude" funnels our pianism and technique into a new mold, and we are able to get a bit out of hand with ourselves!
KOHN: Valse Triste by Jean Sibelius has its origins as incidental music for the 1903 play "Kuolema" (Death) by Arvid Järnefelt. The play's scene with this music is ethereal, dancerly. The music has been used in films ever since. What draws you to open your program with this work?
MELEMED: Since the summer, I have been living in Finland, the home of Jean Sibelius. The "Valse Triste" was a work I chose to learn as part of a Finnish work requirement in the 2017 Maj Lind International Piano Competition. It serves as a wonderful memory of the experience, and it is a fantastic opener in my opinion.
KOHN: Partita No.1 in B Flat Major by J.S. Bach, has been described as his 18th century practice piece that defies drudgery. It's rather a fun-while-learning exercise and, in your program, continues the dancerly feel. Expand on your choice of this composition intended to delight the player's spirit, soul.
MELEMED: As stated earlier, I was not a huge fan of playing Bach at a young age. I was thrown into learning one of the most mature preludes and fugues (B-Flat Minor from Book I), but had not really experienced life enough to be able to put myself in the mood of that work. Over the years, I began chipping away at works like the "Aria Variata in Italian Style", the G minor "English Suite", several French suites, and now the first partita. These pieces bring me joy to play, and if they do not delight our spirit and soul, how can we delight the spirits and souls of our audience? This is classic Bach for those who know and love his piano works, and I felt a deep connection while playing his music in Leipzig a few years ago. Since then, I have been tackling new work every year.
KOHN: Sonata No.22 in F Major, Op.54 II. Allegretto - Piú allegro by Ludwig van Beethoven
has a connection with APA Fellow Drew Petersen. What's your story connecting with Drew, and this choice?
MELEMED: Drew and I both studied at Juilliard with Robert McDonald. Drew is two years older, and started the Master of Music program ahead of me, and I followed in his footsteps towards the Artist Diploma (and now even to the APA Finals). I didn't actually know that Drew had played this piece until after I learned it, but this piece was recommended to us both by our teacher, Robert McDonald, who enjoys the work and seldom gets to hear it on the stage. His enthusiasm was infectious, and I have been presenting this rarely-heard gem on recitals for the past few years.
KOHN: What attracts you to the technical challenges of Nocturne in F-Sharp Major, Op.15 No.2, composed in 1832 by Fredéric Chopin? 
MELEMED: The technical challenges of Chopin's writing is to seamlessly integrate, or convert, the notes into music. We have embellishments that may be 7, 15, or 23 notes long, and it takes careful planning and 150% effort on stage to have those notes translate into well-paced, effortless whimsy, a winding, longing phrase, or a slowly-building ball of ever-growing energy. There are so many options available to us, so many possibilities to swim with or against the tide, but it is always challenging to execute our plan in real time.
KOHN: Here we are back to "dancerly" with Morton Gould's beloved "Boogie Woogie Etude" composed in 1943, in the midst of WWII. Gould's marking on the score is definitive: "Fast-driving tempo —  Steely and hard throughout." As performers in comedy we're told, "always leave 'em laughing when you say good-bye."  What's your mantra for selecting this as the final piece, in the final program in a most unusual APA Fellows round?
MELEMED:  I wanted to provide as much contrast as possible in this program, as well as some new music that has excited me. It seems my entire mantra from this interview has been related to playing music that speaks to the performer personally —  when I was 15, I heard Benjamin Grosvenor absolutely shredding at the Proms, and he played this "Boogie Woogie Etude" as an encore. I fell in love, and tried to learn it, rushing through the score faster than my eyes could read (and faster than my hands could reach the notes) —  so I was not originally successful in learning it, but I saved the music and came back to it every so often. 
This has happened with a lot of music. The moral of the story is: sit down, take a few hours, and really just learn the pieces you want to play. The initial excited energy is rarely enough to pull one through learning the notes, memorizing the score, and bringing it to the stage in one fell swoop. However, the initial excited energy is the one sure sign that this is a work that belongs on a recital program, and I have always followed that gut feeling. And that is how this program shaped up to look like it does, full of the great composers, not all of them number one on the classical charts, but all have been number one in my heart at some point.