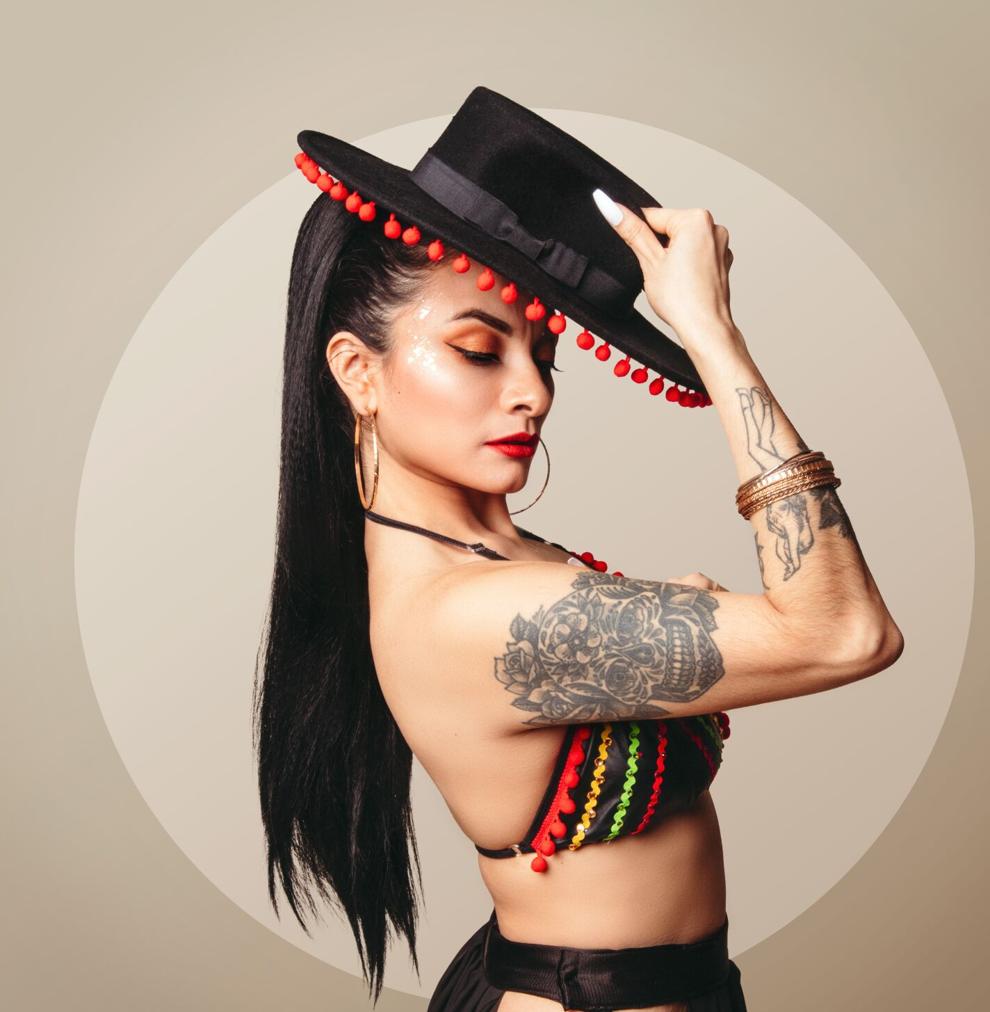 The video opens with a dark screen. Maldita Vecindad's Kumbala drifts in: bass and guitar, then trumpets. Señorita Pussy appears under the spotlight, a stilettoed silhouette and the rim of a hat sliced with light. A flash of flesh teases, then two hands sensually fan in the air introducing the outline of a leg.
Buds of red bloom: her lips and fingernails, the fringe of her sleeves, and the pompoms hanging from the rim of her hat. "Luz, roja es la luz…" Señorita Pussy looks into the spotlight, her hands move the light through her face to her bosom to her thighs. Then the light flips to violet and her full figure is in view. Large hoops, a mariachi-inspired ensemble with skirt splits on the sides that go all the way up to the waist. Señorita Pussy removes the flower pinned to her jacket and hands it to the viewer. We are now holding her flower.
This is the slow burn: When the song croons "Mucho calor / sudores en la piel / Sudor sabor a sal" Señorita Pussy removes her hat to fan herself, the rhinestones on her forehead glisten an illusion of heat. With a finger, she tastes the imaginary sweat dripping down her cleavage. She then covers the screen with her hat — we're holding the hat for her now too.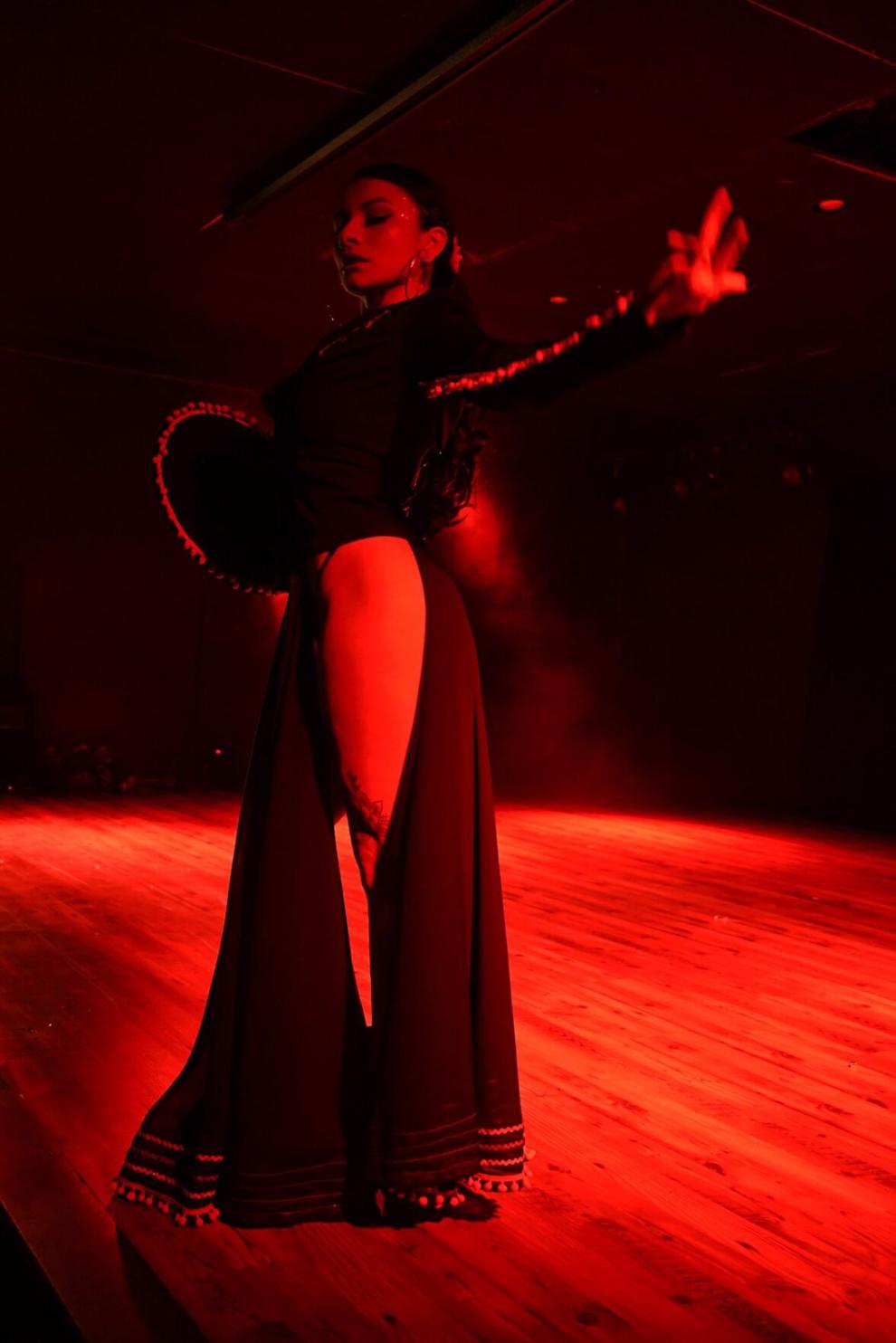 "I've learned that in a way it's just like writing an essay: you intro yourself, there's a slow burn — people love a good slow burn. That leads up to a climax and how you are ending it." says Zuri Muniz, known as Señorita Pussy in the burlesque circuit. 
The 4:33 minute video, created and produced by The White Rabbit Cabaret as part of a larger fundraising project, launched the bicultural performer into the national Latinx burlesque scene. And even got the attention of the Mexican rock band Maldita Vecindad on social media when a replay of the performance for a Burlesque Latinx virtual event coincided with the death of band member Eulalio Cervantes "Sax," who died from complications of COVID-19 on March 15. The performance quickly transformed from a celebration of heritage to a moving tribute that resonated with fans of rock en español.
Muniz got started in 2013 at an open stage event hosted by "The Cans that Can" performer Frenchie LaRouge. It was a cosplay-themed show, "I was dressed up as Wolverine performing a song by Against Me." After two performances, Muniz was invited to "kitten" with the local troup Rocket Doll Revue. 
"A kitten is a person who comes and picks up what the performer took off after an act so the performer can just walk straight backstage after performing," says Muniz. Sometimes they pick up some dollar bills that some people threw onto the stage. They pick up gear and take it backstage, back to the dancers." explains Muniz. "That's what I did for about a year." 
She got her big break after one of the regular performers became injured. With a 24-hour notice, Muniz dusted off a performance she had already started working on: a carnival-themed number featuring lime green tulle and feathers set to Celia Cruz's "Elegua". Since then, Muniz has become known for her stirring performances on stages including The White Rabbit, variety shows at Indiana City Brewing Co., and more that highlight her heritage.
Some of her more outstanding acts include a Mexploitation act in tribute to El Santo, performed to El Andariego by Trio de Mexico and New Siberia by Los Straitjackets. "This act is what got me booked with Bizzarro Lucha," says Muniz. Cherry Brown, a booker for the show (now co-owner and spokesperson of ELEV8pro Wrestling), saw her act and booked her.  
"I'm a HUGE wrestling fan. Performing on a sweaty mat soaked with beer was really fun to roll around in!" says Muniz about her performances with the monthly show. Her next big act was a Día de los Muertos routine set to Matenme Porque Me Muero by Caifanes and then to The Widow by The Mars Volta. "I can't remember which I liked best."
To promote her routines, Muniz has developed a strong social media presence and polished her image with the help of some of Indy's best photo artists, including Jeddidiah Johnson, Chloe Gianna, and Rachel Schwebach, who Muniz describes as the burlesque go-to gal for smut.
"I contacted Jed after seeing his work with film through a local friend who had previously photographed with him for fun and I heard nothing but good things," she says "It is very important to feel comfortable with the photographer, especially if they are of the opposite sex when shooting NSFW material. Jed loves to play with body shapes and colors of all spectrums and finds some wizard way to trick your eye."
The photo collaborations have provided Muniz with an additional source of income and outlet for her art. In June of 2020 the burlesque artist opened an OnlyFans account under the name Rita Escobar, "She's Senorita Pussy's alter ego," she says. According to a recent The Guardian article titled  'Everyone and their mum is on it': OnlyFans booms in popularity during the pandemic, OnlyFans exploded during the pandemic, going from 7.5 million users last November to 85 million now. 
"I made the decision to go for it and not care what people think anymore," she says. "The real question is how do your friends and family respond to your page. I've had problematic conversations and situations with any partner that I have been with, so there's a deeper sense when it comes to your personal life and mental health. You learn your boundaries and know what is beneficial to your time and energy. It's a business project to keep up with, but it fits my lifestyle and supports my art and bills at the same time." 
Originally from Tantoyuquita, a small village an hour away from Ciudad Mante in Tamaulipas, Mexico, Muniz's family relocated to the Brightwood neighborhood in Indianapolis, returning to Tantoyuquita twice a year for vacations. "I would record my MTV videos on VHS and bring them along the road, and show my cousins in Mexico. I was the emo kid of the family for sure."
But When Muniz hit a rough patch in her teenage years, her dad thought sending her back to the village in Mexico might help get her back on track, "My dad really wanted me to get the full Mexico experience for 'character building' during my teen years."
Back in the village, Muniz launched her entertainment persona dancing Shakira songs at school Carnavales. "The reason I know how to walk in heels has to be because my biology teacher loved big hoops and fishnets to wear to school," says Muniz about her mentor. "She was very intimidating, yet the most encouraging teacher I've ever met. She encouraged me to enter the state newspaper pageant and that's where baby Señorita for sure was born." 
But just as fast as Muniz was rising in popularity in Tantoyuquita, the dangers of narco cartels were becoming an increasing threat to the lives of women in Tamaulipas with twelve women going missing a day in Mexico. "It's not a coincidence. I had a friend from the pageant vanish, my first fiance, and my next door neighbor." She was only 18 when she decided to return to Indiana and complete her high school education, graduating from Ben Davis High School. 
The experience shaped Muniz's life beyond what her father imagined back in her troubled teenage years. Since then, Muniz organizes drives twice or three times a year to send money and supplies back to the village for Día del Niño (Children's Day), Christmas, and Mothers Day.
"You want to pay your respects to your homeland from far away, one way or another. Either by using your voice or putting your money where your mouth is," says Muniz about her philanthropic work in Tantoyuquita. "The easiest and safest way is to wire funds. I have a lot of connections — best believe I'll use my privilege with my connections. I was a troubled kid in the family for a long time and I really think this is why they respect who I am now."
Señorita Pussy's arms swim in the air. With open palms running up and down, the buttons of her jacket are brought into view: two buttons snap open and a grosgrain-embroidered black bikini top is revealed under the glow of red light.
Her neck, shoulder blades, and the outline of her breasts now visible drawing new chiaroscuro lines. Another change in light: yellow and white. The drums kick in and this is where the performance takes off: the climax. With quick arm motions fanning open the skirt in wide circles reminiscent of a matador. The matching bikini bottom flashes through the fabric. As she twirls, the fact that it's a thong is a revelation.
In the next scene, she comes back for her hat. She uses it to conceal her maneuvers undoing her bikini top. She returns the hat to her head, all that's left is a pair of rhinestone, red-tassel pasties. The song winds down into a sensual guacharaca accompanied trumpet. The light turns blue. Close up of tassels —  shoulder waving in the air —  red lips under a pompom-rimmed hat. In a cloud of smoke to the beat of claves and bongos, Señorita Pussy drifts back into the shadows, hat in hand cooling down.
"My dad traveled through the desert throwing up blood from dehydration," says Muniz. "I believe you have more than one purpose in life and that's why I do so much! My main anchor and purpose is my family that I have made here. So any chance I can get to keep my cultura alive, I'll do it. My son is half Mexican so I definitely have a lot of work to do there!"
Follow Señorita Pussy on Instagram // @senoritapusssy69
To watch Señorita Pussy perform at The White Rabbit, visit their website for details.