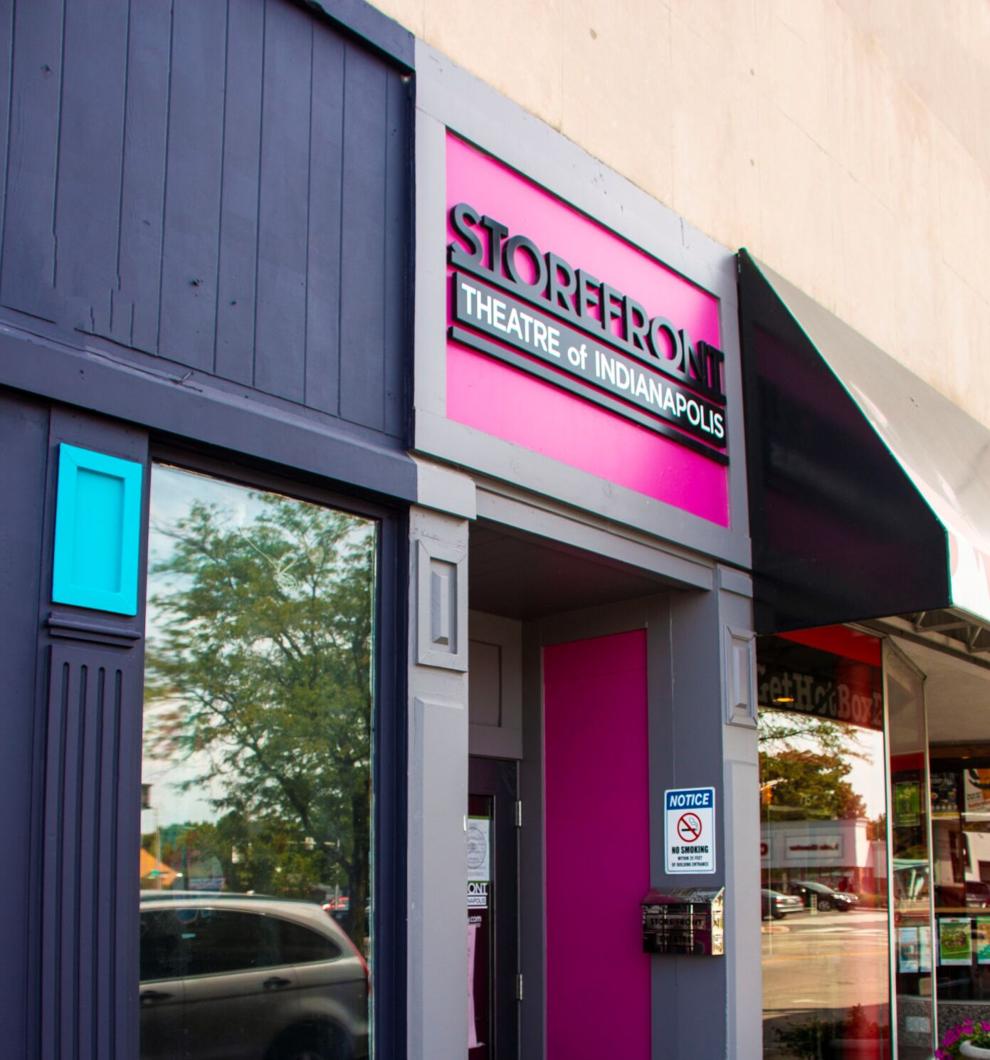 On April 30 Storefront Theatre, at 717 Broad Ripple Ave. reopened with an improv drama titled New to You... and Us Too, that ran through May 1.  Attending patrons became part of "a hybrid new play/improv performance piece presented by Chelsea Anderson, where one new script, at each performance, was performed right before the eyes of the audience. 
Although this was a two night only performance, you can still make donations to help keep this theatrical venue going. "Donations are most welcome and go to the artists," said Marra, artistic director for Storefront Theatre in an email. "As we re-open our doors and Indianapolis artists bring their talent and passion back into our space, we look forward to providing fair wages as well. 70% of our programming budgets go to artist salaries and fees. Please consider supporting them as their work is slowly starting to resume."
You can also check out a new visual art show up and running through May 29.
Here's the rest of the email Q&A:
RITA KOHN: What about the new visual art show?
RONAN MARRA: VIVE continues in our gallery through May 29. Three local artists, Cierra Johnson, Kori Bethea and Aaron Scamihorn, are featured in our gallery, and it's a beautiful installation. It runs through May 29th and is available to view during any Storefront event or by appointment. If you would like to book a time for a private showing, please email info@storefrontindy.com for more information.
KOHN: What compelled this feisty group of nine to undertake an improv playwriting / combo to blast through covid-19 and go live?
MARRA: Storefront has been on hiatus for fourteen months and as live entertainment is reopening in general, so are we. Masks are still required for everyone as the mandate continues, and our space has flexible seating which lends itself to distancing, and there are only thirty seats per show. Fourteen months is a long time to maintain a 7,500 square foot performing arts facility without being able to use it. It's time to get back to work and deliver on promises to those who helped us stay in business. 
Chelsea Anderson reached out to me with this great idea, and is curating/directing the piece(s), in concert with the playwrights  Andrew Kramer, Janice Neal and Paige Scott and the four actors, Adam Tran, Daniel Martin, Carrie Schlatter and Steph Park. Liesel Schmitz is the stage manager.
Everyone is a local artist who works in Indy theater.
KOHN: Why will people be sorry for if they miss?
MARRA: If you have been looking forward to getting back to live theatre, this is a great way to start. Both performances will be as brand new as plays can get, they will be a lot of fun, and I'm personally looking forward to getting to see actors and writers get back to it after such a long hiatus. There should be a great energy in the room.
KOHN: What kept you invigorated, hopeful,  during the 14-month hiatus?
MARRA: Artists tend to be pretty self-motivated, and we're often the first to adapt and respond to the times. Not being able to physically get together was obviously a terrible thing for the performing arts; but watching how everyone innovated and created channels for contact and content is pretty inspiring. I look forward to seeing how all of those measures continue even as we get back in the same rooms together. 
KOHN: What else must NUVO readers know about the re-emergence of this space that came alive in 2019 and then had to slumber for over a year?
MARRA: We're just so thrilled to be returning to work. We were only open for about six months before the lockdown and things were really starting to get busy before having to suddenly shut it all down. It's such an amazing space and to have people bringing their work to life in it again is just a great feeling and we want to share it with everyone who is interested.