We Must Be Fearless: The Woman Suffrage Movement in Indiana by Anita Morgan was published by Indiana Historical Society Press just as sequestering became our new way of life.
In order to promote her book, Dr. Morgan has undertaken a series of virtual appearances. I participated in her most recent event via a webinar sponsored by The Propylaeum. This building and the organization that maintains it, hold special significance in the local history of the women's suffrage movement.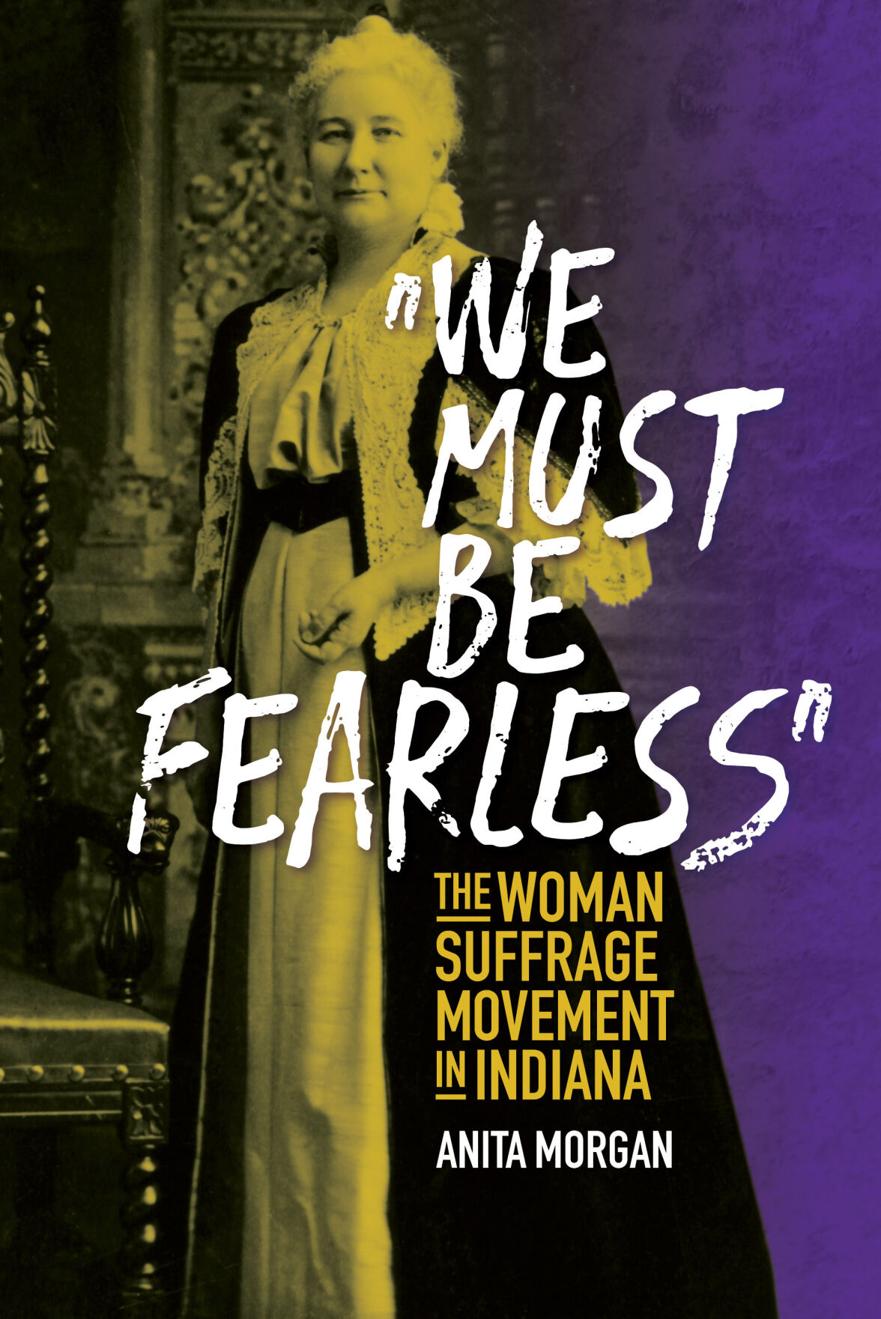 May Wright Sewall, the indefatigable 19th century leader for full rights for women, among which were to own property, gain an education, earn equal pay for equal work, seek elected office, and vote on all levels of governance, also was the force for building the original Propylaeum on the South side of North St., between Meridian and Pennsylvania streets. It opened January 27, 1891. In spring 1923, as part of the construction for the Indiana War Memorial Plaza, this imposing public structure was razed, and the current address at 1410 North Delaware became home to the Indianapolis Woman's Club, the founding organization. The history of this 1890s mansion is worth a digression to the propylaeum website. 
In fact, Morgan's book lures a reader into a succession of digressions. As a socio-economic-political history, it takes us into counties, towns and villages throughout Indiana. Best to have a road map at hand. Chapter One, first sentence takes us to Dublin, Indiana to learn what led to, transpired at, and followed Indiana's first woman's rights convention in 1851.  You'll find Dublin, platted in 1830 in homage to its namesake in Ireland, along Old U.S. 40 (aka the National Road) west of Richmond. 
The fight for women's suffrage gained leadership from all ranks. Never underestimate the power of a farm wife expecting equality for herself and her daughters. Land ownership was the original basis for voting rights. Men were to be the owners. However, that property oftentimes was the wife's dowry and her name by rights should be on the deed. And so it goes through the seven chapters plus the fulsome front matter of this splendid book. I picked it up at around 9 p.m. a few nights ago just to browse. It was 4 a.m. when I got to the notes section.  I'd been padding off the couch to pull this and that book off shelves to follow through on yet another name, another location, another event I'd previously encountered.
But best of all, now I met people I'd not heard mentioned anyplace else before, and I learned about the role of the automobile and motorcades, and fretted about economic, medical, educational, vocational needs identified 65 years ago that plague us anew. Morgan deftly transports us through the ups and downs to convince elected officials — whom women were not allowed to choose to hold office — that women are as capable intellectually as are men. But then again, Morgan points out, there was a segment of women opposing enfranchisement. Read the book and decide for yourself why domestic abuse figures into relationships and some communities condone male supremacy — here and now. WE women have the vote. Do we?
Morgan brings to the fore overlooked topics and themes, including the prominent roles of African American women and men, the views held by citizens of German descent regarding universal suffrage, and why 'fearless' takes on depth. "Women did not let the KKK keep them from voting--they did it anyway," underscored Morgan on the webinar program.  
You can find "We Must Be Fearless: The Woman Suffrage Movement in Indiana" at your branch library, at the IHS Basile History Market and other places books are sold. 
Following Morgan's program I asked Liz Ellis, executive director of the  Indianapolis Propylaeum,  how virtual programming is affecting The Prop.
"We are seeing a larger and more diverse group of people attending our virtual programs," said Ellis. "The virtual programs remove any geographic constraints for attendance.  While the pandemic has definitely impacted our ticketing and program revenue, we are confident that by providing engaging programs we will draw new supporters."
Ellis pointed out that while The Propylaeum is not a member only organization, " In 2012 the Propylaeum Club merged with the Propylaeum Historic Foundation to create a single 501(c)(3) nonprofit organization. We do still retain members whose financial contributions provide support for our mission and programs."
Membership growth has come with the Marilyn K. Glick Women's Enrichment Series, "and as we focused on the commemoration of the centennial of women's suffrage," explained Ellis.
While The Cafe at the Prop is not currently open, the site is still hosting private events and "people are welcome to come to the Prop and tour by appointment."