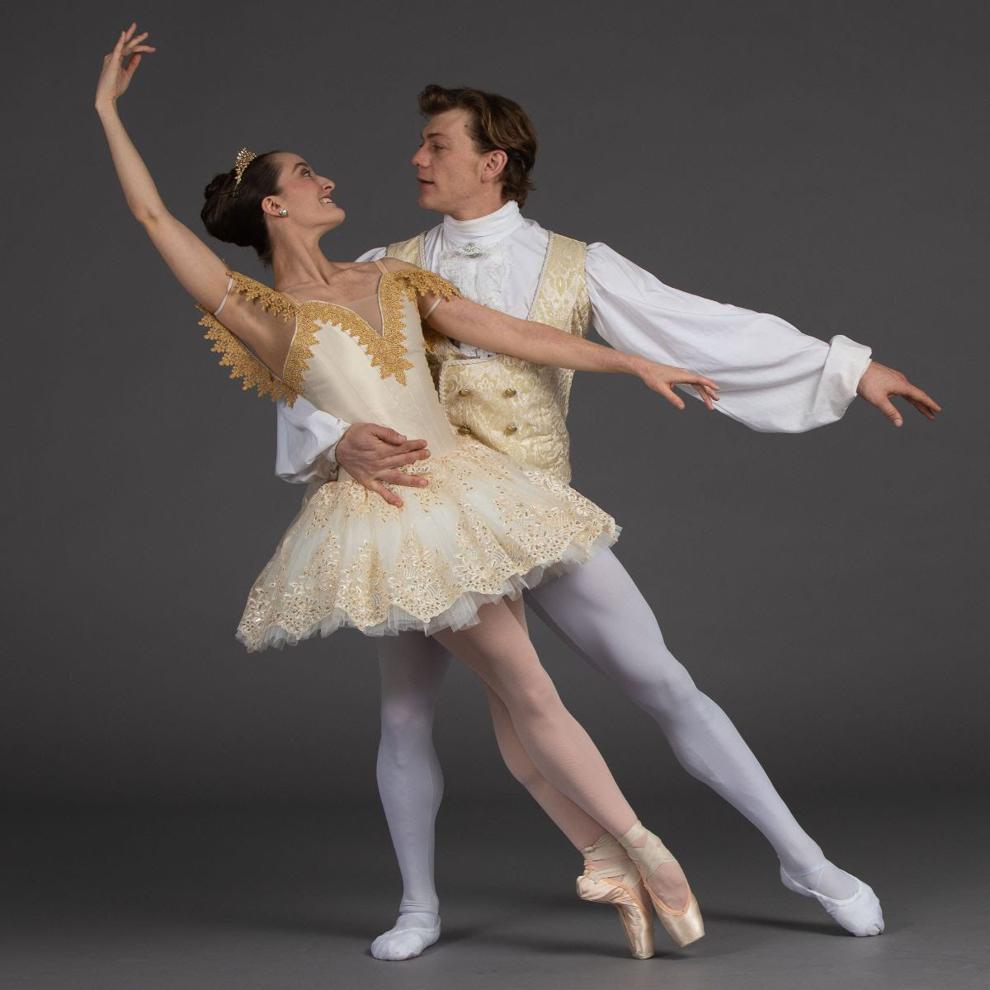 There is no suffering in this newly-minted Indianapolis Ballet version of the iconic The Sleeping Beauty Suite. There is however, much to ponder about inhabiting a time and place where the pervasive force is creating happiness and love in all their possible dimensions.  
Be assured, the choreography is clear, the dancing is strong, the costumes and lighting are dazzling —  see-through masks gifts with the expected facial expressions to deepen the meaning of movement. The aesthetics of this most classical of classical ballets hits all the plusses. All that would be sufficient reason to attend — sit back, relax, and enjoy. Nevertheless, we in the audience have a role in this entertainment — yes, enjoy the moment and embody all the possibilities for making yours a meaningful life.
Up front and center is the princess Aurora — an infant at her christening, where others are bestowing gifts upon her. We glow in the depiction of what each of the fairies defines as momentous for any one of us. And, because the curse from Carabosse is exorcised in this rendition, we're not disquieted, edgy, worried — tummy is not worrying about how bad can this turn out?
Instead, we're experiencing a different way of looking at what is happening; we are processing a very different scenario from the classic fairy tale. If you have not read it or previously experienced the ballet, there is no evil nipping at the heels of good in this version. 
We are in a place where people are in sync with each other. This loveliness segues from the prologue to act one: the infant Aurora has grown up. She asserts her teenage selfhood with clarity and strength.  Fast-forward to the sudden stop and a total change of scene: the long sleep, the awakening, and the wedding. A four-hour ballet is condensed to around 90 minutes. What we get in place of why bad things happen is how good things can happen.
It's all about love. And being responsible. 
I walked away from the June 9 Indianapolis Ballet dress rehearsal with a renewed sense of my own agency — a word I don't remember using until quite recently to articulate my personal power to be in charge of my choice-making toward the life I want to lead, in the kind of community/environment in which I want to live. I was raised with a signal dictum: don't mistake your bad choices for bad luck. And, I was raised on the universality of folk literature. Instead of being lectured at, I heard the stories through which I had to sort out why stuff happens. That doesn't mean I avoided dumb choices, only that I knew I couldn't blame the gods. Up front in The Odyssey, Zeus states: "Mortals! They are always blaming the gods and saying that evil comes from us when they themselves suffer pain beyond their lot because of their own recklessness."
In its original oral storytelling, the Sleeping Beauty raised relevant questions about personhood: the ability to notice, analyze, learn, and weigh outcomes of choices.
In 1978 Madonna Kolbenschlag articulated a concept of 'throw out the baby with the bath water in her "Kiss Sleeping Beauty Good-bye." A new generation was eschewing the lessons of the past to forge a new path into the future seemingly. Alas, if we don't know our past, we are doomed.
The Vsevolozhsky/Tchaikovsky/Petipa retelling as a ballet shows us that Princess Aurora is no wimp. In modern-lingo, she grasps 'agency' by its horns and stays affixed on its back despite its bucking and kicking. In the most challenging choreography to date, in The Rose Adagio, Aurora doesn't just stand on her own two feet — she bests that metaphor, balancing her body on one toe, and reaches out for partnering on her own terms. And let's give credit to the four suitors for knowing it's a good relationship when any one of us can count on every one of us to give a hand even when we're at the top of our form — to steady us before we fall. And watch that same set-up with Prince Desire in the leadup to the wedding —   Aurora's strength is magnified, the steadying hand is offered, not requested. 
Indeed, forget about dissing the lessons of The Sleeping Beauty — learn how to embrace them. When Einstein invited us to consider that Time is relative and flexible and elastic, he gave a huge shout out for the power of stories. Stories are wisdom-keepers, timeless in this self-same paradigm.
Relative, flexible, elastic — equivalencies within time/music/movement in the universal language of dance.
I hardly missed what was left out from the original 1890 production of The Sleeping Beauty because of the relevant-to-now aspects of what did float within the stage at The Toby Theatre. In this condensed version the possibilities of living equitably unfold in real time. Folk dances float by as in a flow of joyful unity; relationships unfold as a continuum. We long for a child to be born. We want to be respected with equal opportunity, justice, and equity at the core of life. We sometimes have to wait, overcome obstacles, and reconsider that particular wish list. 
All this is part of this re-telling as a story of love — unattainable, attainable; immediate, delayed; as a story of respect and responsibility — denied, embraced; personal, communal.  Aurora and the kingdom 'sleep' for a hundred years. Why has their place been forgotten, vaguely recalled? What's the reality of metaphor for us here and now?
Why shorten a long ballet into a suite?
IB's founding director Victoria Lyras touched on a truism:  The Sleeping Beauty is the story of a life, expressed through three compelling adagios. Aurora, through tribulation learns the truth of great love. And so do we.
Indianapolis Ballet is Live at The Toby at Newfields:
June 11, 2 p.m.; June 12, 2 p.m & 7:30 p.m. June 13, 1 p.m. and 5:30 p.m. Though sold out at 30% capacity, it's always wise to check if you really want to attend. Someone might have cancelled.
Indianapolis Ballet will release the online filmed version of The Sleeping Beauty Suite in the summer of 2021. Check with indyballet.org for details.