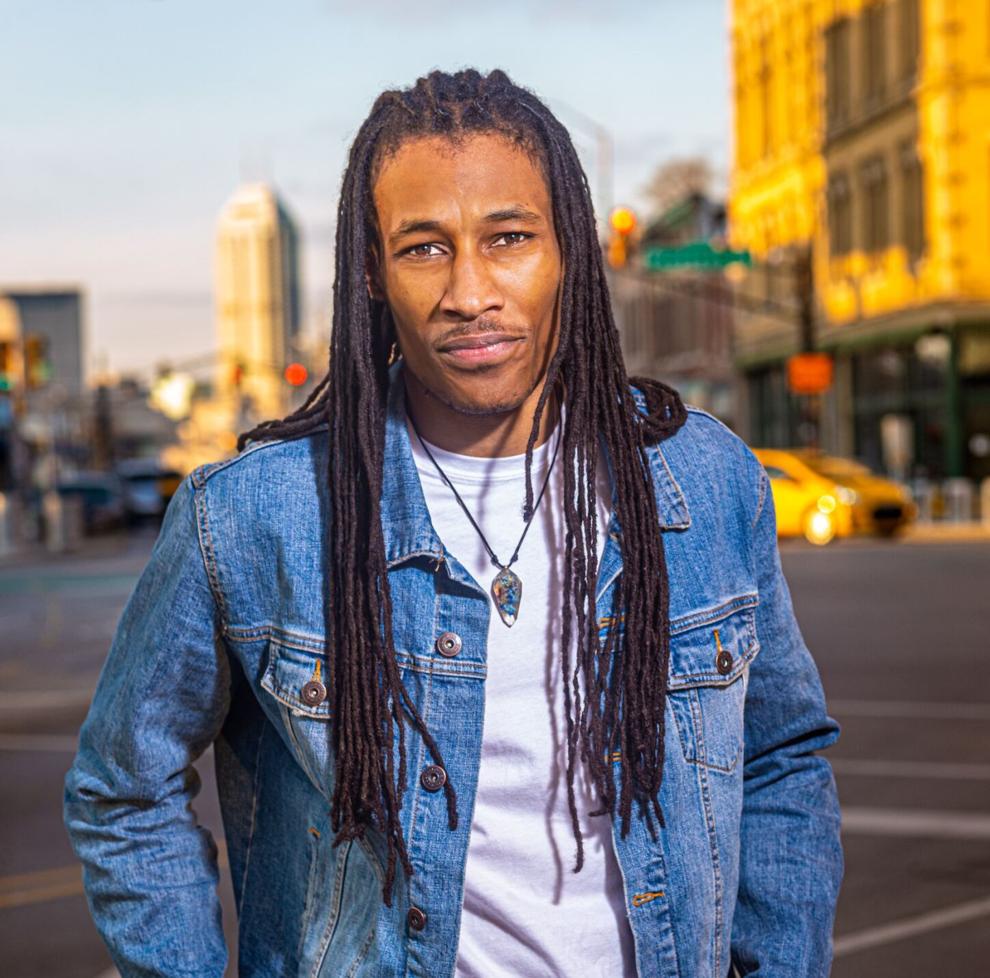 Yadin Kol presents a vision wholly true to himself. That freedom and individuality are reflected in his name. After becoming an artist, he learned his birth name, Justin, which translates to "Yadin," Hebrew for "God is judge." "Kol", meaning "all," seemed to fit. "The surface meaning is 'God is Judge of All,'" he says. "The deeper meaning is that if God is the judge of all then no human being can define you. You are free to be who you are, and where you are along your journey in this moment. I believe that the truth of the human experience defies description and exists beyond labels."
Kol, performing in Indy since 2016, is sharing his music and vision on the Artsgarden stage as one of four featured artists for the 2021 Art & Soul Festival. His featured performance will air on the Indy Arts Council website Tuesday, 2.16, at noon. A single song performance will air on WISH-TV's Facebook page.
The confidence in Kol is striking. His music, influenced by blues, R&B, neo-soul, reggae, and hip-hop, is hard to define and yet his sound is exactly what it needs to be. The definition of a person, or their art, he believes is far less important than knowing the spirit is true. 
"I believe that by virtue of our humanity we're all natural-born creators," says Kol. "The beauty of art exists in the opportunity to create something authentic, and to connect with the deepest and most authentic parts of ourselves, and others. As an artist, it is my duty to create art that speaks to the authenticity of my human experience."
Kol says the festival represents a pivotal moment in his formation as an artist. Having arrived in Indianapolis in 2015, he played guitar but never thought of himself as an artist. But it's hard to keep a good artist down and Kol knew he had a desire to seek out and share with other musicians. That searching led him to the Artsgarden one day five years ago.  
"I don't even think I knew the event was called Art & Soul at the time but experiencing that day of performances changed my life forever," says Kol. "I was absolutely blown away by the talent, and the sheer energy of so much artistic creativity left me internally floored. The artists I witnessed that day blew me away, and in those moments, I became privy to what it meant to be a true artist."
Not long after that, he wrote his first original song and debut single, "True Love." Soon he will release his debut EP that, he says, "promises to be a fresh and powerful contribution to the world of music."
Kol's journey began with every open mic he could find. Like any artist with something to say he found stages and began playing around the city, making the rounds and performing whenever he could. He says opportunities like "That Peace Open Mic," "Kafe Kuumba," and "Vibe on Wednesday" offered him support and practice. 
"The open mic scene in Indy is extremely supportive and allows for opportunities for creatives to share their art and connect with people," he says. "It's also an amazing training ground."
Over the years, Kol became immersed in a lively community of artists both innovative and talented. He is also sure to give credit to the people and places that make the chance to create possible. "The Indy music scene," he says, "is also made up of the platforms, and the curators, and the visionaries who are committed to making sure that both the artist and the art-lover have plenty of opportunities to share and experience art and music." 
As he continued to hope and hustle, more opportunities came his way in performances at The Virginia Avenue Music Festival and Chreece. All the while, Kol honed his craft. The music is a raw blend of guitar and mellow vocals that, he says, "respond to issues of social importance, continued systemic oppression of people of color, which oftentimes results in limited access to the means of true self-discovery, social mobility, and financial freedom." 
If music and the arts are meant to bring people closer, Kol seems well suited for the task of joining many in the right way, for the right reasons. His vision and his performances communicate honesty and authenticity while addressing the "unrelenting hope for the disenfranchised, and faith in creation." 
No wonder his reception has been positive, given the message he shares. "I believe that love and accountability walk hand in hand," he says. "I hold myself accountable to speaking my truth because it is a natural extension of self-love, and I find love when I'm able to connect with others."
Those connections will only increase with his performances around the city. The opportunity to perform as part of Art & Soul is a testament to his originality, drive, and appreciation. 
"Art & Soul set me on a path of self-discovery," he says. "As for the rest, well, I'm still in the midst of that experience, and I don't plan for it to ever end."