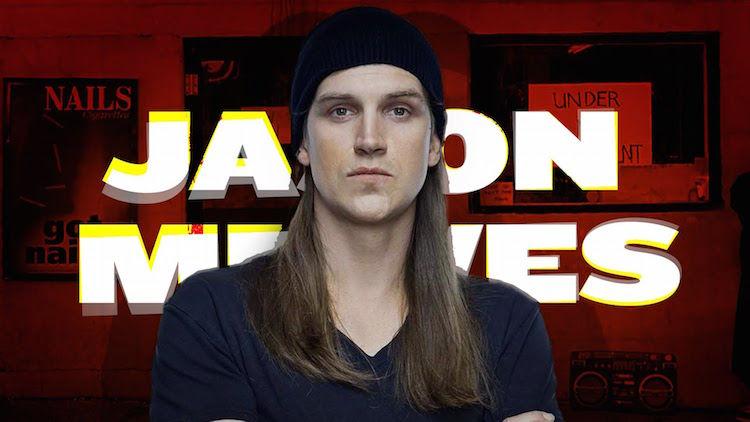 It's always a little strange hearing someone's voice on the phone for the first time, especially after you've known it for years from movies.
In the case of Jason Mewes, my experience was almost too perfect to be true.
Best known for his role as Jay alongside Kevin Smith's Silent Bob, Mewes and I had a humorous back-and-forth of missed calls, texts, and voicemails before finally chatting one fine Saturday morning. All in all, it was totally worth it.
Ahead of upcoming appearances at Indy's new Helium Comedy Club this weekend (April 12-13), Mewes and I chatted about his relationship with Kevin Smith, podcasts, addiction, and more, sharing laughs as the Clerks star reflected on a life of ebbs and flows. Read our full conversation below.
SETH JOHNSON: I've read a little bit about your mother and her struggles with addiction. Regardless, were jokes and/or comedy a part of your upbringing at all?
JASON MEWES: No, not so much. My mom was more into Murder, She Wrote and Columbo. Stuff like that. She did love Chris Farley movies. Honestly, I didn't spend that much time with my mom until the last five years of her life. Growing up, I was living with my grandma, my aunt, and different families. My mom was addicted to opiates. So, she would get strung out, leave me with my grandma for a couple years, and then she'd get better. So, yeah. Growing up, I wasn't really around her that much to know what she liked. But when she got sick and I spent the last five years with her, it was a lot of Columbo and Murder, She Wrote. [laughs]
JOHNSON: Talk to me about when you first met Kevin Smith. What was it that brought you two together?
JOHNSON: I first met Kevin at the community center. I knew who he was because we grew up in the same town. But, we didn't really hang out because he was four years older than I was. He worked at the community center. It had pool tables, foosball, snacks, and board games, and that's where kids would go after school until their parents got home from work. Kevin worked there with Walter Flanagan and Bryan Johnson. Those guys would hang out and read comic books. I remember they'd sit in a corner and laugh, and would be talking about movies and different things. I found it appealing.
I'd go over and be like, "Hey. What are you guys talking about?" And, they'd be like, "We're talking about comics. Get out of here kid." After me harassing them so many times, they started giving me their old comic books that they didn't want. I'd read them, come back, and be like, "Oh, my God. That was amazing." And then, they would laugh at me because they'd be like, "Oh dude, those are books we didn't want."
Kevin always says he found it charming that I liked every comic book — that there wasn't one bad comic book in my eyes. So, we didn't really hang out then, but I started getting to know him. But then, he left and started working at the Quick Stop. He used to ask Walter and Brian to come help him on Sundays at the Quick Stop to make their Sunday paper. In Jersey, they have a paper called the Asbury Park Press, and there are like 10 different sections of the paper that you put together to make one big paper. It'd take him a long time. He'd have to put 'em all together and have 'em ready by the time the store opened at like 7 in the morning.
So he'd have to go there at like 5:30 in the morning, and he'd always ask Walter and Brian. They'd be like, "We're not getting up at 5 in the morning." But he asked me one day, and I was like, "I'll go!" That's really when we started hanging out. I started going to the Quick Stop with him on Sundays. And when we were done, we'd watch Silver Spoons and Degrassi. That's sort of where we started hanging out and bonding.
I would say weird stuff and be obnoxious. He'd be like, "You have a weird sense of humor. You're funny, but I wonder if other people find you funny. Someone should put you in a movie." Cut to a couple years of working at the store. He writes Clerks, and was like, "Hey, I wrote a movie, and I wrote a character based on you. Because I think you're funny, and I want to see if other people find you funny."
JOHNSON: What was your reaction when he approached you with the whole Clerks idea?
MEWES: Now, when people say they're going to make a web series or something, it just seems more normal because people can throw stuff up on YouTube and the Internet. People can literally do it with their GoPro or iPhone. But back then, it was literally VHS cameras. I just remember sort of blowing it off because it didn't seem normal. I didn't really think he was going to make a movie. Then, all of a sudden, he gives me the script. And I remember he was like, "Hey. You're Jay." And I'm like, "I don't know if I can do this. Who says this? I can't say this." And he's like, "You! You say snooch to the nooch."
Again, I was like 17. It just didn't seem normal, especially reading the script. It was just like, "Oh cool. You're going to make a home movie. Oh wow, you're going to actually make a real movie." But even after we made the movie, I didn't know the process. I didn't know he'd go to film festivals. And, if things went well, someone could buy it, and it'd be in theaters. After we were done shooting it, I started roofing at that point. So I just went back to working my job, and he went off to film festivals trying to sell it.
I remember I just sort of forgot about it. Time passed, and all of a sudden, he was like, "Oh my gosh. Miramax bought it. It's going to be on 100 screens." Even then, I was like, "100 screens? Cool. A few people will see it." I had no idea that he would get a three-picture deal, and then write a movie and put us in another movie. So it was crazy. Again, it wasn't something that was planned.
JOHNSON: What was it like working with Chris Rock and George Carlin in Dogma?
MEWES: It was awesome. The bummer is that I didn't get to spend a whole lot of time with George Carlin. I remember I found myself super intimidated by him. Not in a bad way. Just in the sense that he was a super funny, smart dude, and Kevin and him would talk about his books and his stand-up routines. They'd talk about things that I couldn't put my two cents into, so I really would have nothing to say.
As for Chris Rock, I got to do a bunch of scenes with him. He's a super nice dude. He made me crack up a bunch. I remember watching him off camera while he'd do his stuff. He'd be super animated. Chris was super cool. Alan Rickman was super amazing too. I was also intimidated by him. I remember before we even got there, Kevin was like, "Bro. You can't be messing up. We've got Alan Rickman. He's a British actor. They invented acting. Be serious. You can't be snoochie boochie-ing him around."
MEWES: Kevin had been doing like four podcasts at the Smodcastle. I was trying to hang with Kevin because I had relapsed, and it upset him. He had started shooting Red State and was super busy. So whenever he was at the Smodcastle, I knew where he was, and I'd want to go spend time with him. I'd watch him do the podcasts, and it seemed like so much fun. I was like, "Man, I really want to do a podcast."
Around this time, we had talked. He was like, "Jay, I just don't get it. You had four years sober. You were doing so good. Why do you think you relapsed?" I told him it was because I had gotten kidney stones around that time, and they gave me Demerol and some Vicodin. In my head, I thought I could handle it. But I wasn't going to meetings. I wasn't hanging out with a lot of people, so I didn't have anybody to talk to or be accountable to.
So when I was like, "Hey, man. I want to do a podcast. It looks fun," he was like, "Okay. What do you want to talk about? Comics?" I was like, "I don't know." And he was like, "Well, listen: Why don't you talk about your stuff that's going on? And then this way, you'll be accountable to people who come to the show." Because at that point, it was a 40-seat black box theater. We had no idea people would come to Florida or Texas or London [to see it].
JOHNSON: Are there podcasts you personally listen to now?
MEWES: There are not, actually. I don't listen to any podcasts. I'm honestly obsessed with TV, even more than movies. I know people put a podcast on when they're on an airplane, but I honestly put TV on. Even in my car, I don't watch it, but I have it on the passenger seat. And if I'm at a red light, I might glance over. But I find myself watching a lot of TV.
JOHNSON: Do you have specific shows you're excited about?
MEWES: I'm super stoked about Game of Thrones coming out, of course. And then, there are just a ton of shows that have been out for seasons that I've been watching, like Supernatural, Law & Order SVU, NCIS: Los Angeles, and NCIS: New Orleans. And then, there are the new shows, like Whiskey Cavalier, Proven Innocent, and For the People. So there's a bunch of older shows that I've been watching season after season, and then there's a bunch of new stuff that I really like.
JOHNSON: What can people expect from your shows in Indianapolis?
MEWES: People are like, "Oh, you do stand-up comedy?" But it's not me standing up there and doing jokes. It's just me telling stories. It's a slight version of An Evening with Kevin Smith, but I just tell stories. Sometimes depending on how long they want me to do the show, I may open it up for one or two questions at the end.
I try to tell some different stories than they might have heard on the podcast, and usually more recent stuff that has happened. For this new tour, they'll get to hear some fun stories from making the [Jay and Silent Bob] reboot. We'll say [it's] some funny, inside-scoop stories of my life and the reboot.