The name Chuck Taylor is one often associated with sneakers, but many may not know that Taylor was actually a Brown County native who grew up playing basketball in the early 1900s at Columbus High School.
"The ties to Indiana are unmistakable," says David Matlack, a storyteller, historian, and faculty member at Indiana University. "The Indiana state tournament would've been eight years old when he went to it. At that point, it was already the most organized state tournament in the nation. Out of that, basketball as an important part of the Hoosier identity was born."
On Sunday, May 2, Matlack will lead an event titled "Chuck Taylor Converse All Star: The Man Who Made the Shoe" as part of Storytelling Arts of Indiana and the Indiana Historical Society's Sharing Hoosier History Through Stories series. Ahead of the presentation, our Seth Johnson caught up with Matlack for an interview, taking a closer look at Taylor and his larger-than-life legacy.
SETH JOHNSON: Can you provide some information on Chuck Taylor's Indiana roots and how that set the stage for his success later in life?
DAVID MATLACK: He was born in Brown County in 1901. The family moved to Bartholomew County shortly after that. He grew up in a tiny little hamlet (Azalia) about 10 miles southeast of Columbus. He went to Columbus High. He had a very modest basketball career. The Columbus Bulldogs were pretty good in his years — they made it to State three times. But by all accounts, it would have to be considered a pretty modest high school career. He did not go to college, so he left home at 19 and was bouncing around the semi-pros in the early '20s.
Industrial teams were really big back then, so he shows up in Akron playing for Firestone. He then played in Detroit, before ending up in Chicago where his lifelong relationship with Converse began. That's also where it becomes very difficult to separate the myth from the man. Basically, he was hired as a traveling shoe salesman. Where you have sales you have marketing, and Converse marketing created this myth that he was a big pro star.
Throughout his life, you read [he was] either 12 years pro or 20 years pro, and neither is true. He was never a full-time pro. He was always associated with the original Celtics and the Olympic champion German Street YMCA. He never played for either of those, but you can still read about that to this day. [laughs] It's fake news, but it's out there and it's repeated.
He was basically a traveling shoe salesman, and at some point in his career, he started doing demonstrations of some basketball skills. That morphed into giving basketball clinics, and these became a really big deal. Over the years, he probably presented these to hundreds of thousands of people. He was on the road constantly, and by the 1950s, it was quite a production. He showed movie clips of famous games, and this was before there was much televised basketball. So if people wanted to see the top teams, they'd have to watch a film strip.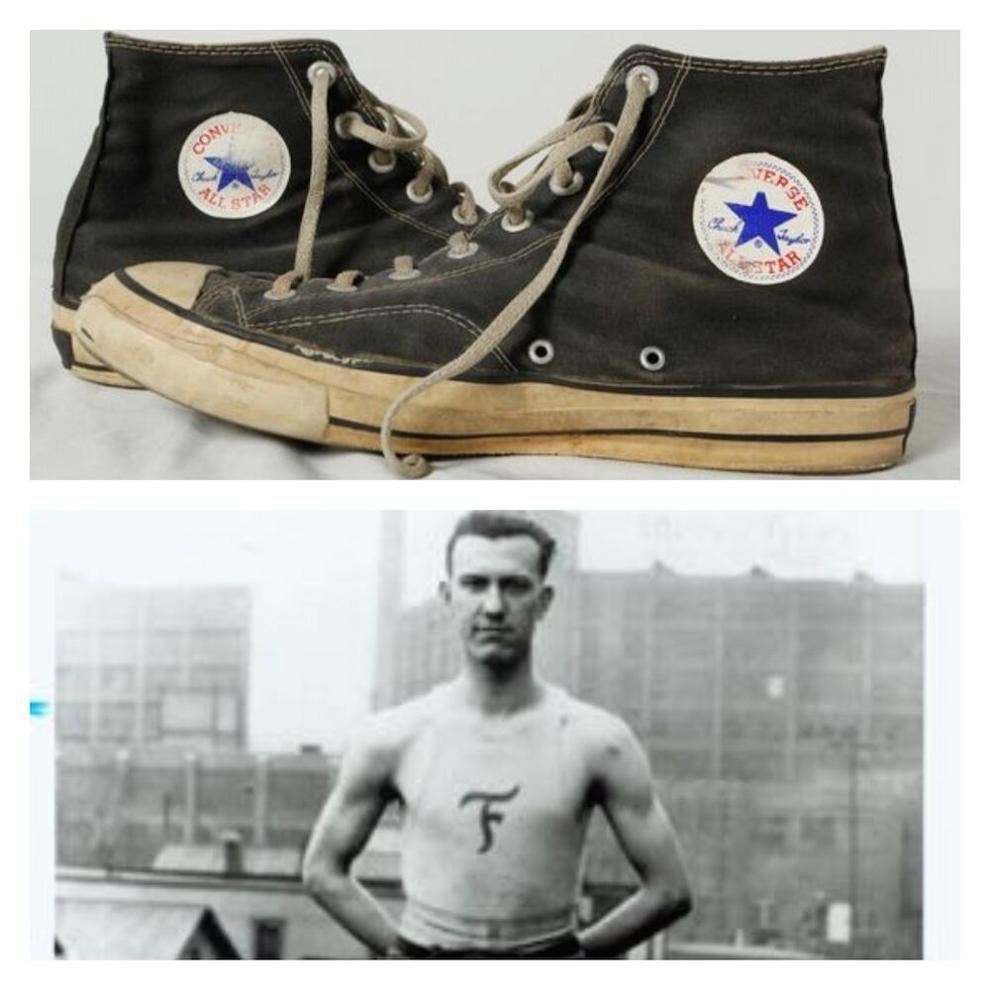 By the '50s, he had young stars under him, and they really were former pro stars. But the nitty-gritty of his clinics was the fundamentals of basketball. He was especially known for his ball-handling and passing game, and that's really what kids needed to learn. Any kid can learn to be a great shot if they put in the hours, but to learn the passing game you need others and he was known for his passing game. So even though these clinics were a marketing tool, myself and many others contend that they elevated the game.
Very late in his life, he was inducted into the National Basketball Hall of Fame for contributions to the sport. It was not as a player or as a coach. It was not for selling shoes either — it was for those clinics. Basketball was a new game, so he was right there with the birth of organized basketball.
JOHNSON: What do we know now about Chuck Taylor's personality?
MATLACK: He was charming, funny, and a lot of fun to be around. What we really know very little about is what he actually thought or felt about anything. He was a mid-20th century sports guy, and you just didn't talk about your feelings or your thoughts.
He also worked his tail off. He was on the road 365 nights. He was very meticulous about orders. He was a good sales rep. He really took care of his clients. A lot of coaches looked forward to him coming to town too because he was going to teach them new skills, and he would take care of their shoe order for the year. It was a good shoe too. Nobody could argue that it wasn't well-made. All of that swirled together to make it the most popular basketball shoe of its day.
JOHNSON: What was the state of basketball shoes before Chuck Taylor came into the picture with Converse, and what lasting impact did he end up having on the world of sneakers?
MATLACK: The original shoes had a leather sole, but a lot of the courts were not hard maple yet. They might have been asphalt or concrete, but with a leather sole on hard maple, you had no traction. Spaulding and some other rubber companies started doing rubber soles. Converse got into it in 1917 with a prototype shoe. The All-Star came out in '21. Chuck joined the company in '22, and I get very conflicting reports as to how much influence he actually had on any redesign of the shoe.
When you read much of the press, it all says he invented the shoe or redesigned the shoe, but there are really conflicting reports on how much effect he had. The iconic ankle patch came sometime in the '20s. And then, his signature went on the ankle patch in 1932. So within 10 years, the company is realizing, "Hey. This guy is really something, and we're going to do this brand identification with him."
JOHNSON: Do you have any examples of professionals in the game of basketball that he impacted?
MATLACK: I've read so many accounts. I started the research on this a year ago. No big names jump out. I do know he was the go-to guy if a school was looking for a coach. He had a keen eye for talent on the court and on the bench. So if a school needed a coach, they'd call Chuck Taylor. They'd also ask him, "Hey. I'm going to need a guard next year. Any hot high schoolers out there?"
He created his own All-American list, and it was really an honor to make that list for both the player and the coach. So the coaches would court him to get a player on the list, and he would court the coaches to sell some shoes. [laughs] That worked out really well. The players that were named All-American then felt loyalty to the company. So that was an important marketing tool.
Another marketing tool was the Converse Yearbook. When it first started, any team could get their picture in that thing, as long as the coach sent in a photograph, roster and statistics and if a majority of the players in the photo were wearing Converse. And who doesn't want their picture in there nestled up next to all these champions? So that was a marketing tool, but it was also educational because it had articles from the leading coaches and officials of the day about new strategies, new techniques and new rule changes. So really, between the clinics, the Yearbook and his All-American list, the brand identity and loyalty was created. The bottom line was he elevated basketball.
JOHNSON: What are some things we see now in 2021 — whether they pertain to basketball, sneakers or overall culture — that we owe to Chuck Taylor?
MATLACK: His stroke of genius was marketing to the coaches. Originally, his assignment was to go to the sporting goods store and sell the shoe. But then, he realized, "The sporting goods stores are going to have many different brands of shoes, and they're only going to sell the ones that make them the most money. I need a spokesman for the shoe. Who's that going to be? It's going to be the coaches."
This actually led to team endorsements, and the team endorsements now are crazy. With Nike and a college team, it'll be a $160 million contract to wear Nikes and have the little swoosh on the uniform. So I think his contribution in terms of what we're seeing now is this association of the brand name with a specific team.