Franklin native Chris Banta has a passion for making cool-ass vinyl records.
"There are a lot of these reality shows like Boat Brothers, where they're like, 'We contacted Shaq, and he needed the sickest boat,'" says Banta, who is also the frontman of Indy rock 'n' roll band Brother O' Brother. "I was like, 'Why can't there be somebody like that for the most insane records?' I really want to be that person."
After learning the ins and outs of custom vinyl from running his own record label, Banta decided to completely dive into the business less than a year ago with the creation of his own company, Romanus Custom Vinyl and Manufacturing. Now a go-to figure in the global custom vinyl market, Banta is fulfilling orders for large-scale record labels, creating things like liquid-filled records, glow-in-the-dark records and much more.
Having watched his success from afar, our Seth Johnson caught up with Banta for a Zoom interview, discussing his path to becoming a custom vinyl master.
SETH JOHNSON: Can you give us some background on what Romanus Records is and when you first started it?
CHRIS BANTA: I started the label about four or five years ago. My band had been on four or five different independent labels, and I started experimenting with custom, handmade insertion records and stuff. I needed people to know that I was making them, and not just the label we were on. So I made Romanus Records out of that, and the first thing I did was these glow-in-the-dark dino bone records when we were on this label called Fonoflo Records. It sold out so fast, and I just couldn't believe it. [There was] 60 of them for $60 or something. From there, it was just a slow build, and I never stopped experimenting. Pretty quickly, it just made sense to really make the label a full-blown thing, bringing on more bands and doing the do.
JOHNSON: You mentioned the glow-in-the-dark record, and I know Romanus specializes in making very unique records. Was there a barrier to entry with that at all? How did you get into doing it?
BANTA: It started out because I wanted my band to have cool vinyl. I'm a collector, and there wasn't much out there in that really crazy world. There were a few things, but it was a very new niche. So the barrier to any of it is…there's no hop online [and search] "How do you do this?" There's nothing, so it was just total experimentation.
I was trying to make my own liquid-filled record at the time, and it was not going well. [laughs] I have all these early experiments, and they look like garbage. From that, though, my brain was like, "There's this entire art space that I don't think is being explored." So I just shifted my focus and started doing sand-filled records. I make the only LED records in the world that are remote-controlled. I kept pushing that further and further out, and then my own liquid-filled tech got really good over time. It just continued to grow from there.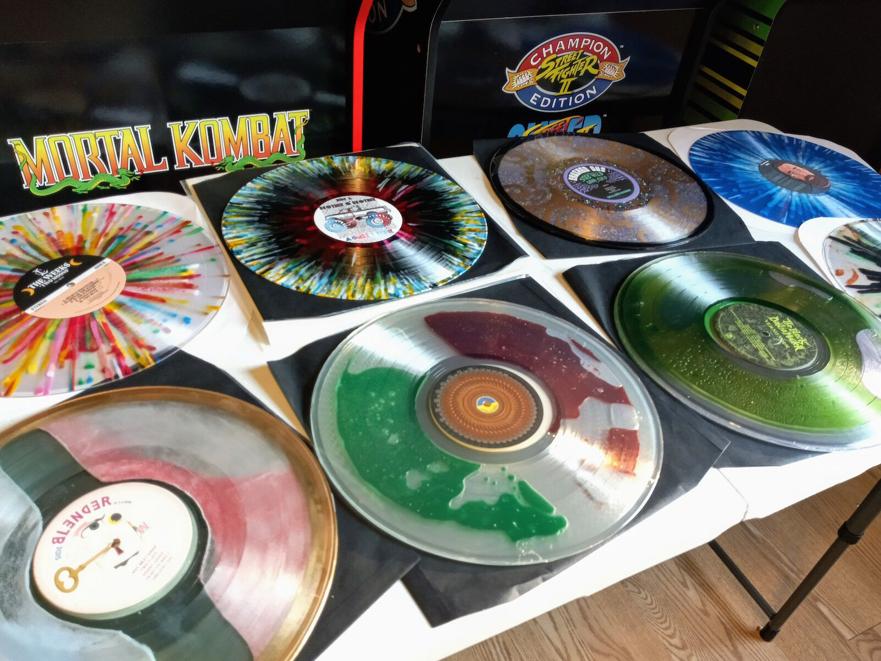 JOHNSON: I think I saw that you've made beer-filled records before. Is that something you've done?
BANTA: Yeah. For Romanus Fest last year, Upland was our title sponsor, so I made 15 or 20 records filled with different beers of theirs. I also had one record that had some of their hops in there. I just try to thematically think about things when it makes sense. And then, if I don't have a  theme for something, just making it cool. I made a Nerds-filled record once, and I must've bought about 25 boxes of Nerds. All kinds of stupid stuff.
All of that led to…about eight months ago, I opened up Romanus Custom Vinyl and Manufacturing and started doing this for other labels and bands. I had already done a couple things, but there's nowhere on earth where you can just be like, "Yes. I'd like to order a bunch of holographic-style records." I kind of did it out of desperation. I started looking at normal jobs. For the last couple years, I had always had a part-time job and then the label. So I put that up and still haven't really been heavily advertising, but it's taken off so quickly over night.
I'm doing stuff with Metal Blade Records, like the new Black Dahlia Murder record. I'm doing stuff with Enjoy The Ride Records, like Ninja Turtles, the 28 Weeks Later soundtrack and some other stuff he hasn't announced that's a really big deal for me. Right now, there's definitely such a demand for it, and I'm very blessed. When most of the music world has fallen on its face right now, somehow I'm existing.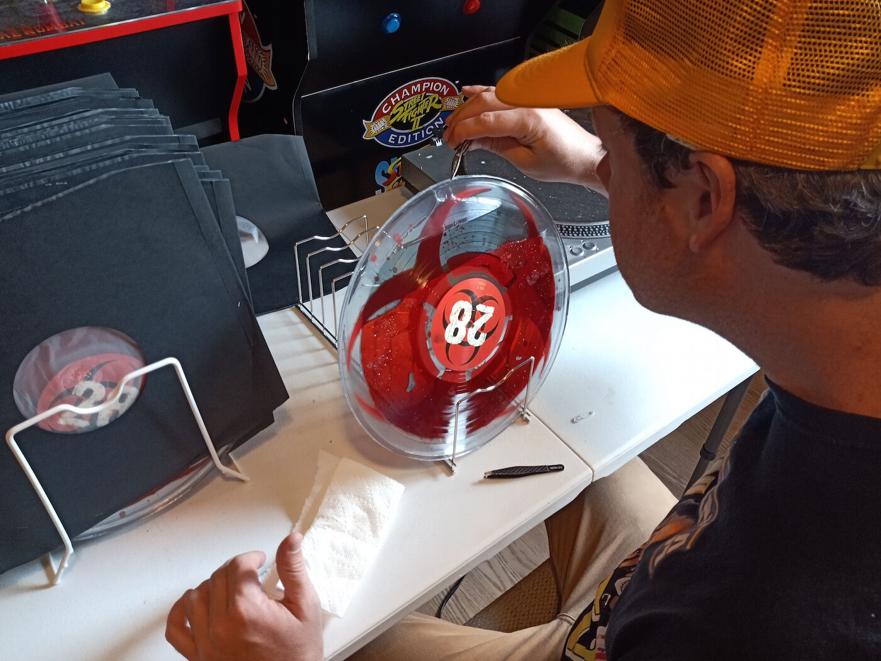 JOHNSON: In looking through the Romanus Records catalog, I noticed the price points for these specialty records are pretty high. However, it seems like they often still sell out. What is the demand for these specialty records right now, and has the demand always been this high?
BANTA: I can only speak for my label, but the demand has always been there. If I have 50 sand-filled in a release of 300 or 500 records, those are pricey. But then, all my "regular" records are splattered or tri-color, and they're $20 or $22. So I don't want to price anybody out. Even with the custom stuff, I've only had one custom record ever be over $100.
The manufacturing side has only helped my label with more exposure, but most of my custom stuff always sells out. The longest [it's taken to sell out] is 24 hours, but normally it's like 20 minutes.
JOHNSON: Being an artist yourself, do you get any kind of artistic joy from doing these projects?
BANTA: Yeah, for sure. It started out just as…I wanted to have the coolest stuff I could for my own band, and then it started transforming into this other thing. My band was doing 80 to 100 dates a year for three straight years, with Warner [the drummer]working a full-time job in retail. It was brutal to make that happen. So in my brain I thought, "I bet the label is the right move long-term." So I really started putting a lot of effort into that.
In a lot of ways, it's this totally new art space. I'm creating new things all the time, and exploring new methodologies and weird little science stuff that's super nerdy to what I'm doing, and that feels cool. It feels cool to be like, "I make the only LED records in the world." There is a cool artistic feeling of accomplishment, like, "I made something that's unique."
JOHNSON: I know what you do is very unique. Are there a lot of other people doing this type of specialty vinyl work right now, or are you sort of in your own world?
BANTA: There aren't many. There are probably five to seven of us in the world that make liquid-filled, and I know all of them. A lot of them are friends. With most of the other stuff, a lot of it is just me because of my volume and the amount of projects I'm doing. Like the LED, you're just trying to be on the cutting edge of making the coolest things you can make and really pushing the technology. I don't think I'm the only person that makes sand-filled, but I make way more than anybody else. That's just because I like the medium. And from a design standpoint, I know they're just bulletproof. They'll be here long after we're gone.
JOHNSON: That being said, has the pandemic really affected what you do at all?
BANTA: Financially, I've been growing. It's bigger than it's ever been for me right now. I keep telling people…I think now is a great time to release a record. If you've got something to put out there, get it out. Don't wait for the world to open back up to be able to tour because we don't know when that's going to be. And you can dedicate all of your focus towards the promotion of your record.
I think people are still buying a lot of stuff. It's their way of being able to support music, and I think it's a real thing. So on my label side, the records I've had out this year have sold really well. And on the manufacturing side, more and more keeps coming in. I'm building a new studio for it onto my house right now.
The only thing that's been hard for me is my son, Maximus, was with me every day for almost three months because his daycare was closed, and I didn't feel comfortable sending him there. That was hard for work productivity, but other than that it's been pretty good overall.