Joel Alvarado, a Central Indiana actor and owner of a costume boutique, is offering a unique and once in a lifetime opportunity for fans of The Andy Griffith Show and Mayberry to walk the red carpet through an online contest aimed at bringing some "Mayberry Magic" into the lives of people impacted by both the show and the coronavirus pandemic.  
Alvarado plays "Goober Pyle" in the recently filmed production of the movie Mayberry Man, a film inspired by The Andy Griffith Show.  Filming for the movie has been taking place in Mt. Airy, NC (Andy's Hometown), Virginia, Los Angeles CA., and in Danville, Indiana. The segments in Danville were shot in September.
While the coronavirus pandemic has slowed the film production, it is expected to be released sometime in 2021.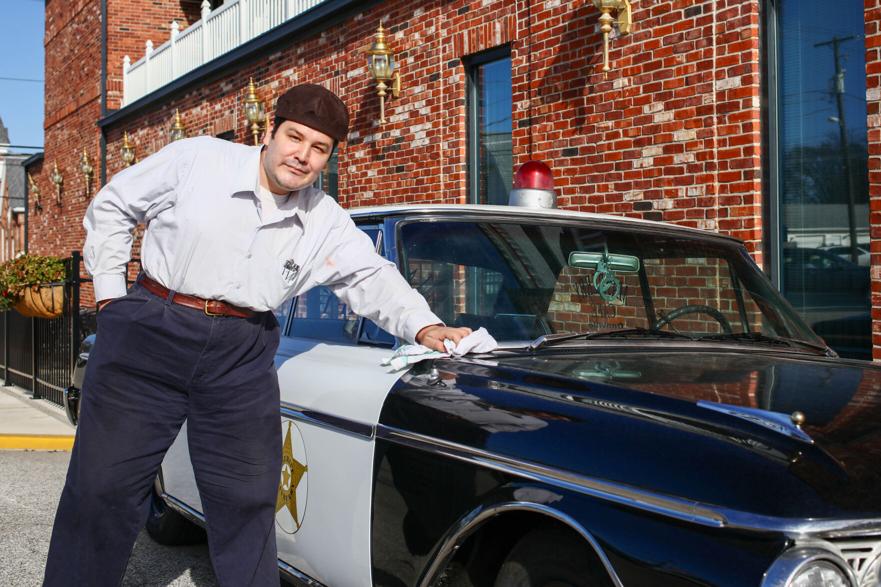 The production delay inspired Alvarado to create a contest for people in the communities to submit for a chance at attending a red carpet event. 
"I have been approached and told wonderful heartfelt stories on what The Andy Griffith Show and Mayberry means to so many people," Alvarado says. "I was sitting in the Mayberry Cafe in Danville, Indiana and thought to myself, wouldn't it be great to hear more touching stories and give fans a chance of a lifetime with a piece of Mayberry Magic."
Due to the pandemic, the Red Carpet VIP Experience's actual dates will be dependent on public health policy at the time and are subject to further change should social distancing rules be enhanced even further or a lockdown reintroduced next year. 
"Hoosiers' health is a priority," says Alvarado. "But what the people need is to enjoy themselves and make sure they tend to their emotional well being, during this time of isolation and being socially distant. My team will find safe ways to deliver a night to remember that we can deliver to fans of The Andy Griffith Show or classic TV in general."
The contest, which started in November, just in time for some holiday cheer, will give people the opportunity to submit to the contest through Joel "Goober Pyles" Instagram link theofficialgoober 
Regardless of what the future holds, the selected winners will attend a Red Carpet Event, receive pampering and attire (should you choose to attend the fitting) provided by Alvarado's costume business, Xtravaganza Boutique, as well as a meal at the Mayberry Cafe with members of the cast from the film, once the movie is completed!
HOW TO ENTER The "MAYBERRY MEANS TO ME" CONTEST
1. Follow Joel Alvarado "Goober Pyle" on Instagram at theofficialgoober
2. Private message your response to "MAYBERRY MEANS TO ME....."  submissions may be as long as you desire!
3. Things to list... how the Andy Griffith Show has affected your life, what struggles you may have faced in your past or present during the coronavirus pandemic, any random or interesting facts about YOU, or any Mayberry memories. 
"The deadline is unclear, if I receive a submission that fiddles with my heartstrings then I will have to add them. With so many rules in our day to day life now, anything Mayberry should have no rules." says Alvarado. 
"On this night to remember YOU are the stars and I will make sure that you shine bright and add a beautiful memory to such a difficult time in our lives. I believe a cure for the coronavirus blues is some pampering, a night to escape into "Hollywood Glamour" and with a wholesome movie such as Mayberry Man.  Life is about balance, and if I can help in any way provide that then it is my duty to serve the people. This night out will be the much needed "yin" of good to the "yang" of bad that has been the crisis our nation faces." explains Alvarado.
Those fortunate enough to be selected to attend the event will experience something truly remarkable and memorable complete with walking the red carpet, mingling with actors from the movie, photographers and media coverage, and sharing the love of the Andy Griffith Show, Mayberry and Classic TV with people like themselves.  It will be truly magical and a much needed escape from how we have had to live life through the pandemic.  
Our communities are fortunate to have people like Joel Alvarado to provide hope during the holidays and throughout the pandemic. Goober's goodness will touch the lives of so many in need of a little bit of that Mayberry Magic to get their engines started as they come out of the pandemic.  
About Joel Alvarado
Joel Alvarado is a highly talented casting and production assistant, actor, singer, and producer who recently moved back to Central Indiana after living in Los Angeles.  He has acted in TV movies, sang backup for Dennis DeYoung, of the band Styx, during DeYoung's solo tour, and appeared on American Idol in 2012. He aspires to continue his involvement in the arts by opening a casting and production company in Indianapolis.   
A listing of some of Joel's many accomplishment can be found on his IMDB page at: https://www.imdb.com/name/nm1794257/
To learn more about booking "Goober Pyle" for business owners or private events you may contact Joel at his Instagram page theofficialgoober