Peter Campbell has been making movies since he was a kid. Starting with elementary school and now with a world premiere of his first feature in Indy Film Fest, running April 29-May 19, Campbell still values simplicity. "They've become more advanced," he says, "but it's still just making stuff up and trying to make it look good on camera."
After finishing his film, DimLand, he is reconsidering what, exactly, he is making. "Spending almost all my time trying to make movies, I've realized a big part is about trying to feel some kind of communion with others."
DimLand tracks the connections we make with each other, with the past, and with the unknown.
Get tickets for DimLand, available for streaming April 29.
The movie is an atmospheric and surreal story of Brynn (Martha Brown) and Laika (Odinaka Ezeokoli), two Chicagoans who retreat from the city to a mountain cottage. Searching for peace and purpose, their visit is complicated by the introduction of masked figures, Rue (Nate Wise), who both soothes and challenges the characters.
For Campbell the act of filming remains as transformative as the arc of his characters. "Without a doubt, it is the most rewarding thing I've done," he says. "The experience was so clarifying — I was adrift before making it."
Currently he is working on a science-fiction film set entirely in Chicago, IL. entitled, The Moon and America. He's confident in his life's purpose and craft and sees some simplicity in that vision. Campbell says, "It turns out I kind of had the right idea at age 10." 
NUVO reached out to Campbell and he was more than happy to share his take on the process, the actors, Dada millennials, and cutesy words like "adulting." 
NICHOLAS READING: The main character, Brynn, says in the film, "Sometimes the world feels like if you aren't built right it's designed to hurt you." Could you speak to the significance of this notion both in the movie and in real life?
PETER CAMPBELL: This is a worldview that I think is very indicative of Brynn at this moment in her life —  and probably my own feelings here and there throughout my 20s. It's a feeling that grows when you feel like you're not suited to absolutely universal things —  and feeling really alone in that. Being in a very depressive state for a long time, dealing with mental health or addiction issues, honestly many, many avenues can leave you feeling like the world is a very scary and hurtful place. Brynn is a young woman who feels ill-equipped to deal with the world, which leads her to try as hard as she can to retreat into as quiet and comfortable a place as she can —  in this case being a very literal alternate world.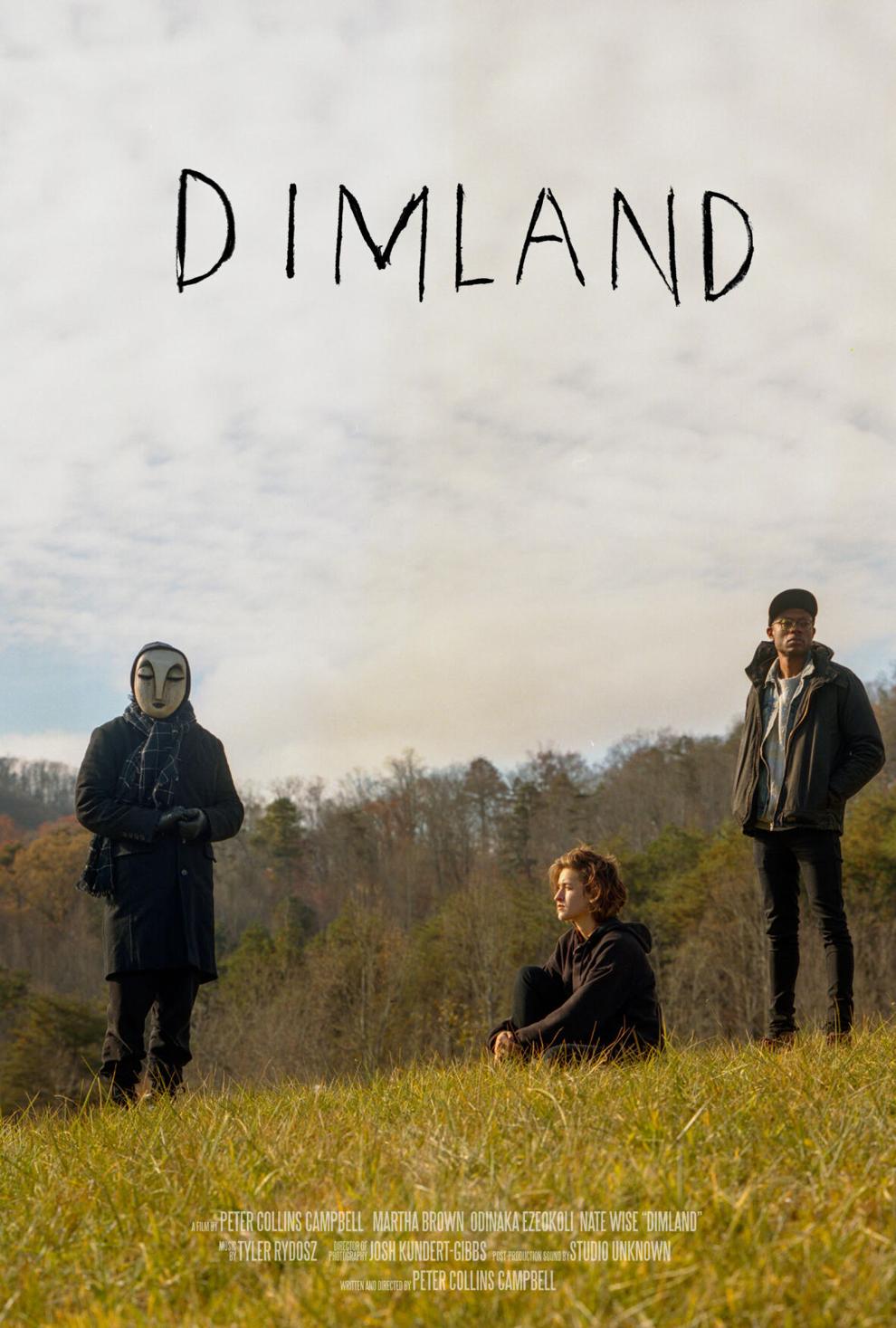 READING: The description of DimLand is "a bittersweet fairy tale." Can you speak to the tradition of fairy tales and how your movie contributes to that tradition?
CAMPBELL: It became apparent as the script developed that it was kind of in the tradition of stories where a young person (often a girl) will find this other world — like Alice in Wonderland, Wizard of Oz, Pan's Labyrinth, Spirited Away, Peter Pan and it felt like a sort of spiritual sequel to a lot of those stories. It's a movie where that girl character grew up and never found anything in her life that matched that wonder that her magical world brought her, and it kind of messed her up. So, even if she doesn't realize it, she's searching for that magic again.  
READING: DimLand also draws from surrealism. How does surrealism offer more insight to our experiences than straight narrative? What influences are you drawing from, and what do you think the film contributes to our understanding of reality?
CAMPBELL: I think surrealism as a response to reality has become a lot more accepted in recent years — I honestly think millennials speak Absurdist! You've got shows like Eric Andre and Adventure Time and internet memes making references to Alejandro Jodorowsky and Dada. People understand how abstracted our everyday life has become from anything that feels grounded. I'm obviously an enormous David Lynch fan, and [of] filmmakers like Roy Andersson. Also, animation is a big influence and Hayao Miyazaki especially.    
READING: The film is cast with three actors. Can you talk about the benefits and challenges of having a small cast? Can you also speak to the performances of Martha Brown, Odinaka Ezeokoli, and Nate Wise? 
CAMPBELL: The cast became three as a budgetary decision, honestly. When I was writing I didn't feel confident that I could transport more than a few people, and the crew itself was as big. We always had to consider how many people could fit in any car or house we were in. 
The benefit of having a small cast was we could really dig in and rehearse effectively, almost like a play. We rehearsed with Odinaka and Martha in Chicago every week for about a month before filming, and that in turn informed new drafts of the script. Nate lives in Brooklyn, so we did our rehearsing with him once we got to Asheville, where we filmed.
Each of them are so unique as actors — Martha hasn't done much film and is trained in theater, but we had done an improvised short and I was so taken with how quiet and subtle her reactions were, and how much attitude could be communicated with so little. It was a bonus that she has the technical training. The part was written for her but not really based on her — it always struck me through the hundreds of editing hours, just how dissociated her performance was from her demeanor. Brynn is Brynn, she lives in the movie. Martha's performance is a fully other person.
Odinaka is predominantly a comedian — he's had parts in the web series Brown Girls and on the Netflix show Easy (playing a version of himself, as a comedian), but I think this is the first time he's done something this far from straight humor. He's a naturally charismatic person that even when he's dialed down, he's still a much lighter presence in a movie that can feel pretty heavy, being linked to a main character in the middle of a depressive episode. 
Nate, I met as a musician. I did a music video for him years ago, and since then transitioned first to improv, then to dramatic acting. He showed up for a tiny role in a short I did a couple years ago. I remember everyone expecting some random friend of mine and being a little shocked that he really fucking brought it and did some wildly expressive acting for his one shot in the film. For whatever reason, I thought of him when I was thinking about actors for Rue, and it ended up being perfect on so many levels. He had a physicality for the character and a voice, both of which were worked out on set and basically treated as though we wouldn't record any voiceover, so he's really doing a full performance in every scene. 
The biggest unifying thing about all three actors is that they are all complete goofballs, and thank god, because being on set and being creative is no fun when everybody takes it too seriously.   
READING: How important is place in your film? The characters have left the city in favor of the country in search of peace and closure. How is the film commenting on the differences between the city and the country?
CAMPBELL: Place is massive in the film. We filmed in the Blue Ridge Mountains and were able to shoot like this thing was Lawrence of Arabia even though we had no money. In the city you really do have to film tight, oftentimes. It's a big reason a lot of those early mumblecore movies are shot on telephoto lenses and with super shallow depth of field. If you get logos and people who haven't signed releases in the film, you might have to scrap shots or scenes. That tightness can really lend itself to that super low budget feeling, in my opinion, or make it look like TV. 
We wanted to shoot wide, wide, wide, and emphasize the sheer scale of both nature and DimLand, the other world in the movie. The city is shot very cramped, very shallow, and full of clutter, and as they move out to the country the movie opens up. The commentary, if any, on city vs. country is kind of a gag. These characters think that going out to the middle of nowhere is going to solve their problems for them, and help them out of their rut, and really it just strips away all the extra stuff and magnifies their issues. Going out to her family's old cabin in the woods doesn't bring the nostalgia Brynn wants —  it's been bulldozed and renovated as an Airbnb. She has to even leave the woods and go deeper and deeper, into DimLand —  removing herself further and further from her life.  
The only Midwest commentary in the film comes in the first five minutes, on the road trip.  They stop to take a picture and Laika says, "the Midwest ain't shit but a straight line. But it does get pretty sometimes." I'd agree with that.  
READING: In the end, what questions do hope the audience considers after seeing the film? What answers does it suggest? 
CAMPBELL: I guess the big question that the movie asks is, "Are you really done growing up?" I don't think I even realized it as I was making the film, but looking back, absolutely. Change is a powerful force, and the movie is about that pull, both as a positive and negative. Brynn fears change but desperately needs it. Whatever kind of cutesy wording gets applied to it, millennials making jokes about "adulting" and the angst that actually goes along with that, is something that feels sort of big, and maybe there's something there.