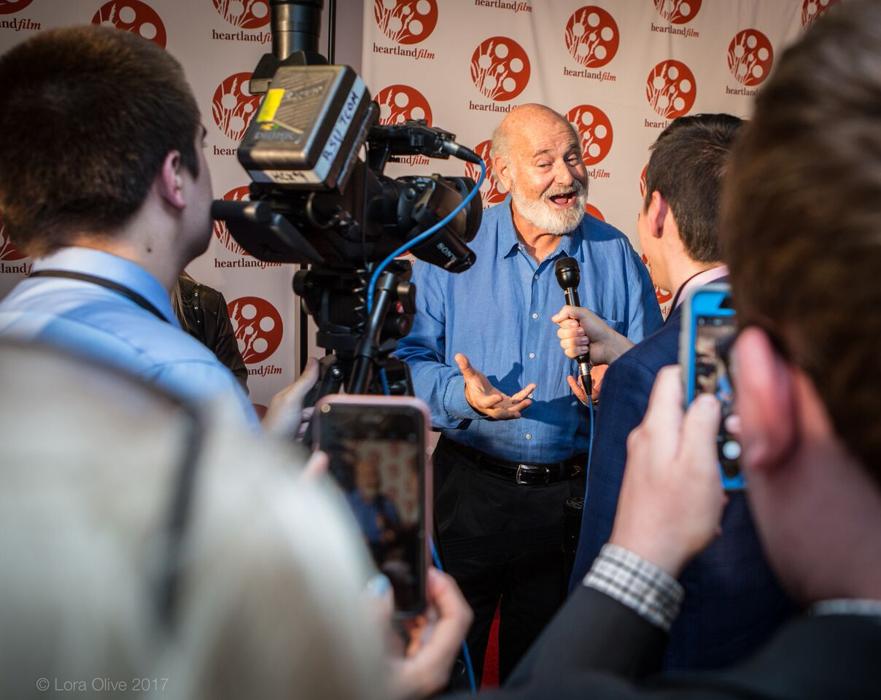 Director Rob Reiner appeared on the red carpet event for Heartland Film Festival, at the Indianapolis Museum of Art, before the showing of his film LBJ on Oct. 12. 
There were so many questions I wanted to ask Reiner as I waited patiently to get in a question or two with what seemed like hundreds of other journalists.
I recall seeing quite a few reruns of All in the Family where Reiner stared as Michael "Meathead" Stivic, the politically liberal son-in-law of Archie and Edith Bunker on the TV series which ran from 1971 - 1979.  And like millions of other Americans, I've seen a fair number of the films that he's directed: The Princess Bride, Stand by Me, When Harry met Sally and This is Spinal Tap.   Probably my favorite of these is Stand by me, which I felt was worthy of the Stephen King novella it was based on.
And now LBJ. It's a film that depicts Lyndon Johnson assuming presidency at the moment in history just after Kennedy was assassinated.  (The film was premiered in Annapolis, Maryland in March.)  My first thought, frankly, when hearing that Woody Harrelson was starring as LBJ, was WTF? I keep thinking of him in Natural Born Killers, directed by Oliver Stone, where he seems to his role in the long-running TV series Cheers.
My second thought, or concern, rather, was that Reiner would pull an Oliver Stone on the material and drive his points home with a sledgehammer — all with an orchestral soundtrack amped up to 11. (I recall leaving two of Stone's films, Nixon and Born on the Fourth of July, with bad headaches.)
It turns out, on both scores that I needn't have been worried.  But more on that later.
I had so many questions for Reiner.  But a red carpet is to in-depth questions as a McDonald's Quarter Pounder is to hamburgers.  I was only afforded the time for two questions for Reiner and here they are, with Reiner's answers. 
DAN GROSSMAN: Do you think that a movie can do that: show the complexity of a man?:
ROB REINER: Absolutely.  That's what a movie is designed to do.  This film … chose a very slim time period… we purposely chose a sliver of time when he was under the pressure of having to assume the presidency after a very beloved president had been assassinated and so it's during that time when you can really examine his whole personality.  We do flashbacks showing how he was as majority leader and how effective [he was] but were also able to bring in his insecurities he had about being loved.  So hopefully, we're able to paint a whole picture of him.
GROSSMAN:  And real quick, just one last question, do you think that Trump is doing a good job appealing to the Archie Bunkers of the world?  
REINER: Well, he's certainly done that.  I don't know who else, but he's got the Archie Bunkers of the world.
This blog will be added to/updated with Heartland coverage throughout this weekend and next week.