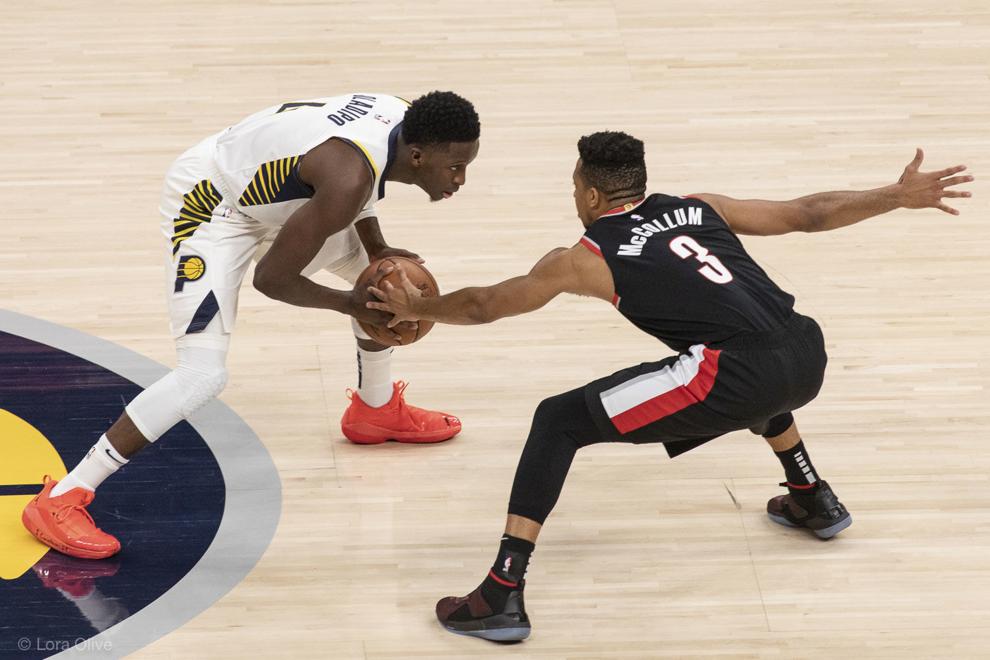 Take a deep breath Pacers fans. Everything is going to be all right.
Over the course of the team's first seven games of the 2018-19 season, there have been some very exciting developments, as well as some not-so-exciting ones. Nevertheless, it's important to remember how early we are in the season. I know that pessimism lingers inside all of us Midwest sports fans, but it's early. Take a deep breath.
With a current record of 4-3, the Indiana Pacers have beaten all the teams that they should beat, while also impressing in San Antonio against DeMar DeRozan and the new-look Spurs. In all of their wins, the Pacers have had equally distributed scoring, with noteworthy efforts from their newly revamped bench. In the losses, however, the ball movement has been subpar, with Monday's 103-93 loss at home to the Portland Trailblazers serving as a prime example.
"We didn't have the ball movement offensively," said Coach Nate McMillan following Monday's loss to the Trailblazers. "I thought that frustrated us. Our defense was pretty good for the most part, but we really never got into a rhythm offensively."
He continued, "We're working on establishing ourselves as a team and what works for us as a team. Offensively, we've had ball movement in our last two games [Cleveland and San Antonio]. We didn't get the ball movement tonight. We'll show ourselves what works for us, and we have to commit to playing that style of basketball."
The Pacers certainly showed themselves what doesn't work on Monday, as the team struggled in all but one quarter of the game.
"I thought we could've been more patient and gotten more ball reversal," said McMillan on the ball movement. "I thought we settled. A lot of those shots were the first option."
Slideshow: Pacers vs Trail Blazers
The Indiana Pacers fall to the Portland Trail Blazers, 93-103, on Monday, Oct. 29 at Bankers Life Fieldhouse (Credit: Lora Olive)
In the two games prior to Monday's loss, we saw a totally different side of the Pacers, however. Last Wednesday, the Pacers defeated the Spurs by a final score of 116-96. The blowout win marked Indiana's largest win in franchise history at San Antonio. The team also shot 53% from the field on 34 assists. In contrast, San Antonio, shot 40% with just 16 assists. The team was led by Victor Oladipo, who had 21 points, 9 assists, and 5 rebounds.
Following the news of Tyreke Evans' one-game absence (due to disciplinary reasons), the Pacers also took care of business against a struggling Cavaliers team on Saturday by the score of 119-107.
In Cleveland, the Pacers shot a sweltering 65% from the field, marking the team's fifth best single-game shooting percentage in franchise history. This stellar offensive performance was once again fueled by ball movement, as the Pacers assisted on 28 of their 48 baskets. All five Pacers starters finished the game in double figures, led by Bojan Bogdanovic with 25 points and Oladipo with 24.
In comparing the two wins to Monday's 103-93 loss against Portland, McMillan certainly has a valid point about ball movement. In all of their wins, the team has proven what they're capable of. In their losses, they've simply failed to play accordingly.
Coming up, Indiana has two games on the road against struggling opponents (New York and Chicago), followed by a pair of games at home against high-profile contenders (Boston and Houston). If the Pacers play how they did in San Antonio and Cleveland, they are certainly capable of winning all four of their next games. If they lose track of this game plan, we can likely expect losses.
We will have to wait and see how things unfold. Until next time Pacers pals. Oh, and be sure to check out Vic's new song featuring PnB Rock in the meantime.