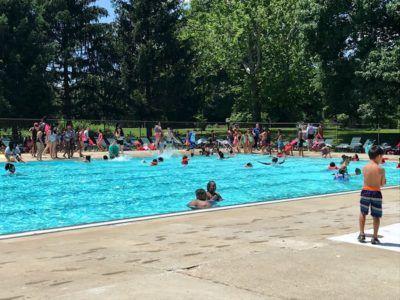 First published Feb. 9, 2021 in TheStatehouseFile.com 
Frederick Douglass Park is preparing to celebrate 100 years since its inauguration in 1921, when the park originally opened to give the Black community in Indianapolis a safe, green space amid segregation.
Formerly known as Douglass Park, leaders changed its name to be recognized as the Frederick Douglass Park Center, after the former slave who played an important role in the abolitionist movement.
The Center for Evaluation, Policy and Research at Indiana University in Bloomington notes Indianapolis was an area with a prominent Black community when the park opened. Black people migrated to Indiana thanks to employment opportunities created by growing industry.
Jennifer Sdunzik, who received a doctorate in American studies from Purdue University, said towns and neighborhoods around Indianapolis weren't welcoming to Black migrants, however, pushing them to the capital.
"The story that isn't frequently told is that the smaller communities around Indianapolis drove out Black folks, prevented Black folks from settling so they weren't allowed to live in those smaller town communities that surrounded Indianapolis," Sdunzik said.
According to the same research, during the 1920s, the Black community represented only 3% of Indiana's total population. The presence of the Ku Klux Klan was at its strongest.
Frederick Douglass Park opened to give Black locals a safe space to have activities and hang out, given that it was a time of discrimination and segregation, according to African American Suburbia. Although Black people were allowed in Indiana parks, they weren't allowed to use recreation areas.
"They were white parks. They weren't called white parks, but Blacks weren't allowed to enjoy the ports, they weren't allowed to enjoy the parks, the green spaces. They were prevented from accessing those spaces," Sdunzik said.
While the park's staff members are still in the early stages of planning, they hope to celebrate soon, using $10,000 in funding they received from sponsors. They are tracking COVID-19 updates to make any required changes to the multi-day celebration.
The staff managing the 43-acre park, located at 1616 East 25th St. in Indianapolis, with playgrounds, sports fields, pools, a golf course and more, plans to to share testimonies of people who've lived in the area over the park's 100-year history. Guests will present photos and speak about their experiences.
Frederick Douglass Park has received $100,000 in donations each year from Citizens Energy Group and its partners since 2019.
In 2012, Citizens Energy Group created a program called Sharing the Dream, a two-day service project in commemoration of the late Martin Luther King Jr. The campaign is supported by volunteers who paint, organize, clean and renovate various areas of the parks, including Frederick Douglass. The program is also used to gather donations for the parks.
Since the start of the pandemic, Frederick Douglass Park has adapted its facilities for the safety of visitors and limited people in buildings. Park manager Candice Graves said the park has seen a growth of visitors last year due to COVID-19 as well as participation in virtual events.
"We've even had a couple people that came out and played on the tennis court, so everybody's just been enjoying the park however they see fit," Graves said.
Linda Broadfoot, director of Indy Parks, said most Indiana parks are free to use but that Eagle Creek Park in Indianapolis, a park with an entrance fee, had a 33% visitor increase in 2020 versus 2019.
"There have been places that have been incredibly crowded. It's been really inspiring. We think that people are finally maybe putting together some of the benefits that parks bring to their lives," Broadfoot said.
With help from its sponsors, the Frederick Douglass Park Center renovated its family center in 2019 and its golf course in 2020. Future plans for the park include building a new family center.
"With any community, there are opportunities and needs that appear and need to be met, and I think when it comes to the parks departments, those opportunities typically are ones that are oftentimes overlooked or reprioritized," said Jeffrey Harrison, president of Citizens Energy Group.
Indy Parks is accepting centennial celebration ideas for Frederick Douglass Park as well as photos, testimonials and other types of support. Email IndyParksCS@indy.gov or call 317-327-PARK.
Carolina Puga Mendoza is a reporter for TheStatehouseFile.com, a news website powered by Franklin College journalism students