Saving Endangered Species: Lessons in Wildlife Conservation from Indianapolis Prize Winners, edited by Robert W. Shumaker, with a foreword by Harrison Ford, brings us into the stories of people whose lives are entwined within the well-being of our natural world in concert with our built environment and the economy that undergirds our individual and collective quests for daily sustainable living.  Along with the authors of ten essays, we're traversing a world view where science and economics co-exist for the benefit of each other as the ingredients in the quest for a good life: food, shelter, joyful work, and respect. 
The first person narratives in this book take us on adventures that start with childhoods filled with wonder, leading to careers loaded with determination to keep our planet safe for all species because, they say, we're totally interconnected. Yes, assert the authors, we do need spiders (albeit, from my point of view, outdoors preferably), and yes, we do need forests as a home for wildlife, a filter for breathable air, and a source of delight for our senses even though some leaders in industry and renegade others are solely motivated by greed, and yes we do need a full spectrum of living creatures of all sizes and shapes because all are interconnected.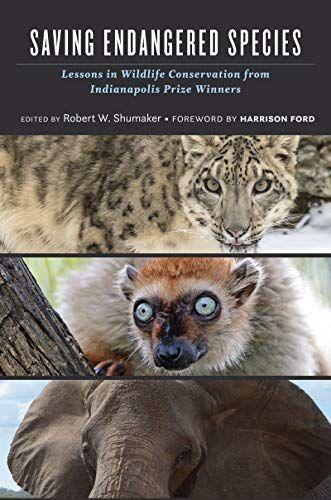 Yes, we need food, shelter, and a general robust way of life for humans amidst all other species. So we have to walk the talk of interconnected sustainability. What's another way to gain food if people without adequate food sources are told not to overkill. 
Co-existing is a mandate we must embrace and if we don't, it's at our own peril. The Indianapolis Prize developed to bring attention to the people out there working under difficult conditions to preserve our natural world, officially launched in 2002 with the appointment of Michael I. Crowther as CEO of the Indianapolis Zoological Society. This was fifteen years after the Indianapolis Zoo moved across town from its original location in George Washington Park on East 30th street to become part of White River State Park. At that time, the master plan embraced a new mission: "to empower people and communities, both locally and globally, to advance animal conservation."  
With its upfront cash award to a person who is making an impact with animal conservation to be able to continue that work, the Indianapolis Prize makes a vibrant case for s/heroes who care about us through caring about the well being of all living matter. By elevating those whose work is science-based, the idea is to bring all of us into a new stratum of caring.  So after I read the book and was duly impressed, I reached out to people I know, and at random, during my daily walks, with this question: "How do you connect with the natural world; how do you connect your children with the natural world?"
I'm telling everyone within reach, read Saving Endangered Species, be motivated and inspired, become engaged, celebrate the scientists on the front lines of worldwide conservation and preservation.  Find your own favorite passages, your own wow moments, your own s/heroes beyond the renowned names including Harrison Ford, Jane Alexander, Sigourney Weaver.  
I reached out to Robert W. Shumaker, whose day job beyond editing "Saving Endangered Species" is serving as president and CEO of the Indianapolis Zoological Society. 
RITA KOHN: At a time when most of us are not in close touch with the natural world, what is the best strategy to bring all of us into this daily connection, which is what spurred the 'Winners' of The Indianapolis Prize when they each were young? [e.g., what do we notice when we go outdoors? what leads us to become caring, connected human beings?] 
Dr. ROBERT W. SHUMAKER: It's certainly true (and also regrettable) that many people are disconnected from nature.  We know that being outdoors offers a number of benefits for people.  It calms us, reduces stress, fights depression, boosts immunity and helps us to restore our focus.  Even small amounts of time surrounded by nature is uplifting. 
The American naturalist John Burroughs makes the point perfectly, "I go to nature to be soothed and healed, and to have my senses put in order." 
The very best way to connect with nature is simple; just go outside.  Whether in your yard, local park, or at the Zoo, make time to be surrounded by nature.  Most importantly, leave your phone in your pocket.  We have a remarkable array of plants, animals, and fungi in Indiana, and they are so easy to appreciate once you notice them.  Our local landscape is beautiful during all four seasons.
There are bald eagles flying over downtown Indianapolis, and many people are surprised to learn that Indiana has more native orchid species than Hawaii.  
Once you start enjoying and recognizing our local species, caring about their preservation happens naturally.    
KOHN: Traveling along with the "winners" as they find ways into the challenges and then share their joys about the positive is what makes "Saving Endangered Species" a thrilling book to read.  
What kind of universal manifesto do you want each of us--citizens of all ages, government agencies, business, industry, non-profits, etc.- to embrace as an everyday way of life?  
SHUMAKER: It's fair to say that the universal manifesto has already been given to each of us.  Whether consciously or unconsciously, we humans crave connections to nature.  We can't help it.  We need the company of other species (plant, animal, or fungi) to be happy and content.    
Of course, we all need the natural world for things like clean air, clean water, healthy soil, and the like.  But it's not only these ecosystem services that make the protection of nature a universal imperative. 
We are incomplete without the natural world.  The preeminent biologist E.O. Wilson sums it up neatly, "Nature holds the key to our aesthetic, intellectual, cognitive and even spiritual satisfaction." 
KOHN: What else do we need to wrap into our daily lives to truly be a part of our collective humanity? 
SHUMAKER: As much as our species has the ability to damage the natural world, we also have the ability to heal and protect it.   
In our daily lives, each of us makes choices that either harm or protect nature.  If we acknowledge that awesome responsibility, we can embrace opportunities to make a genuinely positive difference.  
Everyone is at a different starting point, and that's OK.  What's important is to start.  If you don't really do anything to protect the natural world, it's time to start.  Pick just one thing and do that very well.  Make it a habit.  If you don't recycle your aluminum cans, pledge to never throw another one in the garbage.  Aluminum is the most valuable thing in every recycling container.  Once recycling becomes a reflex, find the next thing you can do to make an authentic difference.  
Of course, a very effective and easy thing is to support the Zoo.  The Indianapolis Zoo is funding successful animal conservation projects around the world, and we need your help.  When you work with us, you dramatically expand your reach and impact.  
Protecting the natural world is everyone's responsibility.  No exceptions.  Find a way to do your part.