Cover photo: Don Miller, Indy's land stewardship manager
For as long as I can remember, I've sought out deep connections with nature — even but a quiet pause to take in a sublime landscape, or one glimpse of an animal or bird I'd never previously seen — these moments feel viscerally valuable, and always too fleeting. Living in a city, they can be all too rare too, but they can still be found. As we all struggle with the pandemic and seek safe ways to meet and play, it is as though the whole country has come outside, and re-awoken momentarily to these quiet joys of nature. I've never been less alone at parks and trails than this past year. 
As the land stewardship manager for the city of Indianapolis, Don Miller has noticed the uptick in use (and misuse) in the parks he manages. He has managed our city's parks for 26 years, caring for over 1900 acres across 37 properties in the Indy area. This newfound appreciation is not without challenges, but Miller is working to keep those parks intact today, and for future generations to enjoy — not to mention the vital habitat and ecosystem services they provide. Miller's answers are informed by his years working first hand with these parks, and that deep understanding shows.
BEN VALENTINE: What are some really special places in the Indy Parks that you think people need to know about? 
DON MILLER: There are many diverse, high-quality natural areas in the Indianapolis park system. These include geologic features such as the kame (Mann Hill) at Southwestway Park, and the fen wetland seep near the base of the hill. Also at the southernmost part of the park is an oxbow wetland, a remnant stream meander of the White River. There is a large mature floodplain forest and an older-growth forest on a slope that has a nice display of spring ephemeral wildflowers and spring seeps. There are two nature preserves at Eagle Creek Park. Eagle's Crest Nature Preserve has a loop trail and scenic overlook with a view of Fishback Creek and the Eagle Creek reservoir. Spring Pond Nature Preserve has flatwoods, mature older-growth remnant woods with a trail and wetlands, and the headwaters of Falcon Creek. Other nice natural areas include an older-growth flatwoods at Raymond Park and a loop trail, and Holliday Park with a mature forest along White River and the largest fen wetland in the county with nice displays of wildflowers. The Indy Land Stewardship webpage has links to our managed properties map and also the different features each park has to offer: Indianapolis Park Natural Areas Managed by Land Stewardship and also City of Indianapolis Park Natural Area Features.
VALENTINE: What are the biggest threats to the land and how are you working to mitigate them?
MILLER: Our most serious problem in park natural areas is invasive species (plants and animals). Invasive plants can halt forest regeneration and diminish biological diversity. Without the years of prior management, many of our best natural areas would be trashed with biological pollution (i.e. bush honeysuckle and wintercreeper). The invasive plant issue is being addressed annually by crews working almost every day in affected parks. We have monthly volunteer events to help tackle invasive plants, and those interested can sign up for Strike Team events. For a short overview, we encourage readers to watch this video about invasive species in Marion County and how we manage for them. https://www.youtube.com/watch?v=NbOgHKZ0RdU
Some other threats come from people who don't understand how their actions have a negative effect on the ecosystem. Many of these issues are addressed by parks friends groups and park users who report illegal activities to IMPD/Park Rangers. We ask, though, that people consider their own safety when making reports. Some of the most serious problems include people going off-trail and creating unauthorized trails, digging, and mountain biking in non-permitted areas. Finally, excessive dumping and graffiti (such as paint on trees) are increasing. Dogs being off-leash is a problem to natural areas and a safety issue to users. Parks are under a lot of pressure from heavy use so we ask the community to join in and help protect our park natural areas. Formation of active park friends groups has been an effective way to increase the level of care and stewardship of public spaces.
VALENTINE: I think it's important to understand that these parks are more than just pretty places to relax or exercise, but provide numerous "ecosystem services" — or benefits to humans that emerge from healthy ecosystems. Can you talk about those services and why they are so vital to the city? 
MILLER: We are very fortunate to have a wide variety of protected natural areas in the Indianapolis urban setting. They are becoming increasingly scarce, and some natural areas in the city are classified by scientists as globally rare or threatened. Indianapolis is home to at least 59 species of rare, threatened, or endangered plants and wildlife, and we are committed to protecting our natural areas to provide habitats for native plants and wildlife. As the population grows and natural areas are converted into other land uses, we lose many ecosystem services these wildlands provide. Often the converted land cover leads to more pollution, both in air and water. For example, fertilizers entering the watershed have contributed to creating a dead zone the size of Delaware in the Gulf of Mexico. Destruction of woodlands contributes to increased carbon dioxide. These are reasons why we need to continue managing our current natural areas, as well as focus on purchasing more park land for restoration to natural landscapes. Overall, our parks' natural areas reduce climate change and mitigate pollution.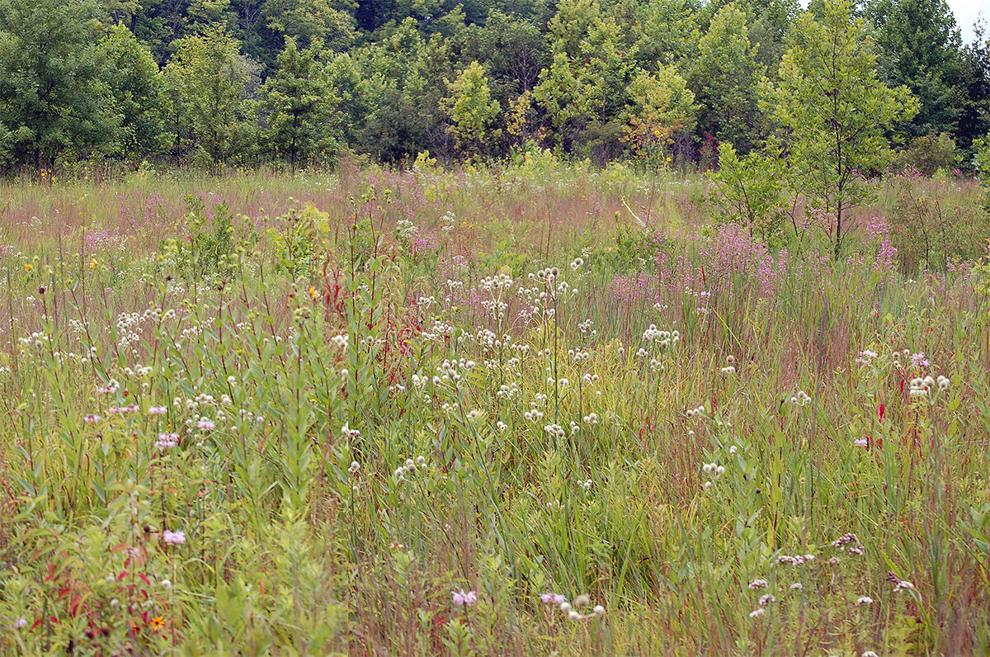 The pandemic led to increased park use. Visitors walk in the parks and enjoy the wetlands, the sounds of spring peepers, and see the beauty of the wildflowers in our natural areas. The benefits for people include both recreation and exercise but also related wellness activities such as 'forest bathing' and other nature therapies like meditation. Many of our larger parks offer places of solitude where visitors can find alone time. 
VALENTINE: You act as the steward of over 1900 acres of land, but are also fostering a stewardship ethic in the public. How can people become stewards for the parks and their own property?
MILLER: Much of the ecological restoration work is done by our team of experts through consulting and contractual services. We work out of the Department of Public Works and partner with the Department of Parks and Recreation where 16% of park land is under land stewardship management. We also take care of rain gardens in the city's rights-of-way. Ecological restoration practices protect special places by rewilding old agricultural fields by controlling invasive non-native plants and planting appropriate native plant communities. We do rely heavily on help from volunteers, and folks that are interested can apply to be land stewards and help manage natural areas with us. We meet and walk through the parks to help site stewards understand the basics of ecology and what to look for in our managed areas. Sign up as a Site Steward. See our progress on our Land Stewardship Dashboard.
In non-pandemic times, we regularly work with volunteers clearing invasive species, removing trash, installing native plantings, and improving trails in our parks. (Follow us on Facebook and join our mailing list to learn about featured properties, current projects, events and volunteer opportunities). See more of what we are up to and learn about the natural areas in Indianapolis by watching our complete video series on YouTube.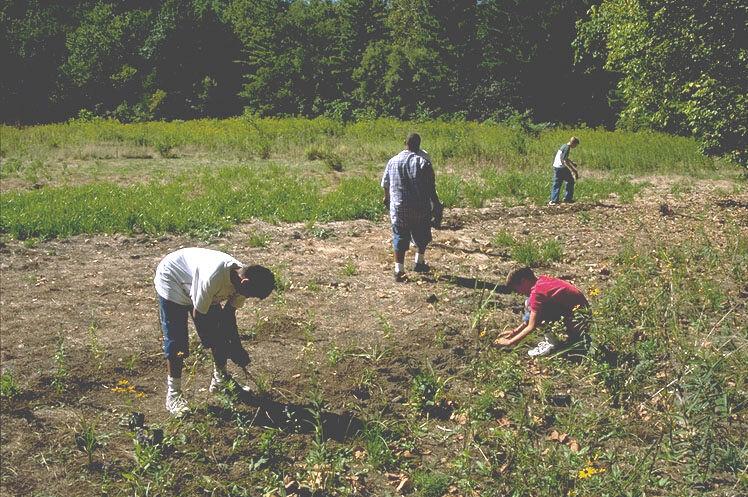 A healthy and sustainable future depends on what private landowners and corporations do as far as rewilding their own properties and joining us in responsible land stewardship to restore the ecosystem services that we all depend on. On the Indy Land Stewardship website people can find guidance under the Native Planting Area section. The Indiana Native Plant Society, Indiana Wildlife Federation, and Keep Indianapolis Beautiful also provide numerous resources on how to get started, especially working with corporations and large neighborhood groups. Indy Land Stewardship staff also provides help to people who want to restore their own land.  That information is on our website. 
VALENTINE: These parks are not static. How much restoration work has your team done to return the land to a more natural state? 
MILLER: The park land we work on takes years of continuous care. It does pay off, though, and is the most rewarding part of my job. That and working with all the people that make the work possible. We started out by understanding what we had to protect and what land had the most to lose and the most to gain. High-quality natural areas are irreplaceable and if not managed ecologically, they degrade from outside, human-influenced stressors. The remnant older-growth forests have intact soils and all the layers of vegetation that are reproducing (herbaceous, shrub, understory and canopy trees). These are the gems we sought to first understand and study and manage. The geology and topography and soil determine the forest types, some with wetlands. Areas that had the most to gain were large agricultural fields that we started reforesting and restoring back to wetland hydrology by breaking field tiles. Often we started by planting prairie grasses and wildflowers to help build the soil and sequester carbon from the air. These prairies also provided beauty and pollinator habitat and moved rainwater downward into the water table to prevent runoff and soil erosion that pollutes the streams. Planted prairies can also provide significant habitat for declining wildlife populations.  For example, at Eagle Creek Park we had state-endangered Henslow's Sparrows breeding within six years after planting. As prairies age, they can become less sustainable due to weed pressure from species like the invasive Callery pear. When this happens and the prairies lose species diversity, we reforest the prairie by planting trees. Finally, we also planted turf areas with native plant communities, often using over thirty native species of grasses, sedges, forbs and rushes. We partnered with universities and botany experts, granting organizations, and many conservation agencies over the years for support. The change in the landscape from before restoration to years after is amazing.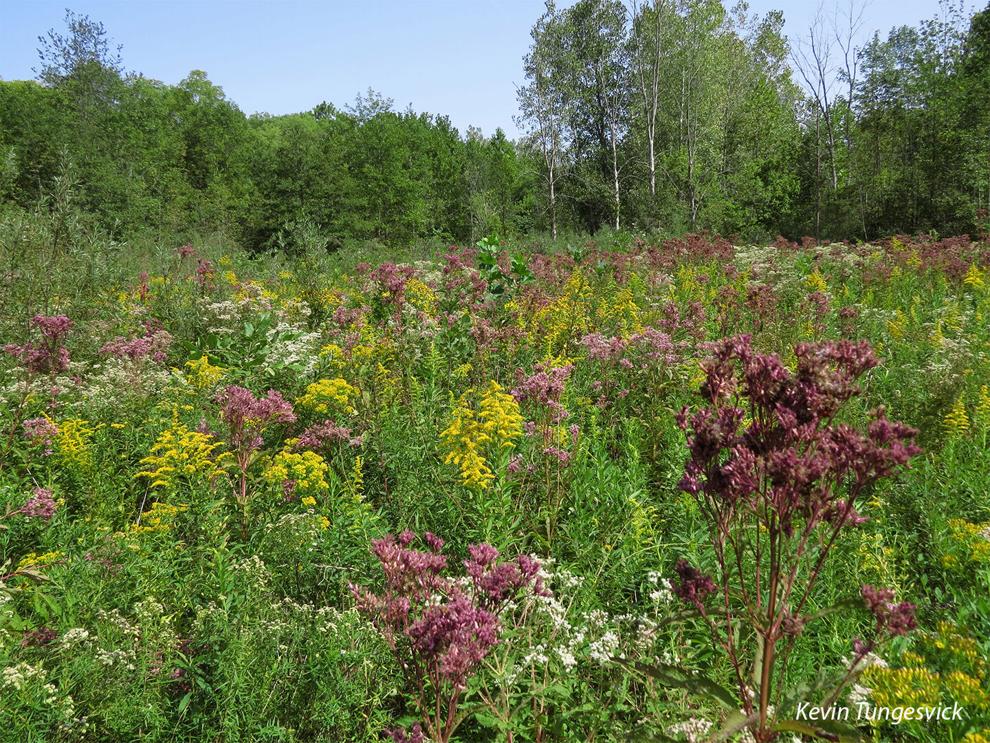 VALENTINE: I know that you are currently working to draft a Land Acquisition Plan to try and expand the Indianapolis Parks even further. Why is it important to expand the park system, and how is that plan going? 
MILLER: Our future planning work includes a land acquisition plan to grow the park system into the next century. The park land and the miles of greenways have never stopped expanding. However, the need for more land is great as the city's population grows and more vacant lands are developed. Communities would be further underserved of recreational space if current rural areas aren't protected as park land before the county buildout. Also, we need to restore much more land to a natural state to better mitigate climate change and habitat loss that threatens local biodiversity.  We are being very strategic in looking to expand riparian corridors that will mitigate against flooding while making connections to other communities outside of Indianapolis Marion County. These corridors are being planned mostly for passive recreation or activities compatible with enjoyment of peace and quiet in nature. Our primary goal in stewardship is the rewilding process to improve degraded lands by invasive plant control, reforestation, and other native plant community introduction. We in the Land Stewardship Office are just a small part of the whole process undertaken by City planners and engineers. The plan will roll out in the next two years to the public for review and if accepted will be part of the official plans endorsed by the City of Indianapolis. The plan is subject to change based on opportunities with willing sellers and granting and funding institutions. There are many opportunities through land acquisition and rewilding to provide large open spaces and connecting corridors where people want to live and work.