Julie Lowe is busy. As I've become increasingly connected with environmental leaders through my day job in Columbus, Indiana, Lowe's name has kept coming up: she serves as the executive committee chair of the Hoosier Chapter of the Sierra Club, is a certified outings leader and Chair of the Winding Waters Group, the local Sierra Club group, which she claims is the most active group in the state (I believe her). She also serves as chair of the Sierra Club Grassroots Network Campaign for the Pollinator Plant Project Team, which has just launched its annual native flower sale through the end of this month.  
Lowe has done much to promote native habitat in the Columbus area and I'm thankful she took the time to share more about her work.
BEN VALENTINE: What is the Sierra Club's vision for Indiana, and what are the key ways you are working towards that goal?
JULIE LOWE: Sierra Club champions solutions to the climate crisis. We work for clean air, safe water, land protection, and a vibrant natural world. We fight for environmental and social justice and believe in getting people outside to enjoy the outdoors. More specifically, Sierra Club's goals are clean energy for all by 2030, protecting more public lands: 30% by 2030, and to actively work to become an anti-racist organization. The Hoosier Chapter and local Sierra Club groups are active in different parts of the state, working on conservation-related issues, sponsoring outdoor activities, and educating members on issues.
Goals and priorities have shifted so much in the last year for all of us. The pandemic landed people in situations they have never experienced before like hunger and not being able to feed their families. One of the newest goals of the Hoosier Chapter is to promote food equity and justice and to lift up those organizations helping to feed the hungry. Another new goal of the Chapter is to be in solidarity with the movement for Black lives. 
Our conservation goals are to protect and restore the quality of Indiana air and water and to continue to speak out against logging on our public lands such as Indiana State Forests and the Hoosier National Forest. Taking action to preserve grasslands, wetlands, and forests and using regenerative farming techniques will create natural carbon sinks. Using trees, plants, and soil to draw down carbon is an extremely effective way to sequester carbon as it supports life on Earth and enables the planet to feed itself. This is a natural process and much more effective than geological sequestration —  artificially storing carbon underground.
The chapter will continue working with the Indiana Beyond Coal Campaign that is successfully working to retire coal-fired power plants so that our state will transition to clean renewable energy as soon as possible. Personally, what I am most excited and hopeful about is the recent participation of middle school youth that are forming their own student-led campaigns, like "Confront the Climate Crisis Campaign" in the Greater Lafayette area and the "Climate Restoration Team" in Columbus, Ind. My goal is to support, encourage and lend any resource that I can to these young climate defenders that in just a few years will be leading the way.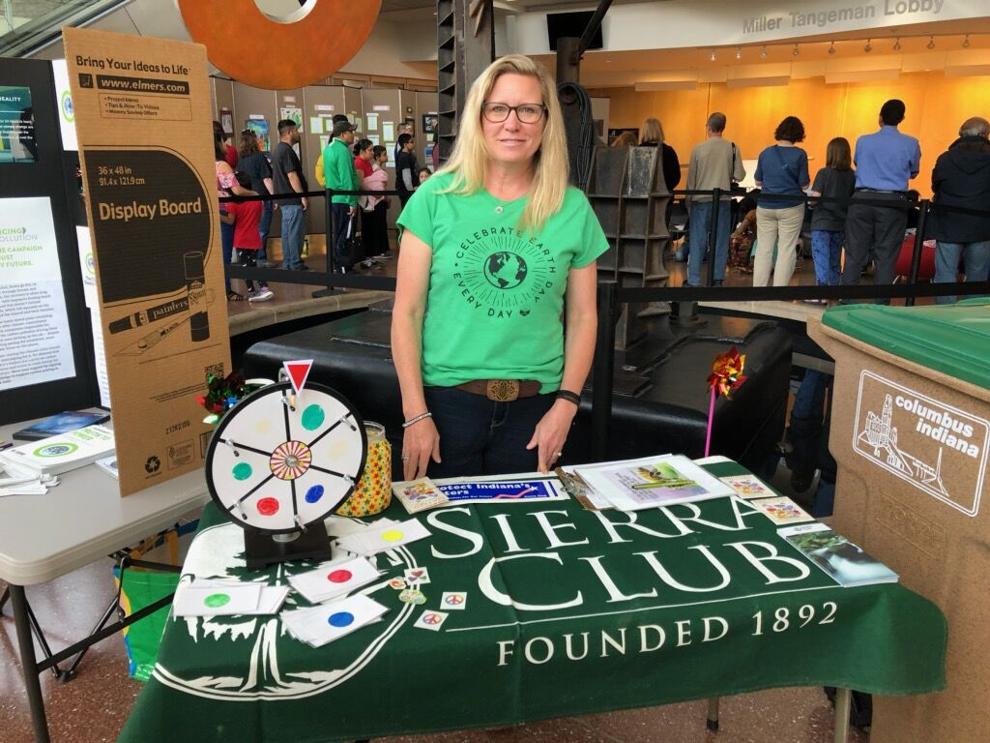 VALENTINE: You have fond early memories exploring Spring Mill State Park in Mitchell, Indiana, where your grandfather was the property manager for the Department of Natural Resources. Regarding nature, much has been lost since that time. Looking forward, what is at risk if organizations like yours aren't successful?
LOWE: Everything. In 2016 when Trump had enough electoral votes to win the election I had this incredulous feeling of it being fleeting and a horrible joke, a mistake that would surely be corrected because we had a climate crisis to fight. In 2018 the Intergovernmental Panel on Climate Change report gave us 12 years to limit climate change catastrophe. This added to my underlying feeling of anxiety but did not make me feel hopeless or defeated. When I heard the news that the sixth mass extinction on Earth was underway I was shocked. My optimism was waning and my goals seemed unattainable for the first time. It was one of the worst feelings I've ever had. It was not a joke and Trump remained President for the entire term despite many constitutional transgressions. Precious time was squandered but as I write today the Biden-Harris inauguration was yesterday and work is already underway. President Biden returned the United States to the Paris Climate Accord and directed federal agencies to roll back Trump's destructive environmental policies. This is the moment we have been waiting for and the urgency is palpable. I am optimistic and in fact, my cup runneth over with the new administration's arrival. In the months leading up to the inauguration, President-Elect Biden was listening to the advice and opinions of the Sierra Club and NGO's alike regarding cabinet appointments. With the exception of nominating Tom Vilsack for Secretary of Agriculture, I am very pleased with the people nominated. I believe the people of our country, the scientists, the citizens, and the government will work together and find solutions with all countries of the world to reverse the climate crisis. We put a man on the moon and we can do this too. Many negative changes have occurred in the natural world or have been destroyed altogether and we will never have them again. When I feel myself slipping toward feelings of helplessness I am wrenched back to the urgency of the need to save coral reefs, old-growth and rain forests, melting glaciers, right whales, and public lands like Bears Ears [National Monument] and I move forward with the plan. I have renewed optimism in the Paris Agreement which includes nearly every country in the world. Now the parts can begin moving toward coordinated solutions to lower carbon emissions quickly and restore our natural environment.  
VALENTINE: In addition to being Hoosier Chapter Chair, you are the Chair of the Winding Waters Group, Columbus, Ind. area local Sierra Club chapter Group. What does Winding Waters do, and why should people get involved in their local Sierra Club chapter groups?
LOWE: The Winding Waters Group began in 2000 when Columbus natives, Doug Johnson and Art Hopkins wanted to start a hiking club and they and other locals thought Sierra Club was a good fit. There are several rivers and streams in Columbus including the confluence of the Driftwood and the Flatrock Rivers that form the East Fork of the White River hence the beautiful name, Winding Waters Group, (WWG). Over the years the group has worked on different issues and a first success was encouraging the city to properly divert rainstorm overflow drains to the water treatment facility instead of into rivers. The group supports "Solarize Indiana," which is a network of volunteer-driven city teams around the state that organize solar campaigns. Years ago the group aligned with many Bartholomew County citizens and opposed Confined Animal Feeding Operations, (CAFOs) but were unsuccessful and CAFOs continue to be granted permits. That led Charlie Mitch, former Chair of Winding Waters, to become a trained Hoosier Riverwatch Stream Monitor, a program offered through Indiana Department of Environmental Management, (IDEM). Currently, eight members of the WWG are trained stream monitors and are actively sampling streams above and below the location of some CAFOs in Bartholomew and Decatur counties. I am a Hoosier Riverwatch instructor and that allows our group to interact with local teachers and students. A classroom lecture is followed by a field day for the students at one of the nearby rivers where they will be instructed in the use of chemical testing kits and the collection of macroinvertebrates to diagnose the health of the stream. For the last three years, the group has put most of their resources and effort into pollinator protection. We are thoroughly enjoying ourselves as this work is extremely rewarding. The support and engagement from the community and the city government has been productive and unifying. Our community has many active pollinator projects of which the WWG is involved including applying to become a Bee City. There are five other groups/networks around the state of Indiana and I would love to introduce interested people to their local Sierra Club Group or network.
VALENTINE: You are also the Chair of Sierra Club's Grassroots Network Campaign for the Pollinator Plant Project Team. How are you getting the word out about the value of pollinators?
LOWE: In our first year as the Pollinator Plant Project Team we received a grant from the Grassroots Network for our Bring Back Butterflies and Bees Campaign. We started out by engaging students in the classroom and then set up a garden on the CSA Fodrea school grounds with first-grade teacher, Stephanie Kiel. She is committed to this curriculum and we are now on the fourth set of first graders! The garden area includes raised beds for vegetables and fruits and two beds dedicated to native pollinator plants. The children research the plants from our list and decide which they will plant.(PowerPoint slide) In the spring they prepare the garden and plant what they started in the classroom over the winter. Our team and the students' families volunteer to help mow and maintain the garden over the summer. 
With other schools we have presented fun slideshows, given tree planting demonstrations, donated pollinating serviceberry trees for the students to plant, given out native seed packets, and led field trips to Blackwell Park pollinator prairie. Our team recruited the C4 high school teacher and students to build bat boxes that we include in our educational table materials. Our team's biggest event of the year is to plan and facilitate an annual native plant sale. We buy the plants wholesale mostly from Spence Restoration Nursery and then sell them close to cost so that people can have access to natives and have a variety from which to choose. Our team works with a network of pollinator protectors in our community like the Friends of Pollinators Community, Columbus Parks and Recreation, Jennings and Bartholomew County Soil and Water Conservation Districts, Master Gardeners, Columbus Arts Council and Landmark Columbus and many more. We plan events at our county library including a beekeeping demonstration. (Yes, bees in the library!) We host a Sierra Club booth at the Columbus Farmers Market in the spring to sell native plants and provide awareness and education. We have participated in the Bean Blossom Farmers Market with SEED Brown County. All kinds of people stop by the booth to learn, to thank us for providing awareness, to talk about new information, and to plan collaborations for the future. We have educational poster boards, live plants, seed packets, and a pollinator spin wheel game with prizes for attempting to answer pollinator protection questions. 
VALENTINE: Last year a decisive debate about racism erupted across this country. One small facet of this included racism in outdoor spaces — places so many seek out as a reprieve from daily problems, but can actually be dangerous for people of color. I'm thinking of Vauhxx Booker at Lake Monroe or Christian Cooper in Central Park in Manhattan. You told me that the Sierra Club Hoosier Chapter is taking stock of this, and you all have recently gone through racial sensitivity training. Why was it important for the Sierra Club to take on this issue, and what will that mean moving forward?
LOWE: For a few years Sierra Club National has been providing anti-racist training modules for volunteers on the Club's intranet and speakers, group exercises, and discussions during national meetings. The Club has been encouraging the Chapters to offer these resources to the grassroot volunteers that make up the Chapter executive committee including delegates from groups around the states. In spring of 2020, the pandemic was here and about to break open when Breonna Taylor was killed. Sierra Club had suspended all in-person activities due to the coronavirus and focused on safety. Then George Floyd was murdered. A Sierra Club statement was sent to volunteers and staff for all Sierra Club activity to come to a full stop including social media posts unless it was in solidarity with the Movement for Black Lives or lifting up victims of the pandemic. Michael Brune, Executive Director of the Sierra Club published Pulling Down Our Monuments which was a painful look back at the Club's role in perpetuating white supremacy. Brune said, "Our apologies are empty unless accompanied by a commitment to change…We have committed to becoming an actively anti-racist organization."
Following the racist attack of Vaughxx Booker on July 4, 2020 leaders of the Hoosier Chapter organized to speak out against racism and inequity in natural Indiana public spaces. The Hoosier Chapter Director, Bowden Quinn communicated with other environmental groups of Indiana and the Hoosier Environmental Council and the Friends of Lake Monroe joined the Chapter in issuing this statement. 
I believe this event galvanized the Hoosier Chapter volunteer leaders and staff and the IN Beyond Coal Campaign staff to come together as the "Indiana Team" and together we chose a path. Our volunteers and staff committed to several sessions of training so that we may work on our goal to be an actively anti-racist organization.
I would like to share from Hop Hopkins, Sierra Club staff this quote that helps to explain systemic racism in our country:
"You can't have climate change without sacrifice zones, and you can't have sacrifice zones without disposable people, and you can't have disposable people without racism."