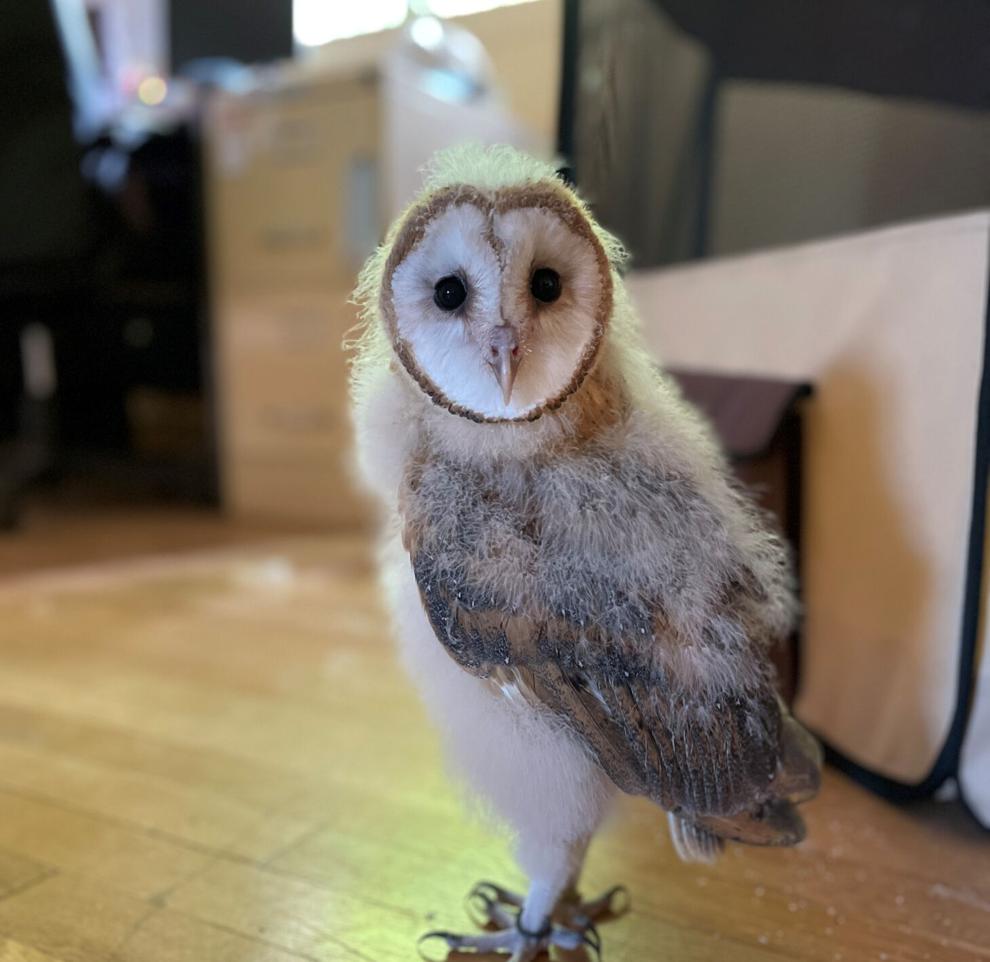 Eagle Creek Park is proud to announce the adoption of a baby barn owl. 
"Obi" (pronounced OH-BEE) was 57-days-old when word came of his adoption on June 2. Hatched and raised by the propagation department at the World Bird Sanctuary in Valley Park, Mo., Obi received his name because he was adopted on May 4, National Star Wars Day. That is why staff voted to name him after the elder Jedi Knight Obi-Wan Kenobi. Additionally, according to Courtney Rogers, public information officer for Indy Parks & Recreation, "Obi" is a combination of his parents' names: Orion and Baby."
Rogers introduced me to Will Schaust, the manager of the Ornithology Center and added notes about his background: 
"Will has always known he wanted to be a naturalist when he grew up," said Rogers. "His love of the outdoors started early because of the hiking, fishing, and camping trips he took with his family all over the country.  Will has always had an affinity for birds, especially birds of prey. His fifth-grade science fair project focused on the Peregrine Falcon recovery efforts since the ban of DDT. Since then, he has traveled to Maumee Bay for warbler migration, led hikes at the Indiana Dunes Birding Festival, and presented with his father on the 'secret love life of birds' at numerous professional conferences."
Will Schaust replied to NUVO's Q&A:
RITA KOHN: What is particular about Indy Parks sites specializing in teaching and learning about specific species? What prompts specializing and generalizing? What makes Eagle Creek Ornithology Center a significant destination site. 
WILL SCHAUST: Generally speaking, our goal here at the Eagle Creek Ornithology Center (OC) is to educate on bird species native to Indiana. Of the 420 bird species observed in the state, over half (284) have been seen at our park. This gives us a great opportunity to take these creatures that have fascinated folks for ages and make them much more accessible through educational programs, guided birdwatching hikes, and our one-of-a-kind exhibit hall that features over 150 taxidermy specimens staged in their native habitats. 
When we're looking to highlight a specific species, we factor in a few considerations such as conservation status, public interest on topics like backyard bird feeding or Bald Eagles that we get asked about regularly, or it could be that one of our naturalists learned some really interesting facts about a certain species that they want to create a program around. 
In the case of the new barn owl, we want to teach about this species because they are endangered in Indiana. At the end of the day, our job is to hopefully provoke our visitors into some kind of action. This could be donating to a wildlife organization, supporting conservation legislation, volunteering at a park, or simply committing to going birdwatching more. 
KOHN: What is special about Barn Owls? What will I be learning about Barn Owls' growing-up process when I make periodic visits to see how Obi is progressing? Why is learning about Barn Owls especially important?
SCHAUST: Barn Owls are of particular interest to the Ornithology Center because of their status on the Indiana Endangered Species List. As of 2017, Indiana Department of Natural Resources counted only 43 Barn Owl nests in the state. For reference, Bald Eagles were just removed from the Endangered Species List and have over 350 nests in the state after decades of recovery efforts. Barn Owl numbers have declined primarily from habitat loss, monoculture farming, and rodenticides. They require large open fields for hunting rodents as well as access to barns or cavities to nest. Indiana DNR have installed over 300 nesting boxes in the state in hopes that the population of barn owls can recover!
Visitors ask about owls more than any other type of bird, and they are requested for onsite and school outreach programs most of all. When we train an animal to help us educate the public, we call them an "education ambassador," which can look different for different species and individuals. We always want the "right animal for the job," whether that is on exhibit for the public, trained to sit on our gloves like a falconry bird, or voluntarily going into a crate to visit a school. 
Our new barn owl, Obi, was hatched and raised by the World Bird Sanctuary in Valley Park, Mo., specifically to become an education ambassador, which means he will be very happy with his life here at the Ornithology Center! Through our own personal experience and research, park naturalists have learned that owls that grow up in the wild, are injured, and deemed "non-releasable" by a wildlife rehabilitator do not thrive as well in an ambassador role. The welfare of our birds is a top priority at the Eagle Creek Ornithology Center, and park naturalists have prioritized adopting owls that are raised to be more comfortable around humans, more responsive to training using positive reinforcement, and happier with their lives in captivity. 
Our other ambassador owls, Luna the Eastern Screech-Owl, Lewis the Barred Owl, and Minerva the Great Horned Owl, have been moved to a public exhibit role, educating and awing visitors from inside their enclosures where they feel most comfortable.
We adopted Obi when he was about one-month old (born April 7, 2021) and it is amazing how fast he has grown! Barn Owls only take 60 days from hatching to reach full size, get all their adult feathers, and start trying to fly. Obi is already in training to provide educational and entertaining programs for large audiences and to inspire visitors to conserve his species. We have been documenting his growth with photos so we can show our visitors what an adorable little fuzzball he was! Having Obi as an ambassador provides us with the really neat opportunity to advocate for the preservation of his species. 
We are one of the only places in town to see live birds of prey, so we have a responsibility to be stewards of their species. If we can provoke a visitor to donate to the Indiana Nongame Wildlife Fund, stop using rodenticides, or help with Barn Owl conservation efforts then we've done our job.
KOHN: Generally, how do the residents of greater Indianapolis gain a greater understanding of the human/nature experience through visiting Indy Parks and, in your case, Eagle Creek Ornithology Center, specifically?
SCHAUST: I can really only touch on the impact that our facility has had, and it's probably best reflected through the lens of the pandemic. A lot of folks were working from home and not leaving to go to dinners, concerts, movies, or indoor events. Our park provided a chance to experience sunshine, fresh air, and stellar views to an ever-increasing number of visitors throughout the pandemic. 
As for the OC, the hobbies of backyard bird feeding and birdwatching skyrocketed into the mainstream. We had folks looking to us to provide resources on how to get started feeding birds in their yards or asking what kind of binoculars they should buy as a first-time birder. It provided us with a great feeling that we were introducing a whole new group of visitors to a hobby that we are so passionate about. 
In my view, naturalists are the mouthpiece for the planet. We interpret what nature is saying and translate it into something that will inform and entertain our visitors. One of the more interesting things about birds specifically is that they are incredibly sensitive to changes in air temperature and pressure, which has been changing at a faster rate as the climate crisis continues. While large companies hold much of the responsibility, we can also inspire our visitors to make changes that benefit the planet, such as planting native species in their yards, preserving pollinator habitat, reducing the use of pesticides and herbicides, or using a reusable water bottle. 
One of the hardest challenges for us was the lack of school field trips. It has been such a staple of our day-to-day in the spring and fall that we were really missing it by the end of last year. Field trips are so great because we get to meet these students, some who may have never really spent much time outdoors and open their eyes to all that the natural world can offer. We are very much looking forward to being able to safely host field trips again. 
KOHN: What else should we know about the dynamics of Indy Parks sites with specific missions to 'teach and learn' as we engage in recreation activities?
SCHAUST: The great thing about Indy Parks as a system is that each park offers something different and exciting to explore. The main thing for folks to keep in mind is to recreate responsibly, doing things like picking up trash, not parking in the grass, and following park signage. The pandemic has brought a lot of new visitors to our properties which increases the wear and tear on our resources. If folks visit the park with the intent to leave it better than they found it, it will ensure that the park stays pristine for future visitors.