Nowadays bars and restaurants — the places our city most often used to unwind — are closed, or places of paranoia; too enclosed and cramped, potential vectors of transmission. Going stir crazy in our living rooms-turned forever offices, everyone needs oases in these hard times. For me and my family, those reprieves have been the woods and waterways of Indianapolis. 
One place in particular stands out for me: the Nina Mason Pulliam EcoLab at Marian University. Overflowing with wildflowers, flora and fauna of the EcoLab are amazing; there is always something new in boom, new to find. Although I've only seen signs of their activity, Schuck —   the EcoLab's Outdoor Education and Restoration Coordinator for over six years —  assures me that there is in fact a colony of beavers. This beautiful park was first designed by famed landscape architect Jens Jensen, and now Schuck restores the park with an eye both for beauty, but more for habitat and education. I spoke with Schuck over the phone to get a better sense of the EcoLab, and her work there.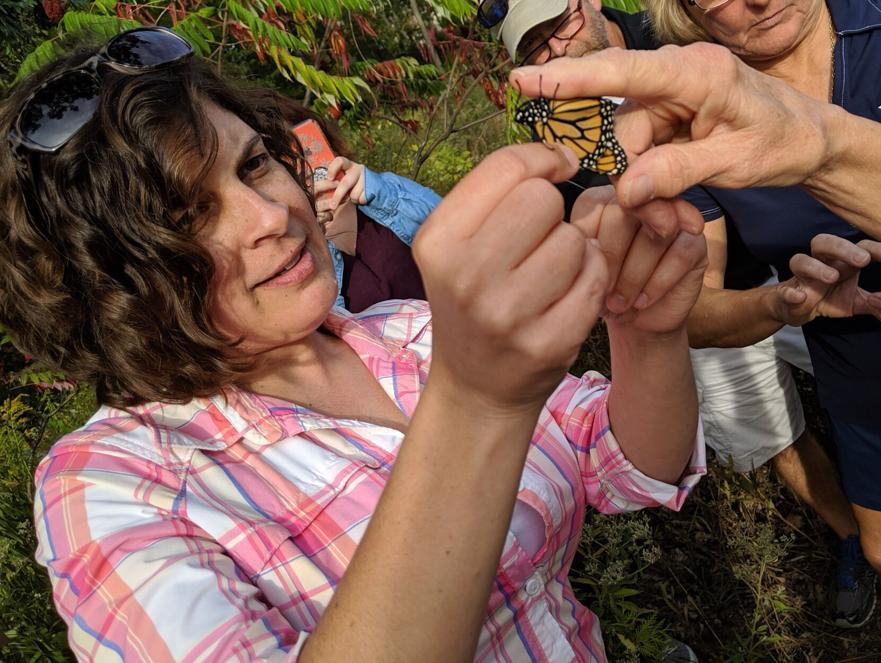 BEN VALENTINE: What is the Nina Mason Pulliam EcoLab (EcoLab) and what do you do there?
STEPHANIE SCHUCK: The Nina Mason Pulliam EcoLab is a 75-acre natural area located on Marian University's campus in Indianapolis. We have over three miles of walking trails, several different types of habitat including restored wetland, lowland forest, and prairie, and are open to the public every day from dawn to dusk. It is a wonderful little nature oasis in the middle of Indianapolis! We have seen over 160 species of birds, wetland species such as beaver, turtles, salamanders, and even mink! Marian University students and faculty use the EcoLab in their classes as a site for hands-on experiences. Environmental Biology students learn about the environment while immersed in the environment. Students receive paid internships as part of the environmental program here where they practice ecological restoration, education, outreach, and natural property management. We provide educational opportunities for the public as well, with regular programming such as night hikes, pollinator talks, and bird walks, and provide fun activities like Monarch butterfly tagging and macroinvertebrate sampling. We also provide professional development and training for formal and informal teachers, and we partner with our neighboring IPS Cold Spring School providing environmental education programs for their students. 
I am the restoration ecologist, but my job entails a wide variety of responsibilities. I am the land manager for the 75-acre space, and I oversee and conduct all of the ecological restoration on the site, which primarily includes invasive plant removal and native plant installation, but also includes trail maintenance and general maintenance of the property. I work closely with Marian University undergraduates, primarily biology majors (but not exclusively), through internships, research, and volunteer projects. I work closely with Marian faculty, assisting with and guiding undergraduate research, bringing classes to the EcoLab, and bringing the EcoLab to a wide variety of classes on campus. I maintain our social media accounts (follow us on Facebook, Instagram, and Twitter!), and send out a quarterly newsletter (email sschuck@marian.edu if you'd like to be added). I provide and create a lot of the environmental education programming conducted in the EcoLab and conduct most of the programming provided for the public. I work with many community volunteer groups that help with the restoration and maintenance of the property. I also hold an adjunct faculty position in the fall semester, co-teaching a First Year Seminar course in the EcoLab called "Outdoor Immersion" with Dr. David Benson, Biology Chair and EcoLab Director.
VALENTINE: The EcoLab was originally designed 108 years ago by landscape architect Jens Jensen, famous for his design work for parks throughout Chicago, including Humboldt and Garfield Parks. What are the differences between Jensen's original design and intentions, versus what you are doing now? 
SCHUCK: Honestly, I would say there are more similarities in how we manage the property than differences, so I'll mention both. Originally, this space was not designed for the public. It was part of the Riverdale estate, a country estate built by James Allison, an Indianapolis entrepreneur and one of the founders of the Indianapolis 500. It was built as a driving landscape and as a place to entertain Allison's guests. Originally, Jensen created five different ponds that have merged into one over the years, and it is continually fed by spring water flowing through the bluff along the south edge of the EcoLab. Jensen was a landscape architect, and was particularly interested in designing natural spaces to be used by people, but he was also called the "Prophet of the Prairie" because of his use of native plants and Midwestern imagery when most other landscape architects were using species and designs from Europe or other countries. Jensen felt very strongly that exposing people to natural environments was good for their mental, physical and spiritual health. He designed landscapes where visitors could get back to nature in a space where nature is functioning properly, so he planted for diversity and wildlife instead of solely for aesthetic reasons. We are trying to do the same thing today. 
I think that one of the most important aspects of the EcoLab is that it is a free space where families and visitors of all ages can safely explore nature and get away from all the concrete and city noise. Most of the trails in the south portion of the EcoLab are original to Jensen's design. While Jensen started the restoration over 100 years ago, we continue it today with even more dedication to restoring the function of these habitats by planting native species, often following Jensen's original plans, and teaching about the ecosystem services they provide within that urban landscape. My primary goals are to restore the function of the EcoLab habitats, and to teach others about the importance of this task both in the EcoLab and beyond, and I'd like to think that Jensen would be proud of what we continue to do with this space.
VALENTINE: You're busy with the direct restoration of the EcoLab, but as President of the Environmental Education Association of Indiana (EEAI) and a member of the Steering Committee for the Indiana Children and Nature Network, (ICAN) you have a deep commitment to education and outreach as well. Share how your work at the EcoLab and beyond connects to students outside of Marian University. 
SCHUCK: I've always had a passion for teaching others. The restoration and conservation of our natural areas is so important, but if we aren't teaching others about what we are doing and why it is important, much of that work is lost. I like to say that I help make connections to the natural world for kids of ALL ages, but the sooner you help create those connections for children, the more likely they will value and want to protect it as they grow older. Children are spending so much more of their time indoors on screens than they have before, and this has a hand in the rising health problems, inability to focus, anxiety issues, acting out in school, etc., that children are experiencing. So many children these days have little to no connection to their natural environment, so they are fearful of it. I make it my job to help them replace their fear with curiosity, and I believe it starts with creating connections to the plants and animals they can find in their own back yard or local park. I love teaching about the lesser-known, lesser-liked critters like spiders and stingy things! My goal is that folks will walk away with an appreciation of the important role those species play and will contemplate their existence before sending them to squishtown (you all know what I mean). 
As an active member of both EEAI and ICAN, I coordinate with environmental educators and other professionals who are just as passionate and who are doing some amazing things across the state. Two of my most favorite initiatives by these groups are Nature Play Days and the Environmental Literacy Guidelines. EEAI, along with many partners throughout Indiana, created the Environmental Literacy Guidelines in order to "help educators, formal and non-formal, incorporate the concepts, skills, and experiences a person in Indiana should have in order to understand the environment and his/her role in it". By aligning these guidelines with current state standards, we are making it more practical for educators to be able to use them towards their current goals instead of trying to fit more into their already full curriculum and teaching loads. The guidelines can be found and downloaded from EEAI's website. Nature Play Days (NPDs) is an initiative of ICAN, with the primary goal of connecting families and people of all ages to more outdoor opportunities across the state. NPDs are typically held during the second week of June, and any organization or group can register their Nature Play Day event on ICAN's website. 
Over the last few months due to COVID-19, we have all seen the mental and physical benefits that spending time in nature can provide, and as a community we've appreciated the public parks and other natural spaces so much more than before. Jens Jensen was right 100 years ago and it still rings true today: access to safe natural spaces is extremely important for the health and well-being for all people, regardless of their background, where they live, or how much money they have. It is my hope that as a community and as stewards of this planet, we do not forget that need and appreciation, and that we place more importance on the care and management of these sacred spaces going forward. 
VALENTINE: You worked at the Indianapolis Zoo before deciding to go back to school for a Masters in Natural Resources and Environmental Management from Ball State University, which led you to your current position. How did you decide that restoration work was your passion? 
SCHUCK: I always knew I wanted to do some sort of field work, and that spending more time outside than inside at a desk was imperative. As a zookeeper, I did a lot of environmental education with the public, and I wanted to increase my knowledge on many of the topics I was teaching about, including protection of natural areas and wildlife. I wanted to work with animals in their natural environment and be the boots on the ground to protect and restore their habitats. In my first year of graduate school, my thesis subject was on constructed wetlands and their ability to filter out excess nutrients from farm fields. I was spending most of my time in the lab analyzing water samples rather than being outside, and I realized that wasn't the experience I wanted. I decided to take an internship at the Field Station and Environmental Education Center at Ball State with their land manager, John Taylor, and it was a game changer. I started learning about and identifying invasive and native plants. I learned how invasive species are one of the major issues affecting endangered species, and I knew this was the field work for me. I was able to do a tree survey in Ginn Woods the following summer as my thesis, where I (and my faithful undergraduate assistants) mapped and measured almost 5,000 trees in 4 months. It was hard work, but it was glorious work and I was happy. I had found my calling.
VALENTINE: Talk about weeds, invasive species, and why dandelions aren't so bad.
SCHUCK: Unfortunately, dealing with invasive plants is one of the things I do most. An invasive species can be a plant or animal, and primarily what they do is out-compete other species and lower biodiversity. For example, wetlands are highly diverse ecosystems and if one species takes over, the ecosystem is no longer able to function properly. This could affect the ecosystem services that wetlands provide for us (flood control, water filtration and storage of toxins, and groundwater recharge, to name a few) as well as destroy habitat for wildlife. While dandelions are not a native species, they are not considered an invasive species in Indiana. A very small percentage of non-native species that occur in North America are considered invasive. Dandelions can be aggressive in your non-native lawn and mulched beds, but they do not pose an ecological threat to our ecosystems. In fact, they may be one of the only sources of nectar and pollen for pollinators in turf grass lawns. While decreasing your lawn and incorporating native plants is always preferred and more beneficial to wildlife, dandelions can be a beneficial part of your lawn according to pollinators, along with the violets (a host plant for many fritillary butterfly species). 
While all this invasive species talk might seem a little doomy and gloomy, I am happy to say that some exciting things have been happening in Indiana with invasive management. In April of this year, the Terrestrial Plant Rule went into effect. This rule prohibits the buying, selling, or trading of 44 species of invasive plants in Indiana. Also, the Indiana Invasive Initiative was recently created with the main goal of establishing a Cooperative Invasive Species Management Area (CISMA) group for each county. Each CISMA focuses their grassroots efforts on the removal of invasive species in natural areas within their county. They are largely volunteer based, so if this sounds like something you'd be interested in doing, check out the website to see if your county has a CISMA! 
VALENTINE: Although you maintain this large park within Marion County, you're also working to make your own home more wildlife friendly. I recently finished Nature's Best Hope: A New Approach to Conservation, by Douglas W. Tallamy, which is a careful argument for regular folks to take small but impactful steps toward making their property more habitat friendly. Tallamy notes that 86% of the USA is privately owned, with over 40 million acres of turfgrass. If we want to seriously protect biodiversity—including species upon which we humans rely—conservation cannot solely occur in national parks, but private landowners must play a significant role. Share some simple ways for readers to improve their yards or homes to protect biodiversity. 
SCHUCK: Function is beauty. Diversity is key — When you are designing your landscaping, repeat those two phrases, and then do it. Plant a diverse array of native plants. Plant the species that help to provide food, shelter, and overwintering habitat for pollinators and other wildlife. Not everyone can have a prairie or a forest in their backyard but adding a few more native species is a good start, and then build on that. Plant for function and ask yourself these questions: who will eat that? Who relies on this plant for survival? Who do I want to attract/protect/provide habitat for? Don't be hard on yourself or others. You'll make mistakes but will learn from them. Be willing to change your viewpoints based on the most recent scientific research and expert suggestions. Don't try to do it all at once. Go at a pace that is comfortable and realistic for you and your lifestyle.