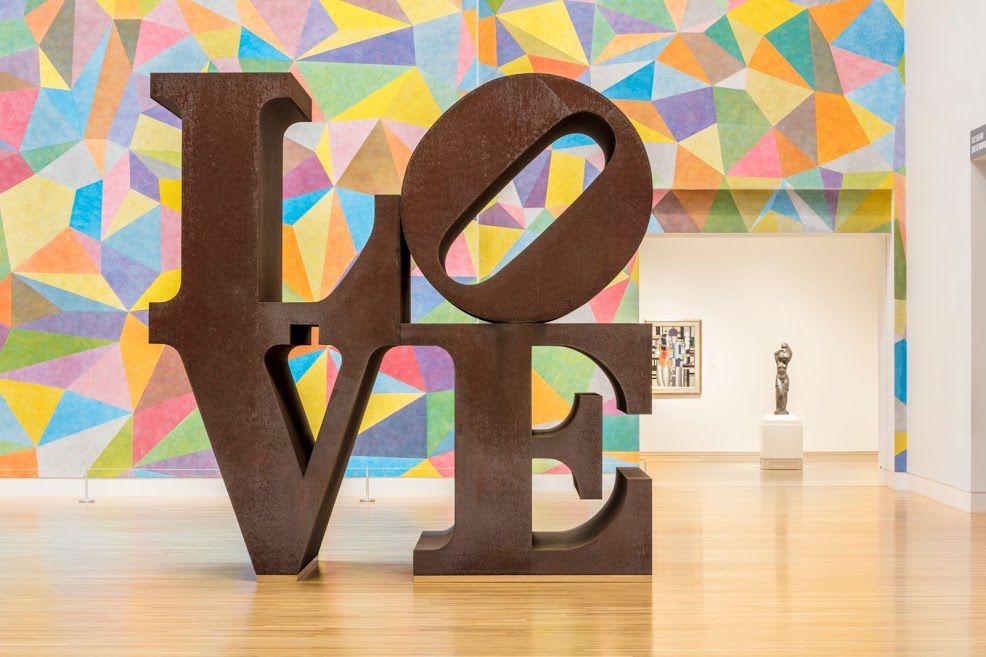 Last Saturday I went to the Indianapolis Museum of Art at Newfields with my daughter, Naomi. Considering how much I'd be paying for separate tickets — and that we'd likely return a number of times during the year — I sprang for a $100 family membership. I enjoy the museum, and enjoy sharing the experience with my daughter.
This doesn't mean I'm a passive observer of everything that has gone on in the museum during the past several years. I wrote some pretty skeptical things immediately after the unveiling of the Newfields brand. I even compared the effort to Applebee's rebranding, in 1986, as Applebee's Neighborhood Grill & Bar. It's not my proudest moment as a journalist, but hey, I was trying to make a point.
In his recent opinion piece in NUVO, Bill Watts, associate professor of English at Butler, addresses the rebranding and more. He brings up many issues, in fact, including the imposition of an admission fee, and the restrictions on bike and pedestrian access to the Newfields grounds. But "perhaps more than anything," as he says, he's disturbed by what he calls a lack of accountability by the board and by CEO Charles Venable.  
The comments on Facebook were largely in agreement with Watts on some, or all, of his points; roughly 30 comments in fact. Only one of them, at my last count, expresses unabashed support for Newfields.   
"I'm glad I'm not the only one who sees the "suburbanization" of what used to be the IMA," writes Geno Smith, agreeing with the positions Watts expressed in his article.
Echoing that sentiment, 2014 Artprize-winning artist Anila Quayyum Agha writes, "To me on the few recent visits Newfields feels more like a mall than a revered institution."
Others brought up the issue of the admission fee, which went from $0 to $18 in April, 2015.   
Jason Wagoner writes "I used to love going to that place. Shame it caters pretty much exclusively with $$$."
Richard Anderson writes skeptically of the museum's curatorial M.O.: "So on the rare occasion that I am there, to the point that when they have something that is 'new,' I always walk away asking this question: how much of the work was pulled from collectors of this artist's work (it goes up in value when it's been exhibited in a museum) versus how much is new work that was created for the exhibition? Unfortunately though, I don't get to ask that question of the work very often as there aren't many exhibits that include artists from our own community."
But Jake Budder, responding on Twitter, says that Watts misses a lot in his commentary. "Why have top art displays when attendance is terribly low?" he asks. "Also a clear lack of understanding about branding and how the local process was to redesign Newfields, done by local firm."
One of the respondents on Facebook, Emily Udell, seemed to be wrestling with all the aforementioned issues.
Udell writes, "Thank you for putting into words all the discomfort I've had with the rebranding and the 'fortification' of the museum. I am a member who has felt myself repeatedly alienated by the cordoning off of the grounds (and how that's enforced by staff), the changes to membership and the fees. It's just not the friendly welcoming place it was. I also ride my bicycle to the museum a couple of times a year, and I can say with sad certainty that someone is going to die trying to access the museum in the only currently allowable route. I cannot for the life of me understand why this institution blocked off cycling and pedestrian access when everybody else in Indy started really embracing it.  It's cruel and unfriendly and dangerous. I have questioned continuing my membership due to all this, but I am a true lover of art and I want to see the institution succeed, and I want to be a part of it, even if flawed …"
(A surprise for me is that no one commenting on Facebook mentioned Newfields' signature winter attraction Winterlights.)
Kate0317, posting her comment directly on the NUVO site, writes of her unabashed love of the institution that has meant so much in her life.
"I couldn't just not support a place that had brought me such a sense of wonder and comfort and fascination over the years," she writes. "It's occurred to me that the opinions regarding Newfields are much like our opinions or perceptions of works of art — we all have them, right?  I can be deeply moved and connect to a piece of art in a way that doesn't have to make sense to anyone else. It doesn't need to, the feelings are my own. And someone else can reject it for their own specific reasons or thoughts, and that's okay too. It's how art works."
Also responding directly on the website was Gary Reiter, who is board secretary of Riley Area Development Corporation and Board President of IndyFringe. In his long and detailed response, one of the notable details he mentions has to do with the price of admission. A detail that I suspect may not be as widely known as it should be is the availability of access pass accounts. 
Reiter goes on to take issue with all of Bill Watts' points — except for one.
"I stated on Twitter that I disagree with just about everything in the Bill Watts article," Reiter writes. "What do I agree with? Apparently, not much. But I am a bicycle commuter. I ride the Pacers Bike Share almost every day to and from work. My front door is on the Cultural Trail, and I use the Cultural Trail daily. A lot of people would know my wife and me as Coco's owner. Therefore, I am passionate and enthusiastic about Bill's argument that the infrastructure needs to be fixed to give access to pedestrians and bicyclists. There is still no sidewalk that leads from the old pedestrian [route] to the entrances pedestrians are now forced to use.  I join Bill and ask for the IMA to create a solution."
Walking through the galleries
During my visit to the IMA galleries with my daughter, I had Bill Watts' article in the back of my mind. I suppose I was trying to weigh everything, and finding myself (like Emily Udell) on the fence.
Naomi and I started our tour in the American Art Galleries. I was curious about the recent rotations there under the curatorship of associate curator of American art Kelli Morgan. 
I noticed work I hadn't seen before as I walked in. I'm thinking of a painting titled "Dr. Kool," an oil on canvas painting by Barkley Hendricks depicting an African American man dressed in all white, against a white background. It was not far from one of my favorite Georgia O'Keefe paintings, "Pelvis with the Distance," which radically warps the scale of the cow pelvis depicted versus the hills in the background.
It was, I thought, a cool contrast.
There were some portraits that appealed to my daughter. Chief among them "Edna Smith in a Japanese Wrap" by Robert Henri, which depicts a girl, a little older than my daughter probably, but with similar features, and with red hair.
My daughter also has red hair.
Walking through the galleries, there seemed to be a more diverse mix of artists, in terms of people depicted and the artists depicting them, in the galleries than I recall from previous visits. Or, could it be that I was paying more attention now?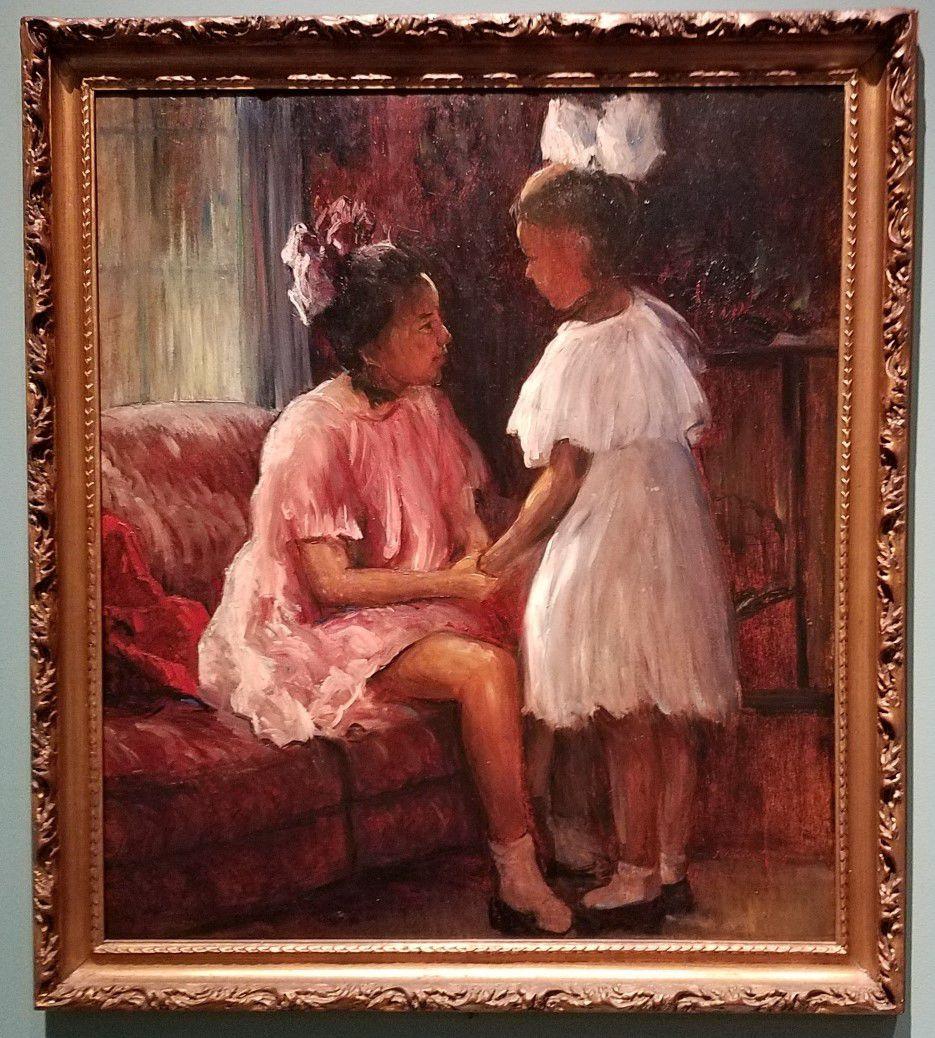 I noted a strikingly vivid painting by Hugh M. Poe of two Black characters from Booth Tarkington's Penrod Trilogy, "Herman and Verman," from 1924. Also notable was John Wesley Hardrick's "Dolly and Rack" from around 1930, in which the painter depicted his two young daughters in dresses, in his impressionistic style. (Hardrick studied at Herron School of Art & Design.)
But, there was a more contemporary painting as well, on display, that was something of a shocker. 
I'm talking about "Knowledge of the Past is the Key to the Future (St. Sebastian)" by figurative expressionist Robert H. Colescott, dating from 1986.  It depicts the lynching of a naked figure, half white/half black, tied to a pole and shot with arrows. 
It's a very different painting, I must say, than "The Martyrdom of St. Sebastian," a preparatory study dating from around 1780, by Giacinto Diana, owned by the IMA, but not currently on view.
The other works that surround Colescott's painting, including the large stained glass window "Angel of the Resurrection" by Frederick Wilson, date largely from the Gilded Age.  
I caught a bit of new wall text too, which revealed the curator's desire to arrange the art in the galleries in a way that considers historical and political currents as seriously as aesthetics.  
That is why, it seems, we found Colescott's painting in the middle of works dating roughly from the time of Benjamin Harrison's presidency, when many, many lynchings of Blacks took place in the American South with impunity.
The juxtapositions seemed much in line with associate curator of American art Kelli Morgan's remarks on Friday, March 15. She was speaking at the opening of Marion-born Samuel Levi Jones exhibition, Left of Center. Morgan wanted, she said, to have a conversation about history, race, gender, and white privilege that begins in the galleries and continues in the schools, homes, streets, and shopping malls of Indianapolis.
The juxtaposition of work here is, to say the least, a conversation starter.
I wondered, as we walked through the galleries, how many other museums in other American cities were doing in terms of diversity. It seems, from a preliminary look online, that the "diversity gap" is pretty huge.
According to a recent study by Williams College focusing on 18 major U.S. museums' collections, 85 percent of artists represented in these collections were white. 87 percent were found to be men, and almost 76 percent were white men.
So, it seems to me that any argument about the direction that Newfields is taking ought to factor these apparent strides towards diversity, which include Samuel Levi Jones' new exhibit.  
And it seemed important that any such argument consider the African American children who have the chance to experience the shock of recognition just like my daughter did.