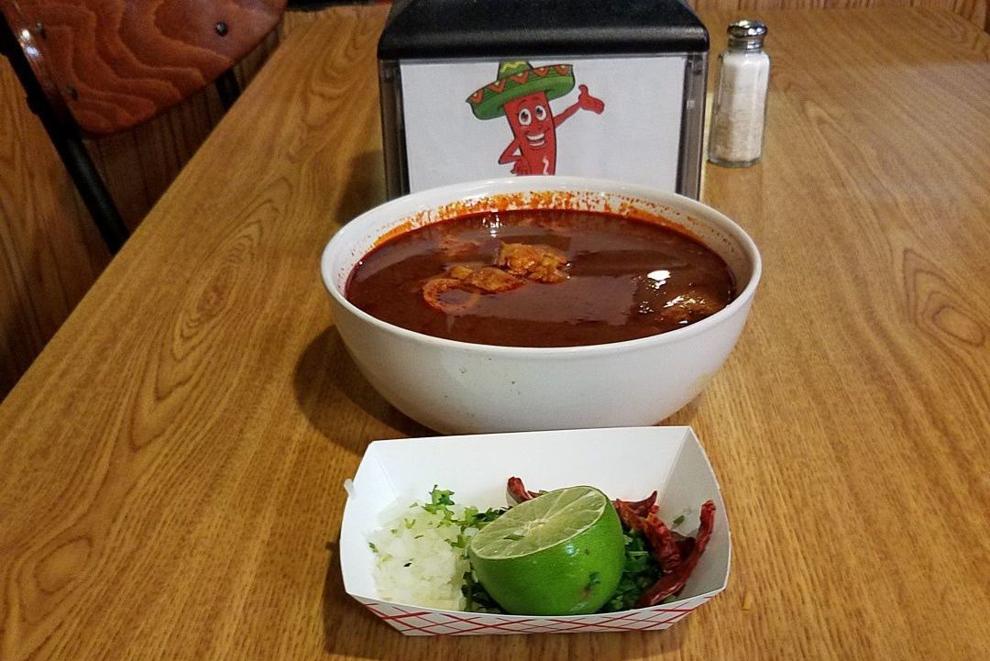 When you walk into Leonardo's Mexican Restaurant at 8431 N. Michigan Rd., you'll see a no frills dining room with Formica table tops. The TV's always on, and turned to a Spanish language station. You often hear Spanish spoken in the dining room.
During the year when I was working as a team lead at the Goodwill across the street, I spent quite a few lunch breaks at Leonardo's. It was, in many ways, a refuge from one of the more stressful low-wage jobs on the planet.
At the outset, then, I have to confess that this is more than a food review. You might even call it a love letter.
But let's talk about the food. To my mind, Mexican food doesn't get much better than what you find at the very reasonably-priced Leonardo's. Is it the most authentic Mexican food in Indy? I don't know. What I do know comes from having eaten my way through about 25 percent of the menu. I've had the menudo, the chicken torta, the quesadilla, the chicken burrito, the chile relleno, the fish taco, the veggie burrito, and the Indy Burrito.  
The Indy Burrito is a knockout. It's a combo of seared beef, pico de gallo, and fried potatoes. Like all their burritos, it's huge, and enough to keep you filled up the rest of the day, say, if you eat it for an early lunch.
But the veggie burrito is my standard go-to, stuffed with rice and beans, cheese, sour cream, pico de gallo, and assorted veggies. (I substitute avocado for their guacamole, of which I'm not a fan.)
I also love their chile relleno (stuffed chiles) and their tortas (Mexican style sandwiches). They have a substantial breakfast menu, served at all hours, including the delightful huevos rancheros (ranch eggs), and their seriously filling machacha plate (basically scrambled eggs fried with various meats).
The fish tacos are good. But, let's just say, you're not going to be transported to Baja California when you scarf one down.
Just about everything, down to the lettuce on the fish tacos, is always fresh. Everything is always hot. You can feel the right balance of ingredients on your palate. And if there's not enough heat for you, you can dress up your selection with their condiments bar, which contains a good selection of hot sauces.
If you're really hungry, I suggest ordering a combo plate. That way you can chow down on their excellent rice and beans as well. But an à la carte selection should be enough to fill you up.
The crown jewel at Leonardo's is the menudo, served only on weekends. Menudo is a soup made with tripe (cow stomach) in a broth. The one at Leonardo's has a chili pepper base. It's common for menudo to be served at Hispanic family gatherings such as weddings, both north and south of the Mexican border. Rumor has it that it's an effective cure for a hangover.
The soup is served with a side of tortillas, along with cilantro, onions, dried red peppers and lime. My bowl of menudo—the last time I ordered it—was so large that I couldn't finish it. Definitely, it's enough for two. If you're squeamish about tripe, you shouldn't be (unless you don't eat meat.) I recall the tripe had a very soft, chewable texture, not rubbery at all, likely due to the fact that the menudo had been simmering since the early morning. And it was super tasty.
This menudo is a taste of home for many in North Westside Indy but also a draw for the culinary adventurous. You should plan on a late lunch if you want the menudo, however, or an early dinner, because it's possible that they might run out of this popular dish later in the day.
Unfortunately, the nearest of their two locations, south of 86th St. on Michigan Road, is a 20 minute drive for me.  
In between my home and Leonardo's, unfortunately, there's not much that comes close. I've got my Taco Bells, my cantinas serving chimichangas and taco salads, and my Chipotdobas, as it were. 
Now, don't get me wrong. There's a place in America for the popular chains that serve healthy, high-quality Mission-style ingredients—even if tossed like cafeteria slop into your tortillas. 
I just wish somehow there were more Leonardo's, and less of the other stuff.