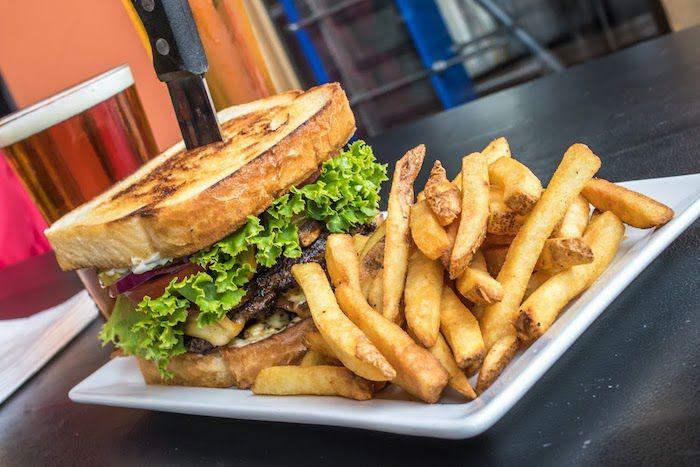 Dan Krzywicki has garnered a lot of attention and awards for his brewing, and deservedly so. As head brewer at Chilly Water in Fletcher Place (719 Virginia Ave., 21+), he's taken home top awards at the Indiana Brewers Cup for years and last year earned national recognition for his Smoke on the Lager Rauchbier which won a silver medal at the Great American Beer Festival.
Rita Kohn sings the praises of Chilly Water often in Beer Buzz, so I'll leave it to her to explain elsewhere why you should try it. The truth is I don't drink beer, so any opinion I have about the stuff would be worthless.
Which is why it makes my work on the upcoming annual NUVO Beer Issue so intriguing. Over the past two months, I've had the occasion to visit at least a dozen local breweries and can honestly say I have no idea what the beer in any of them tastes like.
Instead, I watch as NUVO photographer Charlie Clark takes pictures or Rita asks questions. Mostly I hold the camera bag and take notes.
I also eat. And in the interest of killing multiple birds with a single stone, I've been searching for a brewery with food good enough to recommend.
Unfortunately, the beer is too often the best thing on the menu at most local breweries and brewpubs, as the food is merely there for legal reasons.
According to state law, venues in Indiana where alcoholic beverages are consumed by the "drink" are required to have food service available, at all times, for at least 25 persons. Minimum food service required consists of hot soups, hot sandwiches, coffee, milk, and soft drinks.
And while I'm not suggesting every brewery needs a full kitchen, wait staff, and stellar menu, something more than hot pretzels and microwave pizza would be nice. I don't wanna name names, but come on dudes. Step it up.
Luckily, Chilly Water Brewing got the memo. Not only do they literally have some of the best beer in the state, they also have damn good food.
Charlie and I visited Chilly Water last week. He's been bugging me to try it for months, and we finally found the opportunity to make it happen. Owners Dan Krzywicki and Skip DuVall knew we were stopping by, and they were nice enough to show us around, pour some beer and serve up some food.
Dan started us off with two types of chicken wings—a traditional Buffalo and a garlic/parmesan. Both were fantastic. The Buffalo wings, in particular, were better than many others I've tried lately. Given that we're in the middle of Indy Wings Week, trust me when I say I've eaten a lot of wings lately.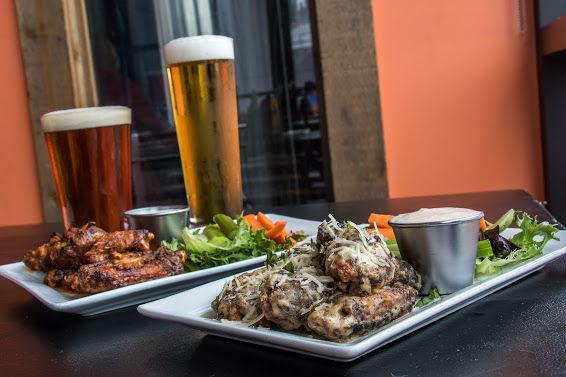 For once, the goal with the hot wings wasn't merely to set my mouth on fire. Instead, the heat was enhancing the flavor. The meat was plentiful, the skin nice and crisp. Instead of gulping down my Diet Coke after each bite, I could actually enjoy the flavors.
Starting in September, the wings are on special every Tuesday for 75 cents each. If you go any other day, you can get six wings for $7.50 or a dozen for $14. Either way, it's totally worth the money.
From the menu, Charlie and I both picked burgers. He had the Fat Arin ($12), I had the Back in Black ($11). Both were excellent.
Chilly Water is in Fletcher Place, and that means you can find at least ten other places serving their version of a "black and bleu" burger within a two mile radius. Trust me, I've tried most of them. This one is at the top of the list.
First of all, the buns are Grade A. Secondly, the bacon was crisp and the bleu cheese dressing was perfectly pungent. These aren't frozen hamburger patties being thawed and served up either. The meat was plentiful, fresh, and cooked exactly as I requested. And the fries? Absolutely perfect as well. Hot, crisp, and appropriately seasoned. For once, no ketchup necessary.
Charlie went with the humongous Fat Arin and holy crap, it's huge. So huge, in fact, it comes with a big knife sticking out of it to help you manage.
Served on grilled sourdough, Arin is two patties, bacon, smoked gouda, grilled onions, and mushrooms. Charlie ate the whole damn thing. In between bites, he mumbled things like "ummm," "goooood," and "wow." Take that endorsement for what you will.
There's a music theme at Chilly Water. The beers have names like Built to Last, The Wall, Ziggy Stardust, and Champagne Super Nova. Heck, the name itself is a reference to a Widespread Panic song.
The music names extend to food, as well. In addition to the aforementioned Back in Black Burger, you'll find things like Killer Queen and John and Yoko salads, a Ring of Fire sandwich, and a Culture Club wrap. You get the point.
The boys at Chilly Water have cleverly displayed many of their brewery awards as gold records that adorn the walls alongside some really impressive rock and roll artwork that includes local artist Elvis Mires' and his cassette tape portraits.
All in all, it's easy for me to say Chilly Water is my new favorite brewery. Of course, that has nothing to do with the beer, so maybe you should ask someone else about that.