Repurposing historic buildings for retail is nothing new. Debuting such buildings to the public during a pandemic, as Bottleworks is doing, is another matter entirely.
The Bottleworks complex, abutting the northeast end of the Mass Ave Cultural District in Downtown Indy, spans multiple buildings over 12 acres. It includes the new Bottleworks Hotel, the trendy Garage Food Hall, and the eight-screen Living Room theater. The hotel opened on Dec. 15. 
The hotel building once served as a Coca-Cola plant. Built in 1931, it became the largest bottling operation of its kind in the world. A new bottling facility opened in Speedway in 1969, and the plant was sold to Indianapolis Public Schools. The city put the property out to developers to bid on in 2017, and Hendricks Commercial Properties won the bid. Construction started in late 2017 and early 2018. 
Walking through the hotel, architecture buffs will find much to admire: terrazzo floors, art deco patterned doors, and an ornate stairwell. You may wonder why such an elaborate structure was needed to house a Coca-Cola plant. But hey, why not?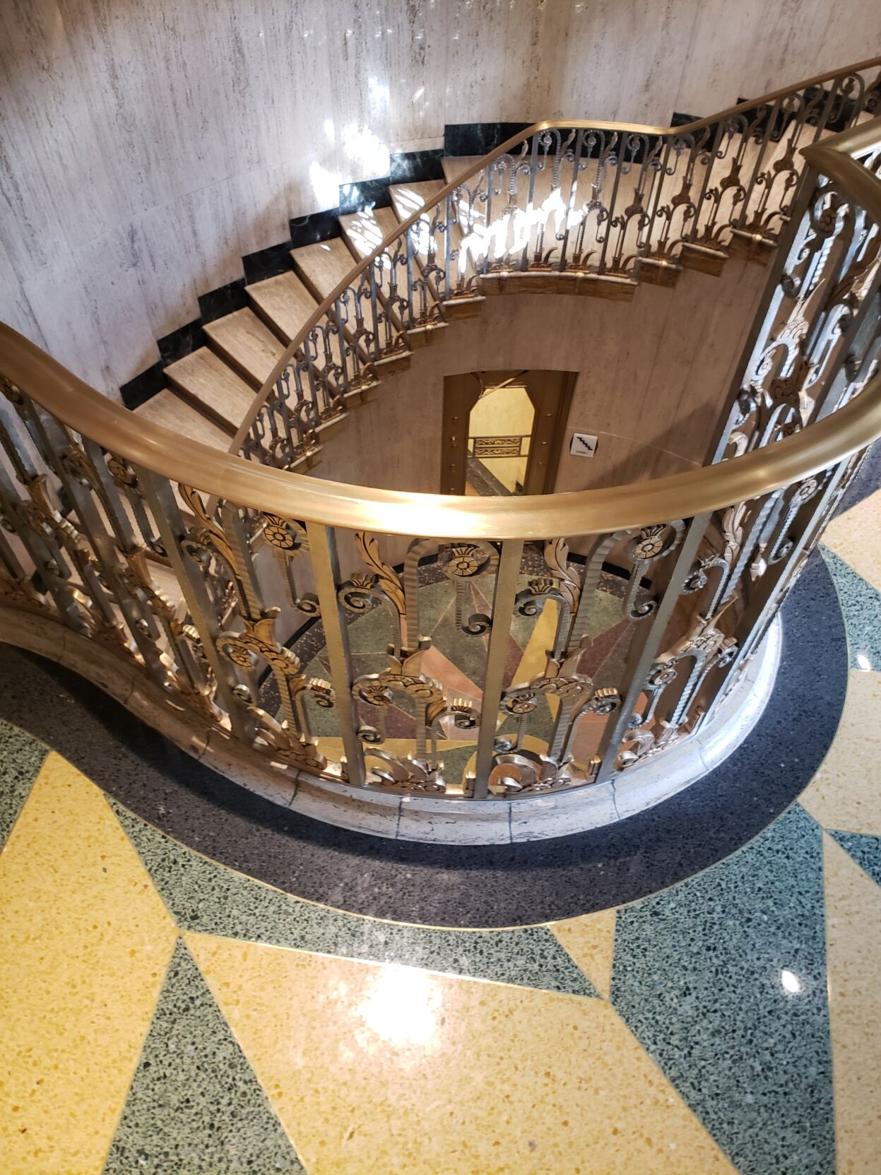 The latest facet of Bottleworks, the Garage Food Hall, opened to the public on Jan. 5. The food hall combines two former garage buildings with a glass ceiling over the space between them —  transforming that space into a sunlit hallway and showcasing the buildings' original brick construction.
"The unique thing about this space, when tenants came to us, they had the ability to work with our design team and come up with their design, while keeping the integrity of the neo-industrial look of this building," said Nicole Ulrich, general manager of the Garage.
It also has vast seating areas at the moment, thus plenty of room for social distancing, as not all the spaces for vendors have been filled. There is also a flex-kitchen space for potential vendors who want to try their chops, say, at making Teriyaki Bolognese en masse.
In parts of the building, you can see hints of its past — like the streaks of yellow paint tastefully left on the walls to highlight the building's previous use as an IPS school bus depot and bus painting facility.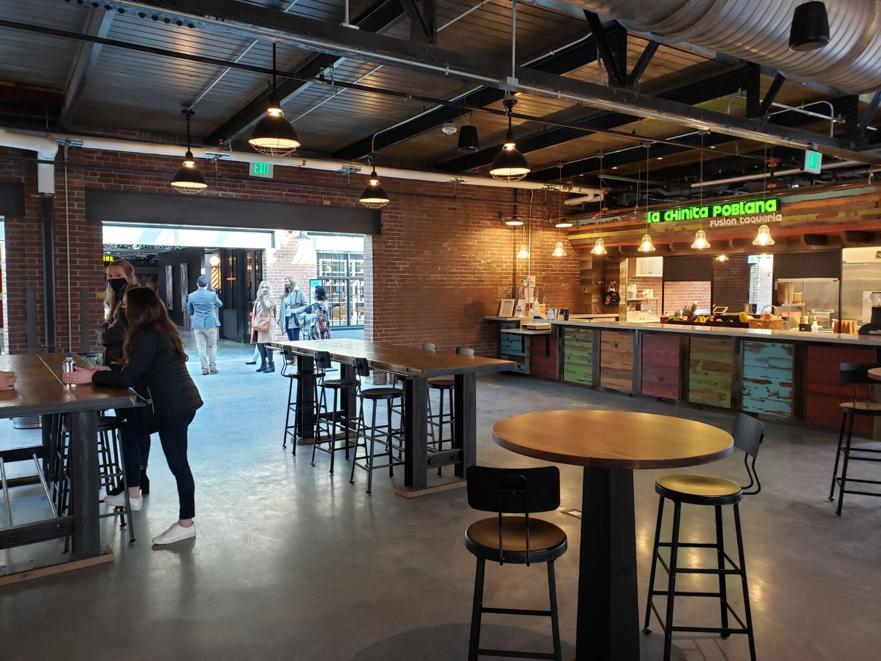 The food hall is opening with 14 tenants, with four more slated to arrive in the coming months.  Among the vendors are Hard Truth Distillery and Brick & Mortar Barber Shop. There are some familiar names from the greater Indy area; Clancy's Burger (from Noblesville), seafood vendor Poke Guru (from City Market), Lick Ice Cream (expanding from their location at the Circle City Industrial Complex) with a good selection of global flavors (Chapati Pakistani Eatery) and Gaucho's Fire (serving Brazilian fare).  
Andreina Paredes and her son Juan Abascal were at their new start-up Venuzalan eatery Azucar Morena on January 4. They were serving sample dishes and getting ready for their imminent opening to the public.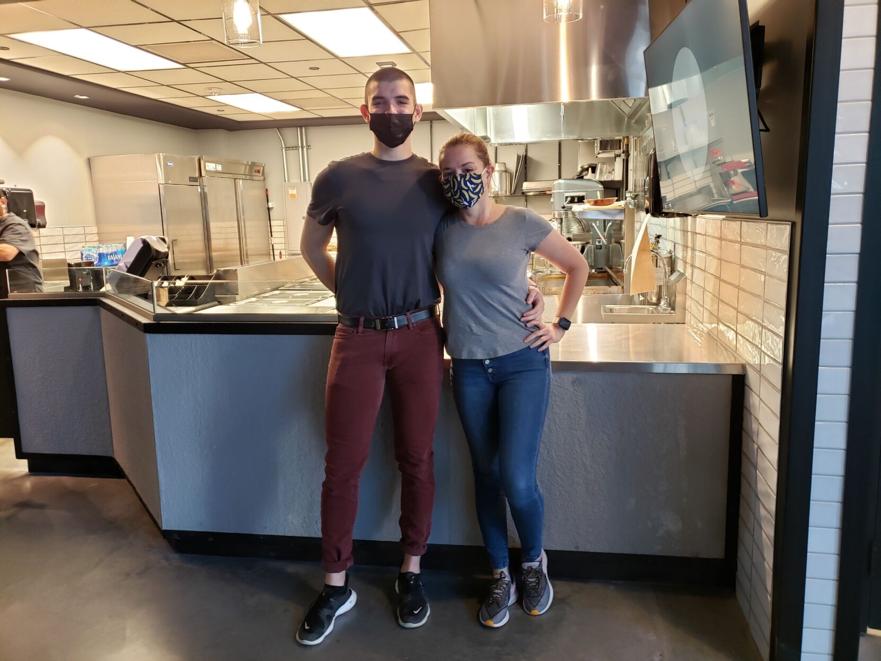 "We have these recipes that we all have at home that create the flavor that you all are tasting every day you come here with us," said Paredes through her son, who acted as a translator. So that's why we have decided to do a business for Venezuelan food."
Their specialty is arepas, a traditional Venezuelan breakfast food that could be described as a traditional white corn pancake, but these ones are air-fried and gluten-free.  "You can put anything in there applicable ham, cheese, chicken, beef [...] and you can eat it plain, with only butter," said Paredes, who was born in Venezuela, who wanted to provide a taste of her home country to Indy.
Before Paredes started their new eatery, she managed several dental clinics. Her son was a dental assistant in those clinics. Despite the change of occupation, they're happy to say that they're still affecting peoples' palates —  and palettes.
That previous weekend, the Garage held an invitation-only event which saw 1,100 people come through its doors and functioned as a test run for its vendors, operating at 50% capacity.
Ryan Hickey, director of entertainment and programming for Geronimo Hospitality, a subdivision of Hendricks Commercial Properties —  owner of the Bottleworks property —  said that the redevelopment is a multiphase effort. The next phase will include new construction, building office, and living space. "The retail side of things was phase one," he said.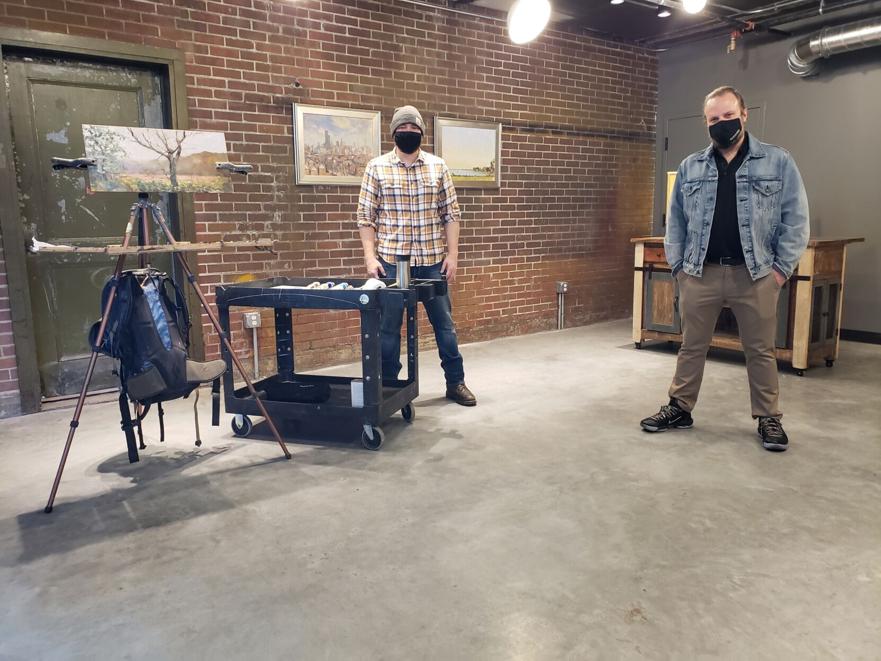 You may recognize Hickey's name. He's the now defunct ORANJE co-founder, which was an annual contemporary art and music event featuring cutting-edge artists and musicians. The last ORANJE took place in the yet-to-be-developed garages and grounds of Bottleworks in 2018. 
"I reached out to them and said, 'I would love to do ORANJE here before the development starts,'" he explained. "It was always the number one place where we wanted to host the event in the city, and they agreed to it. And then, when that event concluded, they asked me to come on board and help grow their entertainment."
One of Hickey's artists before at ORANJE is local painter Justin Vining, who was on hand on Jan. 4, displaying his landscape paintings in a popup space. 
After hiring Faith Blackwell to take photographs of the Bottleworks construction workers, Hickey hired Vining to hang their large scale photographs in both the Garage and the Bottleworks Hotel. 
Vining, who has his own gallery at 2620 East 10th Street, was supposed to have his grand opening at that space on March 30 of 2020. But that didn't work out due to the onset of the pandemic.
So he relishes any chance to go out and about with his art.
"I think part of the attraction of being associated with what's happening here is an opportunity to meet new people, not necessarily shake hands but be visible in our community," he said.