Carl Gordon opened Gordon's Milkshake Bar in December 2019, three months before the March stay-at-home order issued by Governor Holcomb in reaction to the COVID-19 pandemic.  
But the milkshake bar has managed to survive —  and attract the attention of sweet-tooths throughout the Circle City. Crowds have been known to line up outside to sample Gordon's gourmet milkshake offerings such as the Peanut Butter Brownie Shake and the Birthday Cake Shake. But the menu doesn't just include shakes. 
If you're feeling adventurous, you can try the Ice Cream Nachos or the Sugar Water Cornbread & Ice Cream. If you're looking for a meal, you can try the John Dillinger Chili Dog & Shake. (Lactose-free and vegan options are available.)
"These are just things you wouldn't find in an average restaurant so I want people to come for it," Gordon said.
With a menu like his, you might expect that the owner has some food industry experience. In fact, Gordon has worked as a chef for Methodist Hospital for a decade in addition to having experience in fine dining. But it was a different experience, in Military Park, in the summer of 2019, that convinced him that milkshakes were a winning idea.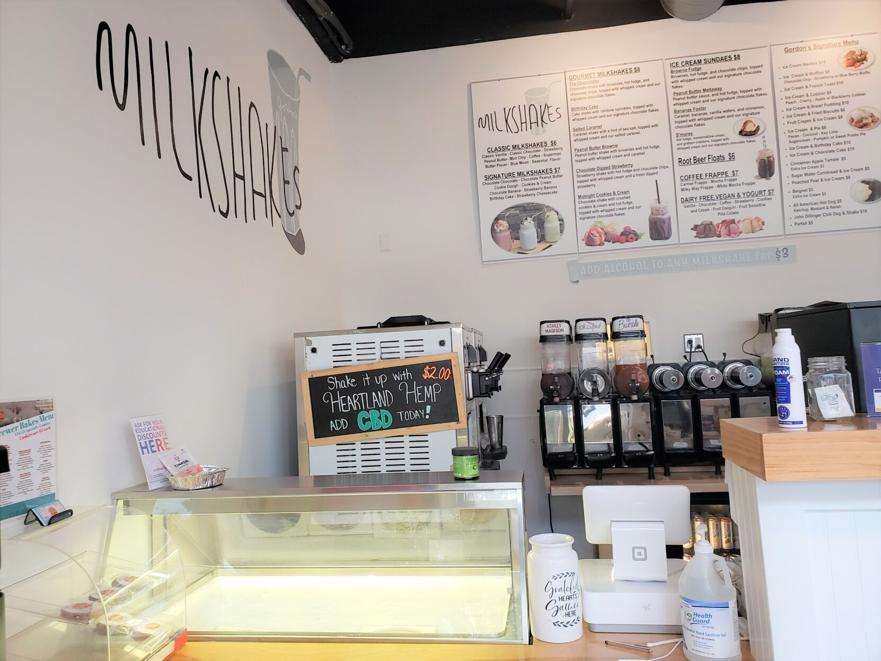 "I did the Irish festival," Gordon said. "And we were selling Shamrock Shakes, and we sold a lot of Shamrock Shakes; it was like the greatest thing ever. We were talking about it; I was like, I should open a shake shop."
Gordon didn't set out to locate his shop on the east end of Mass Ave, but that's the way it worked out.  An electrician friend told him that the retail space didn't need much work and the rent was affordable. 
"It took us maybe like two months to get this whole establishment up and running," he said. One of the biggest challenges, he said, in switching to a carry-out model during COVID, was making his complex and decorative dessert dishes and shakes in carryout containers.
The ice cream is made in a kitchen on East 10th Street.  
Gordon, who was born in Guyana, South America in 1982, got the word out about his new establishment with the help of the website IndyBlackowned.com, which was started by Azia Ellis-Singleton as a free online directory for Black business owners to advertise their services, and consumers wanting to make use of them. The Indianapolis Star recognized Gordon's as one of the best dessert bars in the city, while Indianapolis Monthly focused attention on their ice cream nachos and their sweet potato cheesecake ice-cream.    
"I just really believe in making a great milkshake," he said.