"Being the only Filipino restaurant in the city is a lot of pressure. Because I am the only one. So if I fuck it up, it's like I ruined my food culture to my city." 
When Rook's chef and co-owner Carlos Salazar says this, he's putting all of his cards on the table. It's a sentiment the average diner wouldn't recognize when eating at Rook. Hell, it's something that average chefs may never have to deal with when crafting menus for their restaurant. But for Salazar, the way his food is perceived is integral to his personal identity, and this drives him to continually create and serve some of the most unique and delicious food in Indianapolis. 
The menu at Rook wasn't always filled with the Filipino cuisine that Salazar grew up eating. "I don't know if a lot of people know," says Salazar, "but Rook actually was open before me. I took over two months into it."
Ed Rudisell opened Rook's original location in 2013 with the goal of a counter-service restaurant that, according to Salazar, would "feed people what [Ed] likes to eat, which is banh mi." Salazar had recently left his position as the sous chef at the popular Northside restaurant Oakleys Bistro when he took over. 
"I was ready to get out of Oakleys and open my own joint. I had been a sous chef there for two years. I was itching to get my own stuff going, and Ed was like, 'Let's talk.' He said, 'How about you take over Rook? You can do whatever you want with the menu.'"
Rook's original kitchen was too tiny for Salazar to do everything he wanted, but he knew he wanted to focus on Asian street food. "So I just built the menu off of what I could do in that little space," he says. "I wanted to do something different. I don't know if it was ego, but I knew I wanted to change how we ate in this city."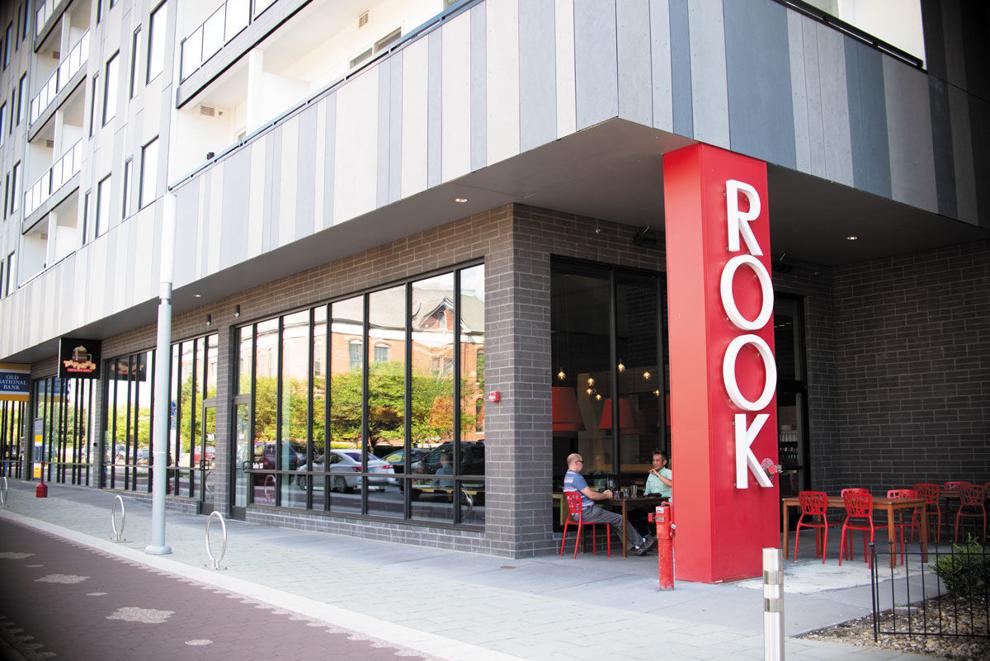 And while he was able to build a following at the original location, it was quite a daily grind. "I had so many ideas going on in my head, but I couldn't execute them. There were only two of us to even have time to prep the menu we were serving that night. I didn't have the equipment or the space." So after about two and a half years, they finally had built up enough clientele to move into the current location, just a little farther north on Virginia Avenue than the original. 
"The move opened a lot of doors," Salazar says. It allowed him to grow his team and to work in a full-size kitchen. The move also allowed him the opportunity to change his focus to adding some of the dishes from his childhood to the menu. 
"Food is a major part of the Filipino culture. You eat. It's like life. It's why we look like this," he says with a laugh, gesturing to his stomach. Salazar credits his father's cooking as the inspiration for his love of traditional Filipino dishes. He says the ones that stood out were adobo, which is meat braised in garlic, vinegar, oil, and soy sauce; a meat stew of tomato, onion, liver spread, bell pepper, and cheese named kaldereta; and Salazar's personal favorite, kare-kare.
"Whenever my dad made it, it's a dish that could be my last meal and I'd be happy," he says of kare-kare. "It's oxtail braised in peanut sauce. It's very, very bland, but it's just heavy in the fat flavor of the oxtail and peanuts. You top it with shrimp paste and eat it with rice."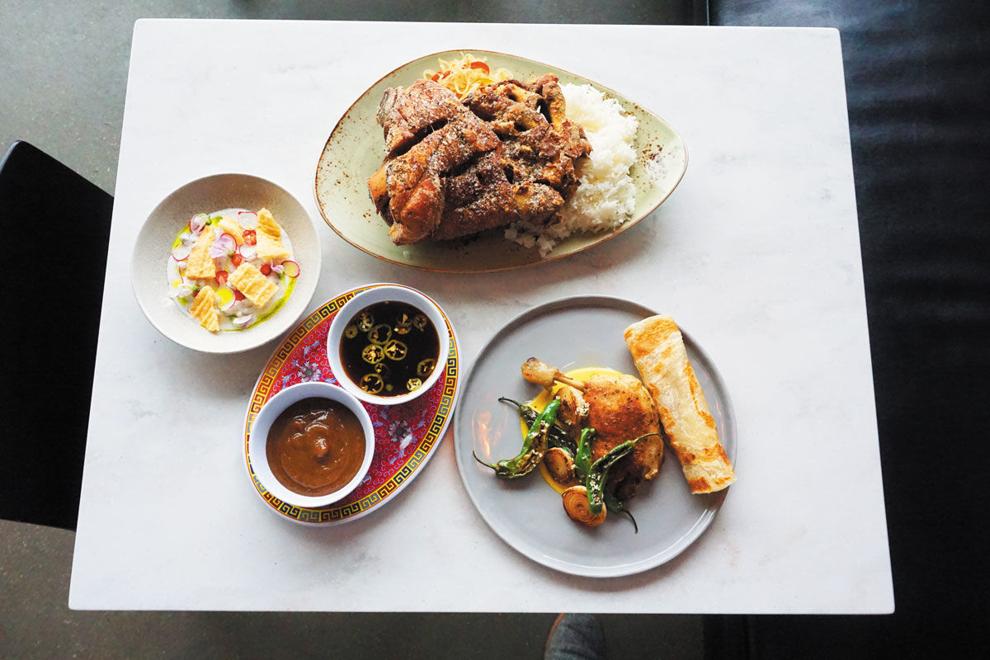 Recreating these dishes and trying to make them as good as his dad's are some of the things that push Salazar as a chef. "I have a version of it on my menu, but it's just not the same as when he makes it. He showed me how to make it, but I still can't perfect it and he can. So it's something that challenges me. I have to keep doing this and making it until I make it to the point where my dad does."
While Rook's menu changes regularly and has offerings from jalapeño Spam steamed buns to the flavor-packed Rook Burger, Salazar also keeps a rotation of Filipino classics on there as well. There are light offerings such as the refreshing, mildly sweet-and-sour kinilaw, which features white fish in a coconut aquachile and green-strawberry salsa, all the way to a heavy, fatty, crunchy, fried pork hock dish called crispy pata. 
The pata is one of the best pork dishes you'll ever taste, each bite different from the last as you peel pieces of crispy pork skin off to scoop up some rice and dip in the accompanying sauces. It's a massive hunk of pork, so prepare to split this with the whole table. 
While the menu has received a stellar response from many guests—myself included—Salazar is still highly critical of himself. "I've only embraced my culture in the past four or five years, when I started working at Rook. That's another thing that scares me. I feel like I don't know much of it. I'm still learning, and I'm still limited to what I know…it's a lot of pressure on me."
When he's not working on traditional Filipino dishes, Salazar takes in inspiration from numerous sources. "I'm still growing," he says happily. "I'm learning from my staff. I'm learning from everybody, you know. I'm learning from chefs all over the country, either from Instagram or from friends like [Jonathan] Brooks and Abbi [Merriss]. Everyday things are just going in my head. I'm just thinking about dishes and flavor combinations."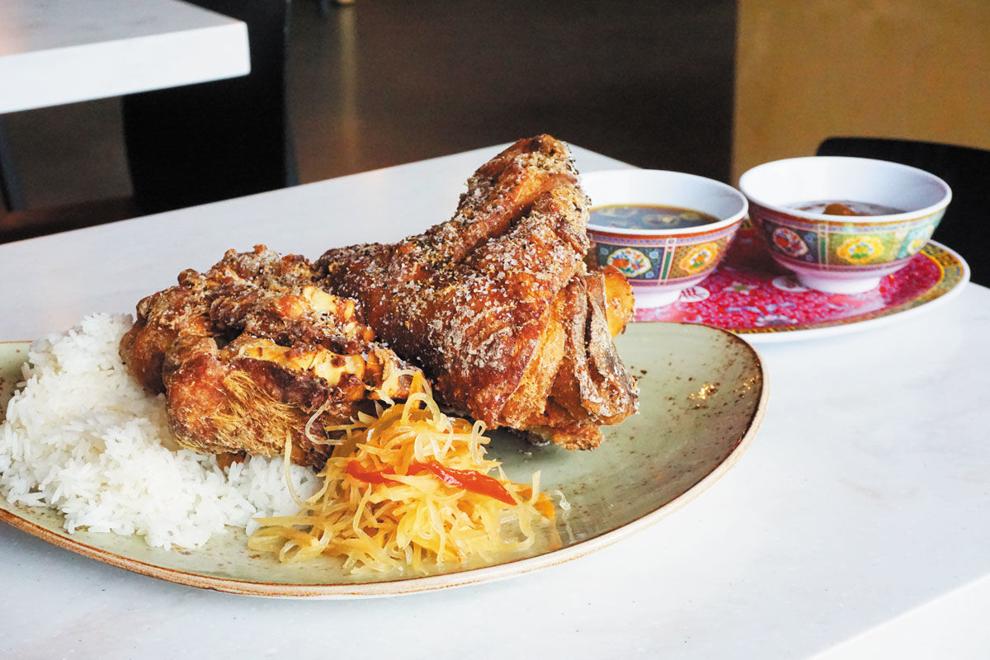 However, he says his biggest inspiration in the kitchen is new and exciting ingredients. He says, "We made a black pineapple back here the other day." He says the idea stemmed from black garlic, which is a fermented style of garlic common in Asian cuisine. According to Salazar, the fermentation brings out a "sweeter, less garlicky flavor." He said they're still working on perfecting it, but he's excited to use it. "Having a different ingredient that you haven't used is the most exciting thing for coming up with a new dish…now we have some new ingredient I can guarantee no one out there is using."
No matter what he and his team are pumping out of the kitchen, however, Salazar realizes getting a majority of the public in to taste his food is an uphill battle. "You can be the best chef out there, but not every single person in the world is going to love your food," he says. "If it's just not their thing, that doesn't bother me. 
"The toughest part is getting people through the door and getting them to stay for the food. I'd say 80 percent of the time, we do that with new customers, but there are people that just won't." He believes a big aspect of that is because people are simply unfamiliar with the dishes so they don't want to, as he says, "risk it."
But he believes that if people just come in with open minds, they're going to love the experience. "I have enough confidence in my menu, my staff, and Eli [Sanchez] with his drinks to know that if we can get them to sit down and just try one thing they're going to love it."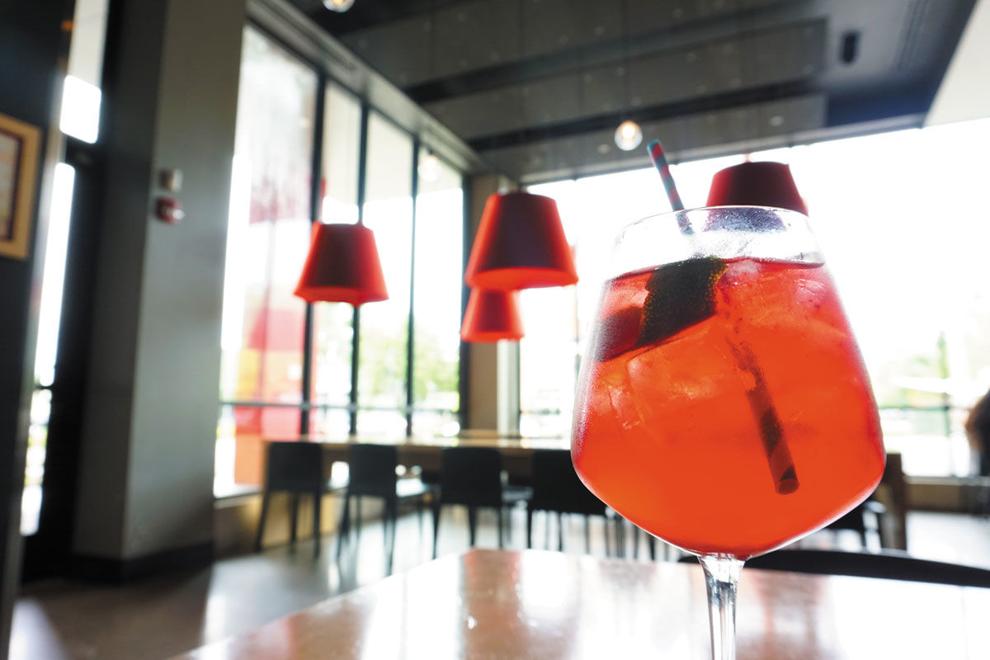 He says that Rook also deals with the same challenge that many of the locally owned restaurants in the city do: 
Indianapolis is still very much about chains. "I mean, 90 percent of Indianapolis goes to those places," says Salazar. And while that's true, his main goal is to slowly but surely get people to focus on supporting local. He doesn't even care if it's specifically Rook, just local. 
"If we can just get people out of those chains and in to eat our food, that's all I really want. I want us all to be supported because I know how hard my friends work. I know the sacrifices they have to make to have the restaurant go, and grow, and to be able to put what they want on the menu. I know the suffering they have to deal with."
According to Salazar, the biggest thing that people in his position can do is to continue making the food they're making and work at creating a strong, unique culinary culture. "I don't want to be the next Chicago. I don't want to be like New York. We're different; this is a small-town city, and we just have to find our own taste, our own culture, our own food scene."
He says there have been points where he's attempted to add some items to the menu that seem like more standard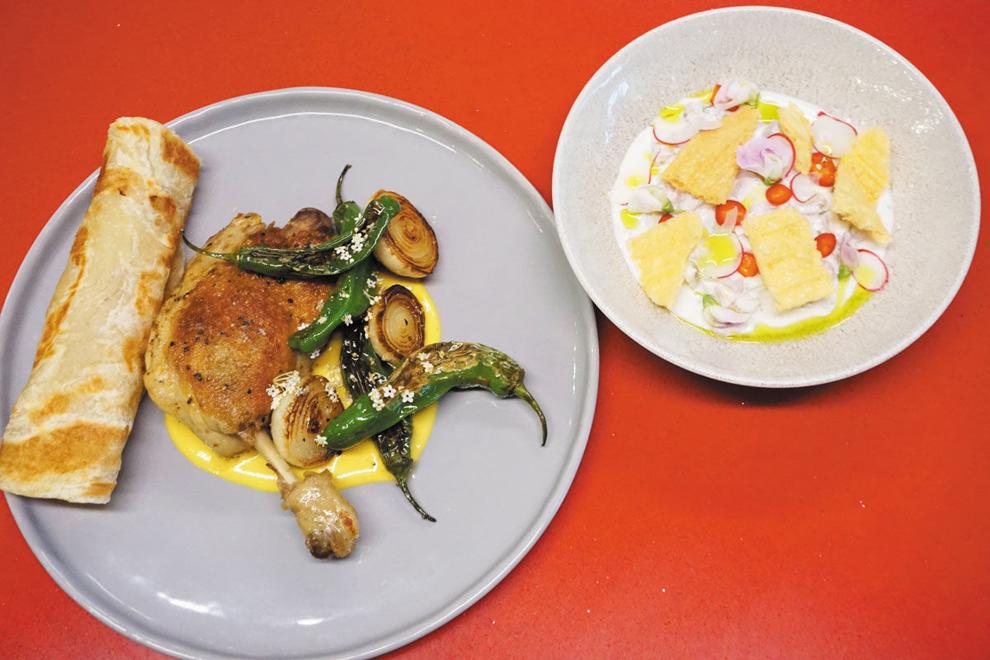 Indianapolis fare, but he realizes that isn't what Rook is. "You know, I think people go to Rook to get an experience that they can't get anywhere else—whether it's the food, or the drinks, or the service. 
"So if they come in here and they see steak and mashed potatoes, they're not going to get it because they can get that a hundred different places in Indy…I got to a point where it's like, let's just keep doing what we're doing and not try and be everyone else."
And while it's no easy task to attempt to change the palate and mindset of an entire city, Salazar is incredibly proud of what he and his team have accomplished, and he says he still loves what he does. "It's amazing to think that we've been open for five years. It just doesn't feel like I've done this for five years," he says. "I don't know if it's because we're having fun, or maybe we're just working too much, but time is flying by."
After a moment of thinking, he continues this thought by pointing out that he thrives on working too hard and too much. "I don't know if I'm crazy or a little screwed up in the head, but I love that stress, I love being pushed. I mean, it's not for everyone back there; it has to be you. 
"I'm not trying to be cliché, but you have to love what we do, you have to like being stressed out, and you have to like being yelled at or being pushed to the limit." 
He says he is rarely in the kitchen anymore and has taken more of a role in training, coming up with recipes, doing the ordering, and all of the other things that come with being a chef. He also focuses on his family as much as he can. "I have kids and a wife, so that's my priority," he says. He then goes on to share the comic aspect of how simple his dishes are at home. 
"My kids are now very picky," he says with a laugh. "They used to not care what they ate. Everything was good. But now they'll be eating something one day, and then the next day we'll have it again, and they'll be like, 'Oh, I don't like this.' So when I'm cooking at home, it's something quick. Something on the grill because to me, it's just quick, simple, clean flavors. Plus, I don't want to take my whole time in the kitchen. I want to spend it with family."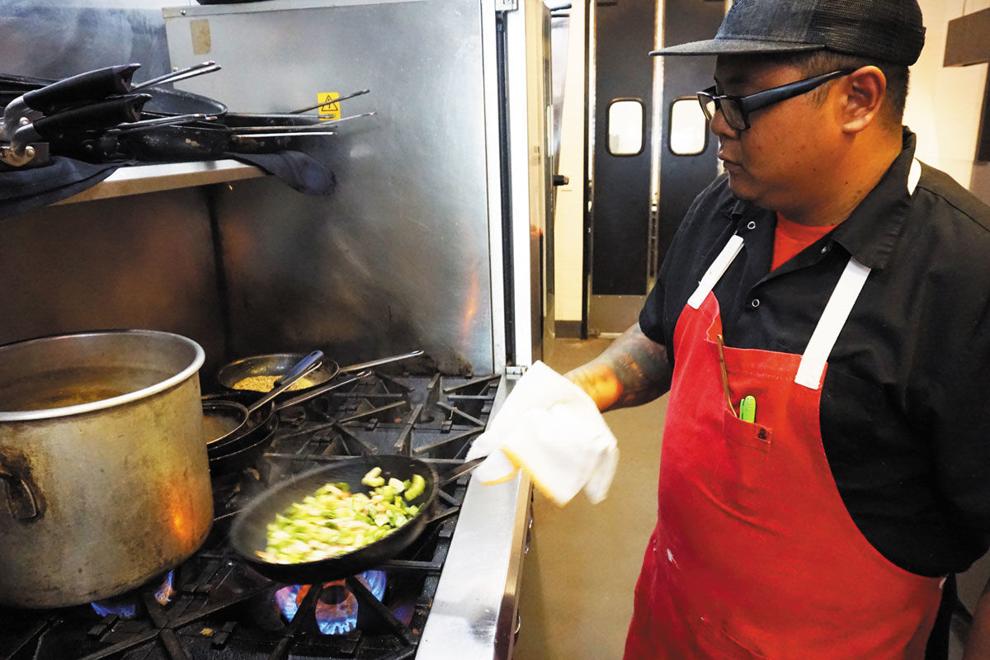 And while he's happy being a family man and taking a back seat in the kitchen, he still loves getting in the kitchen when he can. He mentions a recent Wednesday when he worked the line. "We got crushed," he says with a big smile on his face. "I think everybody knew I was going to cook tonight, so they all came in. It was fun. I listened to music and was singing, and I was getting beat up on the grill. I love that. I love the stress. I love hearing all the tickets coming in; I love being backed up. I don't know what it is, but it's just, I think, it pushes me better. It pushes me harder."
He then takes a breath. "It's rewarding when you think, 'Shit, I just cooked for 200 people in four hours tonight.' That's intense, and I still have a lot of fun."
For Salazar, after all these years in the industry, he's in a good place at Rook. "The biggest pay that I get doing this every day is seeing people being happy or telling me, 'Dude, that was fucking amazing.'"
He gestures to the kitchen, "This is my heart and soul. This is exactly where I want to be. My staff works their asses off for me, and I'm grateful for that. So just for someone to be happy while they're here, it's the most exciting thing."