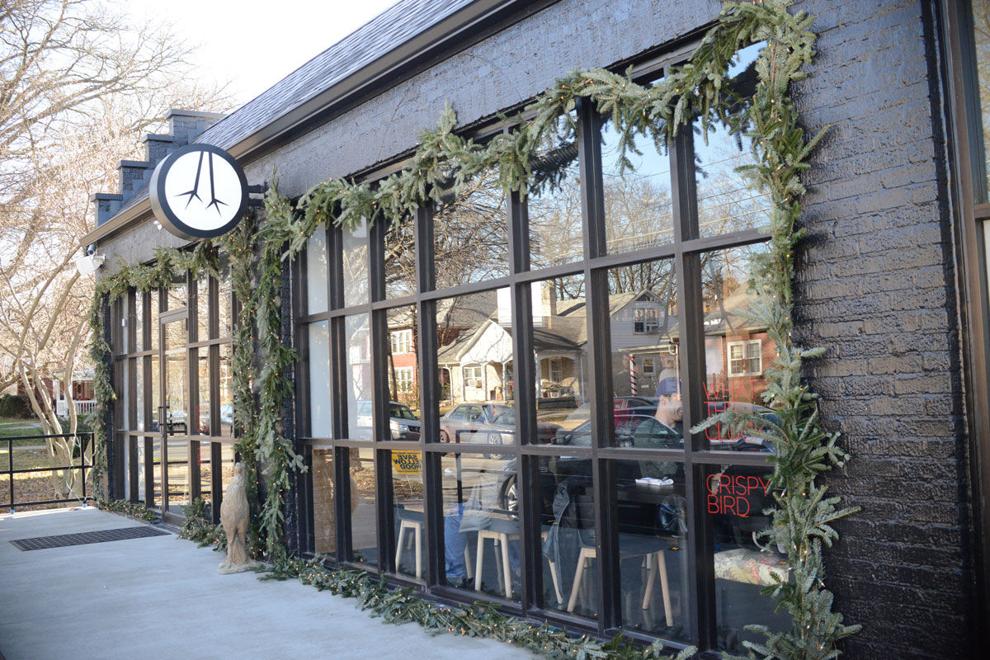 Editors note: Crispy Bird closed Jan. 12, 2019
To say I was excited when I first heard that Martha Hoover was opening a fried chicken restaurant wouldn't do my feelings justice. It was like having Christmas morning every day for about half a year. 
I could just taste the crispy, fatty chicken skin followed by the moist and tender, locally raised chicken meat — light or dark, you can't go wrong. This was the easy part to imagine after having eaten plenty of fried chicken on Wednesdays at Hoover's French-inspired Broad Ripple spot, Petite Chou. 
While anticipating Crispy Bird's opening, my mind wandered. Will there be a fried chicken sandwich? Nashville hot chicken? What will the sides be? Collards? Mac n' cheese? Mashed potatoes? Gravy? 
My questions were answered last Friday when I walked through the doors of Crispy Bird with a few of the other NUVO peeps for an early 11 a.m. lunch. 
The glossy black building is in stark contrast to the other brick facades in the area which makes it feel out of place at the outset. But once you walk through the doors, see the bright, bustling room and get hit in the face with pungent smells of hot, melted butter and frying chicken you may have found your new favorite spot to eat.
The four of us were promptly greeted and seated. I spent the first few minutes just taking in the space and the smells. Despite the abundance of whites and light wood textures, the layout feels cozy. I spied chef David Hoover cooking the day away in the open concept kitchen.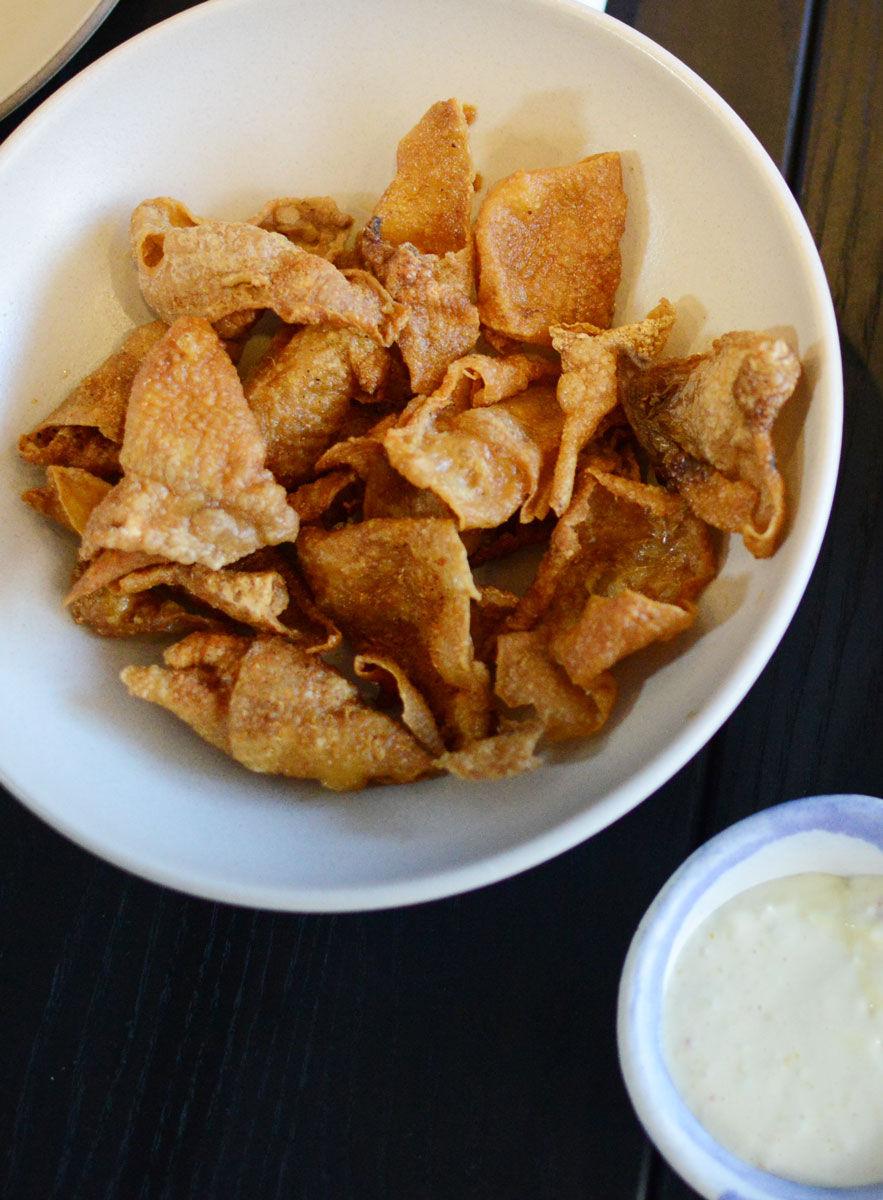 With a menu in hand I sped through the options, getting excited at the very first option under the snacks: bone broth, roasted garlic and fresh herbs. It sounded perfect for a cold, snowy day. But then, right below that were chicken skins with a meyer lemon kosho aioli dip. Sweet Jesus, I knew I'd be getting those. The skin is the best part. 
More things called out to me: Grits with squash and puffed grains, mac n' cheese, fried Carolina gold rice with crispy chicken skins, persimmon sauce, scallion and a poached egg. I had only made it through the starters when my wallet began calling out louder, telling me to temper my dreams. 
By the time our waiter Arden walked up, which couldn't have been more than a minute later, I had my meal planned. But as soon as Arden and his upbeat, charming persona dove into his knowledgeable descriptions of items on the menu, he had my mind leaning toward something I had overlooked: the mini pork tenderloin sandwiches on brioche with a sauce gribiche. 
I had never fathomed getting pork tenderloins in a fried chicken spot, but I couldn't ignore his fervent recommendation. When he came back to get our orders everyone at the table had decided to go for the fried chicken sandwich with spicy aioli, pickles and coleslaw — hey, why not start with a classic? A few added mac n' cheese as a side, I went with the chicken skins and the pork tenderloins. (Even though it may seem outlandish to go to a fried chicken restaurant and not order fried chicken, I did find myself terribly tempted by the vegetarian option of Nashville hot cauliflower with meyer lemon kosho aioli.) 
As we chatted and waited for our dishes, the place filled up quickly, and soon there was a wait at the door. (We also noticed something on the menu that inspired a cringe-laugh: the kid's menu option is titled The Little Pecker. Yeah …)  
The wait was slightly longer than I would normally do for lunch, but it was the second day of service and Arden was on top of refills and just stopping by to make sure we were all right. Good and attentive service can always help when there's a long wait, good company doesn't hurt either. 
The skins and tenderloins came out first, and all of my Crispy Bird Christmas morning dreams came true with one bite of those skins. The dish was incredibly flavorful and crunchy, and the aioli that accompanied them was the perfect addition to every couple of bites to add in a slightly different acidic, sweet lemon flavor. 
The teeny tenderloins were also spectacular. The pork was crispy but you could still taste the meat, and the sauce surprising since I'd never had nor heard of gribiche. With three of them on the plate, it was a nice dish to split amongst the table. The only qualm I had was that the accompanying brioche wasn't toasted. There may be a purposeful reason to that, but I tend to like my brioche buttered and toasted.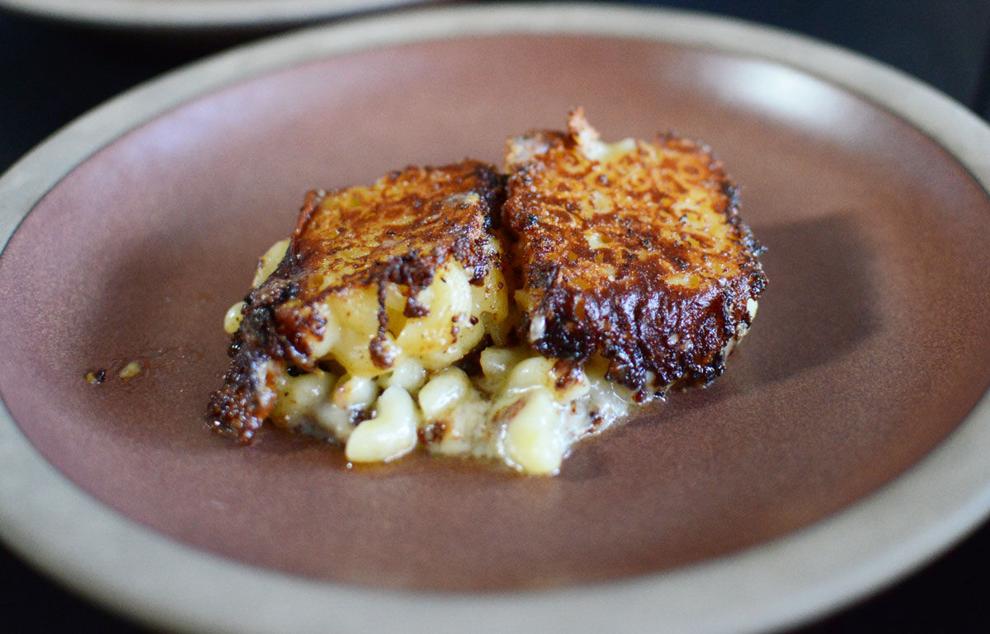 After a little more of a wait, our chicken sandwiches arrived with a few sides of mac n' cheese. One look at the mac n' cheese and I knew I had made a grave ordering mistake. The top was cooked to a crisp — burnt cheese shining under the lights, no doubt having spent some time in a hot skillet before making its way on the plate. The thick and curly macaroni noodles all held together by a loving cheesy hug. I needed that. 
Luckily, a tablemate was kind enough to let me get a bite. I have a hard time finding mac n' cheese I love because it's pretty damn hard to beat my grandma's. I'll say this is in the top three contenders in recent memory, despite the fact that it was a little cold, most likely due to figuring out timing in a new kitchen. The flavor and texture were spot on. Next time, I won't make the same mistake of not ordering it. 
As for the chicken sandwich, the chicken, a Freedom Ranger breed from Gunthorp Farms, was cooked perfectly. The skin was nice and crispy, the meat inside just as moist and tender as I had imagined it would be. The pickles were crunchy, and, luckily, not sweet. The slaw was a vinegar-based. I normally would have expected a mayo-based, but it actually works really well on the sandwich, with the additional aioli. After taking a few bites I felt the chicken wasn't seasoned enough and I added some of the housemade hot sauce to kick it up a notch. 
Overall I enjoyed the sandwich, but the chicken was too hidden within all of the other flavors and that left me wanting. Next time I'll go for just fried chicken by itself, so I can enjoy it in all its majesty. 
Maybe the fried chicken isn't even the star here. Maybe there isn't a star. Maybe Crispy Bird is like The Beatles where everyone is talented and deserves fame in their own right.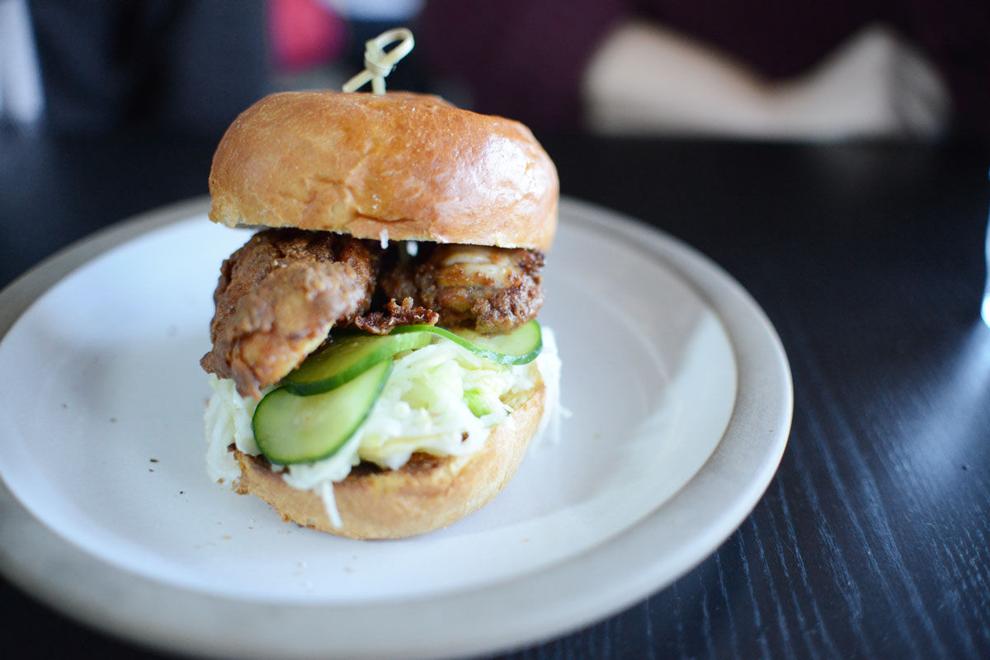 All I know is when I got my bill ($20 for lunch; an expensive lunch to be sure), I wasn't upset and I know I'll be back sooner rather than later and next time my meal options will be completely different than this time and it will still be fantastic — especially when I get that mac n' cheese.
We reached out to see how the opening weekend went and Crispy Bird's chef, David Hoover and general manager, Ryan Dineen said it was, "Extremely busy.  We felt very fortunate to have the place buzzing all weekend with support from other local chefs and industry peeps, Patachou regulars and many new faces as well." 
They said the most popular items were the "Fried chicken leg & thigh, chicken skins, mac n' cheese and fried rice."  Overall, the team was blown away by the response. They said, "We expected to be busy, but it's always surprising to actually see people pouring into your restaurant on the first day of opening… We were just so thankful and excited."