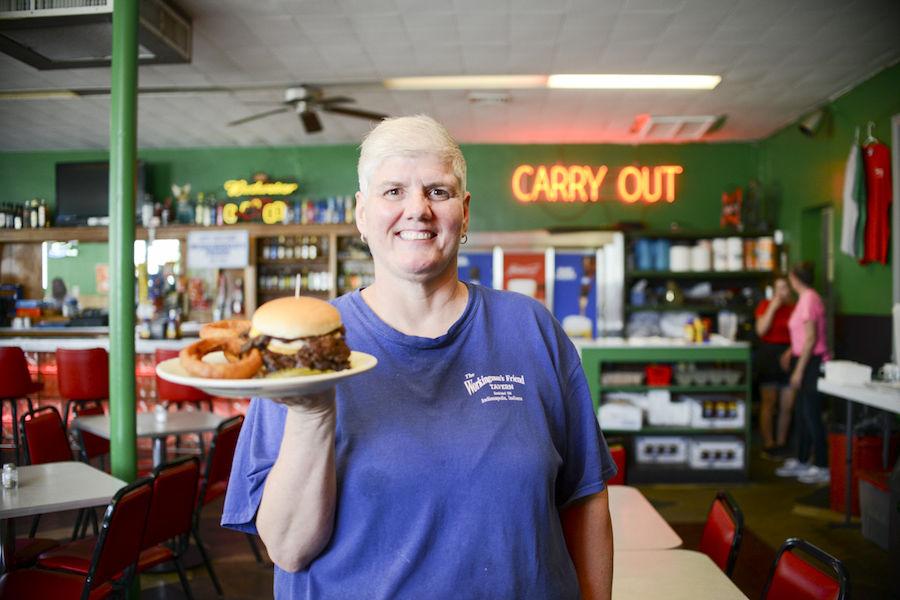 Walking through the side entrance of The Workingman's Friend Tavern, you find yourself immediately looking out across the heavily worn black-and-white tiled floor and the sea of Formica-topped tables to the retro bar, which isn't retro; it's just the way it's always been. You then look to the left and right and see the array of people, from factory workers and doctors to grandmas from the neighborhood and politicians, all happily chatting while gorging themselves on crispy, cheesy burgers, ham-and-Swiss sandwiches, chili, onion rings, and massive goblets of beer.
A place like this has stories to tell. And you'll see the keeper of those stories weaving her way among the happy, greasy-fingered customers during her breaks from smashing their famous burgers on the grill, stopping by tables to chat, and making sure everyone is feeling welcomed and enjoying themselves. That's Becky Stamatkin, the current owner of The Workingman's Friend Tavern and granddaughter of the founder, Louie Stamatkin.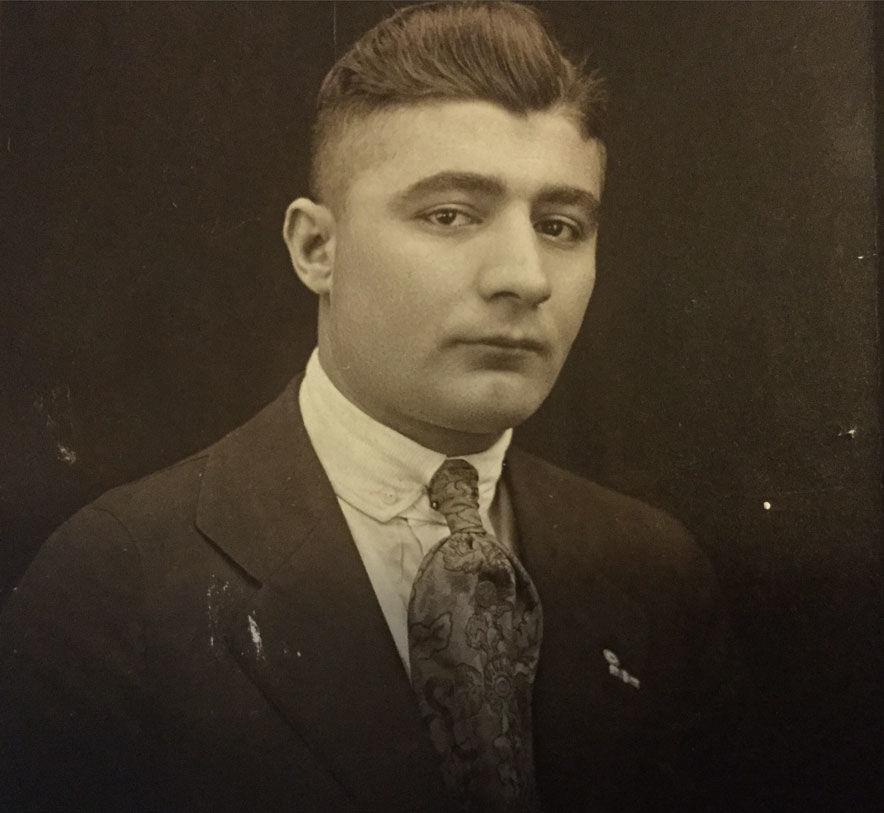 Becoming The Workingman's Friend
"It was probably a little house," Becky says of the original tavern her grandfather opened in 1918, which was called The Belmont Lunch. "They took the living room out and all that and put a bar in."
Louie was a Macedonian immigrant who moved to the states when he was young. He lived with a local family until his early 20s, and then, somewhere between the ages of 25 and 28, Louie opened The Belmont Lunch to feed the factory and railroad workers in the bustling neighborhood.
He quickly became known as "The Workingman's Friend" due to his policy of letting railroad workers come in and eat and drink even when they didn't have money because of labor strikes. Becky says, "He'd tell them, 'Pay me when you get paid.' If they had it all, they paid him off. If they didn't, they paid what they could."
At age 48, Louie passed away. "He decided to stay up playing poker for two days and nights," Becky says. "He caught pneumonia, and see ya' later."
A lot of the details aren't known about the time when Louie was running the place. Becky says she wishes she knew more, but, "To know any of those stories, everybody's gone."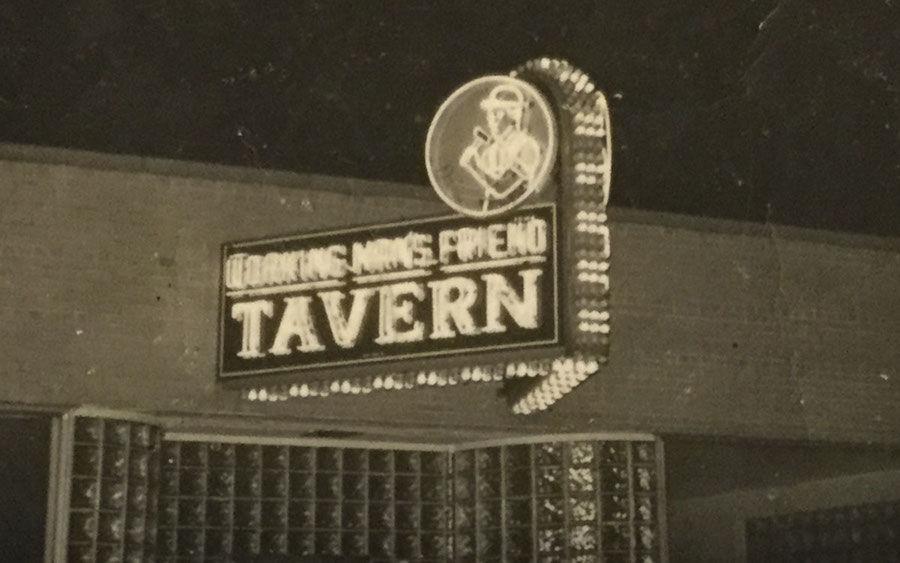 A New Era
What Becky does know is her dad, Carl, and his brother, Earl, took over the business after their father's death. They decided to memorialize Louie by changing the name to his nickname, and thus The Workingman's Friend Tavern was born. They also moved from the original transformed house into the current building, which they built in 1950 around the original building.
Along with the addition of the new building, they changed up the menu. "They upgraded and went a little fancier," Becky says. When looking at a copy of the 1950s menu she keeps behind the bar, it's easy to see this was a major change from the simple lunch counter and drinking hole Louie had been running. T-bone steaks ($2.75), filet mignon ($3), and fish, shrimp, scallops, and oysters all showed up. The still-famous burgers were on the menu too, a double hamburger costing 50 cents and the addition of cheese kicked it up to 65 cents. The drink menu had cocktails you'd find in hip "mixology" bars today, such as Old Fashioned (60 cents), Sloe Gin Fizz (60 cents), and Planters Punch ($1.25).
Becky remembers this time from her childhood. She says they did their best to still be the workingman's friend. "I remember guys that would come in two or three times a day and get a half pint of whiskey," she says with a laugh. "They didn't want their wives to know how much they were drinking, so they'd slip those half pints in their pocket. The railroaders coming through used to call ahead and order 200 half pints of whiskey—same as the Ringling Brothers' Circus."
The circus coming through was a fond and fun memory for her. "I remember as a kid we'd go over into the railroad yard and look at all the lions because they'd stop with their big 20 cars, or however many it was, they'd stop right there," she says, pointing out toward the railroad that sits just north of the building. "They'd all come in and party, and dance, and the ringmaster got up and sang.
"Can you imagine seeing the bearded lady and shit sitting in here?" she asks while shaking her head and laughing.
While sitting in this building, it's easy to imagine any number of people having a hell of a time, partying, laughing, and spreading good cheer well into the night.
According to Becky, oftentimes that would happen even after her mom and dad had headed to bed for the evening. "There was a Link-Belt [factory] down the street, and my dad, when he was tired and ready to go and they were still drinking, he would just hand them the keys," Becky says.
And while it was a place to party and have fun and sometimes drink a bit too much, it also had its hardships, too. One of those nights, with a bit too much to drink, brothers Carl and Earl ended up getting into a fight that led them to split as business partners. Becky's dad, Carl, took sole ownership of the business. But, she says, her dad wasn't the best at running the business, mainly due to his alcoholism.
"In the early '70s, my dad was drinking a lot," Becky says. "He'd be sitting here," referencing the table we're sitting at, which is a four top closest to the kitchen. "This was the liars table," she mentioned when we sat down. "He'd be drunk, and this place would be full of people eating steaks, and he'd stand up and tell them to get the hell out, we're closing."
And so, that left one person who would work to save the place, and that was Becky's mom, Mary Alice.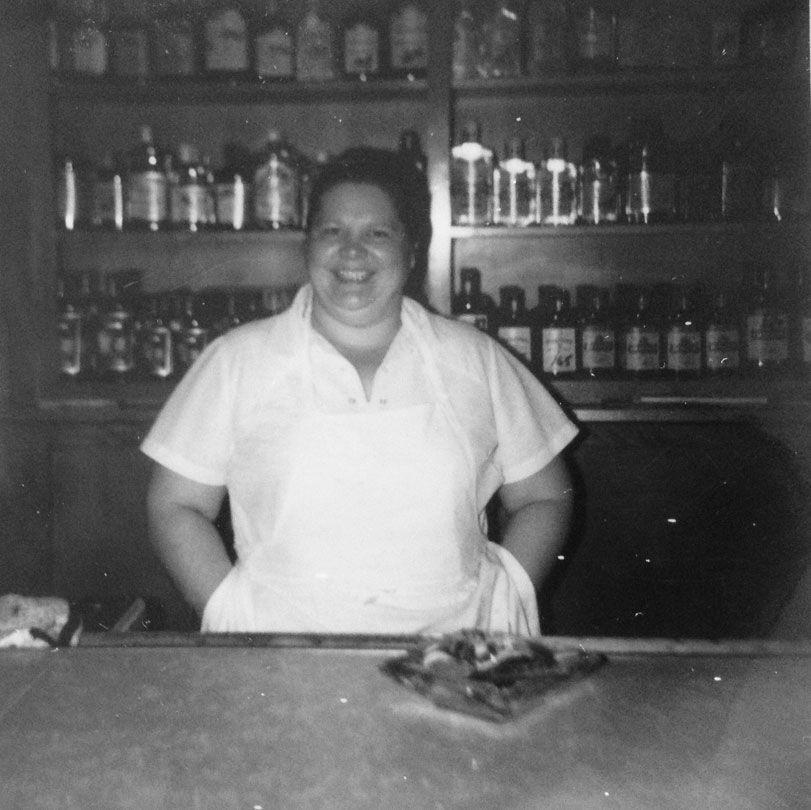 Mary Alice, the Matron Saint of The Workingman
"My mom was a big part of this place, too, but she's not getting a whole lot of recognition. She walked in in 1959 to help out for two weeks, and 52 years and six kids later, she was still here," Becky says, which leads her to tears. "If she wasn't here cooking back then—with the way my dad was—we probably wouldn't even be here.
"She was the big cook," says Becky. "It was a lot of her recipes, her coleslaw, her potato salad. We were known for her stew; I mean, they still talk about her stew. It's just things that she didn't write down and I don't have the recipe for.
"She told me how to make the chili, the bean soup, the slaw, the potato salad, and the tuna salad. And my mom could cook a steak. I would have put that steak up against any steak in the city.
And her mom led Becky to stick around. "I didn't want her to have to put up with my dad and leave her here by herself doing it all.
"I hate to say it, but [my dad] had a heart attack and a stroke back in the early '80s, and that pretty much pushed him away from the alcohol and away from here…So that's when it started taking off. It was nose-diving before. But I was still around. I graduated from high school, and I stuck around with my mom, and we were able to start climbing. And it's been crazy the last 15 to 20 years."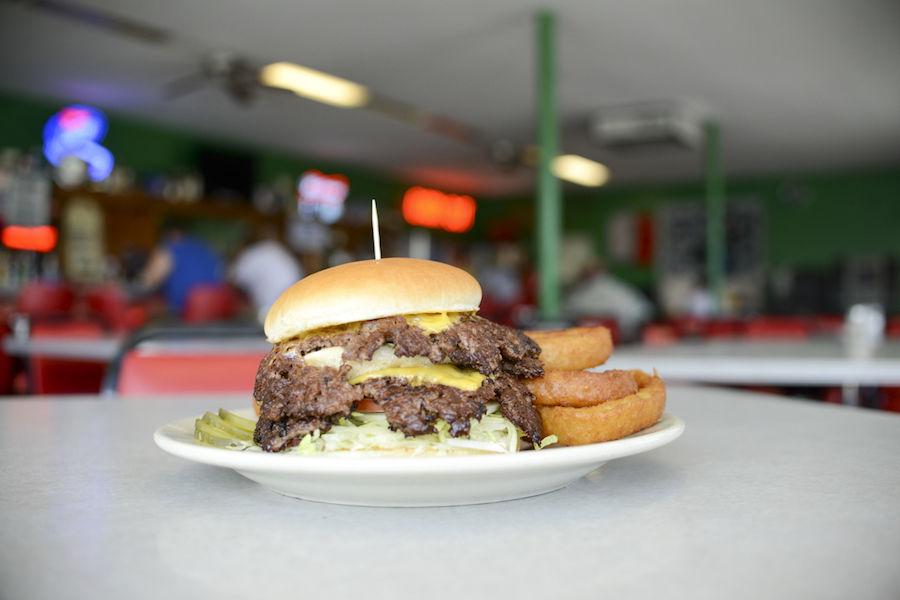 If It Ain't Broke
While Becky really started to take her role in the place when she got out of high school, she had been working at the restaurant for years at that point. "I tell everybody I learned how to throw dice and play poker before I learned how to walk," she says, laughing. "It was just growing up in the bar. I've been around it all my life." She started working in the kitchen when she was 14, dressing buns and things like that.
And it's because of her long time working alongside her parents that the place has gone relatively unchanged since she began. "I've been here for 40 years," she says. "So I've passed down what my mom did—and my dad—so it's pretty much the same, and I think that's what people like about it."
One big change came sometime in the '70s. She says that's when the steaks, seafood, and fancy cocktails left the menu. Due to that change, it's honestly probably closer to its beginnings as The Belmont Lunch than it was when her dad and uncle ran the place. "Since the beginning, we've really just been a lunch counter. My grandpa started out with the food and the chili, and we've just kept it the same," she says. "Everything's cooked to order, everything's cut fresh. We've just never changed it.
"The recipes haven't changed, the cook hasn't changed—she's just gotten older—but I think that helps."
And this unwavering attention to tradition brings hundreds of people through the doors every day—people coming for a meal in a place that is pretty much the same as it ever was. People coming in for their crispy, double cheeseburger, which has become the item The Workingman is known for in the internet age.
"It depends on what's going on," Becky says about how many burgers she smashes a day. "But when all the publicity was going on for the 100-year celebrations, in two days I'd burn through 600 hamburgers; I'd smash that many."
And no matter how many they're pumping out, they're always delicious and the same as they were before Becky was even around. "There was a gentleman at the bar today who said the last time he was at the bar was 50 years ago," she says. "He said it still tastes the same, the exact same."
And not just the burgers are the same either. There's the ham and Swiss, named the Big John. And the five-alarm chili. They even still have salami and Braunschweiger sandwiches. She mentions a guest asking why these last two are still on the menu and how many she sells.
"That's not what it's about," she says. "I'm not here to make a million dollars off the Braunschweiger and the salami. It's been on the menu as long as I can remember, and people still eat it. Yeah, I might only sell one or two a week, but that's what they want, and that's what they came in for. I want to give it to them. It's just keeping things the same. I really try to change nothing."
Not only is the food the same, but much of the staff is the same. One server Cindy says she has been working for Becky for over 20 years. And the daytime bartender, Becky's wife of one year, Shelley Groover, is in her 21st year at the tavern.
"We got together in 1998," Becky says. "She started working for me within a year. And it works out because it's like two different worlds. She's out here, and I'm back there," she says of being able to work alongside her wife. She then laughs and adds, "She does get a little more flak than the rest, but that's what she's here for, somebody for me to vent to."
One noticeable aspect is the lack of men on staff. She currently has one male employee, and that is the dishwasher. "We've always had it that way," she says. "I don't know why, just is…My mom, years ago, told me, 'Don't ever trust the men,'" she says with a smile. "The women just want to come work with you. The guys want to come learn what you're doing, and then the next thing you know, they're gone [and] opening their own place with your recipes."
The only major changes that have happened have been going to only daytime hours (except Fridays when they're open until 8 p.m.) and The Workingman's Friend Tavern becoming known across the state and even other parts of the country. "Some days it's like, where are they coming from? It's crazy in here," Becky says. "Like today at 10:30 they started lining up. And I went to open the door at 11, and there were already at least 25 people at the door. It fills up in 15 or 20 minutes, and it bombards me."
As for the daytime hours, those stem from the smoking ban in 2006. "The smoking ban killed a lot of my night business," she says. That, with the additional loss of the night bartender, her half-brother, Terry, who passed away, led to Becky going to only daytime hours. She says she would go back to nighttime hours if the neighborhood picks back up, but right now, it doesn't make business sense. Plus, it gives her a chance to get out of the kitchen for a few hours a day. "It is nice to have a 40-hour-week job. I never had that."
Looking into the Future
Becky seems uncertain about the next steps for WMF. She believes the neighborhood, which is now being touted as River West, will continue to develop, and she's hoping people are right when they're telling her she is sitting on a goldmine. "Where's that pile of gold?" she quips.
She says she plans on doing more of the same and steer away from change. But she also has no children and doesn't know if any of her nieces or nephews would be interested in taking over the company when she is ready to hang up her apron.
"It's a hard life," she says. "You have to get up and deal with some of the people that you have to deal with. You try to work your butt off, and then they just downgrade you and try to tell you it's shitty. And you have to do so much. I've done it all. I've cleaned the shitters. I've cleaned the puke up. I've had to do dishes. When somebody doesn't show up, you've just gotta do it.
"I tell people often, eventually, all good things must come to an end," she says, smiling. "But as far as I'm concerned, right now my customers won't let me go anywhere; so here I am."
Related: Indy Burger Week June 24 -30 means $5 Burgers at 50+ locations!