Originally published Sept. 15 in TheStateHouseFile.com
The U.S. Postal Service is urging voters to act early as a record number of people are seeking absentee or mail-in ballots in the November election because of the COVID-19 pandemic.
The USPS sent out a mailer to people across the country that provided information about when and how to request a mail-in absentee ballot, including a link to a page on the USPS website regarding the election. 
However, the information led to a lawsuit from Colorado Secretary of State Jena Griswold. The information included by the USPS did not apply to the nine states and Washington, D.C. that will be sending out ballots to every registered voter, regardless of whether they request a ballot. Griswold was granted a temporary restraining order. 
In a statement, the USPS said the purpose of the mailer was to provide "general guidance allowing voters who choose mail-in voting to do so successfully" and that "each state has its own approaches, rules, and deadlines." The USPS also referenced the link to its website that allows voters to look up their state-specific guidelines.
In Indiana, more than 240,000 voters have asked for mail-in absentee ballots and many county election departments have begun mailing them to Hoosiers this week. The deadline to request an absentee ballot is Oct. 22. Ballots that are domestic must be received by noon on Nov. 3.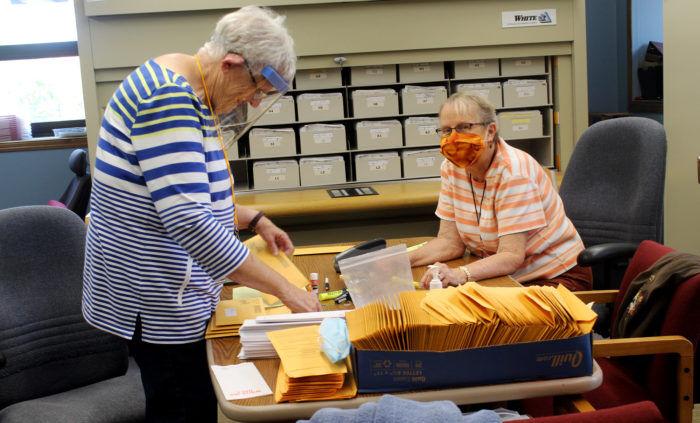 In order to get an absentee ballot in Indiana, you must have one of the 11 listed excuses on the Indiana voters website, such as being out of the county, over 65, or confined to a home or hospital. Indiana is one of six states requiring an excuse to request an absentee ballot for the general election. 
Gov. Eric Holcomb and Secretary of State Connie Lawson have resisted no-excuse absentee voting saying there will be safety provisions in place at polling locations to protect people from COVID-19, which has infected more than 100,000 Hoosiers and killed 3,235.
The postcards follow controversy over cutbacks initiated by new Postmaster General Louis DeJoy, a large donor to President Donald Trump's political campaign who has been accused of deliberately slowing mail delivery. 
Last month, DeJoy met with the National Association of Secretaries of State Election Committee, where he said that delivering ballots was the number one priority of the USPS and the organization is ready, willing, and able to handle the nation's election mail. DeJoy recently expanded the postal service's election mail taskforce and postponed additional cost-reducing changes until after the election.
Taylor Wooten is a reporter for TheStatehouseFile.com, a news website powered by Franklin College journalism student.