As I approached the "government overreach" protest in front of the governor's mansion at 4750 N. Meridian St., I was wondering whether to put on my face mask. For a second or two I was tempted not to wear it, as it impeded my ability to speak clearly and was uncomfortable. But I eventually decided to strap it on, as it gave me maybe a modicum of protection against coronavirus.
It was 2:50 p.m., on Saturday.
Hundreds of people were gathered in between the road and the mansion property, protesting the governor's stay-at-home order and various degrees of closure for schools and "non-essential" businesses. Many were holding signs. Nobody was social distancing and hardly anyone wore masks. This indicated to me a lack of concern about COVID-19, which is more contagious, and much more deadly, than the flu. Yet I was trying to keep an open mind about the folks gathered here. This is a stressful time for a lot of people, and many, understandably, want to get back to work.
Indiana is not the only state feeling pressure to ease its stay-at-home orders. There have been demonstrations against governors in Michigan, Ohio, and other states. The biggest was in Lansing, Michigan on Wednesday. Across the country, a Tea Party-like movement quickly seems to be gaining steam, egged on by Donald Trump's tweets aimed at Democratic governors on Friday, calling to "LIBERATE MINNESOTA!", "LIBERATE MICHIGAN" and "LIBERATE VIRGINIA …"
The first person I talked to was political activist and former dominatrix Melyssa Hubbard. She was reporting on the scene as an independent journalist. Standing on the sidewalk, she was speaking into her smartphone. She remarked that the media, across the street from the governor's mansion, were "separating themselves from the actual people, as if they're some kind of elite class ..." Hubbard is the author of Spanking City Hall, Dominatrix to Political Activist.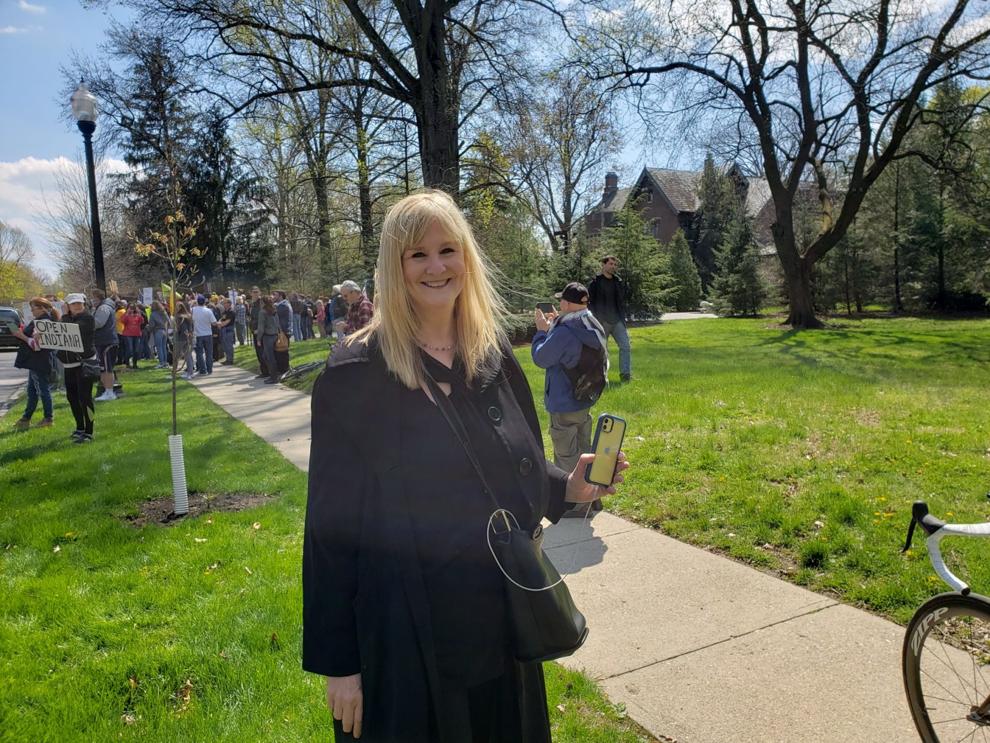 I asked her why she was at the protest.
"I'm actually here first and foremost to cover the people on what they're saying," she said. "So that's my primary thing. I live alone, I had been in mere isolation for weeks. Honestly, it started to get to me. I woke up one day and I just felt incredibly sad and not my normal confident and optimistic self.  When that started to fade away with the coronavirus in the lockdown, I got scared so I reached out to my friends and told them what was going on. They helped me get to feeling better in about a day. But I'm very concerned with people that don't have the resources I do. What if you don't have enough money to buy groceries?"
I asked, "Do you sympathize with nurses and doctors who say if we don't flatten the curve, then they're going to be overwhelmed, that they're going to be the ones suffering?" 
"If this is so contagious, why aren't all these essential workers coming down in big numbers?" she countered. "I'm also concerned – why none of these so-called experts' numbers have panned out anywhere close to what they said. The news, I know, can be very curated to send a message of propaganda. Now if I see a whole bunch of essential workers and that class of people getting sick, my antenna's going to go up."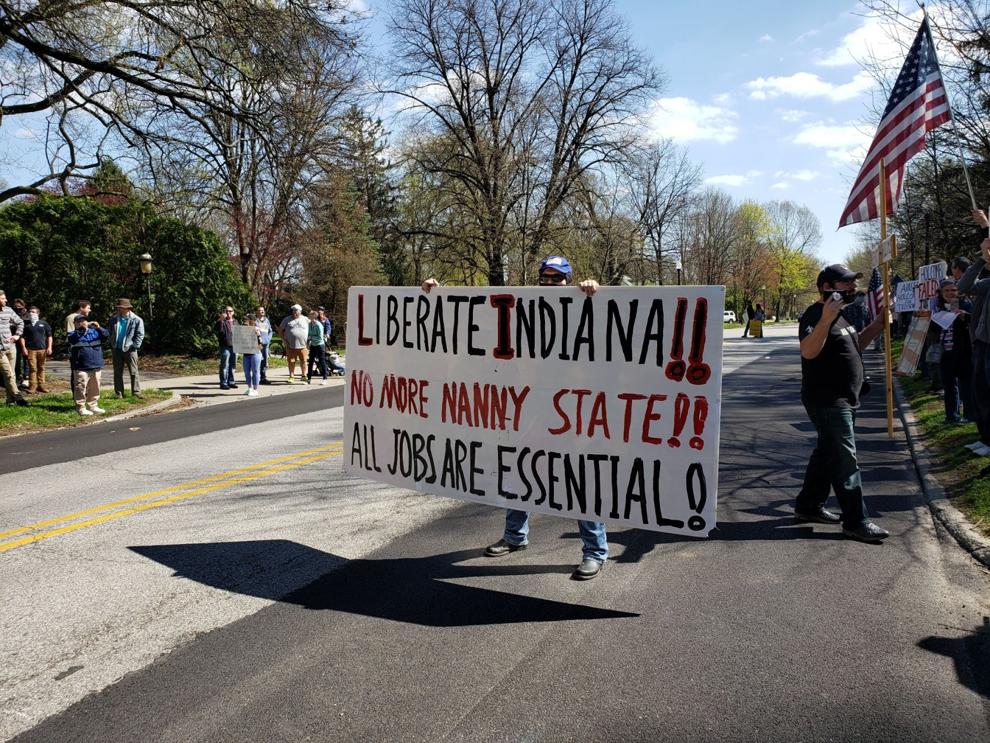 Next, I waited for a line of cars to pass so I could cross the street, so I could have a better view of the protest without being immersed in the crowd, which came with a potential side dish of airborne coronavirus. Many of the vehicles were bedecked with American flags, "Don't Tread on Me" stickers, and the like. The car drivers were encouraged to honk in support of the protest and they honked. There were some large buses that were making a continuous circuit. The signs the protesters carried ranged from mild – one young girl flashed a sign reading "Open the Schools"— to near incitement: "Arrest Holcomb for Treason." One placard, reading "Fauci was Wrong" basically called out modern science and medicine. One young millennial dude with a beard carried a wooden cross with a logo attached reading "Repent Holcomb." Most people were dressed in street clothes. But there was also a dude in camouflage carrying what looked like an assault rifle. He did have a facemask – in camouflage, of course. Another was decked out in a hazmat suit of some sort with an American flag scarf, and a yellow roadworker's vest, and a gas mask, while carrying a blasting boombox.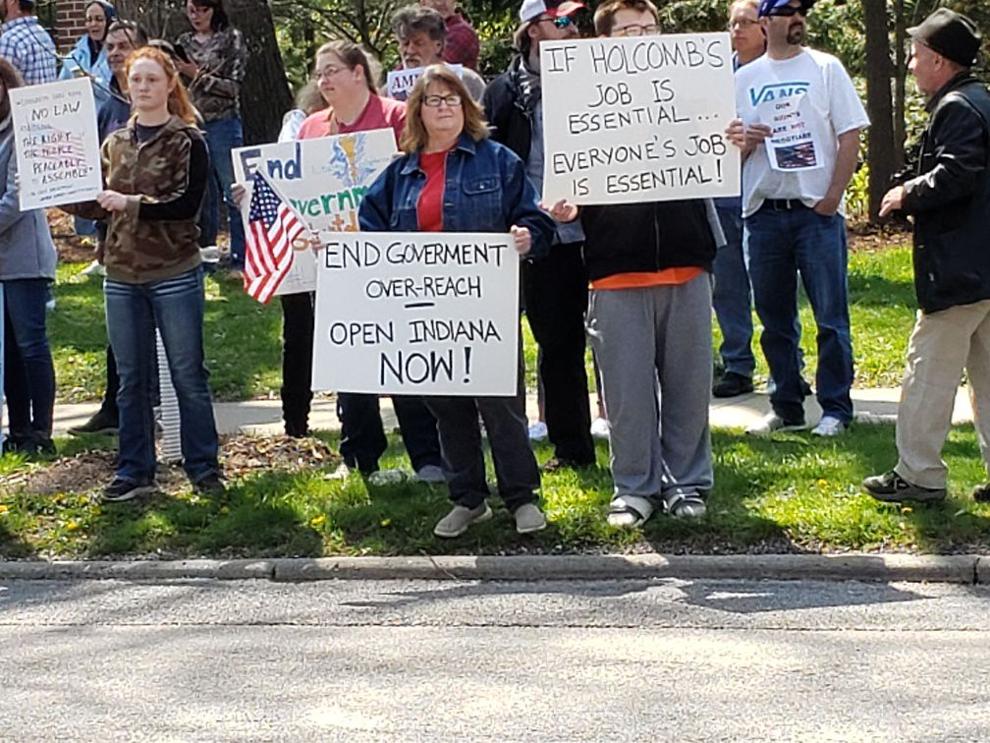 There were chants that went out like waves across the crowd: "Open Indiana" was followed by "No more tyranny" and "Holcomb has to go."
I eventually made it to the other side of Meridian. I walked up to a woman who was standing quietly at roadside, holding a sign. She was, she said, a "medical technologist from a critical care hospital."  She was at the rally, she said, to speak up for her fellow employees who were forced to take time off. 
I also talked to Daniel Neff. An older gentleman with a gray beard, he sat on a retainer wall slightly removed from the larger protest crowd. He lived in Fishers, and drove buses for a local school corporation.
"From everything I've seen the response was reasonable at first," he said. "But in light of all the more recent data that this is not spreading as fast or as dangerous as we were originally told at the time." 
"Do you think maybe that has to do with the fact that people have been staying at home and people have been trying to flatten the curve?" I asked.
"They've been staying at home," he replied.
 "But do you think that's had an effect and that's the reason why things are —  "
"The economic effect has just been horrendous," he said. 
Neff, who was friendly and outgoing – like all the people I talked to at the protest – then described his political views as neither Democratic-leaning nor Republican-leaning.
We parted ways and I crossed back to the other side of the street because I heard the amplified voice of a speaker and I wanted to hear what he had to say.  The speaker was one John Jacob, who is running for Indiana State Representative in District 93, and running on an anti-abortion, pro-Second Amendment platform.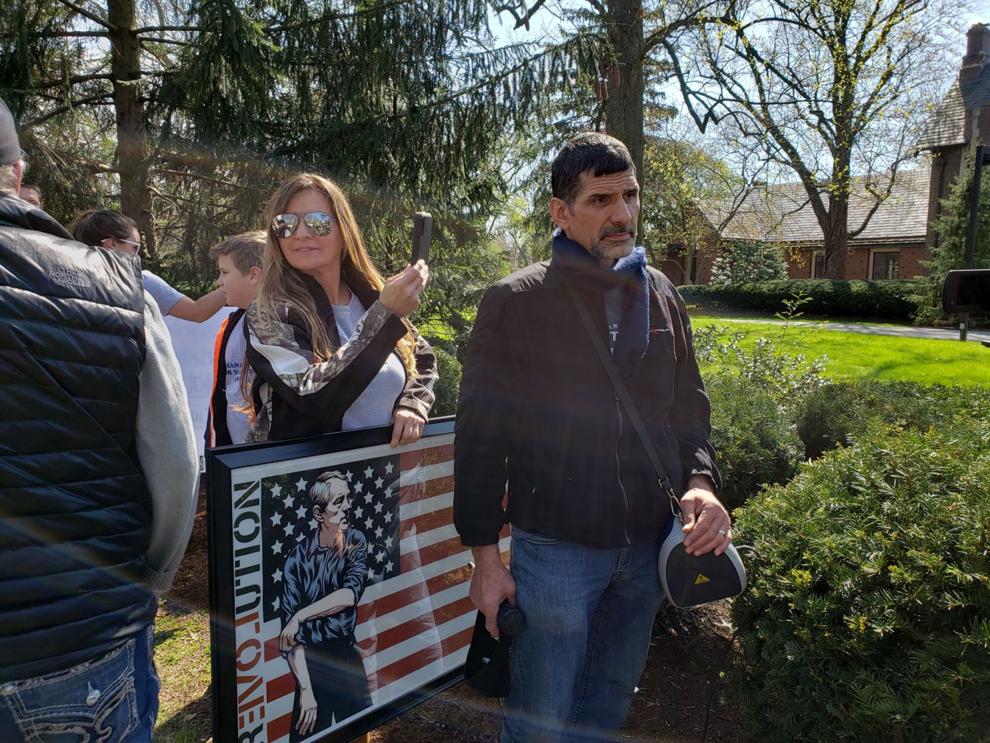 I listened as he slipped beyond the event horizon of civilized discourse.
"By destroying the economy, you are destroying lives," he addressed the governor through the microphone, facing the mansion.  "Governor Holcomb, do the right thing before God. Open back up the economy. Open the churches back up ... Governor Holcomb, you are not the Lord Jesus Christ … He is Lord of Lords. He is king of kings. You will account to him. You will give an account of your life to him. You will give an account of all the ways that you have raped the citizens of the state of Indiana."