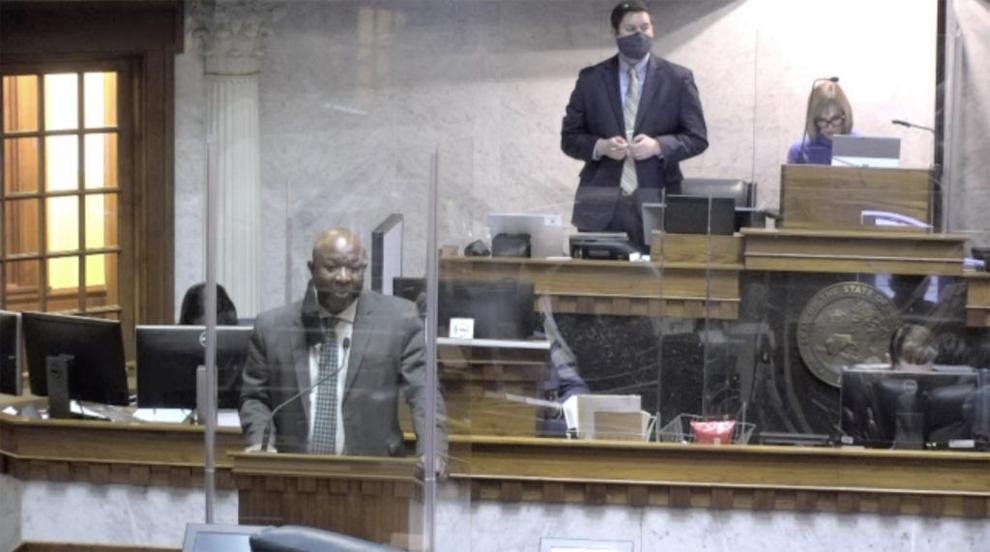 House Bill 1006, which mandates changes for law enforcement officers, unanimously passed the Senate Tuesday with bipartisan support from 89 co-authors and 15 sponsors—two-thirds of the General Assembly. 
HB 1006, authored by Rep. Gregory Steuerwald, R-Avon, will implement a series of changes for law enforcement officers in areas of use-of-force training, body cameras and personnel files. Senators and representatives applauded the redefinition of a chokehold, which will be classified as deadly force and will be prohibited unless it's a life and death situation.  
"The bill going through the process with no amendments was just a testament to the hard work that all the different law enforcement agencies and their legal representatives did in getting the bill in a good final version before session ever started," Steuerwald said. 
Sen. Michael Young, R-Indianapolis, who presented the bill Tuesday, said he was proud of and amazed by the bipartisan support of the bill.  
"This is one where both sides, no matter whether you're male or female, Republican or Democrat, House or Senate member, where everybody came to do what was right for the state of Indiana," Young said. 
"For those people who are cynical about our government, when these issues are important, I think this is an indication of what these bodies can do."
May 25, 2020, marked the death of George Floyd at the hands of a Minneapolis police officer, sparking a series of crises around police violence and racism. The Armed Conflict Location and Event Data Project reported more than 7,750 demonstrations spurred by police brutality and the Black Lives Matter movement across the nation between May and August 2020. 
During the Senate discussion, Sen. Greg Taylor, D-Indianapolis, said he felt emotional and that he was proud of the changes the bill would implement in Indiana. 
"I can tell you, this collaboration took a lot of soul searching and a lot of commitment from people who suffer with the things that we went through in this country—and let alone some of our colleagues went through personally," Taylor said. "To see this type of legislation come downthe pikeand see so many people support this legislation gives me so much confidence in the future of the state of Indiana."
The ILEA already has de-escalation training for its recruits, but the bill will require the academy to modify the program and have the training "integrated into existing use-of-force training" rather than being taught in another class. This will apply to new and already sworn officers as part of their in-service training.
The bill assigns Class A misdemeanors for law enforcement officers who purposely turn off their body and car cameras in order to commit a crime. The Indiana Law Enforcement Training Board, LETB, will decertify officers who commit misconduct. 
"Without a camera, we don't know what the truth was. We can have the police officers make a statement, but we can have the other side make a statement, and I truly don't know who's right or wrong, but with a camera, we know," Young said.  
Before hiring an individual, law enforcement agencies will be required to request the person's personnel file, which will include any acts of misconduct and help the agency decide whether to hire the officer or not. 
Sen. Eddie Melton, D-Gary, recognizes this bill as a step forward for Indiana and its law enforcement after the unrest the nation and Indiana went through. 
"This is a historic piece of legislation in terms of this bipartisanship. It's historic in terms of the nature of the issue that we're addressing, and no way do I feel that this is the answer to all issues," Melton said. "However, I think this is a very good first step to address police and community relations."
Rep. Gregory Porter, D-Indianapolis, commented on the collaboration and support of the parties, something he said he hadn't seen in years. 
"It probably is a piece of legislation that will become model legislation to other states. The collaboration on this bill as a compromise, and then one that I have not seen in a number of years, particularly with the Republicans being a supermajority," Porter said. 
Now HB 1006 moves to Gov. Eric Holcomb's office to be approved or vetoed. 
Carolina Puga Mendoza is a reporter for TheStatehouseFile.com, a news website powered by Franklin College journalism students.