Published October 15, 2020 in TheStatehouseFile.com
As Indiana recorded yet another record number of new COVID-19 cases Thursday, the Democratic candidate for governor, Dr. Woody Myers, called for Gov. Eric Holcomb to roll back the reopening of the state.
Myers, a former Indiana health commissioner, argued that the rising number of cases show that the Stage 5 reopening isn't working and that reversing course would protect Hoosiers.
"Instead of swift action, we're seeing a governor frozen in an intensifying spotlight," Myers said of Holcomb.
Myers held a virtual press conference to urge the move to Stage 4, which bars and venues would be open at 50% capacity opposed to Stage 5's 100% and restaurants would be open at 75%. Malls and retail stores would still be open at full capacity as long as social distancing is observed.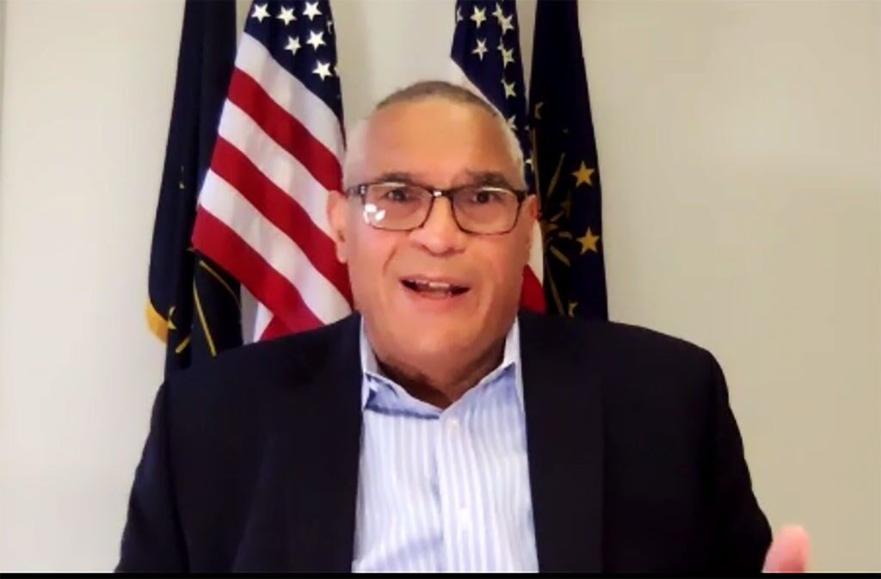 Holcomb announced at his virtual press conference Wednesday that, in spite of the rise in cases, he would keep the state at Stage 5 and cautioned that it doesn't mean a return to pre-pandemic normal. He signed an order keeping Indiana at Stage 5 and the mask mandate in place until Nov. 14. In the briefing, he also said that contact tracing shows viral spread is not happening in large gatherings, rather through friends and families.
Since moving to Stage 5 Indiana has seen a soaring number of new cases—an average of more than 1,500 positive cases per days for a 15.74% positivity rate over the past seven days, according to Johns Hopkins Coronavirus Research Center.
On Thursday, the Indiana State Department of Health reported a record 1,962 positive cases of the contagious novel coronavirus for a total of 141,212 people who have contracted the disease since March. Another 23 people have died from the virus for a total of 3,632. 
Myers noted that the state is also seeing a rise in hospitalizations, straining medical resources in some parts of Indiana. The health department has reported that there are 1,355 people hospitalized. 
Myers said he would be willing to roll back the reopening to Stage 3 if a move back to Stage 4 failed to slow the spread.
"We should take the action right now today before this gets a lot worse, so that we don't find ourselves in the situation that New York found itself in a few months ago," Myers said. New York City saw a surge in COVID-19 cases that overwhelmed the public health system, requiring a near-total lockdown of the city.
Though Myers criticized the state's actions, he wished Dr. Kristina Box, the state health commissioner, and her family a swift recovery from COVID-19. Box announced Wednesday that she along with family members tested positive for the virus and as a result, Holcomb, his staff and members of Box's staff were tested Wednesday. It was confirmed Thursday Holcomb and the staff members tested negative. 
Wednesday afternoon Holcomb announced that Indiana will remain in Stage 5 despite the rise in COVID-19 cases statewide. 
"The virus does not know where it is…the virus does not know we are in a restaurant, in a church, school…does not know your age, race, sex, gender," Myers said in response. "We have to be smarter than the virus."
The candidates for governor are scheduled to debate 7 p.m. Oct. 20 at the WFYI-TV studio. As the debate approaches Myers made a request to the Indiana Debate Commission to require all candidates to take COVID-19 tests Monday morning and make those results public. He also requested that the candidate's podiums be as far apart as the physical setting allows.
Libertarian candidate Donald Rainwater said that he does not plan to take a COVID-19 test unless the debate commission requires candidates to take them or he has been near someone that tested positive. Holcomb's campaign said that he will also be tested when deemed necessary. Neither candidates addressed the positioning of the podiums.
The debate commission confirmed that members have a late day meeting Thursday concerning the debates and any new protocols.
LaMonte Richardson Jr is a reporter for TheStatehouseFile.com, a news website powered by Franklin College journalism students.