John Mutz called mid-day Dec. 2 to chat about his newly released book, The John Mutz Story: An Examined Life, and about a new hybrid filmed stage production/documentary that will air early 2021 on WFYI public television, and about the current Indiana History Center exhibit, You Are There 1920: Celebrate Indianapolis, that you can visit and learn more about how we got to where we are now. 
The John Mutz Story is published by Indiana Historical Society Press.
Within this trio of activities, we encounter John Mutz, the college student who majored in journalism at Northwestern University, Mutz the businessman, and ultimately Mutz the elected official, the CEO of philanthropic organizations, and the citizen-in-retirement pursuing life-long learning. The thread that runs throughout all the above is his commitment to equitable access to quality education for everyone. Chapter 1 establishes the case-in-point: "Born and raised in Indianapolis [in the midst of the Great Depression], I had the luxury of attending wonderful public schools."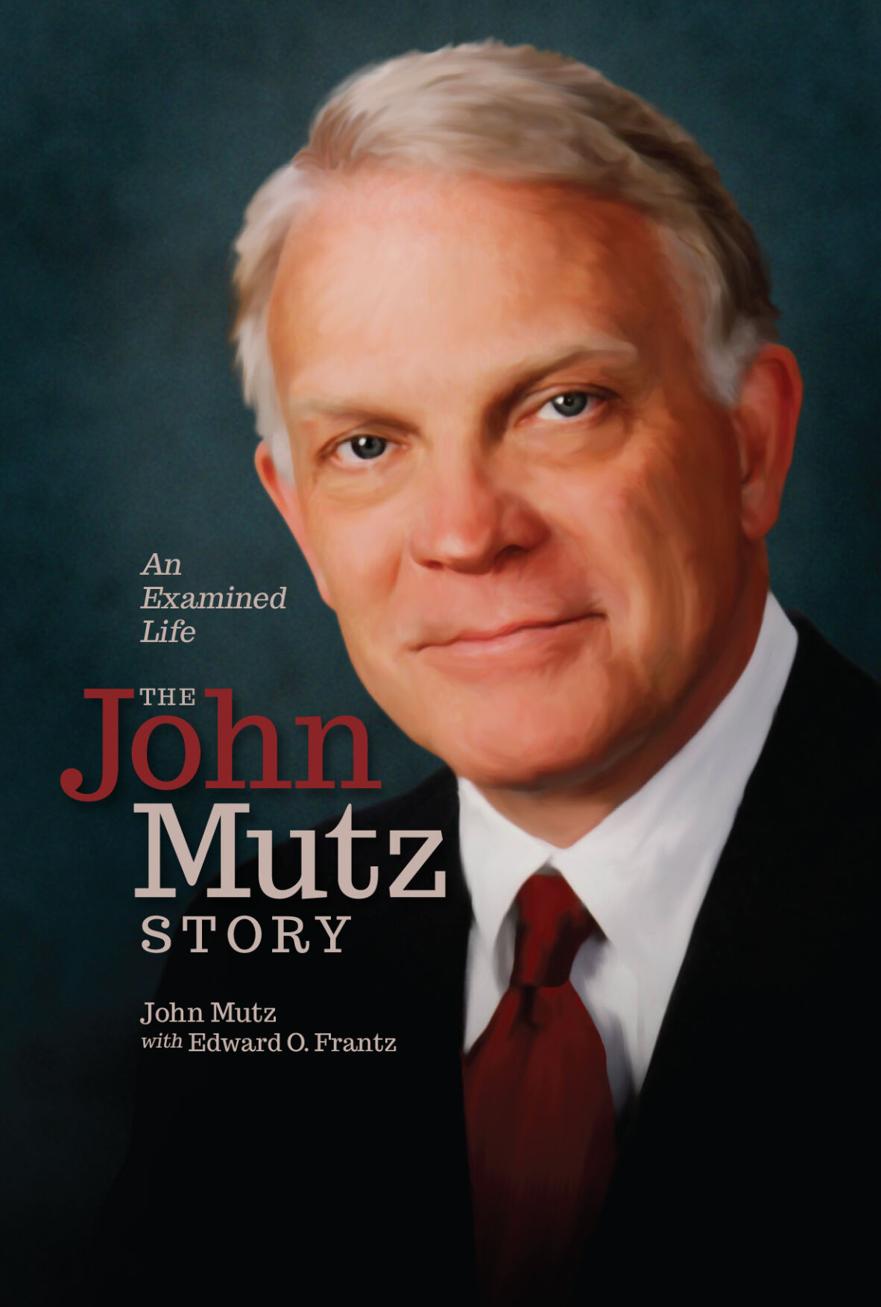 The coda that follows takes us to his awareness of shortcomings in other aspects of his childhood: "The part of the city that I lived in was not diverse," and while there were visits to extended family in southern Indiana and a trip to Canada, "We never traveled abroad, even though my mother's fondest wish was to travel to Europe." 
This lament would spur Mutz to become a world traveler, as would the recognition of his family's insular and stereotypical view of 'others' become the motivation to be aware of the world outside of his small circle "to do something useful to benefit others," albeit at times having to fall short of his original intentions. In order to attain at least a partial pathway forward throughout his political career, Mutz found himself in the midst of a culture of compromise that thwarted the highest levels of attainment for the greater good. Politics, in reality, is home base for self-serving.
In retrospect, he ponders the shortcomings and the cumulative effects of this approach to accommodate rather than to be bold. He points to white flight as the cause of Indianapolis' loss of revenue. Communities surrounding Indianapolis flourished while our inner-city declined and our public schools lost the luster that fueled his own childhood. He ruminated on the way IUPUI came about and affected the west side.
"The 1960s was a chaotic time," offered Mutz, as we chatted. He ticked off world and national events, and a crucial aspect concerning Indianapolis as "India-no-place," a flyover or drive-through, certainly not a destination.  Citing Kurt Vonnegut's barb, "Indianapolis goes to a race one day a year and sleeps the rest of the 364," Mutz reiterated what led to "The Transformation of the Marion County Republican Party" [chapter three] under the leadership of L. Keith Bulen, who recruited a corps of young political aspirants — including Mutz— along with seasoned party operatives who wanted new directions. 
What transpired during the years he served in the state legislature and then as Lt. Governor with Governor Robert Orr unfolds in chapter four, "Unigov: The Legislation that saved Indianapolis," and in chapter five: "The Creation of an Urban University. With "The Amateur Sports Strategy," spelled out in Chapter 6, Mutz is sharing the best known of the trilogy that manifested a half-century of activity to bring Indianapolis center stage as a "DO" place.
You can read these unfolding dramas with a book-in-hand now. And then you can experience this ferment via the Claude McNeal/WFYI-public television hybrid filmed stage production/ documentary, "Dreaming a City." 
John Mutz shares this project as a 50-year circling back to "find meaning in the second half of life."
On page 197, Mutz writes, "Claude McNeal, the founding genius of the Cabaret Theater in Indianapolis that operated in the Athenaeum for years… and I, in some unusual conversations, began to talk about the things that have changed Indianapolis.  We hit upon the idea of writing [a musical] about the enactment of Unigov, the event that probably was the most important in making Indianapolis the city it is today."
After all, summarized Mutz, the drama is real when "a group of idealistic young men volunteers to change the world."
"An endorsed community project for the Indianapolis Bicentennial Celebration, "Dreaming a City" is set against the national backdrop of the turbulent 1960s and dramatizes the work of community leaders who sparked the beginning of many projects that subsequently turned Indy into a modern city," emailed Jeff Owen, CEO of Claude McNeal Productions. "We had originally planned to present it live sometime this fall or next spring, but with the pandemic, decided to turn it into a hybrid. We finished filming late September and are now in the post-editing process. 
Watch for its appearance on WFYI-public TV in early 2021. 
Claude McNeal followed with this email: "During challenges we are forced to get even more creative. Our team has lived and breathed cabaret theater with me for many years. In some ways, we are simply transferring those finely tuned skills to television, and in other ways, we are doing something brand new.  The medium of live theater is not COVID-friendly, but certainly, television very much is. So, we are learning and literally finding and creating our way step by step, and once we have accomplished this first production, then we can streamline this new cabaret-to-television process. We look forward to all the new opportunities this format lets us dive into." 
Mutz nevertheless gets the final word in this column. As our phone conversation drew a close, I asked what about education still consumes his thoughts. After a considered pause, he replied, "Teachers now get on average $50,000. That should be doubled to $100,000." 
It's not only because it's equitable payment for what we ask of teachers, he cited, but because with that doubled salary will come community respect for teachers, and that translates into respect for the pursuit of learning. The reality of economics is in play here, and Mutz recognizes what we pay teachers is the key to make education a topmost priority across all levels of society — the individual, the family, the community, elected officials. When, 50 years ago, to gain what then Indianapolis Mayor Dick Lugar desired — an unified city-county government — these idealists caved in to self-serving pressure and left K-12 schools out of the unity.
"Living a life is a journey…" Mutz tells me. "…not an accomplishment. You have to be grateful for the journey."
In saying this, Mutz takes ownership of what happened along the way. That's the principle that makes 'an examined life' worthy of our time as a reader. I told Mutz my take away from reading his book, which he developed with the assistance of historian Edward O. Frantz, boiled down to: "I am a citizen. I need to be involved." 
I asked Mutz, "Looking back, what is your take away?" 
"I told my wife Caroline, at the beginning of our journey together, 'I'd like to make a difference. I can make a difference.' She cheered me on," he said. "I was young and idealistic."