[Editor's note: Need a ride to the polls or other information? Go to govoteindy.com.  Need information on waiting times at polls? Go to  indyvotingtimes.org]
Starting at 3 p.m. on the last Sunday before Election Day, vehicles from the "Trump Train" —   a group of Trump supporters who had circled I-465 earlier in the afternoon —   started to stream into Monument Circle in Indianapolis. Many of the vehicles in the caravan, including trucks and motorcycles, displayed "Trump 2020" flags as they circled the Circle.  
But while the Trump supporters that circled 1-465 could be numbered in the hundreds, those at Monument Circle would be better be measured in the dozens. They also met some counter-demonstrators, but the situation at the Circle remained peaceful through the late afternoon.
Indianapolis resident Jeano Simmons, who stood on the stairs of Monument Circle as the caravan started arriving, hadn't been aware that the Trump supporters were going to make their presence known. He was waving a Black Lives Matter flag.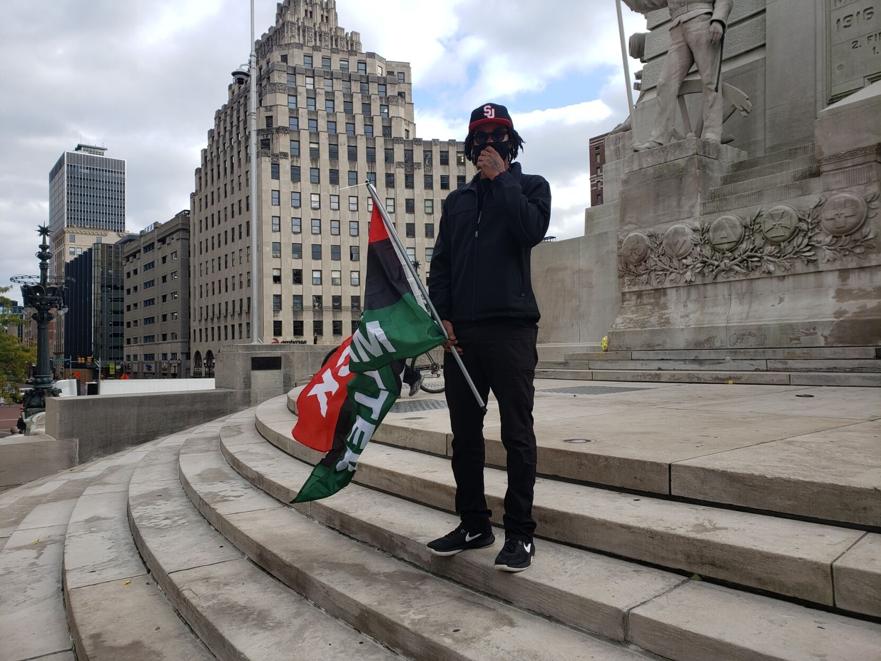 "Really I'm just here in support of Black lives," he said. "They always matter. I'm not a part of the organization at all. I've always been a supporter of Black lives because I have black children, and I'm a Black man myself."
Simmons regularly demonstrates on Soldiers & Sailors Monument.
Back on the night of June 4, after attending numerous Black LIves Matter rallies, Simmons climbed the Soldiers and Sailors Monument as a protest and created a Facebook Live video there. When an IMPD officer came up to talk him down off the Monument, a discussion about race ensued on Facebook Live.     
Simmons, who described himself as an independent, didn't voice support for either Trump or Biden. He was, however, aware of both Trump's and Biden's efforts to reach Black voters, in the form of Trump's "Platinum Plan" —    a plan that promises to help Black communities endorsed on Oct. 30 by rapper Lil Wayne —   and Biden's "Lift Every Voice" plan. But he was only able to recall the Trump plan by name.
"I think that we can agree to disagree," Simmons said about the upcoming election. "But I think that we should also focus on the issues at hand, when talking about Black Lives Matter. I don't think that we should be getting so political; all lives should matter. Period. But Black lives haven't mattered, since the beginning of time here in America. I think one of the things so people need to really recognize is that it doesn't just affect adults. This affects that children, children are born racist, they're taught racism. I think that we have to be better, as parents of children. I have children of mixed race, Hispanic and Black, and I even talk to their mothers, about the issues of the Hispanic culture as well and what's happening with the children at the border."
Standing across the street from the Monument, Navy veteran Tena Harnish, said that supports Trump in part because of his work with the Veterans Administration. "He's changed the VA system which I've had many problems with at the VA hospital," she said. "I've been [in Indianapolis] since 2003 and he's made it so we can go out of the VA now, which I've been trying to do for years."
Trump has expanded the ability of Veterans to go outside the Veterans Administration for care,  while other VA reforms date back to the Obama administration.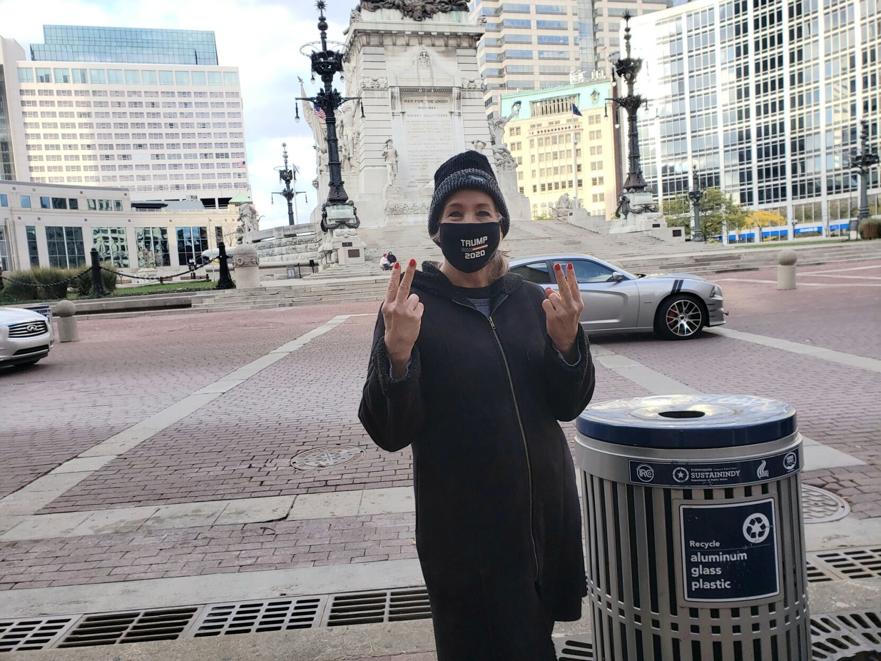 Harnish also likes Trump because, as she said, "he built the wall."  (By Sept. 2020, the Trump administration had built 321 miles of wall along the southern border.) "I believe in that, because I used to live in California and Texas, and I know how bad it is. He's not for full term abortion which I am absolutely not. I don't think you should have recourse after three months. I'm not saying take away women's rights, but they just took it way too far."
The appointment of Amy Coney Barret  as Supreme Court Justice on Oct. 26 increases the fears among many that women's rights will be imperiled, and that Roe v. Wade will be overturned, now that the Supreme Court has a 6-3 conservative majority.
Around 5 p.m. the Trump supporters were joined on the Circle by groups of counter-demonstrators, with Mexican flags portrayed on their cars. In several instances, insults were exchanged.  In others, discussions ensued between the two groups.   
One Trump supporter, Indianapolis resident Leonard Stewart, talked to a mixed group of demonstrators and counter-demonstrators.
"I don't hate Mexicans, I I love Mexicans," he said. "I've got plenty of Mexican friends, bro. I do not support Donald Trump's shit on deporting all these folks unless they are here causing chaos. If you're here and got a fucking family established and they're pushing those family values, I respect all of that shit; I don't hate nobody. But when you come to tell me you're going to throw me out of my motherfucking house, that everything's going to be run by a one-world government and there's going to be no more cash, I'm not with all that, man."
Stewart went on to mention a comment that Joe Biden made in 1977 making reference to a "racial jungle," and an unverified claim that Hunter Biden was a pedophile. 
Elsewhere downtown, workers were boarding up storefront windows, in preparation for possible election-related protests.
As 6 p.m. approached Stewart suggested that he and the counter-protesters pray together, and that's what they did, standing together in a circle in the late afternoon light.