What kind of public art should cities support, and why does it matter? Laura Holzman —  associate professor of art history and public scholar of curatorial practices and visual art at Indiana University, IUPUI — explores this question in her book Contested Image: Defining Philadelphia for the Twenty-First Century, published earlier this year.
"I believe in the importance of connecting scholarship with the everyday experiences that people have," says Holzman. "My interest in these topics came out of some of the experiences that I had, and saw other people having, in Philadelphia. These were things that people were talking about in the news, on the bus, on the train. They were wide topics of conversation, so I wanted to use my scholarship to help answer some of these questions that were circulating in public discourse." 
Holzman is currently exploring similar questions in Indianapolis during her year on sabbatical.  
In Contested Image, she focused on Philadelphia's visual scene around the year 2000 and how debates about artwork morphed into larger, more complicated discussions.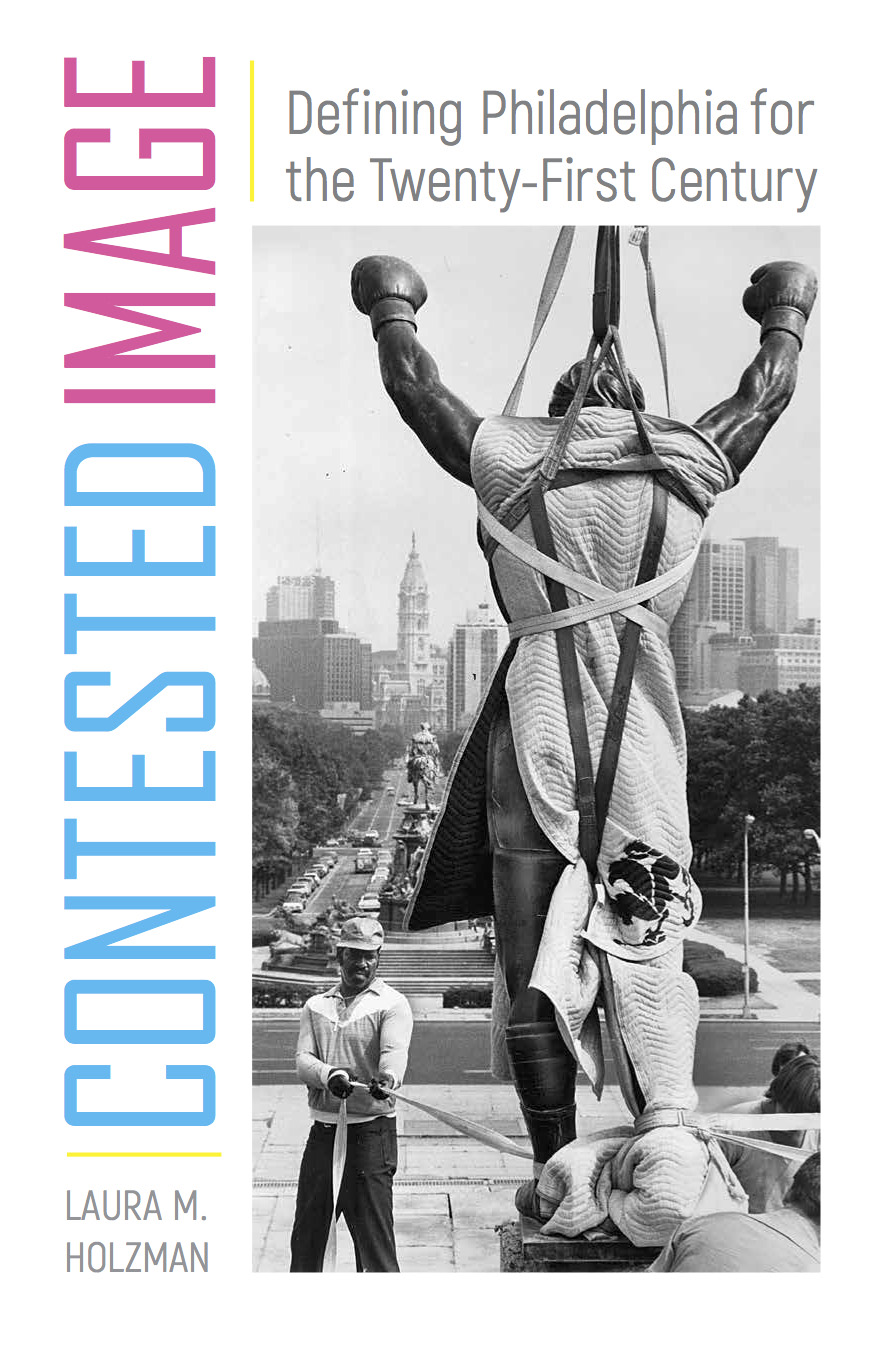 One of those debates centered on the painting "The Gross Clinic" by Thomas Eakins. The 1875 painting depicts Philadelphia surgeon Dr. Gross at work at an operating table, towering above his sedated patient, among his fellow surgeons and spectators.
Holzman notes in Contested Image that New York Times critic Michael Kimmelman has called this work "hands down the finest 19th century American painting." She goes on to demonstrate how the (ultimately successful) fight to keep "The Gross Clinic" in Philadelphia became a struggle for the city's identity.
As Holzman acknowledges, not even the fiercest advocate dared make such claims about the bronze Rocky sculpture — a prop used during the filming of Rocky III based on the figure of actor Sylvestor Stallone — that briefly stood on the so-called Rocky Steps, of the Philadelphia Museum of Art. The desire of some to keep this movie prop in the city inspired not just a debate about city identity, but a debate about high art vs. low art. 
Holzman, while living and working in Philadelphia, had an opportunity to see some of these debates play out.
"I worked with a number of arts organizations that helped me understand from lived experience the role that arts and culture play in this city," says Holzman. "But I also worked at the Philadelphia Museum of Art and I walked up the Rocky Steps each day on the way to work. I had a front row seat to the campaign to purchase "The Gross Clinic" and I wasn't thinking of those as research topics at the time. But those experiences stayed with me and I came back to them when I was doing my research." 
And these decisions often had a lot to do with municipal boosterism.
"Each are examples of the elements of the city's visual culture that became subjects of really passionate conversation about their appropriate location," says Holzman. "Through those conversations they became tools for negotiating the city's reputation."
The reception of the book in Philadelphia — where her family has roots and where she has many friends — has been rewarding for her personally.  
"I got to do a public reading from the book at the Free Library of Philadelphia, the Philadelphia City Institute branch," she says. "And the room was filled. I didn't know any of the people in the room. We had just a really rich conversation about the about the case studies but also about peoples' own experiences, living with digital culture and their opinions about the city's changing identity and existing reputation."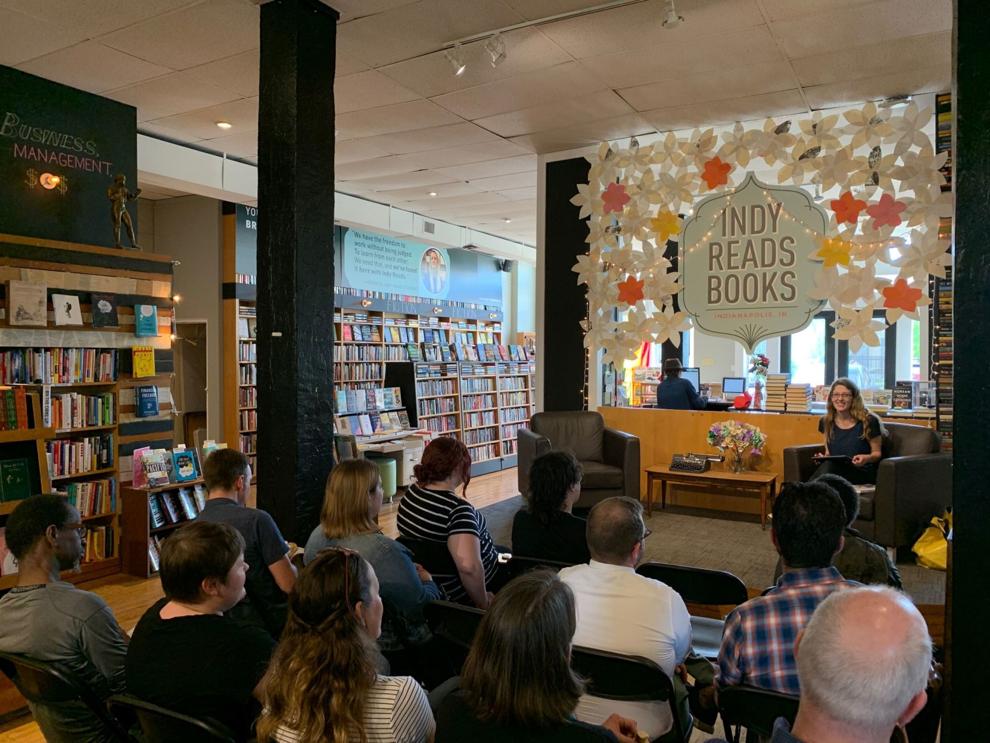 These conversations were particularly rewarding for Holzman because she spent so much time separated from the public during the research for Contested Image — digging for information online and looking in archives.
"It was really great to hear from people in the audience. One person told the story about where she was when she found out that "The Gross Clinic" was going to be sold," she says. "Just bringing that that personal touch to the conversation."
Similar conversations about public art have been, and are, happening in Indianapolis.
 In June, the Cultural Trail Inc. announced a crowdfunding campaign to raise $263,000 to repair an electronic sculpture by British artist Julian Opie on Mass Ave. While this campaign ultimately was successful, it initially generated a negative reaction from some prominent Indianapolis artists who decried both the quality of the artwork and the expense. A common complaint was that the money could have been better spent on local artists.  
In June, Holzman published an essay in NUVO titled "Keep Ann Dancing in Context" in which she framed the debate about public art in the city.
"These conversations are about articulating what kind of identity we want," says Holzman. "Do we want our city to be billed as a place that has cutting edge arts and culture? Do we want our place to be known as a place that is out of touch with what's happening in the culture sector, nationally, or internationally? Do we want our city to be a place that rewards creativity?"
Currently, Holzman is on sabbatical.
"I'm working on a series of essays, articles, and book chapters that are looking at how do we do public scholarship in art history," she says. "So for example, I actually just wrote a case study a short case study for an edited volume on socially engaged art history. The case study is all about the public scholar position at IUPUI." 
Holzman recently curated for The House Life Project. This project turned abandoned houses on the Near East Side of Indianapolis  houses into pop-up art galleries. The events held at these events drew more people from the surrounding neighborhoods than arts aficionados, which was the point.
The project was conceived in 2015 by local artist Meredith Brickell. 
But the House Life Project couldn't last forever, in part because of the hot real estate market on the near eastside of Indianapolis, where abandoned houses are being bought up, renovated, and sold at a rapid rate.
"Basically we got to a point where we didn't have access to houses the way that we had to them previously," she says. "We had done all this work and really gotten to a point where either we needed to change what we were doing, or we need to become our own nonprofit or something like that. And we didn't think that was the right choice for a variety of reasons, including the fact that part of what allowed us to do the great work that we were doing was that flexibility that comes from just being a group of neighbors hanging out together, and not a formal organization."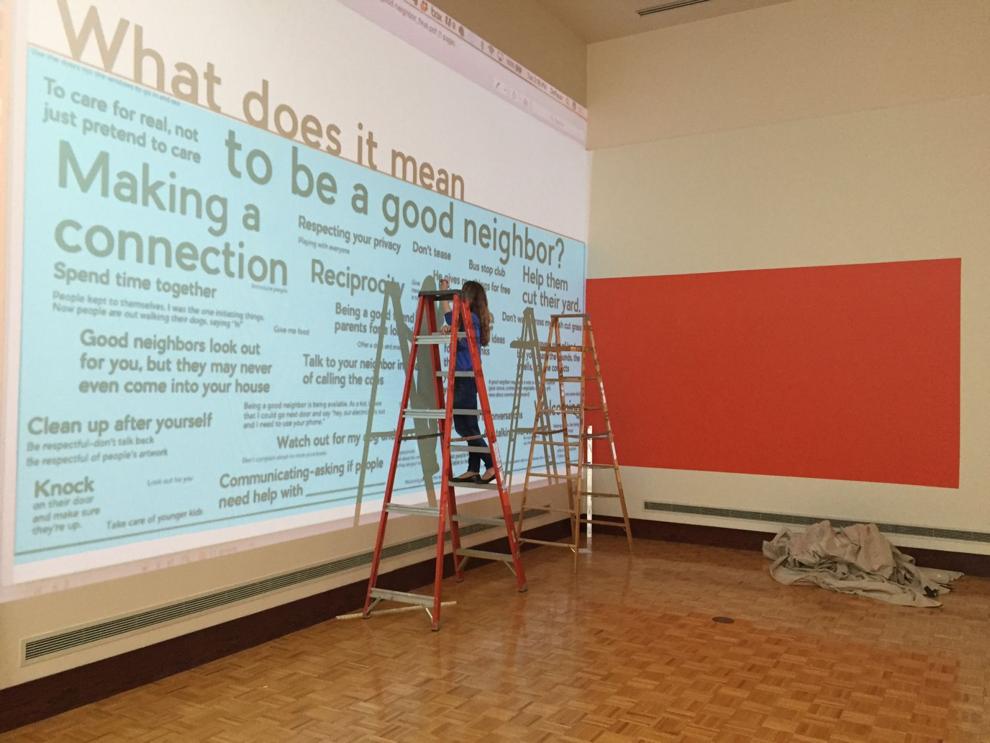 As part of winding down their activities, they held an exhibition with Holzman as curator.
We're Open, Come In debuted at Gallery 924 in Aug. 2018, and it was funded by a grant from the IUPUI Arts & Humanities Institute.
The end of the House Life Project is not the end of her community engagement as an arts facilitator and curator.  
"It's really all about connecting my skill set as a visual studies/art history/museum studies scholar with the experiences of people who have expertise coming from their daily lives," she says.
Holzman seems to thrive on this interaction.
"I think that the House Life Project is another example of a group that was doing really  interesting stuff," she says. "There are arts-based, community-engaged projects that are coming out of like classes at Herron, or humanities-based, community-engaged work that's coming out of the IUPUI museum studies program. Other institutions around town are also doing projects."
Her goal, she says, is to tell a fuller story about what's happening in the city's cultural landscape that includes the voices of ordinary people who are not necessarily included in the arts conversations taking place at universities, museums, and Indianapolis arts-oriented nonprofits like Harrison Center and Big Car Collaborative.
"The market for that kind of work is not saturated," she says.