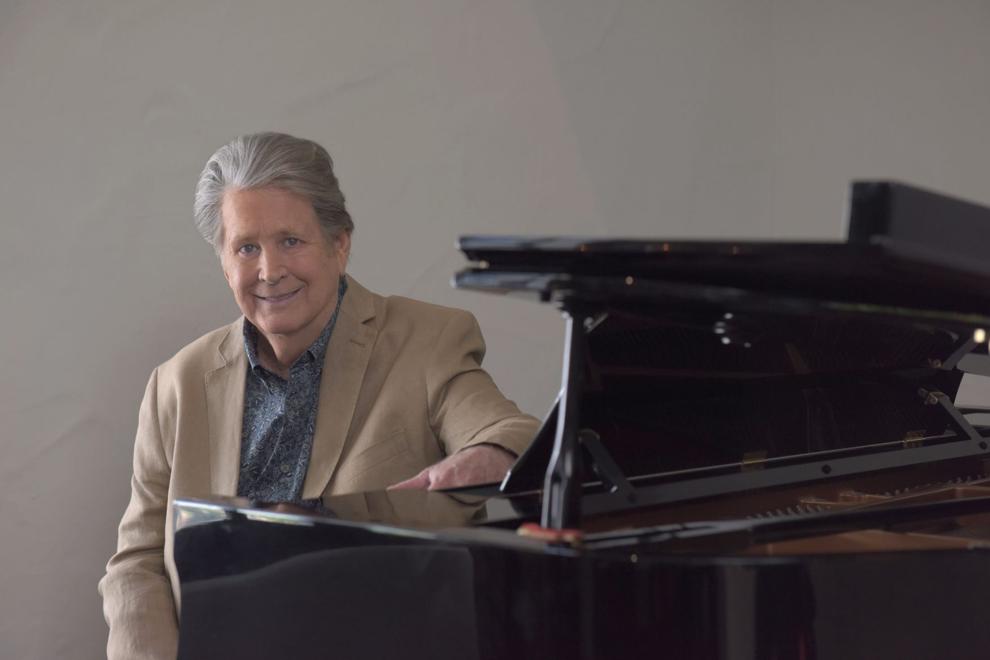 In the early 1990s, Chris Farley starred in a memorable trio of sketches on Saturday Night Live portraying an inept talk show host nervously fawning over his guests. "Do you remember when you were in The Beatles?" Farley asks a bewildered Paul McCartney in my favorite edition of the series. 
Well, it's really hard not to become that pitiful Chris Farley character when you're speaking to Beach Boys' auteur Brian Wilson. Not only are you talking to the greatest pop music guru in the history of the goddamned world, but Wilson's famously terse and often monosyllabic responses render all desire for a conventional interview into a far and distant dream. 
But I tried. And I tried hard. I watched every last Brian Wilson interview on the whole entire Internet. I cringed as I witnessed some of the greatest interviewers in the game crumbling before Wilson's seemingly impenetrable laconic barricade. I studied Wilson's moves like a boxer in training for the biggest fight of his life. When I finally jumped into the ring with Wilson for this interview, I knew I wouldn't walk away victorious. 
But I was determined to make it to the final round.
And I did … I think. And I found Wilson to be much warmer than I expected. There's an innocent and youthful quality to Brian Wilson that hasn't been tarnished by the punishing winds of time. And that's really the magical essence of early Beach Boys' music. Wilson found a way to crystalize the carefree joys of youth in music.
And that's what makes Pet Sounds such an important and singular work in Wilson's canon. Wilson is in the middle of an extended 50th anniversary tour of the record, which will bring him to the Old National Centre on April 23. The highly lauded disc found Wilson's teenage bliss giving way to more adult anxieties. Wilson reflected these melancholy themes through a prism of colors unparalleled in the pop music spectrum. Pet Sounds is a complex masterpiece, depicting scenes of heartache and worry in breathtakingly beautiful technicolor hues. 
Reviews of Wilson's Pet Sounds revue have been mixed, as were early reactions to the record itself following its initial release in May of 1966. Today the record is almost unanimously ranked as one of the greatest rock albums ever made. 
Until then, check my Q&A with Wilson below, where you'll find me doing my very best Chris Farley impersonation.
Annotating our very short interview with Beach Boy Brian Wilson before his Pet Sounds anniversary tour hits Indiana tomorrow.
Kyle: Mr. Wilson, I know you're a self-taught musician, which I think is amazing. I read a quote where you stated that you learned everything you know about music from Chuck Berry, Rosemary Clooney, and The Four Freshmen, and I'm going to ask you about two of those artists today. Of course, the great Chuck Berry recently passed away. Any thoughts you'd like to share on what his music meant to you? 
Brian: Well, his melodies and his lyrics were very, very influential and he taught me a lot. I wrote "Surfin' U.S.A." because of "Sweet Little Sixteen."
Kyle: When "Surfin' U.S.A." was released in 1963, you were listed as the sole composer. Later editions listed Berry as author, or co-author. Did you mind sharing writing credit with Chuck Berry? 
Brian: No, no, no! I was very proud. 
Kyle: I'm speaking to you from Indianapolis, so I have to ask about The Four Freshmen, who were founded here in Indianapolis in 1948 on the campus of Butler University. I know The Four Freshmen's music had a profound influence on you. Do you remember how you first encountered their music? 
Brian: Well, I first heard them in 1958. I heard their albums and I learned how to sing from Bob Flanigan, their high singer. I learned how to sing falsetto, then I wrote "Surfer Girl".
Kyle: "Surfer Girl" was inspired directly from the influence of The Four Freshmen?
Kyle: The Four Freshmen were founded by Ross and Don Barbour, who were brothers, along with Bob Flanigan who was their cousin. Did that family connection within The Four Freshman resonate with you as you rallied your bothers and cousin to begin performing music? 
Brian: Yeah, but we weren't copying The Four Freshman. I learned to give the guys parts to sing from The Four Freshmen. The guys took to it very easily.
Kyle: Mr. Wilson, I think we share the same favorite Four Freshmen album. I've read that Four Freshmen and Five Trombones is your favorite. I love that album too, and I've read that it was the first record you ever bought? 
Brian: That's right. I bought it at a record store in Hawthorne. I played it, and I was so, so happy to hear it. It was a great album. 
Kyle: Bob Flanigan was the longest active original member of The Four Freshmen, did you ever get a chance to meet him? 
Brian: Yeah, I met him at a concert in Hollywood in 1958. I met him and The Four Freshmen. I was very nervous to meet him. 
From the show-opening, angelic chorus of
"Our Prayer," Wilson and company made sure the audience knew they were in good hands.
Kyle: There's a song from The Beach Boys' 1963 album Little Deuce Coupe with a strong Indiana connection that I want to ask you about. The Beach Boys' reconstructed The Four Freshmen's arrangement of Bobby Troup's "Their Hearts Were Full of Spring", and rechristened the song as "A Young Man Is Gone". It's my understanding that Mike Love rewrote the lyrics as a tribute to James Dean, who was born and raised here in Indiana. 
Brian: Yeah, it was written in memory of James Dean and we tried to do the best harmony that we could. 
Kyle: You later worked with trombonist and Four Freshmen arranger Dick Reynolds, who did some arranging on The Beach Boys' 1964 Christmas Album, and also your unreleased 1977 album Adult/Child. In a 1964 interview with Melody Maker you said Dick Reynolds was, "just about a god to me. His work is the greatest."
Kyle: So you sought Dick Reynolds out specifically because of the role he'd played with The Four Freshmen?
Brian: That's right. Dick Reynolds taught me a lot about arranging vocals, very much. 
Kyle: In 2004 you reworked music from your unreleased 1966 album Smile. Do you think you'll ever go back and revisit the unreleased Adult/Child album?
Brian: Nah, probably not. I probably won't. 
Kyle: Beyond The Four Freshmen, I know you're a fan of other vocal groups like The Hi-Lo's, as well as some of the early doo-wop acts. I'm curious if you ever checked out The Ink Spots, a great vocal group that formed in Indianapolis in the 1930s?
Brian: Yeah, of course! I loved them. They were great. 
Surf's up, baby. We get surf tips and weird hotel memories from Beach Boy Bruce Johnston.
Kyle: Mr. Wilson, you're currently on tour celebrating the 50th anniversary of your classic Pet Sounds album. One of the things that first drew me into that record was the incredible kaleidoscopic sound you orchestrated. There are so many fantastic colors and textures in the music of Pet Sounds. I was a big fan of exotica music when I was a teenager, artists like Les Baxter and Martin Denny. A lot of critics have mentioned exotica music when describing the sonic atmosphere of Pet Sounds, and that's definitely something I heard in the music too. I've never heard you speak on this subject, so I wanted to ask if you were a fan of Martin Denny or any of the exotica music happening in the 1950s?
Brian: No, I never get the chance to listen to them. Never did. 
Kyle: That's interesting, because Julius Wechter is one of the musicians who performed on Pet Sounds. Wechter was one of the main members of Martin Denny's group in the 1950s, before he moved on to form the Baja Marimba Band. Maybe it's Wechter's participation that gives Pet Sounds an exotica flavor?
Brian: Well, he was a great percussion player. He was very good. He made the album very interesting and he really helped me out.
Kyle: You also played some interesting percussion instruments too. You're credited for playing marimba and xylophone on the 1964  Beach Boys' track "All Summer Long". Those are unique textures for a rock and roll song in 1964. 
Brian: Yeah, yeah. I listened to a lot of records and I learned a lot. 
Kyle: I have one last question for you on this exotica theme. There's a photo of you taken in the studio during the Smile sessions in 1966 where you're sitting with the mystical songwriter Eden Ahbez. Ahbez is most famous for composing "Nature Boy" for Nat King Cole. Ahbez is credited as being one of the original hippies, he had long hair in the 1950s and espoused vegetarianism and a back to nature lifestyle. Ahbez made a classic exotica record in 1960 titled Eden's Island. I'm curious what your connection to Eden Ahbez was, and if you remember him visiting you in the studio?
Brian: No, actually that was a very long time ago and I can't recall doing that. 
Kyle: You created Pet Sounds with some of the greatest session musicians in California, folks like Hal Blaine, Carol Kaye, and Billy Strange. There were also some great jazz players performing on Pet Sounds too, like Paul Horn, Jack Nimitz and Barney Kessell. Did you handpick all the musicians on Pet Sounds? 
Brian: Well, I had my contractor line-up the Wrecking Crew, who played for Phil Spector. I had him line-up the musicians. 
Kyle: So it was a package deal and everybody came in along with the Wrecking Crew?
Kyle: Were you ever a jazz fan? I know you like The Four Freshman, were you a fan of any other jazz artists? 
Brian: No, I never was into jazz. I liked The Four Freshman, but I never listened to jazz music. 
The musical explorer says, "I'm a dreamer of sounds and I try to make my music reflect that." 
Kyle: Last week I did an interview with the great jazz musician Charles Lloyd, and he had so many wonderful things to say about you and your music. You and Lloyd had a pretty significant musical relationship. You sang on his 1971 album Warm Waters , and he played on some Beach Boys records, including a wild flute solo on "Feel Flows". Tell us about your connection with Charles Lloyd.
Brian: Well, Charles Lloyd was a very great musician. He's one of the better musicians I've ever worked with. He's a very good musician. 
Kyle: Have you heard the wonderful jazz arrangements Lloyd has done of your songs like "Caroline, No" and "God Only Knows"?
Brian: Yeah, they're wonderful. Absolutely wonderful.
Kyle: Do you have any favorite cover versions of your songs? David Bowie also did an interesting version of "God Only Knows". Do you take time to check out these tributes to your work? 
Brian: I listened to Andy Williams' version of "God Only Knows." He's a very good singer.  
Kyle: What did you make of Andy Williams' version?
Brian: Ah, I loved it! I thought it was beautiful. 
Kyle: Mr. Wilson, you'll be performing in Indianapolis on Sunday, April 23 at the Old National Centre. It's my understanding your performance on this tour is essentially a concert in two acts. In the first half you perform a selection of classic Beach Boys tunes, and in the second half you perform Pet Sounds in its entirety. 
Kyle: Well, this is an absolutely essential concert for any Beach Boys fan. Thanks so much for taking time to talk with me Mr. Wilson. 
Brian: Thank you very much for the interview.