Devil To Pay
Forever, Never or Whenever
Ripple Music
Last year, when Devil To Pay released their latest opus, Forever, Never or Whenever, I bought the album, which is still sealed, and a cassette, which never worked right. Regardless, I lived with this album for a month solid on everyday imusic rotation. But, goddamn. Steve Janiak wouldn't get off of me. "What to you think?" "Do You Like It?" "Are you gonna write about it?" Like a freaking broken record, that dude.
Disclaimer: I'm buddies with the band, and have known Janiak for 30 years now. I've reviewed almost everything he's put out, and even liked a bunch of it. (Neurotic Box was a little hit and miss for me, but whatever). I was the main character in the video "Laughing Stock" from their last album, A Bend Through Time and Space, where I essentially ate a cheeseburger at State Street Pub. (https://www.youtube.com/watch?v=l1f3cepfxeU)
Back then I was not in the best of terms with the former NUVO editor and I had for all intents and purposes, given up on the writing racket. I also paid CASH for this shit, so I was able to kinda give ol' Steve the slip. And thus, Forever, Never or Wheneverseemed destined to simply be a favorite album by a band of friends who represent Indianapolis in the best way possible.
Then out of the blue, Kevin Mckinney calls me back into the NUVO fold, and I'm back doing what I'm really good at. Now, fucking Janiak knows I have no excuse. Which is fine, I guess, because I've been putting it on the virtual digital turntable a heck of a lot lately. So. Here we go. We're gonna do this thing. I'm going to actually review Forever, Never or Whenever. Steve Janiak, you can fuck off and leave me alone now. Thank You.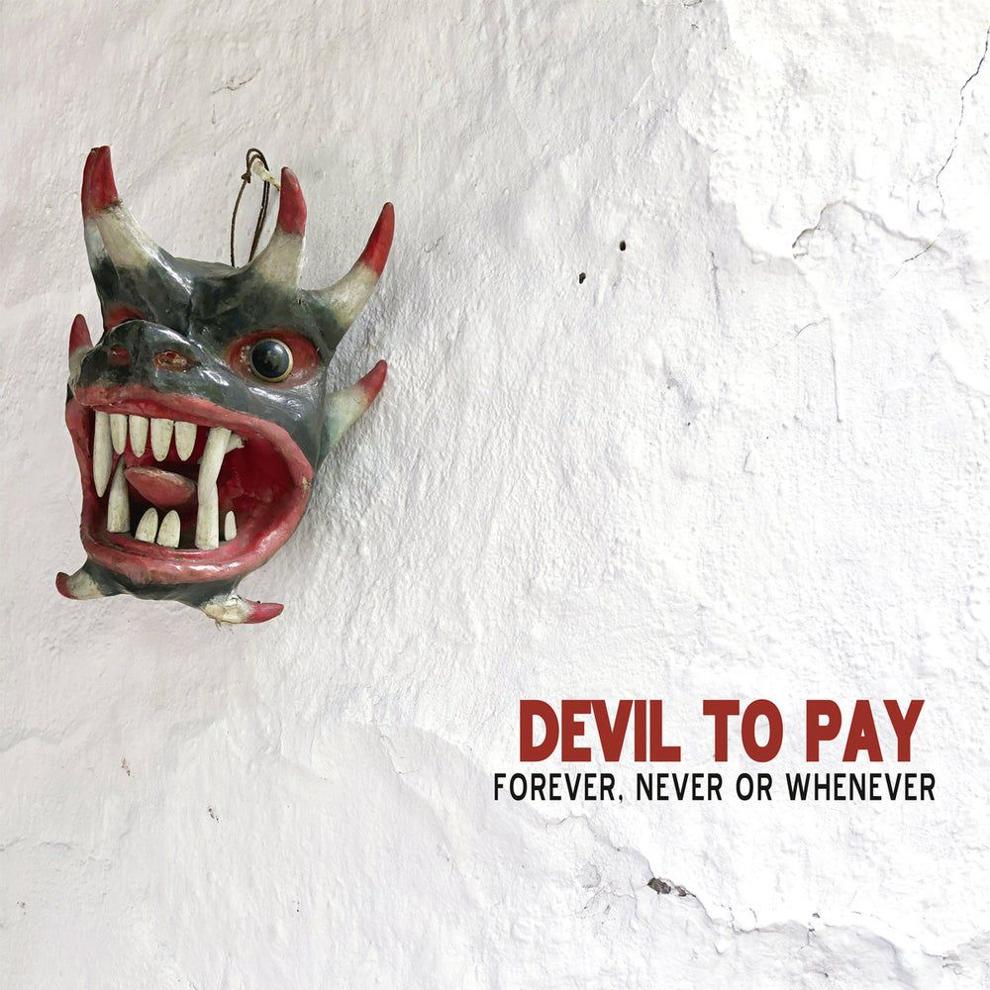 Devil to Pay can be split into two periods. The 3 albums pre-Ripple Music and the 3 post-Ripple albums. Pre-Ripple had some great stuff like "Tractor F'n Trailer," "A King's Bounty" and "Thinning the Head," which showed drummer Chad Prifogle and childhood pal Matt Stokes turning into the best rhythm section in doom rock. They were so good, so freaking groovy, that the constant revolving door in the lead guitar station was hardly a thing.
Guitarist Rob Hough stepped up to the plate on the band's third album, Heavily Ever After and upped the game high enough that Ripple Music, the biggest Doom and Stoner Metal label in the game took a chance and put out the band's first masterpiece 2013's Fate is Your Muse. All of a sudden the band was firing on all points. Hough was a keeper, Janiak was traveling to far-flung mystical hot spots and coming back with lyrics about Aliens and earthbound demons within and without the human animal. "Ten Lizardmen and One Pocketknife" is the greatest thing the band had ever done up to that point, a dizzying deathride of doom, stoner and prog that just blows everything the band had done up to that point away.
They further refine the sound on the next record, A Bend Through Space and Time. With Hough throwing more Thrash guitar stank on things. "Your Inner Lemmy" got the boys some national attention, while tunes like "On and On (In Your Mind)," "The Meaning of Life" and of course, "Laughingstock" bringing the band ever closer to Doom perfection.
Forever, Never or Whenever, the new record shows DTP as a tight as balls rock unit that can stop and start on a dime, with the individual players so comfortable with each other that this group of songs is an organic organism borne from a collective single beating heart. "Heave Ho" charges out the gate like a rabid wildebeest hungry for blood and carnage. Prifogle's towering skin-pounding and Stokes' bottom thumps lifts Hough's guitar to new heights.
Meanwhile, "The Devil's Barking Up Your Tree" has Steve belting out the clearest, cleanest vocals of his life. A little growl, a little cry and a bit of a warble gives DTP its secret weapon and really puts this band heads and shoulders above most of the Doom and Stoner rock crowd. "Anti-Gravity Depravity," "Imminent Demise" and "Get On Down" continue this upward trend.
However, "Tap Dancing On Your Grave" is the new Devil to Pay masterpiece, It's all here, grinding guitar scary in its perfection. A fucking perfect bass breakdown at the end, with Chad giving us, yep, more cowbell over the top. Also, this is where Janiak reaches the perfect intersection of yowl and croon.
Devil To Pay and their new Forever, Never or Whenever, is a new level of breathtakingly heavy taint-slapping doom for today's crazy times. God only knows that this outfit is going to be capable of in the new reality of life after Covid-19.
All of DTP's music can be heard on Spotify and iMusic.
Buy their stuff: https://deviltopay.bigcartel.com/
Go to a show: https://www.facebook.com/events/634475980611268/